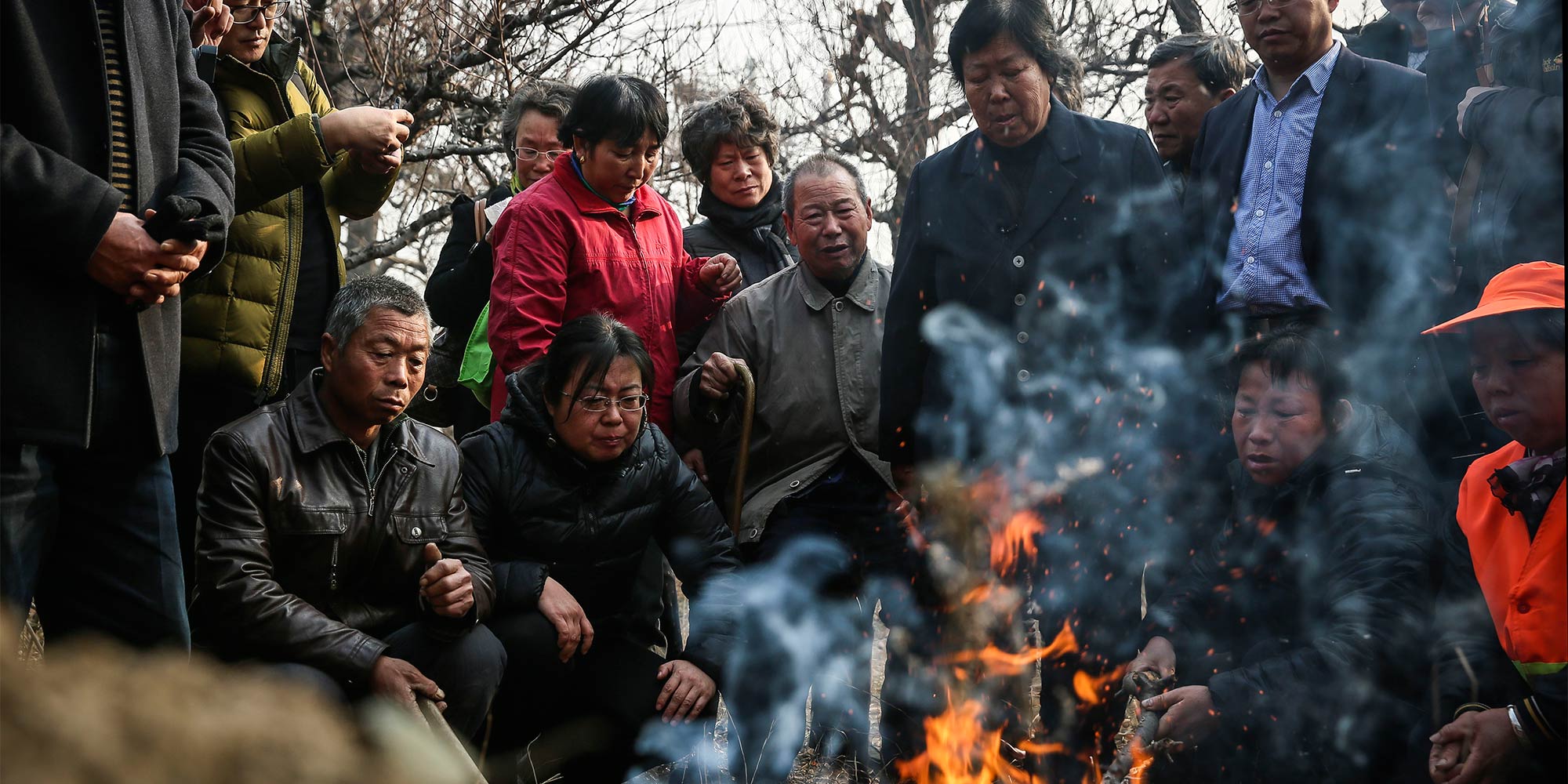 NEWS
Parents Visit Grave of Executed, Then Exonerated Son
Last week, Nie Shubin was pronounced innocent of the murder that led to his death sentence 21 years ago.
Buried on an unnamed hill near Niezhuang Village are the remains of Nie Shubin. His grave stands alone because local tradition dictates that a person cannot not be buried in the family grave while their parents are still alive.
In 1994, Nie, then 20, was arrested on suspicion of raping and murdering a woman. The next year, he was convicted of the crime and executed. On Friday — 8,106 days since Nie's arrest — a circuit court overturned the verdict and cleared him of all charges.
Over the years, Nie's parents, Nie Xuesheng and Zhang Huanzhi, actively fought their son's conviction. From their village on the outskirts of Shijiazhuang, the capital of northern China's Hebei province, they went through two decades of appeals. Zhang, Nie's mother, always believed in her son's innocence. "I knew my son well," she said.
But few believed them until 2005, when a man named Wang Shujin confessed to a series of murders, one of which turned out to be the rape and murder for which Nie had been sentenced to death. Then in 2014, after nine years of silence from the justice system, the Supreme People's Court ordered a re-examination of the case, and earlier this year a retrial.
The day after Nie Shubin was exonerated, his family visited the tomb, a throng of reporters in tow. Nie's final resting place had never been so crowded.
It was the first time in 21 years that Nie Xuesheng, the father, had visited his son. As he faced the grave, he was overcome with sorrow. After Nie Shubin's execution, Nie Xuesheng attempted suicide by overdosing on sleeping pills. Today he is paralyzed on one side of his body due to high blood pressure. The 72-year-old man said he had kept exercising and taking his medicine because he wanted to be alive on the day his son was pronounced innocent.
In front of Nie Shubin's tomb, a nephew reads the court announcement aloud and burns a copy of the judgment into ashes so Nie can read it in the afterlife.
Zhang Huanzhi addresses her son: "Shubin, your mom's exhausting 21 years of running around have not been in vain. In the end, the Supreme People's Court pronounced you not guilty. You were a good man. You will never be saddled with this crime again. You can rest in peace now."
Zhang made a promise to her son that his tomb would be moved to the family plot after she and his father have passed away. "Our family will be reunited," she said.
Back at the Nie home, a mass of people have gathered. Some have come to ask Zhang for help with family members they believe were wrongfully convicted. But Zhang turns them all away. "I can't help with your case," she tells them. "It took me 21 years to overturn my son's case. It was too difficult."
(Header image: Nie Xuesheng and Zhang Huanzhi looks at a copy of court announcement burning at their son's tomb in Shijiazhuang, Hebei province, Dec. 3, 2016. Xie Kuangshi/Sixth Tone)