Pop culture has been obsessed with the idea of consumer robots for more than 50 years, but technology has only recently caught up with artificial-intelligence theory to bring mass-market service robots out of the realm of science fiction.
With the vision of robotic companions and servants of Hollywood lore remaining largely unfulfilled until now, UBTech co-founder Goti Deng and his Shenzhen-based team are riding a wave of renewed interest in consumer robotics, as the market evolves beyond household-cleaning bots into an era of increasingly capable robots as educational tools, personal assistants, and family companions.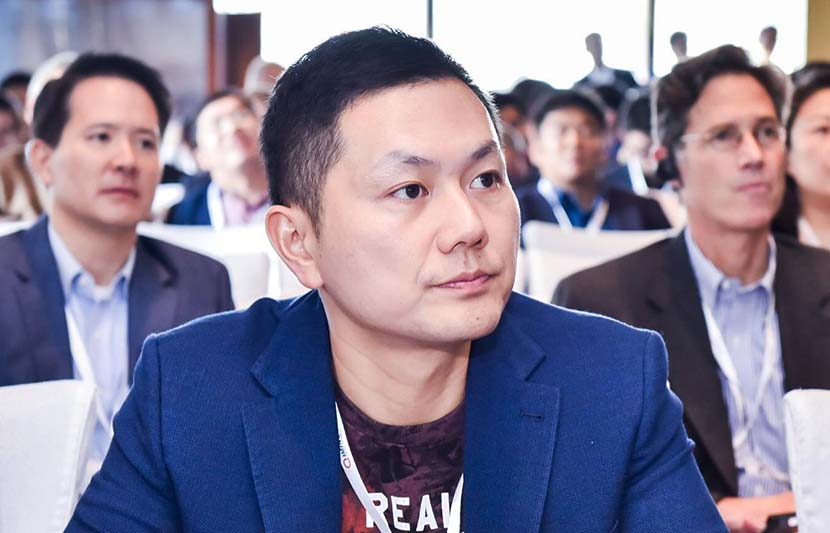 Goti Deng, co-founder of UBTech, listens to a presentation at a conference in Shanghai, November 2016. Courtesy of UBTech
UBTech started researching humanoid robotics back in 2008, but the company only incorporated in 2012 after technological breakthroughs brought its futuristic vision closer to reality. The company's big global break came in July of this year, when Apple stores began stocking UBTech's Jimu robot — an educational bot that comes in pieces for assembly, rather like Lego.
Deng is obviously enthusiastic about the financial prospects of a coming boom in consumer robotics: UBTech reported 1.9 million yuan (around $275,800) in sales revenue for 2014, 42 million yuan in 2015, and has already passed the 400 million yuan mark this year. Next year the "realistic goal," according to Deng, is 2 billion yuan in global sales revenue.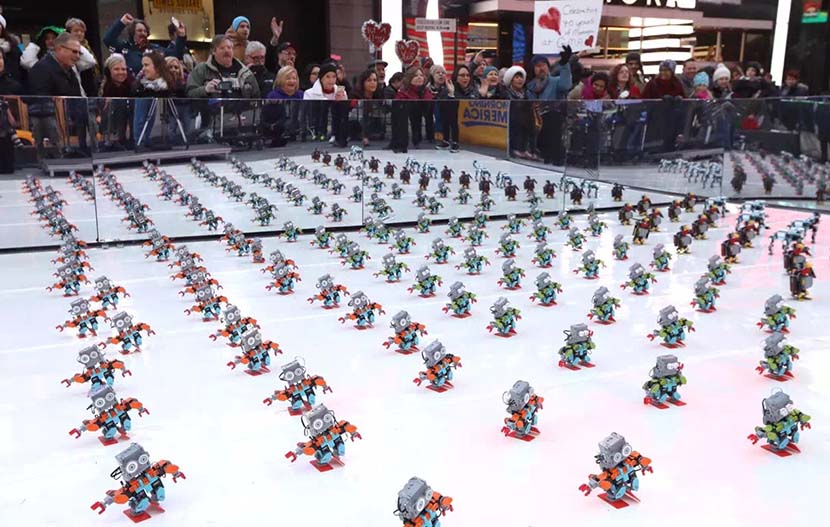 An army of UBTech's educational Jimu robots on display at a shopping center in New York, November 2016. Courtesy of UBTech
But as the entrepreneur tells Sixth Tone, he is also motivated by a personal zeal to see a future in which robots as educators, caretakers, and lifestyle accessories are the norm, as well as a desire to assuage people's fears about the onslaught of humanoid helpers that lies ahead. The interview has been edited for brevity and clarity.
Sixth Tone: People are currently talking about the potential for consumer robotics technology to impact our lives in the future. What does this future look like to you, say, a decade from now?
Goti Deng: My feeling is that the personal robot coming into your house, doing your laundry, washing your dishes — I think this is 10 or 15 years in the future. At this moment, we are commercializing the current technology.
We are a commercial company, not a state-owned enterprise or a research institute. We need to use the current technology and make it affordable to consumers in the mass market; then they can have access to and get interested in robots, and we can have some capital that we can reinvest into R&D [research and development].
Maybe today, robots look like "tech toys" or something — but really, today's robots are a test of the eventual version of service robots that can go into your home and help you out.
Sixth Tone: How important is price to further acceptance of service robots in the mass marketplace?
Goti Deng: We make robots for a few hundred bucks each, making it easy for consumers to interact with robots and see what the future is going to be all about. This is just the first phase of humanoid robots, giving people a chance to interact with them.
In many countries, many people are getting older, living alone for longer, and a robot companion might be useful for them. Our robots can interact with older people or educate young kids. Through different apps, they can do different functional things.
Sixth Tone: Elder care and early-childhood education in particular are huge markets here in China. What is the potential for service robots here compared with other countries?
Goti Deng: I think it's going to be a big market in China; it's going to be a billion- [or] trillion-yuan market. The robot is the future, but what form will the robot take? What functions will it be able to perform? I can't precisely answer now.
Sixth Tone: What is it like for you to be working in China, which is a focal point for consumer robotics today — and particularly in Shenzhen, which is a hub for innovation in China?
Goti Deng: Innovation-wise, Shenzhen has the whole chain of manufacturing and R&D right there. We have ideas; we come back with R&D and products and sell through our global channels.
If I was in Silicon Valley and I had a good idea — a good design for a robot — I would have to send away to somewhere to make a mold, to manufacture. The back and forth takes time.
Our company has almost 1,000 employees; 40 percent of them work in R&D, and they work two 12-hour shifts a day, so we work very fast. What we can do in one day, it would take other companies three days.
Sixth Tone: And speed is obviously an advantage in the world of consumer technology.
Goti Deng: Timing is very important for us in the tech world, especially in the consumer market. It's all about speed, how fast you can get to market — if you go too slow, someone will catch up. We can't settle; we have to move fast. There are people behind us.
Sixth Tone: Do you understand why people might be a little afraid of a future with robots in every home, doing all manner of tasks?
Goti Deng: It's coming, and there's no need to be scared. AI technology is just a helpful way for people to be more lazy and have more time to do the things we want to do. I think eventually, everything is going to be smart, everything will have chips, and robots are just another smart product.
(Header image: A man holds a UBTech Alpha humanoid robot at the annual Huawei Global Mobile Broadband (MBB) Forum in Chiba, Japan, Nov. 24, 2016. Tomohiro Ohsumi/Bloomberg via Getty Images/VCG)