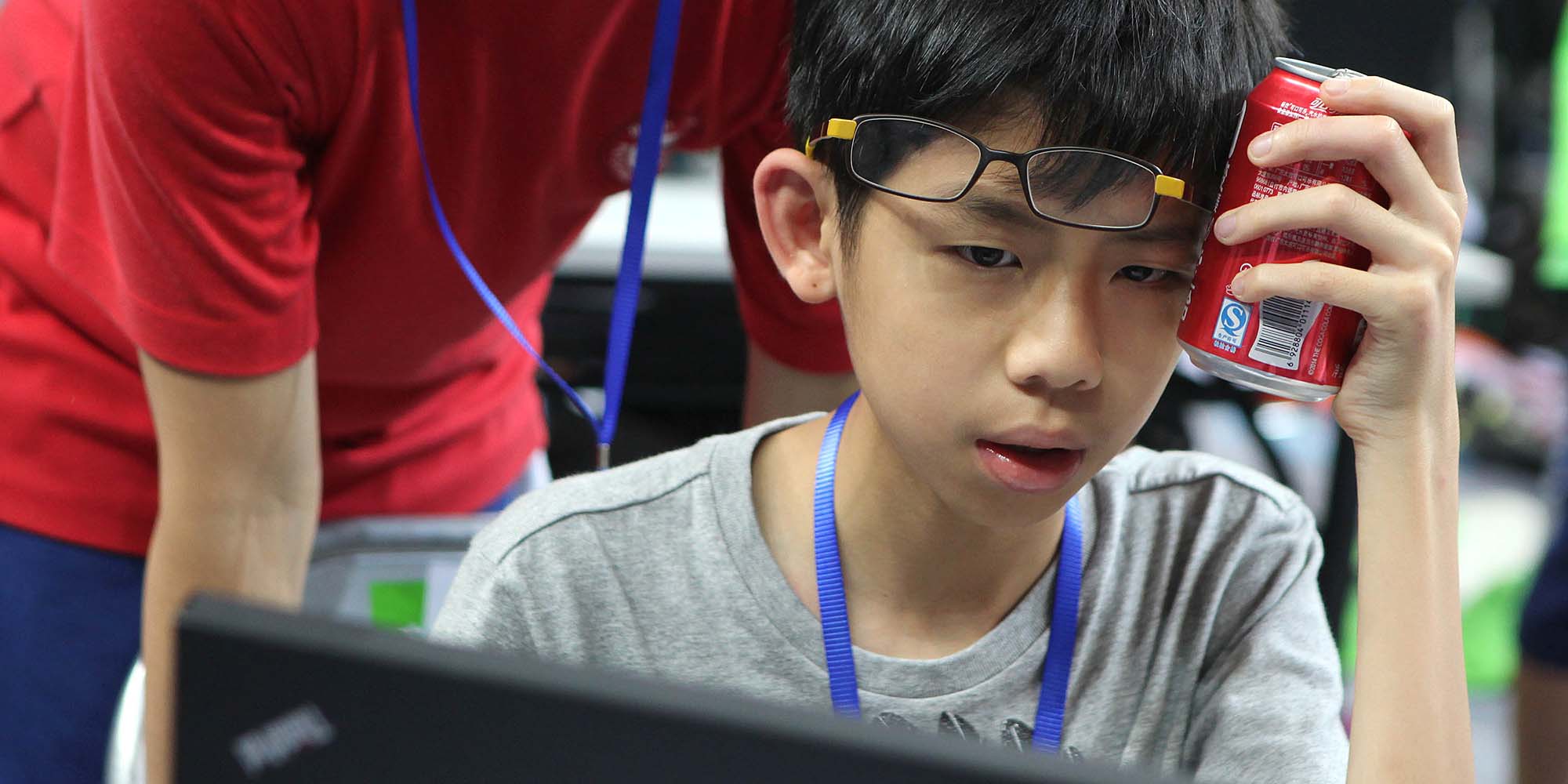 FEATURES
'Code Cat' Gets Chinese Kids Hooked on Programming
Both the government and private enterprises want 'maker education' to become a reality for China's schoolchildren.
Li Tianchi and Sun Yue dream of creating a Hogwarts-like environment for China's young coders.
Last year the two entrepreneurs, both in their mid-20s, founded CodeMao.cn — "Code Cat" in English — a website to teach computer programming to kids. "We hope kids will realize that programming is like a magic key to unlocking the future," Li said.
China is pushing innovation as part of its long-term goal to move away from low-cost manufacturing and become a knowledge-based economy that produces high-value-added goods, such as microchips and robots. As a result, "maker culture" — a phenomenon that combines curiosity-driven engineering with a do-it-yourself mentality — has found its way into Chinese primary and middle schools, often in the form of technology labs and extracurricular clubs, and sometimes with the help of government subsidies.
For example, Shenzhen, a tech and manufacturing hub in the southern province of Guangdong, has earmarked 15 million yuan ($2.2 million) per year for 100 labs in public schools. The city also hosts maker fairs and science competitions for students in order to cultivate the "maker spirit" in the nation's young people. Indeed, many schools in China have already introduced maker courses such as robotics, programming, and 3-D printing to their academic and extracurricular offerings.
Behind CodeMao's cute feline mascots a team of five human instructors and an AI bot that aids in teaching. Exercises take the form of games; for example, a user may have to capture a Pokemon-like creature in a ball and add it to their collection. Users are also guided by animated instructional videos, and instead of writing code line by line, programming is done by dragging blocks of code and assembling them together, similar to building a structure out of Lego blocks.
Today, CodeMao has over 120,000 users — mostly aged between 5 and 15 — who are learning how to program under the free guidance of a sagacious white-bearded cartoon cat, Master Zu.
Some of the website's young users have made impressive progress. Eleven-year-old Long Yu has designed a game called "Seabed Run," in which the player controls a starfish and helps it evade predators on the ocean floor. "I like coding because I can make things that other people find interesting," Yu said.
Yu is a member of a student organization for makers at Xinlian Primary School in Shenzhen. Out of the 1,200 students at the school, around a quarter have participated in maker courses, which are available as electives beginning in fourth grade. "The online coding tools have greatly boosted both the students' enthusiasm for and skills in the subject," said Ye Zhe, a teacher in charge of Xinlian's makers' society.
Dai Qiming is the mother of Wang Rong, an 11-year-old boy in Xinlian's makers' club and an active user on CodeMao. Dai said the experience has helped to broaden her son's worldview. "On CodeMao, Rong can meet other children who share his same passion for coding, and it's great to have mentors with international experience like Li to guide him," said Dai, referring to the website's co-founder.
Besides Xinlian, CodeMao provides free programming courses for around 200 schools and educational institutions all over China. The general trend of growing demand has given rise to a burgeoning maker industry that now provides everything from educational software to robotic sensors to teacher training. In recent years, at least 10 Chinese companies in the field of maker education have received investment from firms like Sequoia Capital of up to tens of millions of yuan.
While the amount of investment received by the creators of CodeMao — Shenzhen DianMao Digital Technology Co. Ltd. — has not been disclosed to the public, it is known to be in excess of 300,000 yuan.
Both Li and Sun were graduate students in the European Institute of Innovation and Technology's "Digital Master School" program when they came up with the idea of a free coding instruction website. The EIT program covers computer science as well as business, and counts top universities in Europe among its participating institutions.
In November 2014, Li and Sun attended an annual conference on internet technology in Dublin. CoderDojo, a nonprofit online community in attendance at the summit, had invited local children to come and practice their coding.
Li and Sun were floored by the programming skills of the CoderDojo kids. "Some of them were even better than college students in China," Sun said. The two friends' eyes were opened to the progress of computer science education in the Western world, and they realized how far behind China was lagging. The pair decided to move home to found their own maker education business.
Once back in China, a few early endorsements helped them hit the ground running. For example, Zhang Quanling, a former news anchor and a judge on a reality TV show that introduces entrepreneurs to investors, lauded CodeMao, saying her 9-year-old son could program games like "Plants vs. Zombies" after just four lessons on the website.
But CodeMao appears to lack a clear business model, as Li and Sun intend to continue to provide online programming lessons to individuals and schools free of charge. They are, however, experimenting with special paid trainings and activities during the summer and winter vacation periods. Li said that although they have given a lot of thought to making their business profitable, all of their ideas are still in the planning stages.
Chinese parents' attitudes toward programming are generally favorable, with today's parents — who are more open-minded than those of decades past — being more inclined to actively encourage their children to pursue maker hobbies. Some even hope that this nontraditional, outside-the-box approach to education can give their children a leg up when applying to overseas universities.
Dai, the mother whose son uses CodeMao, said that given Shenzhen's policies to foster the cultivation of technological talent, she hopes a background in maker education will make children more appealing candidates when they apply for competitive middle and high schools.
"The education environment in China is really far better than in other countries," Li said. "The money that Chinese parents are willing to fork out for their children's education — and the time and attention they are willing to devote to it — would be unthinkable in most foreign countries."
But others see the maker boom as just another, albeit more modern, chance for parents to fret over their children. Zhang Yaowen, a manager at XinCheJian, a self-described "hackerspace" in Shanghai, said parents have come to her asking about how their children measure up to others in terms of maker skills. "They're afraid their children will be left behind," she said.
It's unlikely that the maker boom will result in a major shift in China's workforce skills, Zhang added, pointing to other education and extracurricular fads from the past. "When I was young, I took piano and dance lessons like almost everyone else," she said. "But look at our generation now: It has produced very few artists."
Still, Zhang said the growth in maker culture is a good thing. "I hope it will help Chinese students to become more creative," she said.
In spite of surging demand for maker courses, certain problems remain. One is the lack of qualified teachers. Ma Xiaohuan, director of education at Chaihuo Maker Space in Shenzhen, told Sixth Tone that her department endorsed maker labs in 20 schools across the country last year. Several months later, however, some of those labs still had not been used for their intended purpose because the schools had no staff capable of teaching maker courses.
Now, Chaihuo hosts a monthly training course in Shenzhen open to all teachers who wish to attend. It also sends trainers to other parts of the country in order to cater to those who are unable to come to Shenzhen.
"But many teachers don't have a desire to be trained or to teach maker education," said Ma, who attributed the lack of enthusiasm to the current system of teacher evaluations, which does not incentivize educators to branch out into nontraditional fields.
Ma said Chaihuo is striving to lower the prices of its maker kits in order to make them more accessible to more children. "Our aim is to create a space for children to act wildly with technology," she said.
Additional reporting by Colum Murphy.
(Header image: A young student programs a robot during RoboCup Junior China in Shenzhen, Guangdong province, April 24, 2015. Zhao Yanxiong/Southern Metropolis Daily/VCG)