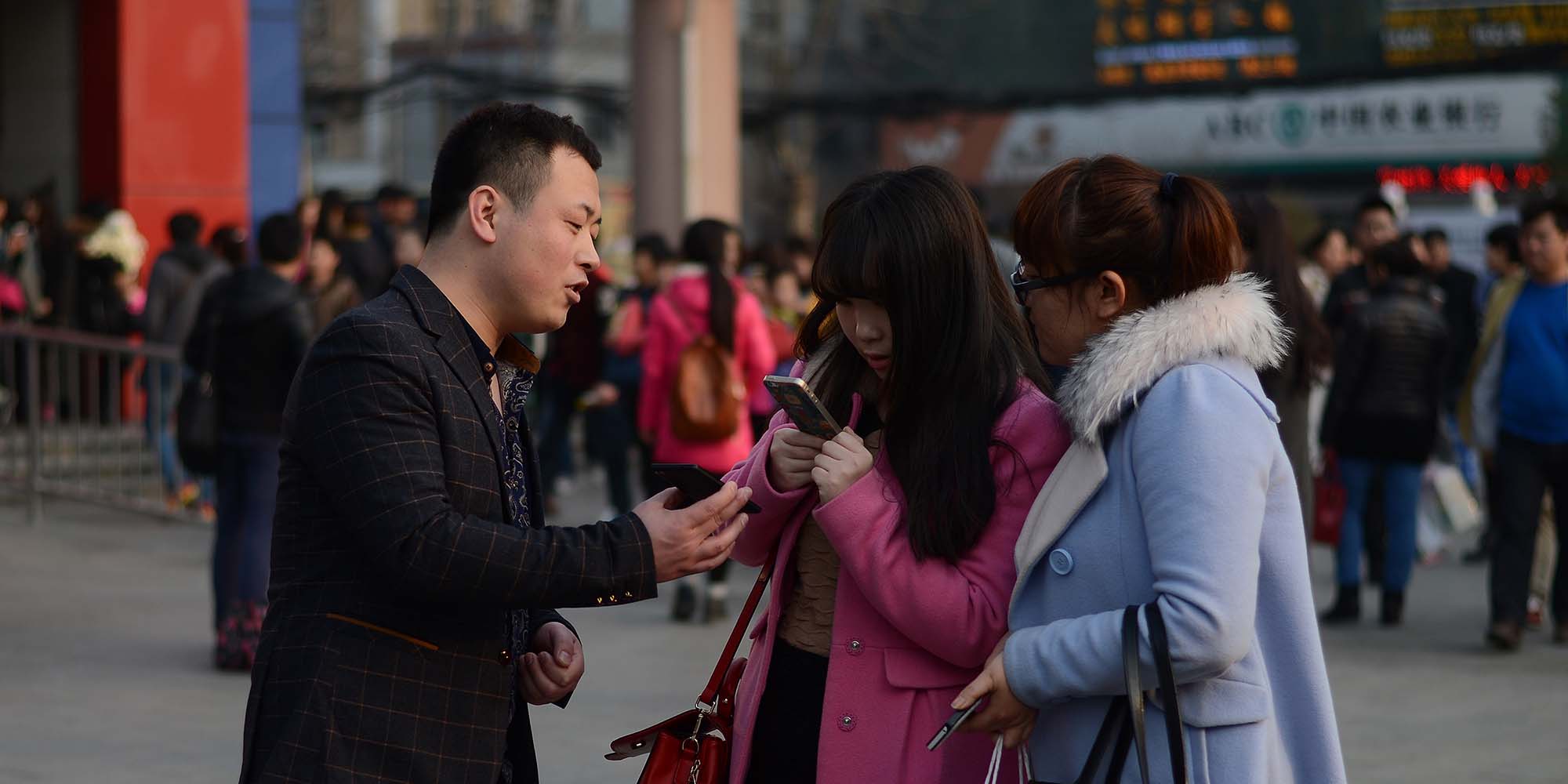 FEATURES
Leftover Men Present Rich Pickings for Dating Coaches
Professional pickup artists turn lonely hearts into steady business.
After three miserable breakups and a two-year dry spell, 26-year-old Gao Bo decided he needed help with girls.
Two weeks ago, he flew from his home in northern China's Inner Mongolia Autonomous Region to Shanghai, nearly 1,800 kilometers away, to attend a three-day course in the art of dating that cost him 9,800 yuan ($1,400).
Gao is an engineer who describes himself as a "typical zhainan" — a Chinese slang term for "stay-at-home men" who have geeky interests, unrefined social skills, and little luck with romance.
"I considered myself a failure in relationships," Gao tells Sixth Tone. "I'd put my heart into it, but I'd get so little response from the girls I pursued." Being a good boy who was earnest and industrious wasn't working for him.
A few months ago, Gao decided to make a change. He downloaded the app Huai Nanhai — "bad boy" in English — an online community for Chinese men interested in sharpening their skills of seduction. The community was founded in 2012 by Wu Jiamin, who had encountered the idea of "pickup artistry" (PUA) in the U.S. Now, Huai Nanhai boasts 5 million registered members and hundreds of coaches, and it claims to be "Asia's largest community for chasing girls."
Some of the techniques and theories espoused by the international PUA community have attracted outrage, revulsion, and disgust. At best, critics say, the methods reduce attraction to a dehumanizing formula that relies on tired gender stereotypes — while at worst, they are coercive and misogynistic.
Chen Dali, the dating coach Gao found on Huai Nanhai, is well aware of the controversy surrounding his industry. "People think we are manipulative and womanizing," the 28-year-old says. But Chen explains that he doesn't teach his students how to seduce women, but rather how to develop their social networks and enrich their personal lives. "If you can't find a girlfriend, most likely it's because you are boring, so you fail to attract women," he says.
Single men like Gao have the odds stacked against them: Gender imbalance in the heterosexual dating scene — an estimated 30 million more men than women were born after 1980, thanks to gender selection under the one-child policy — means women can afford to be more selective.
For Gao, who says he has always been shy, preferring video games over social events, the Huai Nanhai community opened his eyes to the idea that men should try to attract women rather than pursue them. He chose Chen because his approach differed from other coaches on the website, who would give lectures on how to pick up girls and get laid quickly. When he came across Chen, Gao paid 800 yuan to chat with him online for about a month before deciding to fly to Shanghai for a three-day offline course with Chen and his team.
On his first day, Gao was taken on a shopping spree in Xujiahui, one of Shanghai's mall districts. With a 5,000-yuan budget set by Gao, the image mentor picked out some more fashion-forward outfits for him: leather jackets, boots, and styles that Gao had never tried before but felt looked "surprisingly good" on him.
Chen also took Gao to the gym, where he struggled. When Gao could endure only a few seconds of dips to tone his triceps, Chen yelled: "How can you protect your woman if you're not strong enough?"
The coaches showed Gao how to take a selfie, positioning the camera higher so the angle would conceal a double chin. Gao also learned how to alter his photos in basic photo-editing apps. "Once you manage to add a girl on [messaging app] WeChat, it's important to present her with your best pictures," Chen advises.
On the second day, Chen delved further into the theory of pickups: how to chat with girls online, how to be humorous, how to talk to girls on the street, and how to perform in bed. In the past, Gao had no idea why he'd been dumped, but now he has come to understand that his ex-girlfriends were frustrated with his indecisive, impassive, and inexpressive attitude.
On the last day, Gao had to put theory into practice. He and Chen went out to shopping malls, bars, and clubs. As Gao clambered out of his comfort zone to talk to unknown girls on the street for the first time in his life, Chen hid out of view, listening to their conversations through earphones.
"Chen told me that as a man, I need to be stronger and more proactive when I talk to girls," Gao says. "I could never have imagined myself picking up girls on the street and getting their numbers."
Chen quit working as a full-time coach for Huai Nanhai in August and launched his own company soon after. Though he still collaborates with Huai Nanhai as a contractor, he also tries to distinguish his brand from some of the sleazier options. Chen slams pickup artists like Julien Blanc, who was banned from entering several countries after an international campaign protesting that his teachings endorsed sexual harassment, violence, and emotional abuse as forms of seduction. One of Blanc's videos showed him in Japan grabbing women by the head and forcing them into his crotch.
However, a tutorial video that Chen and an Australian dating coach made for Huai Nanhai last year also drew criticism, even from other dating coaches. The video shows the pair approaching women on the street, asking a few questions, then informing their targets that they would receive a kiss for answering correctly. In some instances, the women Chen grabs and kisses look startled and uncomfortable.
Chen tells Sixth Tone that the pair spent over a month shooting the video, and attempted the move on close to 200 girls. "The point was to show our students that it isn't so hard to establish intimacy with a girl," Chen says. He adds that many of his male students believe they need to wait a month or two before even reaching to hold a girl's hand. "But I managed to tongue-kiss a girl after just three questions," he says.
Dating coach Lin Yi says she thinks the approach used in the video is preposterous. "As a woman, I felt shocked and offended when I saw the video," she tells Sixth Tone from her company's classroom in Shanghai.
When 30-year-old Lin first heard of PUA two years ago, she thought it was full of absurd theories and formulas. "I was afraid that many girls would get hurt by these men who learn PUA," she recalls. But Lin changed her mind after she met the man who would become the co-founder of her company.
Lin realized that if she could draw on some of the worthwhile concepts from PUA — learning to understand a woman's psychology or how to be more charismatic, for example — she could teach these men to improve themselves and expand their social circles. "We want to change these men, as well as the industry," says Lin, whose company, fittingly, is called "CHANGE."
While most other coaches offer short offline courses lasting three to five days, courses with Lin's team last six to 12 weeks and cost up to 19,800 yuan. She believes the skills her students learn can benefit them in their work and family relationships, as well as in romantic settings.
"We help them build confidence and try to become better men rather than offering tricks to fool girls into having sex," says Lin. "It's a long-term study and practice."
Huai Nanhai, too, styles itself as an "educational counseling company" that offers solutions to problems of the heart. According to co-founder An Xiaoyao, many Chinese men don't know how to interact with women because they have grown up with a single-minded focus on academic and career success. Unlike in the West, many Chinese parents discourage their children from dating while in school — while also pressuring them to marry before the age of 30.
"I feel sorry for these men," An says. "They missed out during the prime age for developing emotional awareness, which can lead to problems in their love life." When Gao told his parents he'd enrolled in a course to help him find a girlfriend, they were supportive — they couldn't wait for him to settle down.
An adds that many men take it for granted that they will be able to attract women as long as they have money. But in contemporary China, many women are themselves financially stable and independent. "What they really need from men is emotional satisfaction and a sense of security," An says.
Yet for many of Huai Nanhai's users, the point of PUA is to help them score casual sex. Lin's company, CHANGE, has taught more than 500 students, but she says they often reject applicants who find them through Huai Nanhai — which charges a 40-percent commission for each referral — because their values don't mesh with the CHANGE philosophy. "We tell them there are many other coaches who can teach them, but we won't," Lin says.
Wang Huan is one of those other coaches. The 27-year-old Shanghai-based PUA tells Sixth Tone that one-third of his students dream of becoming playboys with action-packed schedules, and he doesn't turn down any students who can pay. Scrolling through the pictures his students have shared with him on WeChat, it's hard to miss the photos of naked women lying in hotel rooms — the results, students claim, of their practice after a five-day offline course.
Since many of his students are shy and inexperienced, Wang says that sharing their successes in the chat group can encourage others to get out there and try their newly acquired skills. He tells his students that girls nowadays are more open-minded than they think. "It's almost impossible to find people in big cities who marry the first person they have sex with," Wang says.
Indeed, attitudes toward sex and dating are becoming more progressive among younger generations. A survey conducted by entertainment and lifestyle website iFeng last year found that nearly two-thirds of female respondents were willing to meet strangers through the internet, and that 23 percent would initiate sex.
Wang dismisses many of the coaches on Huai Nanhai as "keyboard men" who teach PUA theory online without vetting their approaches in the field. "They can't teach other men how to date women if they don't have enough experience themselves," says Wang. He tells Sixth Tone that he's now casually dating a few girls because he doesn't know which one he wants to pick as a steady girlfriend.
Gao, meanwhile, feels that his three-day course in Shanghai with Chen was a good value for the money. He hasn't been on any dates since he returned to Inner Mongolia, but he's pleased that his conversations with girls on dating apps are becoming longer and more interesting. For his part, he's confident that he will find a girlfriend soon.
"As long as the knife is sharpened, it can cut the trees anywhere and anytime," Gao says.
(Header image: A man asks a woman for her WeChat contact information in Xian, Shaanxi province, March 7, 2015. VCG)