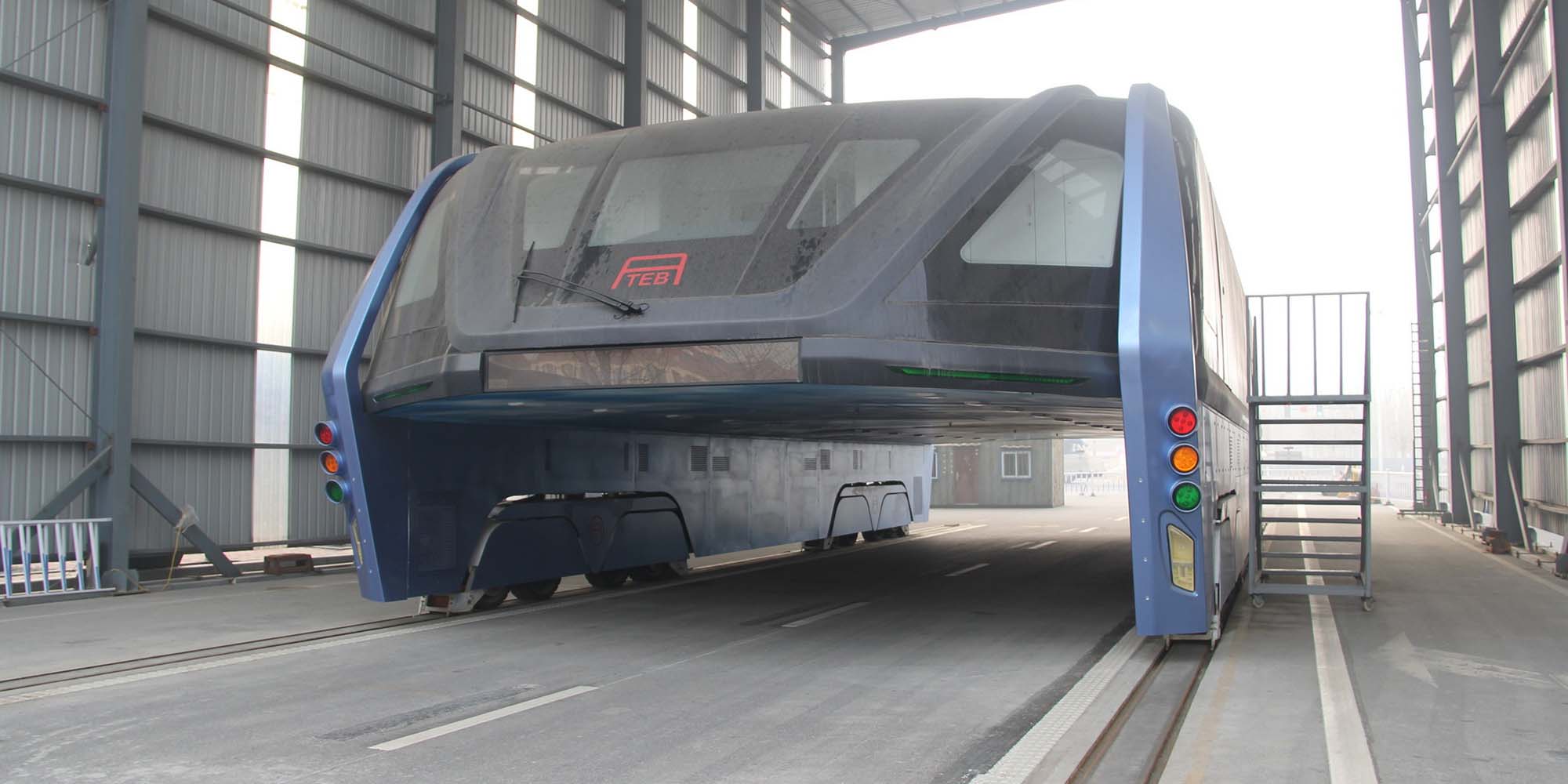 NEWS
Imaginative Chinese 'Straddling Bus' Gathers Dust
The TEB's maiden voyage was a media spectacle, but interest since has dwindled.
This article is part of a series looking back at some of the most noteworthy China stories of 2016.
It's been four months since the "Transit Elevated Bus" (TEB) went on its first test drive. Photos and video of the prototype gliding out of its hangar as cars passed underneath would later go viral worldwide.
But today, the TEB lies abandoned at its test site in Qinhuangdao City, and the vehicle that was supposed to be the answer to metropolitan China's traffic woes is occupying valuable road space: Its test site takes up half of a city thoroughfare, forcing cars in both directions to crowd together on the other side of the road.
An employee surnamed Yu at Qinhuangdao's Beidaihe District government publicity department told Sixth Tone that she's unsure of what will happen to the TEB in the future. "The model is still there," she said. "We thought the next step would be to tear it down."
According to state news agency China News Service, TEB Technology, the company behind the bus, abandoned the site in northern China's Hebei province some two months ago. "I couldn't even contact them anymore," a guard at the site was quoted as saying.
The TEB was designed by amateur scientist Song Youzhou. The idea has been years in the making, as Time Magazine named the bus one of the top 50 inventions of 2010. But only this year, after TEB Technology partnered with a peer-to-peer financing company to crowdfund enough money, did Song turn his dream into a reality. The company also received local government backing, signing a contract in April with Qinghuangdao's municipal government.
But as media outlets triumphantly reported on the vehicle's maiden voyage down city streets, net users on Chinese social media questioned the bus's safety and feasibility, and commentary writers wondered whether the whole undertaking was actually a crowdfunding scam.
In an earlier interview with Sixth Tone, Song said that he had done nothing wrong, and that tests showed the TEB was a viable project. On Tuesday, neither Song nor his company could be reached for comment.
Sixth Tone's sister publication, The Paper, on Dec. 8 reported that TEB Technology has faced a capital shortage since November because investors had halted their funding, and that employees have been leaving the company "one after another." Song, however, told The Paper that TEB Technology is operating normally and has agreed on a new collaboration with a state-owned energy company to manufacture buses.
In August, Xinhua, another state news agency, reported that TEB Technology would be responsible for demolishing the 300-meter track after testing would be completed at the end of the month. But in September, the company told Sixth Tone's sister publication The Paper that there were no immediate plans to remove the road, and that they were planning to build a 120-kilometer operating line through the city.
According to the TEB's public account on messaging app WeChat, representatives from India's Ministry of Road Transport and Highways visited the company and the test site in September, and Song told The Paper that TEB Technology had been contacted by governments and enterprises from Spain, Mexico, and France, among others.
TEB Technology said in another post on its public account that it had signed cooperation deals with six Chinese cities in total, including Hebei's Zhangjiakou — site of the 2022 Winter Olympics — and Zhoukou City in neighboring Henan province. "We expect to start building a factory this year," TEB Technology's social media said, referring to it's plans in Zhoukou. The Zhangjiakou and Zhoukou governments could not immediately be reached for comment on Tuesday.
Meanwhile, Beidaihe residents have to put up with the abandoned site taking up road space. A female employee of a buffet restaurant located opposite the TEB test site told Sixth Tone that the abandoned bus has negatively affected business. She said local residents are inconvenienced because the site takes up three road lanes. "We have reported the situation to local authorities, but no one cares," she said.
The article has been updated to reflect recent developments.
(Header image: The 'transit elevated bus' is disused and collecting dust in Qinhuangdao, Hebei province, Nov. 13, 2016. Qin Feng/VCG)