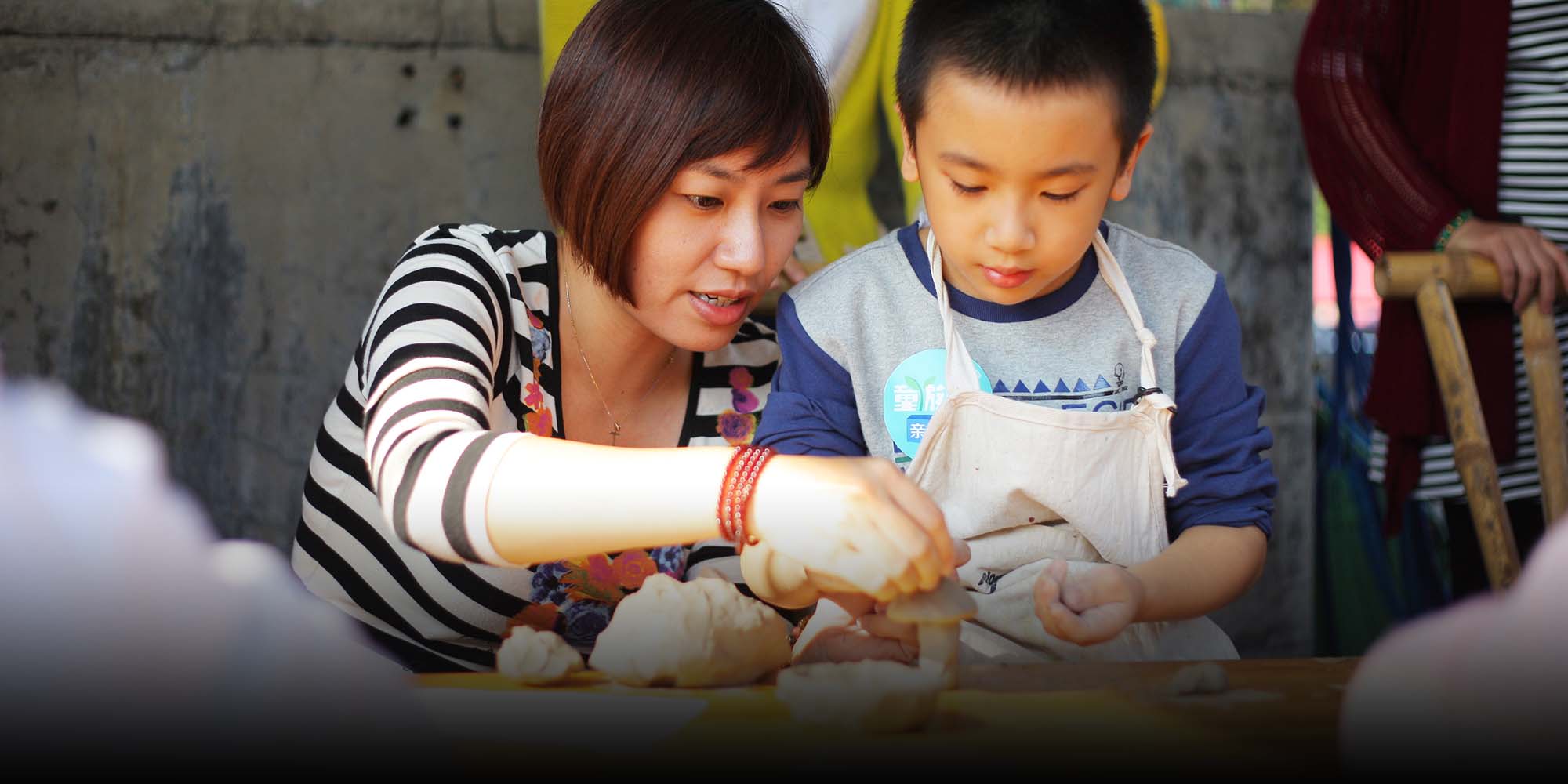 FEATURES
Family Vacations No Holiday For Chinese Kids
Online travel startup tailors educational trips for stressed-out families.
This is the third in a series of articles about young entrepreneurs embracing technology to start innovative businesses around China. You can find articles one and two here.
Zeng Yi doesn't have kids. But that hasn't stopped the 36-year-old from building an online travel company offering family trips aimed at parent-child bonding.
Tongyou — meaning "kids' travel" in Chinese — strives to deliver high-quality educational travel opportunities to China's growing legions of middle-class children, drawing inspiration from the popular television-turned-net drama "Baba Qu Nar?" or "Dad, Where Are We Going?"
Now in its fourth season and averaging 75 million viewers per episode, the show follows the adventures of five fathers and their children as they travel to China's farthest corners. The program's depiction of father-child bonding through travel appears to have struck a chord in China, where having just one child remains the norm, and overworked parents often feel guilty for missing out on family time.
The phenomenon also signaled a business opportunity to Zeng, who is based in Guangzhou, the capital of southern China's Guangdong province. "Kids living in apartments always feel lonely," he tells Sixth Tone. "I realized that we need to create more opportunities for them to make friends."
As China shifts its economy to boost domestic consumption, the country has become the world's largest market for outbound tourists, with 120 million such travelers spending a total of $104.5 billion in 2015. A large piece of the pie is digital, with the trade volume of the online travel agency market exceeding 400 billion yuan ($58 billion) in 2015 — an increase of almost a third from 2014, figures from the China National Tourism Administration showed.
In China, as elsewhere, the travel industry is notoriously fickle. With a change in government policy, a prolonged economic downturn, or even a natural disaster, the fate of travel companies can change overnight. Add to that the challenges of ensuring the safety and satisfaction of China's "little emperors" and their parents, and it becomes apparent that Zeng's business model comes with its fair share of baggage.
A travel industry veteran with a degree in travel management, Zeng has witnessed how traditional travel companies have encountered major competitive challenges — including the rapid emergence of online travel agencies such as Ctrip and eLong.
Zeng also remembers being frequently called upon by friends to suggest holidays and excursions — first for themselves, and later for their families. It dawned on him that the way forward for the travel industry might involve providing an online product that satisfied the emerging demand for family trips.
"At that time [in 2013], almost nobody was doing children's tours," Zeng explains. "Big online travel agencies didn't take the opportunity to look into segmented markets, particularly for kids. That's why we had huge potential to grow."
Zeng started by joining with three friends — two fathers and a mother who were regarded as "key opinion leaders" among other parents — to organize small-scale weekend experiences for kids, such as farming and arts and crafts. At the end of 2014, the four jointly founded Tongyou in Guangzhou, investing around 1 million yuan out of their own pockets.
The more popular tours currently on offer on the site include a nine-day winter ski vacation to northern China's Heilongjiang province: For 5,880 yuan per head, a group of around 15 children will learn the basics of skiing and other activities through so-called American-style teaching methods.
Overseas travel is also possible, with Tongyou offering weeklong tours to countries such as the U.K. and New Zealand. During a 13-day study trip to Australia that costs 22,800 yuan, kids will take a daily three-hour English course at a Brisbane college and engage in hands-on learning through excursions to the Great Barrier Reef, surfing and diving lessons, visits to a koala sanctuary, and an introduction to Tjapukai aboriginal culture.
One challenge Zeng and his colleagues face is customizing the tours for a range of ages while maintaining the quality and safety standards demanded by parents. "We have to pick places for accommodation, vehicles, and restaurants very carefully," he says. The company also relies on around 200 part-time volunteers — mostly housewives and university students — to help provide a 5-1 ratio of children to assistant teachers on every tour.
According to a report from Analysys, a big-data analytics service provider based in Beijing, the kids' travel industry has seen the most robust growth compared with other specialized travel markets focused on elders, medical care, and honeymoons.
Xu Ou, a father from Shanghai, tells Sixth Tone that he used to plan an annual trip to help his 10-year-old son "open his eyes" to the world. But now, Xu intends to take advantage of professional offerings, choosing tours with interesting themes that he was not able to organize by himself.
Over the summer, Xu and his family went on a three-day tour offered through Maitao.com — a Shanghai-based kids' travel startup — focusing on the excavation of dinosaur fossils in eastern China's Laiyang City, Shandong province. "My son was so impressed with the tour," Xu recalls, "and the way that they invited experts to instruct the children was creative. He could never have such adventures in Shanghai."
Still, some parents remain skeptical about the content of kids' tours. Xue Guangjian, a father from Guangzhou, tells Sixth Tone that while these trips give his 9-year-old son a chance to socialize with other children, he has not yet found an agency whose tours meet his educational standards.
"When I saw that one company offered an elephant-riding experience, which involves poor treatment of animals, I wondered if it could deliver the right kind of instruction to my son," Xue says, adding that "the high price is another critical concern for us."
Still, Zeng says a growing number of parents are changing their attitudes toward children's enrichment. He attributed this shift to parents' own increased levels of education due to improvements in the country's school system as well as greater access to the internet.
"Unlike the previous generation, young parents, especially those born after the 1970s and 1980s, are more open-minded and more willing to listen to their kids' voices," Zeng says. "They also want to develop their kids' hobbies in various areas, from art to physical exercise, without merely focusing on test results at school."
However, given that there are few successful kids' travel business models either in China or abroad, investors have been apprehensive about the risks of supporting companies that mix children and travel. "Most Chinese startups are just copycats from Western countries, but our industry is an exception: Nobody has any prior experience, and all players are still just exploring by themselves. That's why venture capitalists are cautious," Zeng explains.
After receiving 5 million yuan from angel investors in May 2015, Tongyou was able to secure additional pre-series A round funding in September this year, though three months later than expected. Meanwhile, rival startup Maitao.com reportedly raised 40 million yuan in funding in July 2015.
Tongyou is now valued at nearly 100 million yuan and is southern China's biggest online travel startup specializing in kids' tours, with 40 employees and a total of more than 300,000 registered users across its official site and its original platform, popular social media app WeChat.
Since receiving its most recent investment, Tongyou doubled the number of new tours it offers to more than 600 per month. Around 70 percent of the tours are arranged by third-party partners, including travel companies and educational organizations, who market the trips through the company's platform under the Tongyou name.
Unlike big online travel agencies that burn through money from investors to garner massive online traffic, Zeng says Tongyou is able to turn a profit during peak travel seasons such as the summer and winter holidays. And during this year's Nov. 11 online shopping festival, the company received five times the number of orders from last year, with its sales volume hitting 1 million yuan.
"The profit margin for the traditional travel industry is normally 6 to 8 percent, but with educational elements added to our tours, our margin could be as high as 30 percent," Zeng claims.
Though Tongyou has already attracted customers from cities outside of Guangdong, including Fuzhou, Xiamen, Changsha, and Nanning, Zeng feels it's too early to talk about market competition. He says the company won't consider expanding its scope in the next three to five years; instead, Zeng's top priority for the time being is to better serve Tongyou's main customer base in Guangdong.
"One prominent character of the travel industry is its localization," he says. "Each company has not yet met the growing needs of the consumers in their own cities."
But in the future, after the nation's two-child policy gives rise to more second children, Tongyou aims to expand to other provinces in its quest to become the largest kids' tour provider in China.
Zeng says he's in it for the long haul, as he knows the child-focused travel sector is still in its early stages of growth. "After all, it is a new industry," he says. "It will take time to cultivate the market so that more parents accept these new kinds of tours."
(Header image: A mother and her son make dim sum at a farmhouse in suburban Guangzhou, Guangdong province, Nov. 15, 2014. Courtesy of Tongyou)