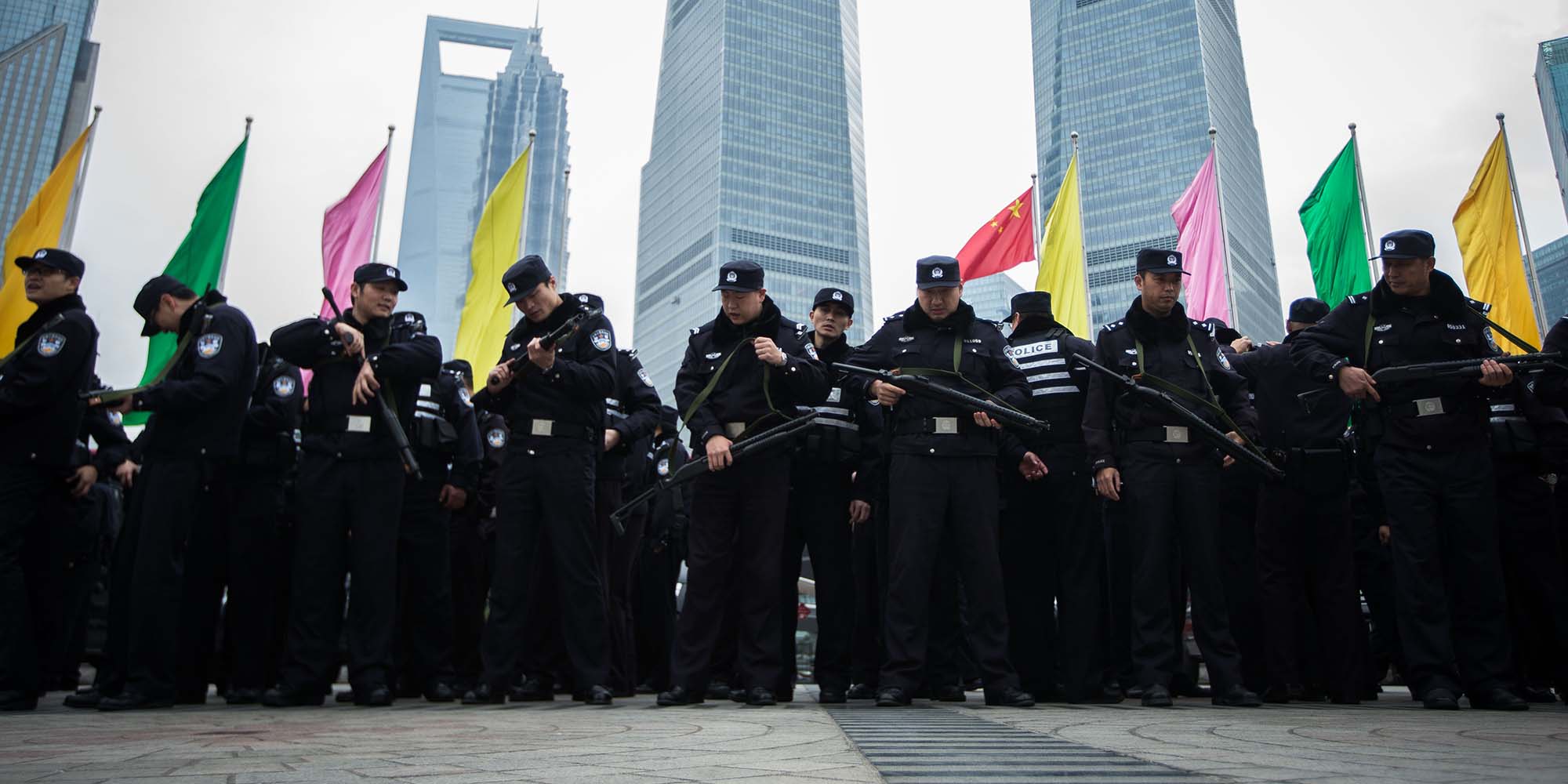 NEWS
Draft Law Includes First Gun Use Rules for Police
China's updated Police Law also contains provisions for local internet restrictions during disasters or security crises.
China's Ministry of Public Security has redrafted the People's Police Law to include provisions for when officers are authorized to use their firearms. If the draft law is enacted, it will be the first piece of legislation in China to specify the circumstances under which police can use their weapons to enforce the law.
The draft, released on Thursday and will be available to the public for one month, includes 59 new items.
According to the document, firearms can be used if citizens attempt to escape from police custody, attack police or high-security areas, or pose a threat to national, public, or their own personal security. The draft also states that police can use their weapons immediately if there is no time to issue a warning, or if issuing a warning would lead to greater harm.
Lin Hua, an associate professor at China University of Political Science and Law in Beijing, told The Paper, Sixth Tone's sister publication, that the new draft law reflects government concern for when and how police use their weapons.
Until now, there have only ever been official guidelines, or "administrative rules," regarding firearm use. These came into effect a year after the current People's Police Law was released in 1995.
According to a statement from the public security ministry, the new version of the law, last revised in 2012, aims to strengthen supervision of the police and improve police professionalism.
The law also highlights circumstances under which the use of firearms is forbidden, such as crimes being committed by children or pregnant women, or in places with flammable, explosive, or radioactive materials.
On Friday, a police officer in Shenzhen, a tech and manufacturing hub in southern China, shot a mentally disabled man who chased after him with two small knives. According to reports, the man had been warned repeatedly before the officer shot him in the neck and is now recovering at a hospital.
The draft law will also allow police to place further restrictions on internet use within their areas of jurisdiction during public health emergencies, national or regional security crises, or natural disasters. According to the draft, local police will be required to obtain permission from provincial or central authorities in order to implement any additional restrictions.
Finally, the draft law addresses the problem of law enforcement personnel who are not officially qualified yet are nonetheless employed by police stations. The draft says that these so-called assistant police, or fujing, who are often blamed in instances of police malpractice, should no longer be used as scapegoats by senior police officials. Instead, police departments will now be ultimately responsible for the fujing they employ.
On Chinese social media, the draft law's weapon use section has attracted considerable attention, with many praising the new measures for regulating and protecting police officers. "I support the law. Every day when I see these unarmed police — some of whom don't even have batons — I worry about whether they're actually capable of protecting us," wrote one Weibo microblogger.
However, others worry that the law may give police greater freedom to target innocent citizens who are seen as troublemakers. A second, more skeptical Weibo user asked, "Does this mean police can shoot people in the street and call it social justice?"
The new draft law will apply to two branches of the police force: the public security police and the judicial police. It will not apply to the army police, who fall under the jurisdiction of the State Council and the Central Military Commission of the Chinese Communist Party.
(Header image: A squad of armed police stand in formation during a training session in Shanghai, Dec. 19, 2014. Yang Yi/Sixth Tone)