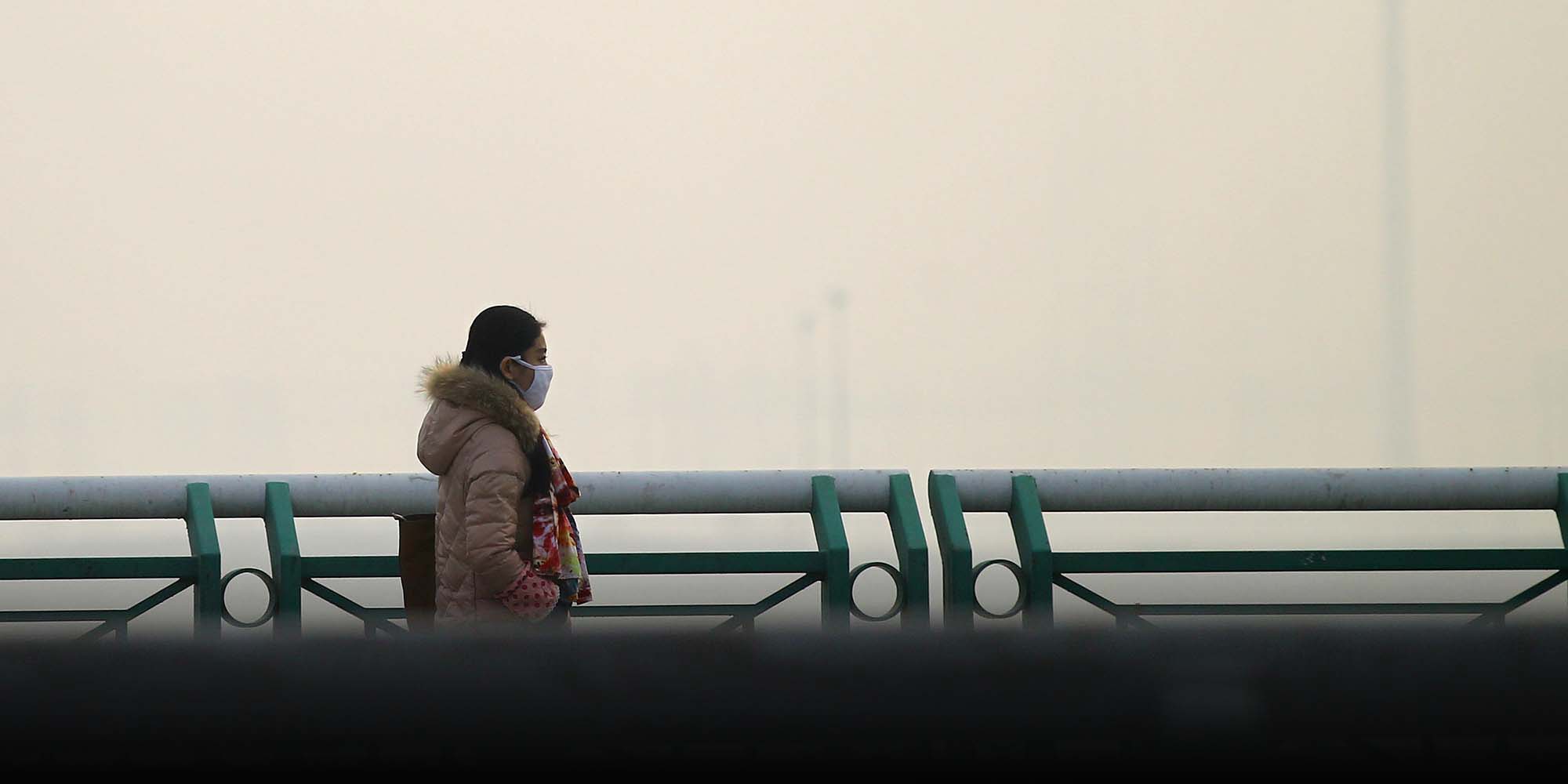 NEWS
Activist Sues Polluted City for Cost of Smog Mask
Environmentalist says Zhengzhou, one of China's dirtiest cities, should be held responsible for its bad air.
An environmental activist has sued the government of Zhengzhou, capital of central Henan province, for the cost of a smog mask he bought during a business trip to the city.
Sun Hongbin is a 25-year-old environmentalist who volunteers with Airman, a nongovernmental organization dedicated to raising awareness of air quality. On Nov. 20, he travelled to Zhengzhou for work and bought a smog mask for 32 yuan ($4.60) because he felt the air was "choking and foggy."
According to figures released by the Ministry of Environmental Protection, the air quality index for Zhengzhou on the day in question was 253 — a "severe" level of pollution. In the first half of 2016, the air quality in Zhengzhou ranked third from last out of all Chinese cities for which data was available.
"According to the Environmental Protection Law, local governments should be responsible for air quality, so I thought I could push the authorities to address the smog [via a lawsuit]," Sun told Sixth Tone on Thursday. The terms of his lawsuit are that the Zhengzhou government should cover the price of the smog mask, as well as all legal fees.
The case was accepted by the Intermediate People's Court of Xinxiang, another city in Henan, on Friday, according to a report from The Paper, Sixth Tone's sister publication. The Zhengzhou government could not immediately be reached for comment.
This is not the first time Sun has taken legal action against the government. The environmental activist and his colleagues at Airman went to court previously over unanswered freedom of information requests, a problem that plagues activists who often seek and rely on data from environmental impact assessments.
Zhengzhou, which is among China's most polluted provincial capitals, in 2015 failed to meet its environmental protection targets set by the government of Henan.
In January this year, the central government began sending teams of independent environmental inspectors to supervise local governments for the first time. In November, Henan was criticized by these inspectors for its particulate matter (PM 2.5 and PM 10) levels, which caused it to be ranked the second-worst province in China.
Wang Wanbin, a leader of one of the central government's inspection teams, said that many Henan cadres held the misconception that "short-term environmental degradation is an inevitable sacrifice for growth," or that atmospheric pollution was primarily the result of natural geographical circumstances.
(Header image: A woman wearing a mask walks through heavy smog in Zhengzhou, Henan province, March 16, 2016. Bai Zhoufeng/VCG)