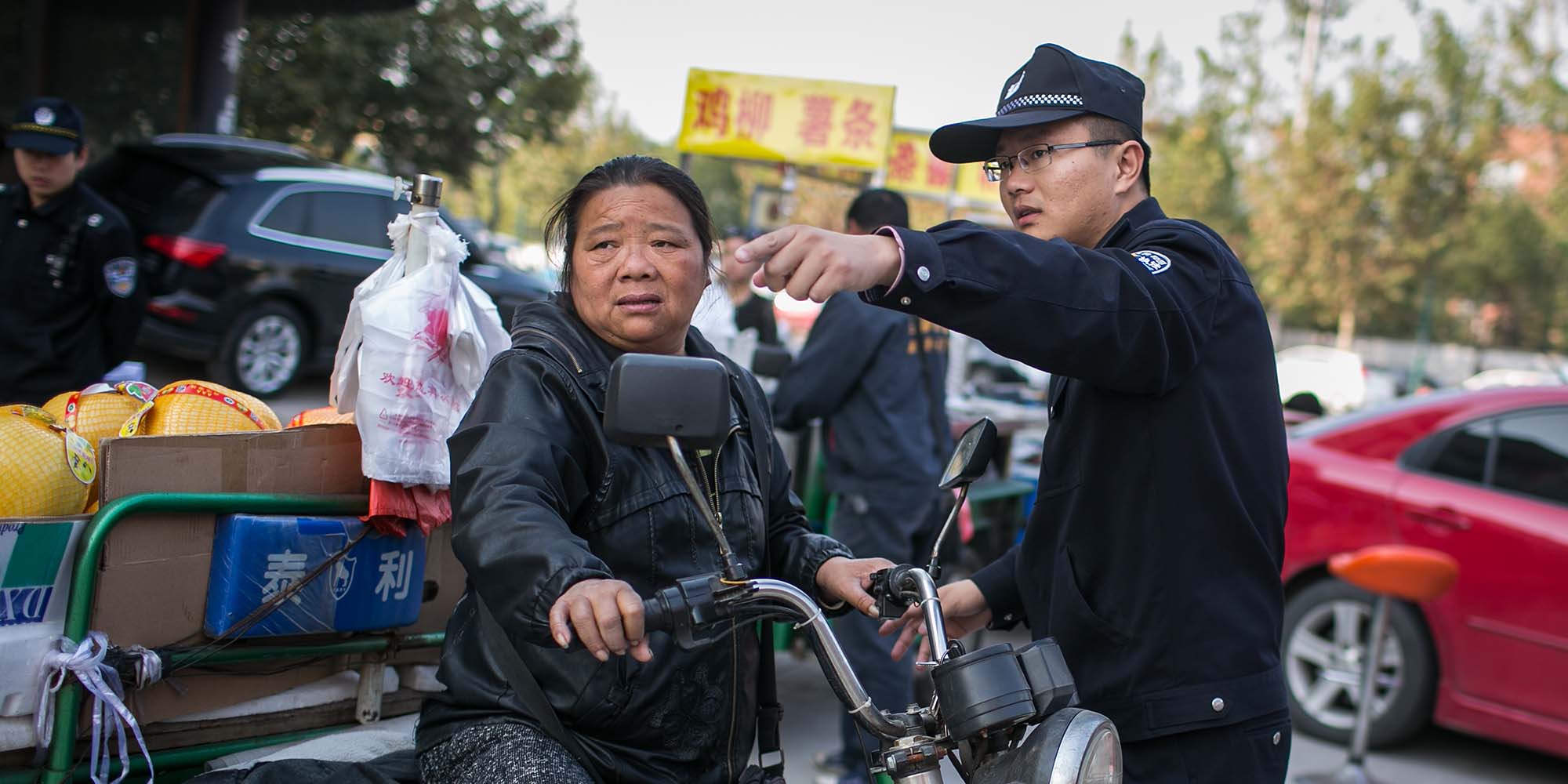 NEWS
Hawking in Another's Shoes: 'Chengguan' and Peddlers Swap Jobs
Novel scheme not enough to foster understanding between street vendors and their watchers, experts say.
The bane of any Chinese street vendor is the watchful eye of city management officials, or chengguan.
Charged with maintaining order on city streets and lanes around the country, chengguan enjoy a poor reputation for their argumentative and at times confrontational stance, particularly when it comes to street vendors.
But now one city in eastern China is hoping to improve the chengguan's rap by inviting those very same hawkers to join forces with them in the hope that the experience can help build bridges. One official will also shed their uniform and embrace the world of street peddling.
On Monday, an announcement posted to the official Weibo microblog of the city management of Changzhou, a city in Jiangsu province, offered applicants the chance to walk in the chengguan's shoes for one day.
According to the post, street peddlers interested in the assignment should be at least 18 years old, work in the food or retail industry, and be in possession of a local residence permit. They should also be prepared to come under public scrutiny as their every move will be recorded on video.
As of Tuesday afternoon, a handful of hawkers had already signed up, the Changzhou city management official in charge of recruitment told Sixth Tone by phone.
The chengguan who will take up hawking for a day has already been selected: 30-year-old Cao Wenhu, who has eight years of experience as a city management official. With support from his wife, Cao decided to sign up for the challenge.
"My wife encouraged me to learn to think critically," Cao told Sixth Tone. "I also want to see any deficiencies in enforcement of the law on a day-to-day basis, and consider points for improvement." Cao is looking to take on the role of a broiled cuttlefish vendor in the southern part of the city center, a residential area and transportation hub.
Some net users welcomed the scheme. "What today's society lacks most is the ability to see problems from other people's perspectives," wrote one Weibo user.
Others, though, were not so convinced, doubting the effectiveness of the plan to truly change minds. Zhao Yang, a controversial city management official who runs a chengguan forum and regularly posts inside scoops online, wrote on Weibo that this is a commonplace tactic for publicity.
"It's at most role-playing," Zhao wrote. "Experiencing a chengguan's hardships won't change the hawker's determination to peddle."
Chengguan have come to be seen as public enemy number one in urban areas. In recent months, however, several city management departments from around the country have spearheaded efforts to convince the public that they are not as bad as some might believe. In June, chengguan live-streamed the clearing-out of illegal peddlers in Zhengzhou, capital of central China's Henan province.
Associate Professor Gu Dasong at the law school of Southeast University in Nanjing, capital of Jiangsu province, told Sixth Tone that such efforts are a step in the right direction. "They have strengthened public participation, including among the people within their management scope," he said.
However, Gu said he was taking a cautious stance on the latest initiative from Changzhou. "The hawkers have their own business," he said. "Being a chengguan for one day is not the same as being a real chengguan."
Hawkers in Shanghai were skeptical of the job-swapping, too. "If they paid me, I would consider being a chengguan for a day," a woman selling socks on the street told Sixth Tone. She said that she had received fines of 500 yuan ($73) several times. "If I were a chengguan," she added, "I wouldn't try to catch any peddlers, because I know how tired and exhausted they are."
(Header image: A 'chengguan,' or city management official, asks a hawker to do business within the legal business zone in Jinhua, Zhejiang province, Nov. 4, 2014. Chen Zhongqiu/VCG)