An update to Alipay has quickly transformed the app's social networking feature into a pornography exchange.
Tech giant Alibaba on Thursday updated its payment app and introduced "Circles," a facelift for the platform's social network. The update created categories in which only specific users — for example, female college students — can create posts. Others are restricted to liking or "tipping" up to 200 yuan ($29), and only people with high credit scores can comment.
This setup has apparently inspired many users to earn some money on the side, posting sexually suggestive or nude photos of themselves and asking for tips or promising to accept friend requests for a fee. The two circles most affected by the raunchy content are "Campus Diary" and "White-Collar Diary," both timelines to which only female users are allowed to contribute.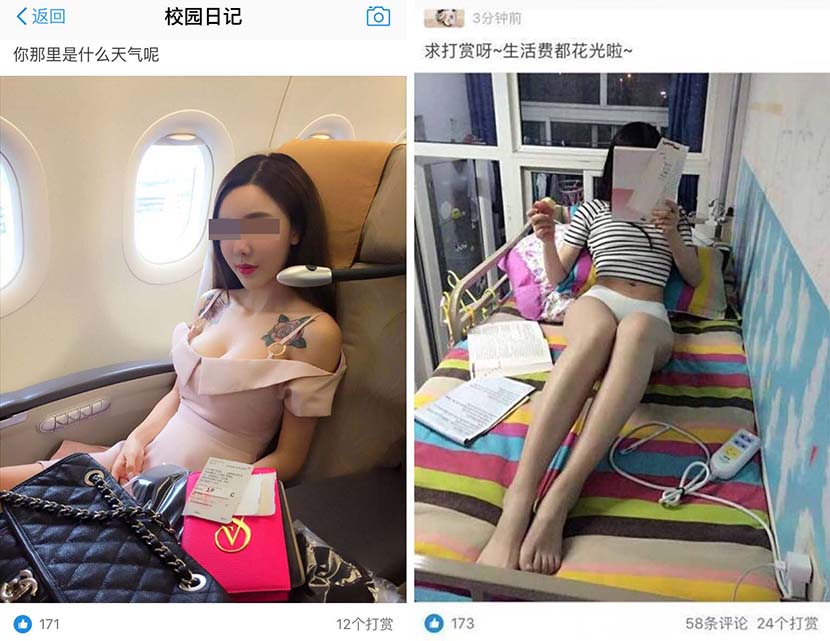 Screenshots from 'Circles,' a rebranding of Alipay's social network, show sexually suggestive photos of female users hoping to make a quick buck.
The phenomenon has received its fair share of attention on social media. "This time Alipay is too disgusting and vulgar," wrote one user of microblog platform Weibo. "Only the rich men are able to comment, and only the young girls are able to post pictures," wrote another, referring to the gender and age limit for "Campus Diary" commenters and contributors, respectively.

"Online-to-offline prostitution is pretty cool," Wang Sicong, internet celebrity and son of business magnate Wang Jianlin, wrote tongue in cheek on his microblog.
A management account of the "Campus Diary" circle posted a notice on Sunday imploring users to maintain a clean environment and to see the circle as a platform for acquiring experience from others. "We should create more opportunities to make ourselves better," the announcement said.
When that appeal fell on deaf ears, another management account on Monday wrote that all the vulgar photos would be deleted and that accounts responsible for posting them would be blocked. By Monday afternoon, all sexually suggestive photos had indeed been removed.
Pornography is illegal in China. On Wednesday a 21-year-old woman was sentenced to four years in prison for distributing pornographic videos for profit.
In a written statement sent to Sixth Tone on Monday and posted on its Weibo page, Alipay said it had recently released an update that enabled select users to try the "Circles" functionality. The new platform is designed to connect like-minded users and encourage them to share their common interests. "Circles" is well-placed to handle problematic content, the statement said, because all Alipay users must register their real names to use the network, which enables tighter monitoring of harmful messages.
According to Alipay, "Circles" is different from other social networks because it "can immediately detect harmful messages and deal with them according to their classification, based on Alipay's real-name system and big-data capabilities."
Alibaba has for years tried to improve its social media offerings. In 2013, the company developed its own messaging application, Laiwang — whose name has since been changed to Diandianchong — to compete with messaging app WeChat. Recent versions of Alipay have put more emphasis on social features, such as "Daowei," a tool introduced in September that allows users to pay each other for services. The company has also invested in Momo, a messaging app which many users turn to for dating and hooking up, and Weibo.
But the company's efforts have so far not impressed patrons. "For many users, the most common use of Alipay is for its payment function," Lei Jianping, a tech reporter, wrote on his WeChat public account. Lei believes that Alipay becoming more and more like WeChat makes it harder to use the app for its original, commercial purpose. "It puts the cart before the horse," he said.
(Header image: A user opens the Alipay app on a smartphone, Sept. 12, 2016. VCG)