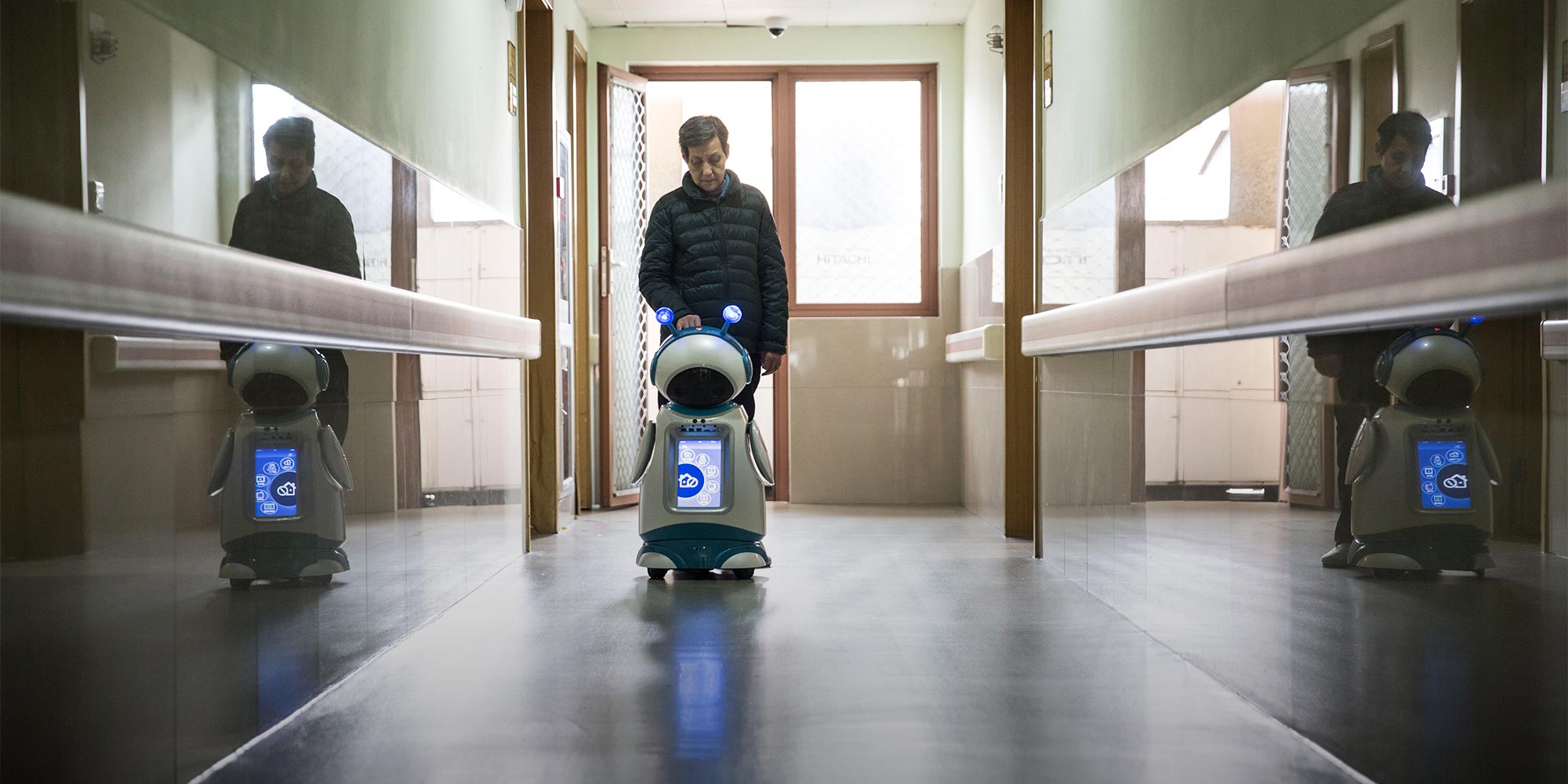 NEWS
I, Robot, Will Dance With Grandma
With approval from the government, China's assisted living facilities are turning to AI technology to bridge gaps in elderly care.
The spritely rhythm of Teresa Teng's 1970s pop ballad "Tian Mi Mi" has brought 83-year-old Zhao Qiuying to her feet. It's afternoon at the Hangzhou Social Welfare Center, and the pensioner, who suffers from Alzheimer's disease, is in a dancing mood.
At just 80 centimeters tall, Zhao's dancing partner is on the small side, but manages to keep up with her thanks to two 5-megapixel cameras where its eyes might otherwise be that enable it to track the movements of its counterpart. This is Ah Tie, a 15-kilogram robot procured by the assisted living home to keep its elderly inhabitants company.
The home, in the eastern city of Hangzhou, introduced Ah Tie to its residents in May of this year, along with several other similar robots, all made by local tech company Woosiyuan. It took three years of research and development to bring Ah Tie to life, according to Chen Wei, Woosiyuan's head of marketing, and there are plans for even more competent robots. "Future elderly care robots will have many more functions," he says. "It will be possible to develop in additional areas, such as health monitoring systems, long-distance medical care, and intensive nursing."
The assisted living home's deputy director Zhao Huyue (no relation to Zhao Qiuying) believes that the benefits of robotic helpers are many: Not only can they help to manage the work shifts of the center's staff and remind residents to take their medication on time, but they also add something new and fresh to elderly care.
Alzheimer's patient Zhao Qiuying may relish the opportunity to bust a move to Teresa Teng, but her daughter has reservations about just how valuable the robots are. "It will be very difficult for robots to replace us," says Sun Hong, who takes every opportunity to check her mother for any health irregularities, such as inflammation, when she visits. "There is a warmth to our touch when we interact with the elderly. Robots are cold as ice."
But Sun and her husband both have jobs, and there are other elderly family members who need their attention, too. Sun only has time to spend half a day with her mother every week.
The ability of mechanical helpers to fill gaps in China's elderly care is on the government's radar, as evidenced by the inclusion of robotic helpers for the elderly in the Ministry of Industry and Information Technology's April report on the development of the country's robotics over the next five years. "There will be all manner of robots," acknowledges Deputy Director Zhao, "but we should be more concerned with the relationships — particularly the emotional communication — between the elderly and their children."
Indeed, emotional support is something that Ah Tie, along with others of its ilk, is nowhere near being able to provide. It is a shortcoming that is compounded by the fact that Ah Tie is only able to understand Mandarin, China's standardized vernacular.
"I like you very much, Ah Tie," Alzheimer's patient Zhao says to her dancing partner in her heavily accented Zhejiang dialect.
After a brief pause, Ah Tie replies: "Please speak Chinese."
(Header image: Zhao Qiuying with the robot Ah Tie in a hallway at the Hangzhou Social Welfare Center, Zhejiang province, Nov. 2, 2016. Chen Ronghui/Sixth Tone)