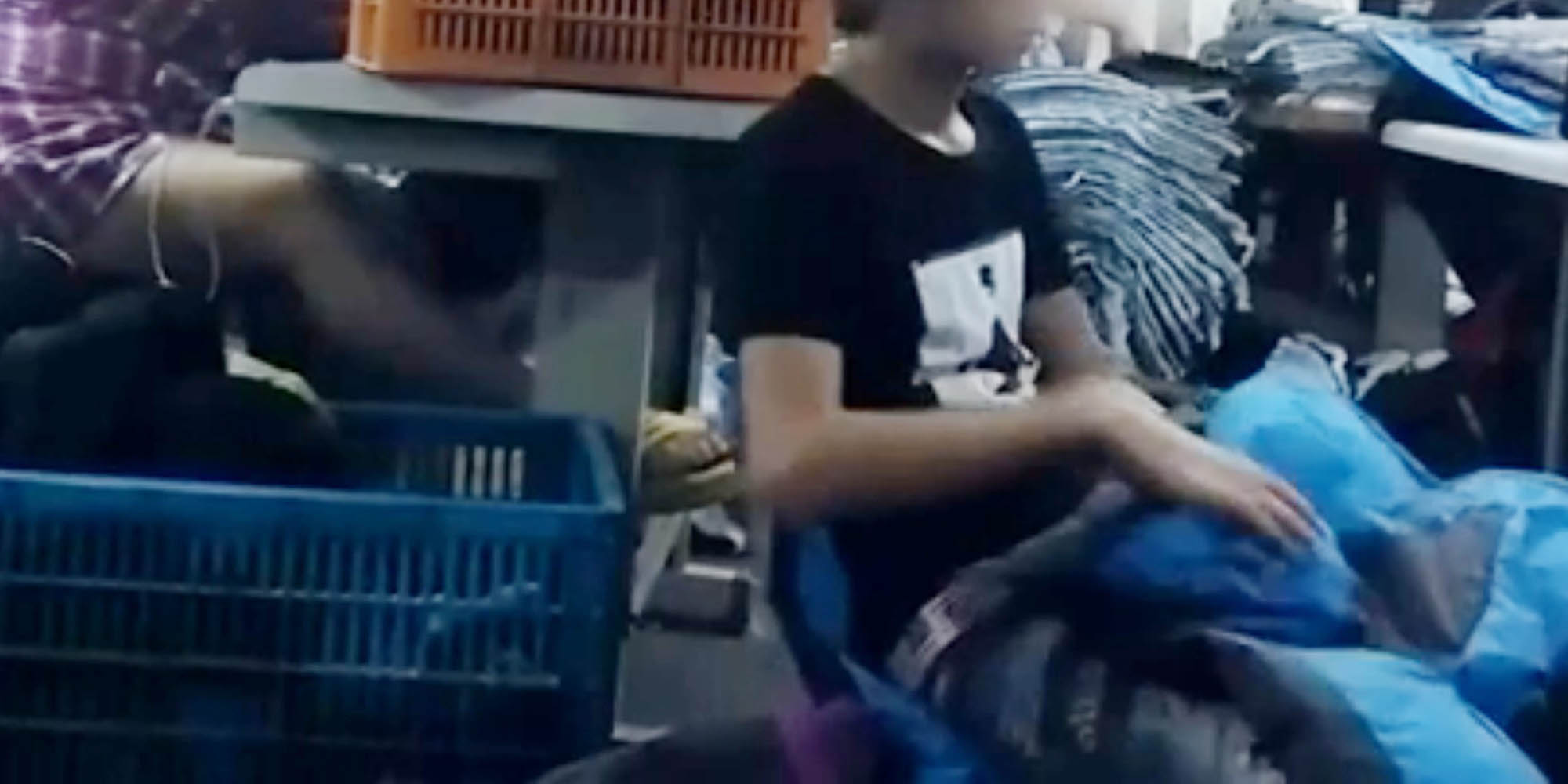 NEWS
Undercover Child Labor Video Leads to Arrests
Clandestine investigation into Changshu's clothing industry prompts city officials to crack down on employment of minors.
An undercover investigation into the use of illegal child labor has led to the arrest of two men, after at least eight underage children were found making clothes in a factory in eastern China, according to state broadcaster CCTV. On Monday, a clothing factory foreman and his associate were arrested in the city of Changshu.
In China, children under the age of 16 are not legally allowed to work; however, the problem of child labor persists. The exact number of child laborers is unknown, as the government does not release official statistics, but the International Labour Organization predicted there would be 9.25 million "economically active" children between the ages of 10 and 14 in China by the year 2000.
In an announcement on its official Weibo microblog account, the municipal government of Changshu, a city in Jiangsu province known for its clothing industry, confirmed the arrest of a 40-year-old suspect surnamed Feng, following his appearance in an undercover video by digital news platform Pear Video.
According to Monday's statement, Pear Video's 6-minute clip, which has since been viewed over 16.5 million times and garnered over 9,700 comments, led the municipal government to embark on the citywide clampdown. Scenes from the short video show lines of young workers in rooms piled high with mountains of clothes, while audio of a conversation with an unidentified source indicates that workers work from 7.30 a.m. until 3 a.m., and are beaten if tasks are not completed.
Another unidentified source said that it is common for garment companies to employ four to five child laborers without any form of contract. Given the unskilled nature of the work, he said, child laborers can complete tasks to the same standard as experienced workers for just one-third of the salary.
"Agents find the workers in the countryside," said the foreman of one garment factory in the video. "They are easily deceived." He added that many were brought in last year from Yunnan province, in China's southwest.
"Xiao Xiong," the nickname of a child laborer featured in the video, was one of them. "I didn't realize that working without the sun beating down on you could be so tiring," said the 15-year-old from the city of Wenshan. According to Xiao Xiong, his daily quota of clothing garments has doubled from the previous number of 350 since he began working. He might not have a contract, but leaving before having completed a full year means no pay, he said.
In a follow-up video published Tuesday that investigated the hometowns of Changshu's child laborers, an agent at a labor company in Yunnan's capital, Kunming, said that the minimum commission for procuring a laborer for a factory is 1,000 yuan (around $145). "For clothing factories, you need to be young or have very little education," she said. "Either they have no formal identification, or they are below 16 years old."
Sixth Tone was unable to reach Changshu's municipal government for comment.
According to a Wednesday article by state-owned newspaper Beijing Youth Daily, Changshu's municipal government has investigated 107 child labor cases, affecting over 200 children, since 2012. The investigations have resulted in combined fines of over 3 million yuan for the companies involved.
In April of this year, a 14-year-old child laborer in China's southern Guangdong province died suddenly, and his employer was ordered to provide the boy's family with 150,000 yuan in compensation.
Qiu Hengyu, a lawyer specializing in labor law at Guangzhou-based Yingke Law Firm, told Sixth Tone that China's law stipulates that companies can be fined 5,000 yuan for every month that a child works illegally, and can face criminal prosecution. But the ubiquity of Changshu's child labor force points to inadequate supervision on the part of local authorities, Qiu said, while the legal cost of employing children is relatively low.
Simply fining the employers isn't enough, said Lu Jingbo, a partner at Shanghai-based River Delta Law Firm. Lu, who specializes in employment law, told Sixth Tone that companies who employ child laborers should also be ordered to pay punitive compensation. "The effectiveness [of such compensation] would be far greater than that of fines," he said. "It would encourage children to safeguard their legal rights."
But as the large number of children flocking to cities like Changshu shows, the appeal of work in urban centers remains a more attractive prospect than staying in school or working in the fields.
A child from a village near Wenshan spoke to the camera in Pear Video's follow-up report. "The people who used to be so average-looking when they lived here came back from working elsewhere as new people," said the 14-year-old boy, identified only by the nickname "Xiao Wen." "They had new haircuts — it was awesome." Xiao Wen said he had dropped out of school and was planning to move to a city to look for work after Chinese New Year.
"If the children and their parents are still receptive to the prospect of the illegal employment of minors, it means that China's poverty gap is too large," the lawyer Qiu said. "You can't make money from school."
Additional reporting by Yin Yijun.
(Header image: A screenshot from the news video shows a young boy working at a clothing workshop.)