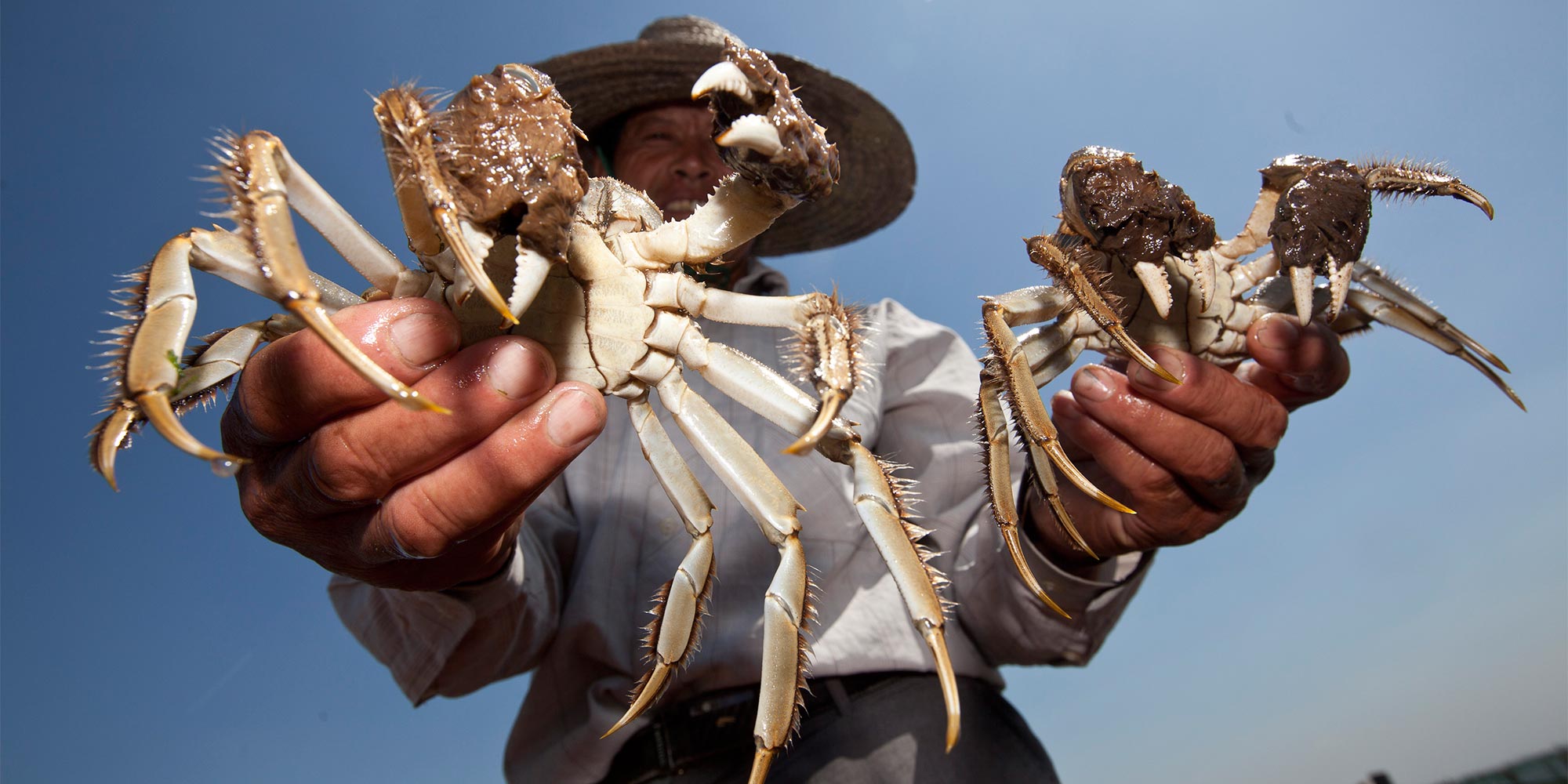 FEATURES
Bacheng in a Pinch Over Falling Hairy Crab Supply
As demand for Yangcheng Lake's famous delicacy explodes, nearby residents worry about diminishing supply.
A 60-something woman in an orange apron sits out back behind a restaurant surrounded by plastic crates full of crabs. She picks the creatures out of large pools one by one and carefully binds them with twine before placing them in a crate. To the woman's left, a thin layer of steam wafts out from the restaurant's kitchen, bringing with it the strong fragrance of cooked crustacean. To her right, a dozen square cages hold thousands of crabs, all awaiting their grizzly fate at the hands of the restaurant's chefs.
Aunt Liu has been binding crabs in the small lakeside town of Bacheng, in eastern China's Jiangsu province, for nearly a decade. "It's important that the crabs are properly bound before being steamed, so their legs won't come off easily and the integrity of the whole crab can be guaranteed," she said. It's a good source of income for Liu, who is retired, and although she said she doesn't keep track of how much she makes, the quickest crab-binders can reportedly earn 10,000 yuan (nearly $1,500) per month.
Yangcheng Lake is so famous for its hairy crabs that each year during crab season — September through December — Bacheng welcomes over 3 million hungry diners to its 1,300 restaurants. Many of the tourists come from Shanghai, which is only an 80-minute drive away. The flavor of the crabs from Yangcheng Lake is so highly regarded that a pair can cost anywhere from 90 to 380 yuan, depending on size. Annually, the hairy crab business is worth over 3 billion yuan to Bacheng, and over a quarter of the town's 62,000 residents make their living from the industry.
In the town, a micro-economy springs up every year during crab season. Since early October, 28-year-old Bacheng resident Yang Xiong has been spending most of his weekends and public holidays in the emergency lane right behind the toll gates that lead into Bacheng. He stands by his car waiting for the drivers who slow down to ask for directions and advice.
"These days, at least 90 percent of all cars entering Bacheng carry people who come for hairy crabs," Yang said. "Some arrive without a clear destination in mind, so we help lead the way." Of course, not all of the advice Yang dispenses is impartial — he has connections with a number of different restaurants in Bacheng, and he offers recommendations to tourists based on their preferences and budgets. Yang and the other advice-givers near the tollgate get commissions from the restaurants they're linked to.
Hairy crabs are prized for their sweet, tender meat and have been a popular delicacy in eastern China for centuries. Although there are a few other places in China where hairy crabs are farmed, Yangcheng Lake's have the best reputation.
The season is so short, however, that crab-lovers have no choice but to face the gauntlet of traffic jams that besiege Bacheng around the same time every year. Local authorities estimate that at least 100,000 tourists arrive in Bacheng every weekend to enjoy the hairy crabs.
Adding to the madness this year is crab scarcity, which has made people even hungrier for the bristly lake-dwellers than in previous years, said restaurant owner Shao Yunlin. "The scarcity of hairy crabs this year has made clients even more determined to come all the way here to taste the real thing," Shao said. The low yield is partially a byproduct of scorching outdoor temperatures, which slows the growth of the crabs, and greater rainfall, which dirties the lake water by bringing in sediment.
"I estimate that my yield this year will be around 8 tons, or 30 percent less than last year," Shao said. "Most of this amount will be consumed by the customers who dine at my restaurant." Shao started farming crabs at Yangcheng Lake 20 years ago, and after two years he opened his own restaurant, Just Crabs.
It is common to see Yangcheng Lake crabs on sale in nearby Shanghai during crab season, but Shao is convinced that these are not the genuine article. "I can tell you that it's impossible to get authentic Yangcheng Lake hairy crabs in Shanghai's wet markets, let alone from online stores," he said, adding that the lake's yield is too small to support a major trade elsewhere.
Earlier this month, the Financial Times reported that crabs from nearby Lake Tai, also in Jiangsu province, were found to contain excessive amounts of carcinogens, but even this health scandal doesn't seem to have impacted food tourism in Bacheng this year.
In recent years, a growing number of consumers outside Shanghai have become fans of the delicacy. When Sixth Tone visited Shao's restaurant, a group of customers hailing from faraway northeast China had just ordered 200 boxes of crabs to be delivered to Changchun, capital of Jilin province. The visitors from the northeastern city said that hairy crabs — especially those from Yangcheng Lake — are rare where they come from.
Despite the still-growing reputation of Yangcheng Lake crabs, not everyone is convinced that they live up to the hype. Shen Youquan, a 58-year-old resident of the island of Chongming, just northeast of Shanghai, told Sixth Tone he didn't think the crabs were all they're cracked up to be — an opinion supported by the fact that he was at that very moment tucking into a pair that had cost him 150 yuan.
Shen said he had come because of the good reputation of Yangcheng Lake hairy crabs. After eating them, however, he said he couldn't taste any difference in quality from the smaller, cheaper variety of crabs native to his home on Chongming Island. "Chinese people tend to enjoy following fads," Shen said. "Personally, though, I feel that the taste of the Yangcheng Lake hairy crabs has been overstated."
(Header image: A crabber holding two hairy crabs in Kunshan, Jiangsu province, Sept. 17, 2013. Xu Xiaolin/Sixth Tone)