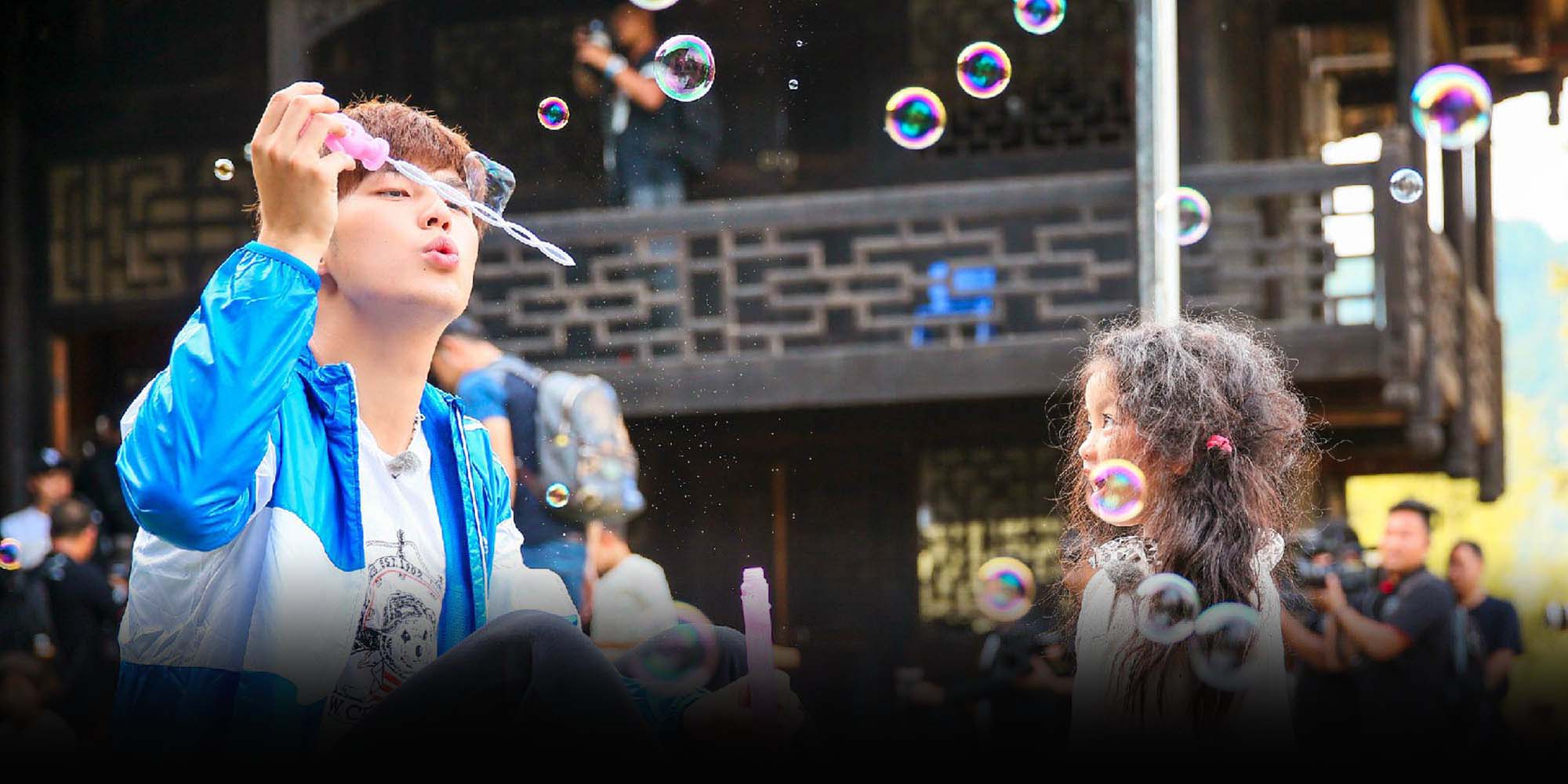 NEWS
'Intern' Father and Daughter Leave TV Viewers Uncomfortable
Online fans imagine young athlete and child as a couple in fourth season of hit show 'Dad, Where Are We Going?'
Audiences are divided over whether 23-year-old Olympic athlete Dong Li and 4-year-old Jiahui are cute or creepy as a fake father-and-daughter pair.
The fourth season of hit Chinese reality show "Dad, Where Are We Going?" pairs "intern" fathers, all celebrities, with children who are not their own. In previous seasons, the show only featured celebrity dads with their real children, but a government order banning the "overuse" of celebrities' children shown on TV has made that format problematic. The show also moved off the air and is now only available online.
Since October, Olympic fencer Dong — known for his athletic prowess as well as his "fresh meat" looks — joined the program as the intern father to Jiahui. Dong takes care of Jiahui for several days a week, eats and sleeps with her, and bathes her.
Beijing native Wang Weixiao told Sixth Tone that as the mother of a 2-year-old daughter, she can't understand why the program's producers edited the show to make Dong and Jiahui look like a couple.
"If it were my own daughter, I would feel uncomfortable," Xia Chaoyun told Sixth Tone when asked whether Dong bathing Jiahui is appropriate. The 30-year-old mother from Hangzhou said that the girl is at the age when children start to understand the physical differences between males and females. "It's even inappropriate for her real father," Xia said.

On social media the pairing has spawned thousands of so-called couple fans — people who believe certain TV characters are meant to be together. They point to one scene in which Jiahui tells Dong that when she grows up, she wants to marry him, as well as to an interview in which Dong says his dream girl is Arale, Jiahui's nickname.
While some such fan reactions are relatively harmless — "please don't break them up; they will be true lovers in 20 years," one net user wrote — other online reinterpretations of the show arrange captioned episode screenshots to create sexually suggestive storylines. The show's production company, Mango TV, fanned the flames by posting an online video clip set to a love song and captioned "Dong and Arale's interpretation of 'Let's Fall in Love,'" referring to a famous Chinese dating show. Mango TV is the online division of Hunan TV, one of China's largest television stations.
"I hope everyone will refrain from using words that describe couples when talking about Dong Li and Arale," entertainment industry commentator Luo Beibei wrote in a post on Thursday to her public account on messaging app WeChat. "A 4-year-old girl shouldn't appear in [couples' fan fiction]."
In the post, Luo apologized for previously commending the chemistry between Dong and Jiahui — and she has since deleted the article containing those comments. "It looks cute, but actually it's very inappropriate," she said. To Luo, the show sets a bad example for gender education and is too flippant in its treatment of the safety risks that girls face. News and commentary website Guanchazhe warned that creating a couple out of a young girl and an adult stranger is misleading to the audience and could cause harm.
As of Friday, some footage of Dong and Jiahui had been removed from Mango TV's website. The company could not immediately be reached for comment.
Additional reporting by Fan Yiying and Ni Dandan.
(Header image: A still from 'Dad Where are We Going' shows Dong Li blowing bubbles as his 'daughter' looks at him. From the TV show's official Weibo account)