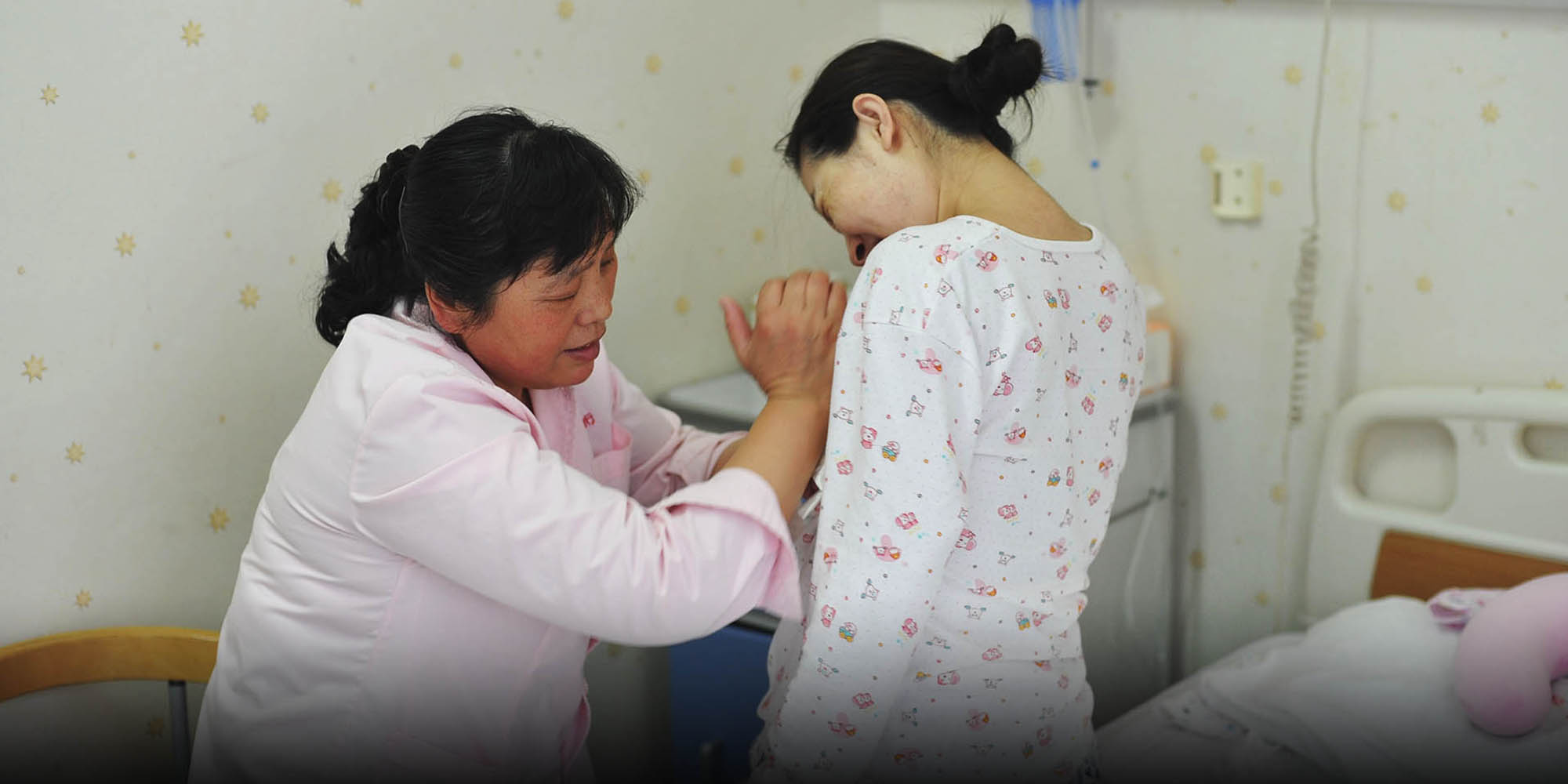 NEWS
Qualified or Not, Breast-Feeding Experts Profit From Baby Boom
With rising demand for lactation consultants, some training institutions hope to make a quick buck.
With China beginning to feel the first effects of nearly a year under the two-child policy, lactation consultants — health care professionals who specialize in breast-feeding — are in high demand. But a lack of industry standards has given way to a slew of unofficial training courses promising quick certification for a fee.
In one case, a training institute that promised professional government certification to lactation consultants failed to deliver, instead ordering the end-of-course certificates from a non-state-owned training network, the West China Daily newspaper reported on Thursday.
The National Health and Family Planning Commission estimated that the number of babies born in the first half of the year rose 6.9 percent from last year. Meanwhile, awareness of the benefits of breast-feeding in China has grown due to government initiatives to encourage the practice and to the nation's crackdown on baby formula advertising.
Lactation consultants can earn 300 yuan ($44) to 400 yuan an hour, and that amount jumps to 700 yuan or more for those with a professional license, according to the article.
Zhong Bin Training School — located in Chengdu, capital of southwest China's Sichuan province — offers education for aspiring health care workers in a variety of postnatal fields. However, graduates of its lactation consultant training course were dismayed to find that their "official" certificates were merely training-completion credentials issued by the China National Training Network, a training portal majority-owned by a private technology company, rather than professional certification from the Ministry of Human Resources and Social Security as advertised.
There is currently no national vocational certification for lactation consultants, said 29-year-old mother Ye Lichun, who provides lactation advice in Chongqing, southwestern China. Ye told Sixth Tone she paid 5,200 yuan for a monthlong course through a training company, adding that recent demand for lactation consultants in China has been enormous.
"Nowadays, many mothers lack knowledge of breast-feeding and usually have blockages in their milk glands," Ye explained. "In this case, they must seek help from a lactation consultant." Consultants help mothers breast-feed successfully by massaging the mammary glands, advising on optimal positioning for and timing of breast-feeding, and resolving milk production issues.
Zhong Bin Training School's course charged participants 4,980 yuan for 12 days of training that "felt very formal," a participant surnamed Zhang told West China City Daily. She signed up for the course after a relative began making 10,000 yuan a month as a lactation consultant.
However, graduates of the training course began to question the validity of the certification over a month ago after failing to find confirmation of the credentials on the website of the Ministry of Human Resources and Social Security, said the West China City Daily report. Graduates have reported the institute's fraudulent behavior to the police but had not received the refunds they requested as of Wednesday evening.
Sixth Tone was unable to reach Zhong Bin Training School for comment, but a China National Training Network employee who declined to be named explained that the training network is not a state institution, but is related to the Ministry of Human Resources and Social Security's information center.
The source told Sixth Tone that the organization is qualified to offer training certificates but never claimed to issue vocational credentials. She explained that the school had exaggerated in promoting the training course and said that China National Training Network representatives had already contacted the institute to rectify the situation.
China's National Health and Family Planning Commission does recognize the International Board of Lactation Consultant Examiners (IBLCE) — widely considered the industry standard-bearer — said Melanie Ham, a Shanghai-based International Board Certified Lactation Consultant (IBCLC).
"Training for the IBLCE credential has been growing in popularity in China in the last five years since the first one was [awarded]," she told Sixth Tone. "For someone to be considered a true 'lactation consultant,' they must have this certification." The organization states that there are currently 89 IBCLCs in China.
While IBLCE certification is "the gold standard internationally," many countries have a variety of professional and volunteer-led courses to train lactation consultants, said Louise Roy, a certified lactation counselor at Ferguson Women's Health in Shanghai.
Meanwhile, Ye doesn't place ultimate importance on credentials. "When I am looking for a lactation consultant, they don't have to show me their certificates," she said. "As long as they have the strong skills and knowledge to help me, then that's enough."
However, Ye said she does welcome more government regulation of the sector to deal with the influx of unqualified practitioners. "There are people who enter the industry without professional training," Ye said. "I really want the government to offer an authorized job certificate so that through examination and authentication, we can demonstrate our level of expertise."
Additional reporting by Yin Yijun.
(Header image: A woman gives a new mother a massage intended to help with lactation, Beijing, Feb. 16, 2014. VCG)