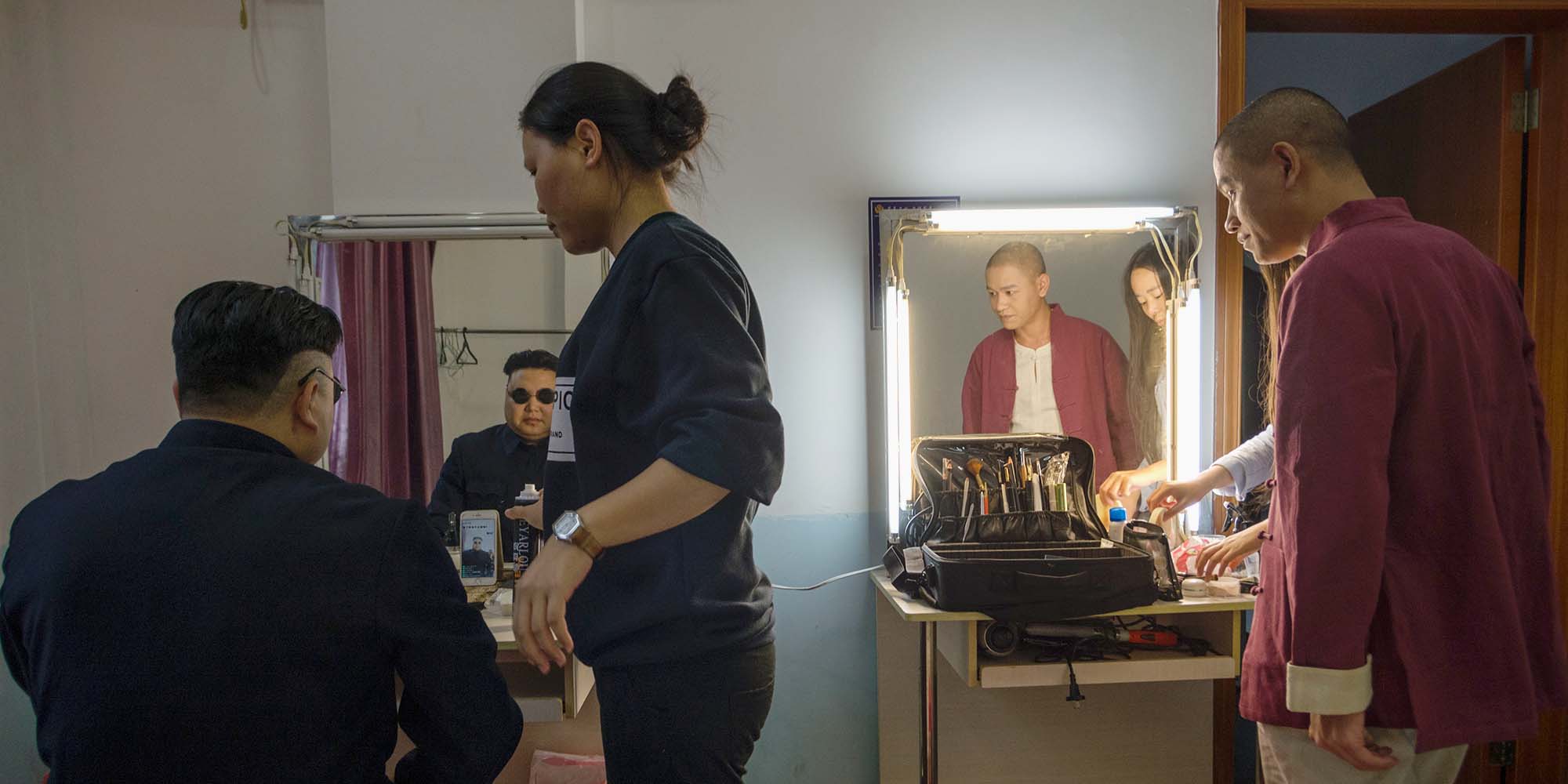 FEATURES
In China, Obama and Kim Jong Un Are Actors and Best Friends
Two doppelganger actors are striving to shed the very personas that lifted them from obscurity.
It's Wednesday, Nov. 9. Donald Trump was declared America's president-elect earlier in the afternoon, and Barack Obama and Kim Jong Un are smoking cigarettes in their hotel room. Both men, Chinese look-alikes of the foreign leaders, have little interest in the election result. They have come to the south of China to realize their dreams of becoming serious actors.
Here, on the ragtag outskirts of Dongguan, a city in Guangdong province, they have been cast in an upcoming drama film whose plot is a far cry from the stage of international politics. Instead, "Qingyi Meiying," or "Green-Clad Phantom," is a tale of murder, jealous lovers, and a Cantonese opera troupe struggling with the art form's falling popularity.
Xiao Jiguo, whose claim to fame is his resemblance to Obama, plays the part of the opera troupe's leader in the film. Perhaps surprisingly for someone who has based his career entirely on the outgoing U.S. president, Xiao had no idea the U.S. election was happening or which candidates were running. Part of the reason is that the 30-year-old doesn't really follow the news. But most importantly, Xiao has over the past couple of years strived to go beyond his imitation act and become a professional actor. His role in "Green-Clad Phantom" is his largest yet.
The man who looks remarkably like North Korea's supreme leader is Zhang Daiming, 32, who plays the role of a criminal in the upcoming film. Zhang only recently embraced his Kim-like looks to become a full-time impersonator and already has ambitions to take his career to the next level. His act is lucrative, but stars can fade fast. "Imitating someone is always temporary," Zhang tells Sixth Tone.
The two arrived in Dongguan a few days earlier and have spent most of their time idling about. They thought the film would begin shooting on Monday, then Wednesday, then Thursday. Zhang will have to wait the longest: His character only appears in one scene set to shoot later in the week, so he will have to kill time until then.
Lounging on their beds out of character, both are typical, unassuming men. Xiao, with his friendly eyes, neatly trimmed hair, and slightly tanned skin, looks remarkably like Obama. With his slight frame, however, Xiao doesn't quite match his doppelganger in stature. Zhang, on the other hand, looks like Kim in features as well as build — that is to say, he carries some extra weight. He has also adopted Kim's hairstyle to make the resemblance unmistakable.
Earlier that day, Zhang had put on his Mao suit, a pair of dark sunglasses, and a stern look for an hourlong session on Huajiao, a live-streaming app launched last year that now boasts 10 million monthly users. The contract Zhang signed with the company to exclusively use the platform is a profitable arrangement — depending on how many virtual gifts he receives from viewers, he earns between 20,000 and 30,000 yuan ($4,400) a month, roughly five times the average income in China.
Zhang doesn't speak any Korean, but he has invented a patois of his own, intonating his Chinese sharply as if he's speaking with the somewhat-harsh North Korean accent and peppering his speech with "sumnida" — a Korean word often used at the end of sentences. He says he learned Kim's mannerisms and facial expressions from watching video clips online.
During his live-streaming sessions, he interacts with fans, sings, tells jokes, and sometimes dances. All in all, the act is convincing and entertaining enough: This latest broadcast was among Zhang's most popular, with more than 75,000 viewers. Xiao had joined in for the occasion, donning a shirt and tie to look like Obama.
"I'm very thankful to netizens. Without them, I wouldn't be where I am today," Zhang says. "I have no education, no background, and didn't have any intention to do this." His life before he found internet stardom wasn't easy. He dropped out of junior middle school after just one week and soon started working in mining and construction to support his family after the death of his father. "My hands were covered in blisters," he says. "It was very hard work."
"When I think about it, I get sad," Zhang says between drags on his cigarette.
Zhang eventually married and had a child, but his wife couldn't cope with their impoverished way of life and left him when their son was 1 year old. In 2013, Zhang borrowed money to open a small eatery near a university campus in Guangzhou, Guangdong's capital city.
One of the many students who frequented his restaurant eventually realized that Zhang bore a striking resemblance to Kim Jong Un, and soon people would line up to take selfies with him. To complete the look, a friend bought him a Mao suit, which he started wearing at work. One day in February, on his way home, Zhang took some photos with a crowd of people. When he woke up the next day, the pictures were all over the internet, and before long every television station in the country had sent a crew to interview him.
Through one of the many journalists who visited him, Zhang got into contact with Xiao, and the two men became friends. While Zhang was just starting his career as an impersonator, Xiao had been doing his Obama act since 2008, when a colleague pointed out his resemblance to the then-president-elect. Now, however, Xiao is ready to move on from the shtick.
Late last year, Xiao signed with a manager: Hong Kong film industry veteran Billie Chan, who, like many Hong Kong filmmakers, had moved her business into the booming mainland movie market. Xiao once played an extra in one of her productions and caught her attention because of the constant stream of foreign journalists he attracted. Xiao had business partners before who had brought him work, but they often failed to give him the parts he wanted. With Chan, he aims high. "We don't accept lowbrow events anymore, like evening shows or bars," he tells Sixth Tone.
Chan is also the producer of "Green-Clad Phantom," and she spends most of her time glued to her 13-inch iPad, shooting off voice messages in several languages. She tells Sixth Tone that the movie will be shown online instead of in cinemas — users of Netflix-like platform iQIYI and other websites pay around 6 yuan to watch a film. This business model is more lucrative, she says.
After this film, Chan wants to make Xiao the star of a supernatural movie series. The first installment, in which Xiao's character will battle demons to save his girlfriend, is already in pre-production. "If this movie is successful, I think Xiao won't be 'Obama' — he'll be a ghostbuster," she says. Chan also used her industry connections to enroll Xiao at the prestigious Beijing Film Academy, where he takes acting classes in a one-year program.
Chan is also Zhang's manager, but her plans for him are less rosy. She only signed him for a few months, and only as a friendly gesture to Xiao. Zhang's role in "Green-Clad Phantom" is small, and regarding his potential future roles, Chan simply says, "We'll have to think." Zhang tried to enroll at the film academy as well, but he was too late to sign up for the program.
For his part, Xiao tries to involve Zhang in his projects as much as he can. "I helped him into the acting world," Xiao says. "He's like me a few years ago: He doesn't know anyone in the industry."
In an attempt to help his friend build professional bridges in the acting community, Xiao gave Zhang a cameo appearance in his debut music video, a September release that sought to set the record straight with respect to his talents as more than just an Obama look-alike. Dressed in a suit and sporting his trademark Obama frown, he sings, "I'm not Obama; I'm Oppa," a Korean term of endearment used by young women to refer to older men.
Set to a disco beat straight out of the nineties, the music video features Xiao — who harbors aspirations of a musical career — also dressed as his alter ego, walking side by side with Zhang. "People don't expect me and him to appear in one video at the same time," says Xiao, referring to the fact that Obama and Kim are adversaries in real life. "It has to be the coolest music video." The video has been viewed a total of around 3,000 times across various platforms.
The life stories and careers of Xiao and Zhang are in many ways similar, but the two seem destined for different futures. After his initial discovery, Xiao's career has seen its ups and downs, but he has somehow managed to hold the attention of journalists and variety TV programs alike. On the second day of the "Green-Clad Phantom" shoot, Xiao fields an interview with a British media outlet — he didn't quite know which one — and is invited onto a television show later in the month. A documentary filmmaker is currently producing a short movie about him. But most importantly, Xiao has also found a certain footing in the movie industry with a powerful manager who believes in him: "He's really lucky and successful," Chan says. "I think he will have a better future."
Zhang, on the other hand, has seen public interest in his work wane somewhat. His contract with Huajiao is about to end, and he does not have any future acting jobs lined up. But Zhang does have a backup plan in case his movie career doesn't pan out: He's been working on creating a line of hot pot ingredients with his Kim Jong Un likeness on the packaging.
An art form, in this case Cantonese opera, losing its appeal is one of the themes of the "Green-Clad Phantom" movie. The evening before shooting begins, part of the crew attends a village banquet where an opera troupe gives a performance. The singers are hardly paid any mind — even by the village's eldest members — as everyone digs in to plates of pork, shrimp, and fried rice. But plenty of people visit the table that seats Xiao and Zhang — the latter dressed in his Kim outfit — for photos.
The next day, Zhang stays back at the hotel. Xiao, too, spends most of the day waiting, as his first scene isn't scheduled until the evening. He takes shelter from the cold in another actor's car, switching from playing mahjong on a phone, to "locker-room talk" with a co-star about getting massages, to practicing lines from a scene in which he advises another character to aim higher: "I hope you don't walk down this path; it's hard to do Cantonese opera nowadays. You're so good — you can totally become an actor, a star."
(Header image: Xiao Jiguo (right) waits while Zhang Daiming (left) has his hair done before an evening event in Dongguan, Guangdong province, Nov. 9, 2016. Kevin Schoenmakers/Sixth Tone)