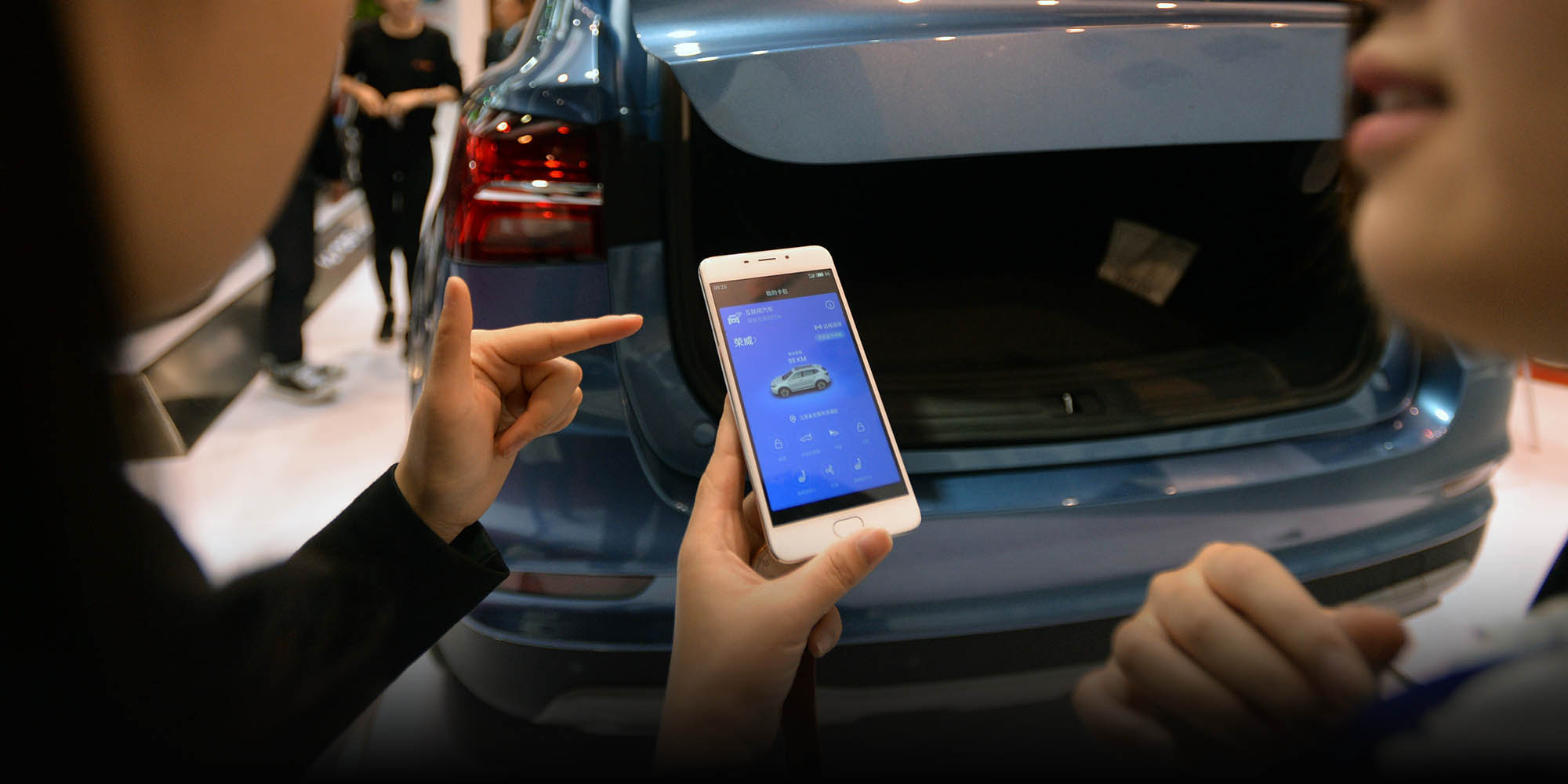 NEWS
Futuristic Car's Smart Singles' Day Marketing
Engineers say internet-enabled autos are the future, but what will it take to get Chinese consumers to buy?
If anyone can sell smart cars online, it's probably e-commerce giant Alibaba. But even for the internet behemoth, generating interest in smart cars among Chinese consumers is no easy ride.
That's partly because the idea of a connected car – vehicles that use internet technology to anticipate and satisfy drivers' needs – is still a relatively new concept. But it's also because selling smart cars, or any other kind of automobile, online in China is a hard sell.
Still, Alibaba and its auto partner SAIC Motor are not deterred. Singles' Day on Nov. 11 marks the culmination of a monthlong marketing drive aimed at boosting sales of their jointly developed smart sports utility vehicle, the Roewe RX5.
The sleek, internet-ready SUV allows driver to reserve parking spots, locate nearby amenities, and adjust in-car temperatures. And because this is China, digital payment is also a breeze — through Alibaba's Alipay interface, of course.
An RX5 has a voice-activated console on the dashboard that acts as the internet nerve center. The operating system identifies the driver and makes suggestions on how to improve the journey, based on previous experience. In the future, Alibaba says it will open the platform to other companies' developers.
Sales so far have been good, according to a spokesman for Roewe, a brand owned by SAIC. The Shanghai-based automaker also has car-making joint ventures in China with General Motors and Volkswagen. Since its launch in July, around 100,000 RX5s have been sold, the spokesman said. Roughly 70 percent were internet-enabled models.
The Roewe RX5 SUV is priced between 99,800 yuan ($14,700) and 186,800 yuan. Prices for cars sold online were similar to offline sticker prices.
One early fan is Yang Qin. The 27-year-old from eastern Jiangxi province, who now works in advertising in the southern metropolis of Guangzhou, said that since she got her driver's license in April, she had been thinking of buying a car within a budget of 200,000 yuan. In early July, she heard from a friend about the RX5 and decided to buy it through a car dealership.
Yang said she is largely satisfied with her purchase, although she has experienced some minor, mainly software-related problems. "I like the music and photo-taking functions," she said. "Not many cars have those."
Yang was drawn also to the large screen in the center console. "When I post pictures to my WeChat Moments, my friends are very curious," she said, referring to the news feed-like function on China's leading messaging app.
SAIC, China's largest automaker in terms of sales, manufactures the car, while its operating system is developed by Alibaba's YunOS division, which produces OS technology for smartphones and home appliances, among other products.
Like other tech companies such as Apple, Google, and Baidu, Alibaba is eying transportation and mobility as the next big frontier of internet communications. The Hangzhou-based company, founded by entrepreneur Jack Ma, announced plans to cooperate with SAIC in 2014 by investing hundreds of millions of dollars to develop a smart car.
If Alibaba wants to be at the forefront of smart cars, then it will first have to convince people like Yao Zhekai, a 25-year-old former salesman for an architectural firm who is currently based in southern China's Guangdong province. Yao is on the market for a new car but is suspicious of internet cars. He's been shopping around for a new ride for half a year now, but when asked by Sixth Tone about internet-enabled vehicles, he admitted he'd never even heard of the concept.
"Internet cars sound good, but I won't consider buying one," he told Sixth Tone via WeChat. "It's because the hardware of the car is not good enough."
As Yao sees it, internet functionality is just a fancy add-on meant to disguise underlying shortcomings in the car's core engine technology. He also questioned the quality of the car, given its relatively modest price. "You get what you pay for," Yao said, adding that he's on the lookout for a foreign brand such as BMW, Jaguar, Land Rover, or Porsche – models more than three times the price of Chinese-made SUVs.
To boost awareness and sales, Roewe is upping its marketing game. For Singles' Day, for example, the company will release a customized version of the RX5: a pearl white body with a masala red interior, with a 500-yuan gasoline card thrown in. The shopping festival also marks the end of another promotion of 1,500 limited-edition models that went on sale Oct. 10. As of Thursday, just under 850 units had been sold, according to data on Roewe's page on Tmall, Alibaba's shopping platform.
Xie Yanni, who manages Roewe vehicles for Tmall, said that the company was putting greater effort into boosting online sales of the RX5 compared to its other models.
To increase the SUV's appeal, Roewe live-streamed a tour of the RX5 production line. The host was well-known Zhejiang television presenter Zhang Qian. Thursday's tour was the third such promotional event for the RX5 since it launched, according to Xie.
But online sales of the RX5 through its Tmall page – under 10 percent of total orders to date – have been small compared to sales through dealers.
Boosting internet sales is a challenge for most car brands. Yale Zhang, managing director of Automotive Foresight, a market research and consulting firm in Shanghai, said a low price is a key selling point for buying goods online. But for cars, it is difficult if not impossible to offer steep discounts online because doing so would alienate car dealers, who are a vital part of auto retailing in China. "It's simple: You can't kill your dealers," he said.
According to Zhang, the strong initial sales of the RX5 may have more to do with its good design compared to its competitors than to any technological bells and whistles. "It just gives a fancy technology feeling," said Zhang, referring to the SUV's Alibaba YunOS onboard operating system.
In addition, said Zhang, the RX5 may just be riding on the coattails of the general growth in demand for SUVs in China. He forecast that SUV sales would increase to 9 million vehicles this year, compared with around 6 million last year.
China is the world's largest market for new passenger cars. In the first nine months of this year, 16.7 million passenger cars were sold, up 14.8 percent from the same period the previous year.
(Header image: A technician demonstrates how to control the Roewe RX5 using a smartphone during the 'World Internet of Things Exposition' in Wuxi, Jiangsu province, Oct. 30, 2016. Liu Yifan/VCG)