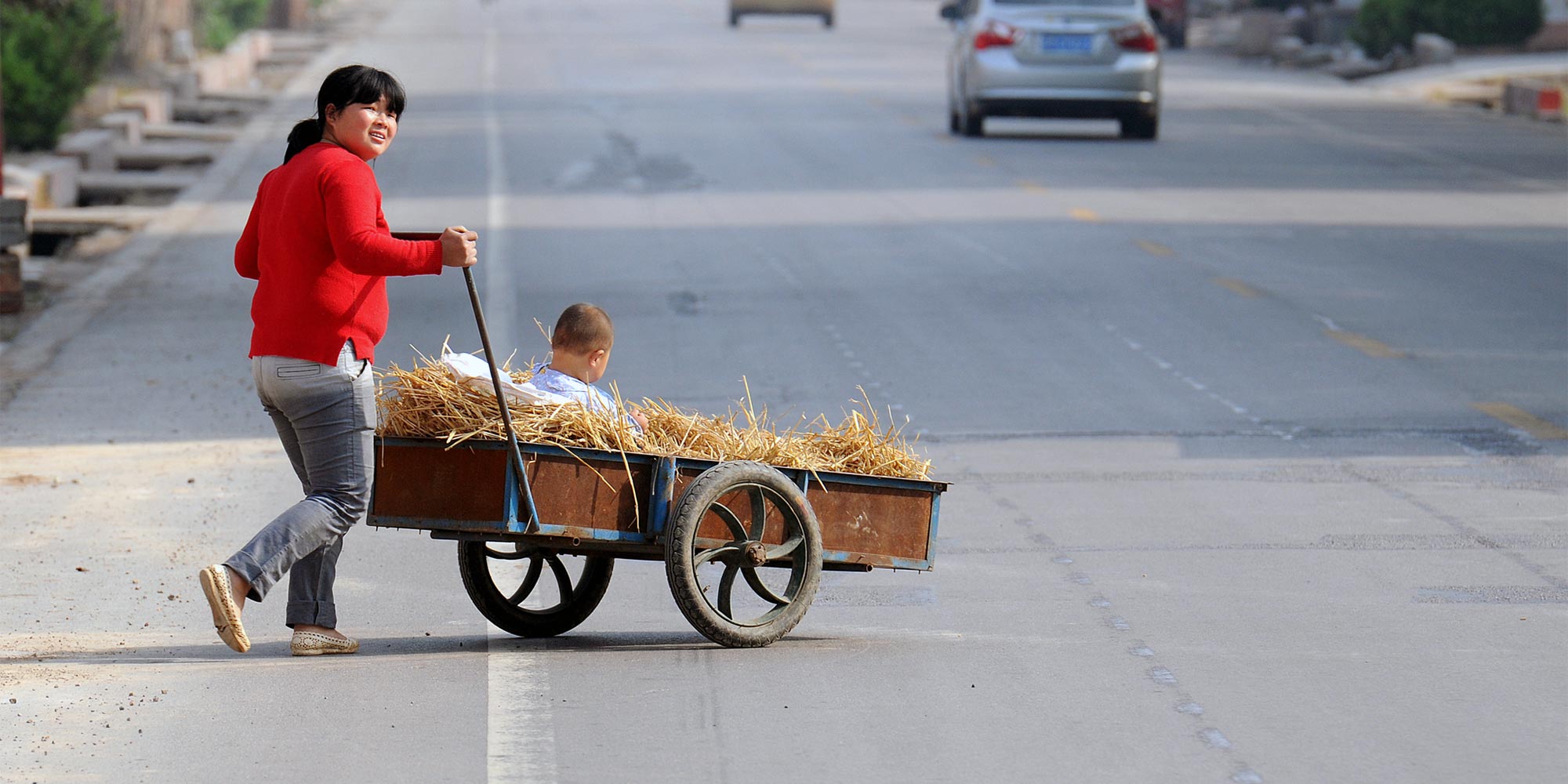 VOICES & OPINION
Desperate Housewives See No Way Out of Rural-Urban Fringe Life
Stranded between the countryside and the city, women face mental health challenges as domestic responsibilities crush their hopes and dreams.
My hometown, near Zhangjiakou City in northern China's Hebei province, is located on the so-called rural-urban fringe. While back home last year before the Spring Festival, or Chinese New Year, news came that my cousin Chen had taken sick and was in the hospital. I immediately went to visit her; her face was pale, her cheeks sunken. Her 4-year-old stood by her side as doctors attached a drip to her arm.
Chen's condition was chronic. She had gone to a few hospitals for treatment, but no doctor had managed to find out what exactly was wrong. They said only that her symptoms resembled migraines, but they never diagnosed anything conclusively.
Back home with their second child, who had just turned 1 year old, Chen's husband, Zhang, had his hands full. I volunteered to take care of the kid for a few days, and that was how I learned about the family's life.
When she was fresh out of middle school, Chen went to southern China's Guangdong province for work. When she returned, her family set her up with Zhang, a craftsman who held very traditional values. A dutiful husband and father, he worked long, labor-intensive hours to support the family, leaving all the housework to my cousin. Like many men in town, he often came home exhausted at night. He and Chen made a good couple and loved each other very much.
Chen didn't live with her elderly in-laws, which was seen as a blessing by many in town — after all, no in-laws meant less conflict with Zhang's family. Unfortunately, though, that meant the entirety of household management was dependent on her alone.
Six months after her second child was born, Chen developed dizziness and a ringing in her ears, which soon turned into headaches and nausea. No amount of painkillers relieved her symptoms, but she had to continue running the home for the sake of her children. She finally went to the hospital only when the discomfort had become too great to bear.
Zhang told me that he suspected her illness to be psychological. After the second child was born, she would frequently lose her temper and even act violently toward their eldest son, who was not doing well in kindergarten. Having a second child only added to their worries. Left alone during the day with two kids, Zhang said, Chen's anger accumulated and made her sick. His relatives supported his interpretation of events.
As a psychologist who has received the second-highest national counseling qualification, I suspected Chen's symptoms to be signs of postnatal depression. To me, her headaches and nausea indicated that her depression was manifesting itself physically as well.
Normally, I would recommend that patients like Chen seek a change of environment, find one that is less oppressive. Away from the crying of young children or the demands of housekeeping, her situation might improve.
For Chen, however, such a change was impossible. Not only was Zhang the breadwinner of the family, but Chen also did not have any skills suited to working outside the home.
Few young people in my hometown are highly educated. They typically get married at around 22 years old and have children a year or two later. This means that when a baby is born, the mother-in-law is still young enough to help look after the child and do household chores. When the child turns 1 or 2 years old, it is common for the mother to leave him or her with grandparents and go out in search of work.
But Zhang's parents had both died young, and Chen's own mother lived with her son, Chen's brother. While she often stopped by to see Chen's young children, she also had to take care of her son's kids, one of whom had just been born at the peak of Chen's illness. As a result, Chen's mother was unable to liberate her daughter from the domestic pressures causing her such psychological distress.
When Chen's mother spoke about her daughter's illness, tears sprung to her eyes. She bemoaned the family's failure to match her daughter with a partner whose own parents could help ease the burden.
Chen is by no means unique among rural-urban fringe communities. With no land and no opportunities, they are unable to make changes to their lives when problems arise. For Chen, the precariousness of her situation became apparent when depression set in; for others, the realization may be triggered by physical injury or sudden unemployment. Without the tools to address these issues, families on the fringe have a hard time recovering.
Like previous generations of Chinese women, young housewives such as Chen make selfless sacrifices on behalf of their families. They put themselves at the bottom of the list, ignoring their own needs. Similarly, their husbands and children often take their well-being for granted, thinking that they are somehow invincible — until the day that their bodies or minds simply can't take it anymore.
Today's semi-rural housewives were born in the '80s and '90s. Although they may not be well-read, they are still much more literate than previous generations. Their lives are also more complex, and the information age has made them receptive to knowledge about lifestyles alternative to their own. I believe that this, combined with the difficulties of their respective realities, makes them more susceptible to mental illness.
Housewives have hopes and dreams for their lives. When they are driven like mules without putting up any resistance, they cannot hope to meet them. Yet as they become progressively more self-aware, they realize that they should not have to go through life so hopelessly. The depression, anxiety, and disappointment caused by this realization should not be ignored.
(Header image: A woman pushes a cart carrying her son in Yongji, Shanxi province, April 10, 2016. Liu Baocheng/VCG)