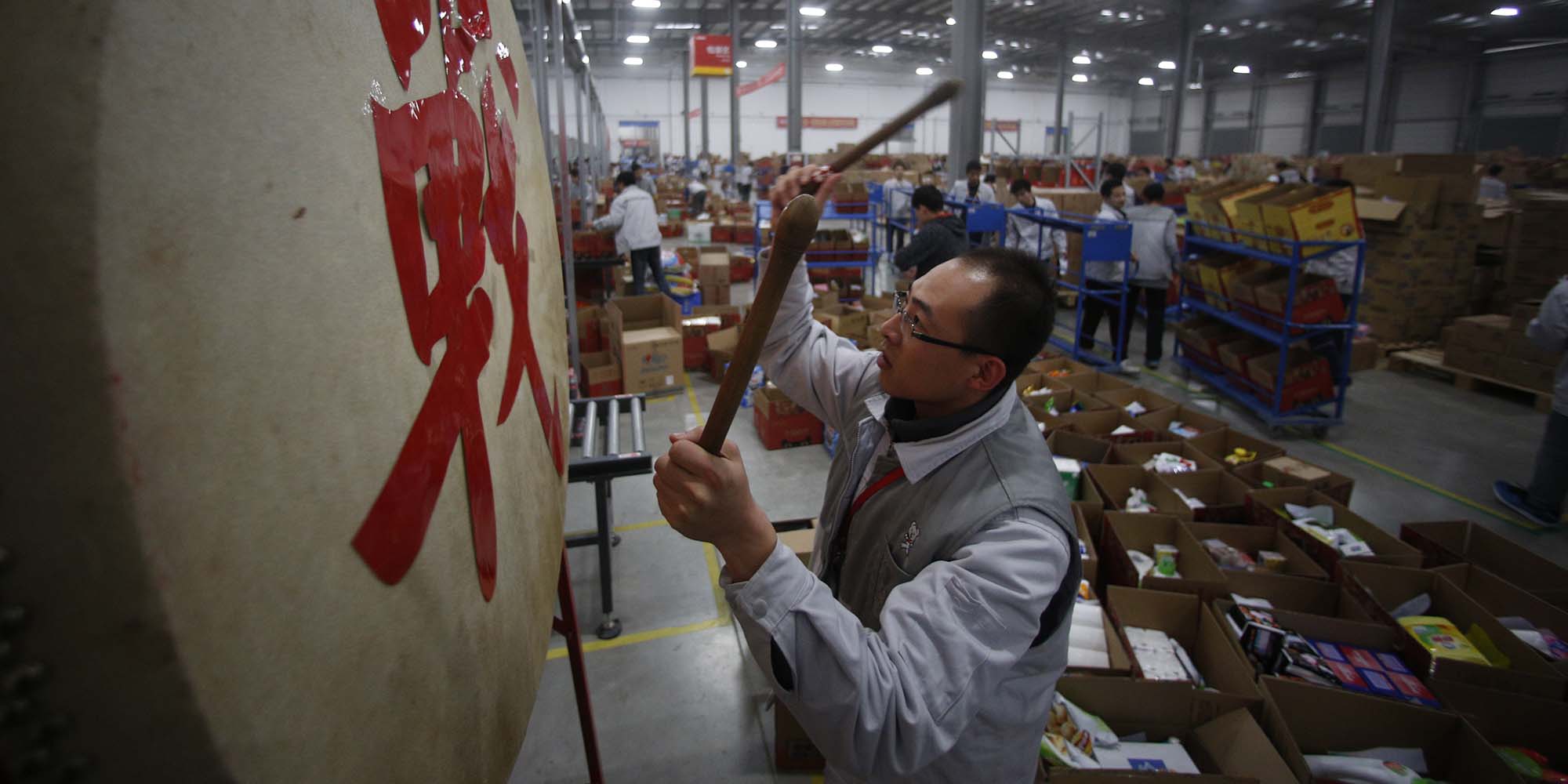 NEWS
E-Commerce Sites to Name and Shame Rogue Retailers
Ahead of the world's biggest online shopping day, new legislation targets rotten sales practices.
There's almost nothing Bai Wenju doesn't buy online. For everything from groceries to clothes, she places large orders at least once a week, and when Singles' Day comes around, she has historically bought in bulk.
But not this year. During the world's largest shopping day, when China's e-retailers offer huge discounts, Bai has decided to retire her passion and let the day's shopping bonanza unfold without her.
Bai's decision is partly a practical one: She still has a large pile of cheap cosmetics leftover from last year. But she's also increasingly frustrated by the changing face of Singles' Day, which was first turned into an online sales event by e-commerce site Alibaba in 2009 to coincide with a tradition that wryly celebrates China's unattached men and women.
In order to find genuine bargains, Bai, a 37-year-old police officer who works at the civil aviation authority in Shanghai, said it's now too much work to analyze whether discounts are authentic. Price rigging, among other dubious marketing tactics, has become common practice, she said, adding that retailers will first raise prices in order to lower them in time for the online shopping spree.
"Now, this is just another day for me, and I won't shop 'til I drop like I have in previous years," she said.
Last year, eager shoppers like Bai spent $14.3 billion in 24 hours on Alibaba's sites, setting a new world record for the highest online sales revenue generated by a single company in one day. That trading volume was more than 1,800 times the initial revenue of 52 million yuan ($7.66 million) of seven years ago, when Alibaba reinvented Singles' Day and turned it into a commercial free-for-all.
Alibaba's incredible success on Nov. 11 has inspired other retail portals to follow suit, and now almost all of China's e-commerce websites offer fun promotions and fat discounts. Yet such attention has attracted a growing amount of fraudulent activity, as retailers fight for shoppers' business.
According to market analyst Shen Xiaodan, China's retail industry has a systemic problem with authenticity, as merchants offer everything from fake goods to fake discounts. The thorny issue, he explained, is that deception is so rampant that customers have become increasingly disillusioned.
"It takes so little [to fake things] in China — among sellers, it's almost seen as absurd not to do it," Shen said.
Last week, China's top economic planning agency, the National Development and Reform Commission (NDRC), announced a new regulation obliging e-commerce companies like Alibaba, which operates a host of popular shopping websites, to be responsible for ensuring that their merchants are selling genuine products, pricing their goods ethically, and not engaging in otherwise dodgy sales practices, such as paying "customers" to buy products in order to raise their rankings in search results.
From Jan. 1 of next year, e-commerce sites that fail to identify and report fraudulent retailers will face fines of up to 100,000 yuan.
Consumers, meanwhile, have become increasingly frustrated with retailers. The State Administration for Industry and Commerce, which deals with consumer concerns, received 144,800 complaints last year — nearly twice as many as in 2014, and seven times more than in 2013, state news agency Xinhua reported.
Yet despite a growing awareness of the problem, official investigations have stalled because of the absence of a national legislative framework and confusion when it comes to jurisdiction over virtual shops and trading portals.
A spokesperson for e-commerce website Tmall told Sixth Tone that for Singles' Day this year, its retailers will have to offer discounts of at least 10 percent off their lowest standard prices between Sept. 15 and Nov. 10. Those who do not, they said, will be barred from participating in the sales event.
The NDRC is also targeting credit brushers — individuals who are paid to fake orders so shops get inflated transaction volumes and higher rankings in search results.
Late last month, eight of China's e-commerce leaders, including retailers Alibaba and JD.com, ride-hailing company Didi Chuxing, Baidu's Groupon-like Nuomi and courier service S.F. Express, were directed to build a national surveillance network against credit brushers, and to help the government compile a list of offenders.
This information will then be shared among government agencies that oversee cyberspace administration, commerce, and quality inspection, as well as with China's central bank, which is responsible for maintaining a national database of citizens' credit ratings, Xinhua reported.
At the launch of this information-sharing alliance, NDRC deputy secretary-general Xu Kunlin said government supervision needs to catch up with e-commerce to prevent the industry from becoming mired in a credibility crisis.
The spokesperson for Tmall said that chronic offenders risk having their shops permanently closed and losing their guarantee deposits, most of which range from 50,000 to 100,000 yuan.
However, the e-commerce industry also faces another challenge beyond tackling its fraudulent merchants. The Singles' Day discount phenomenon has spread far beyond the day itself, and an incessant stream of promotions are advertised to customers year-round.
"I've come across five major promotions this year, each at 50 percent off," said Bai. "Even if the problem of fakes were solved, I wouldn't be in the mood for another sale."
(Header image: A man beats a large drum to build staff morale at a Tmall warehouse in Langfang, Hebei province, Nov. 11, 2015. Guoguo/VCG)