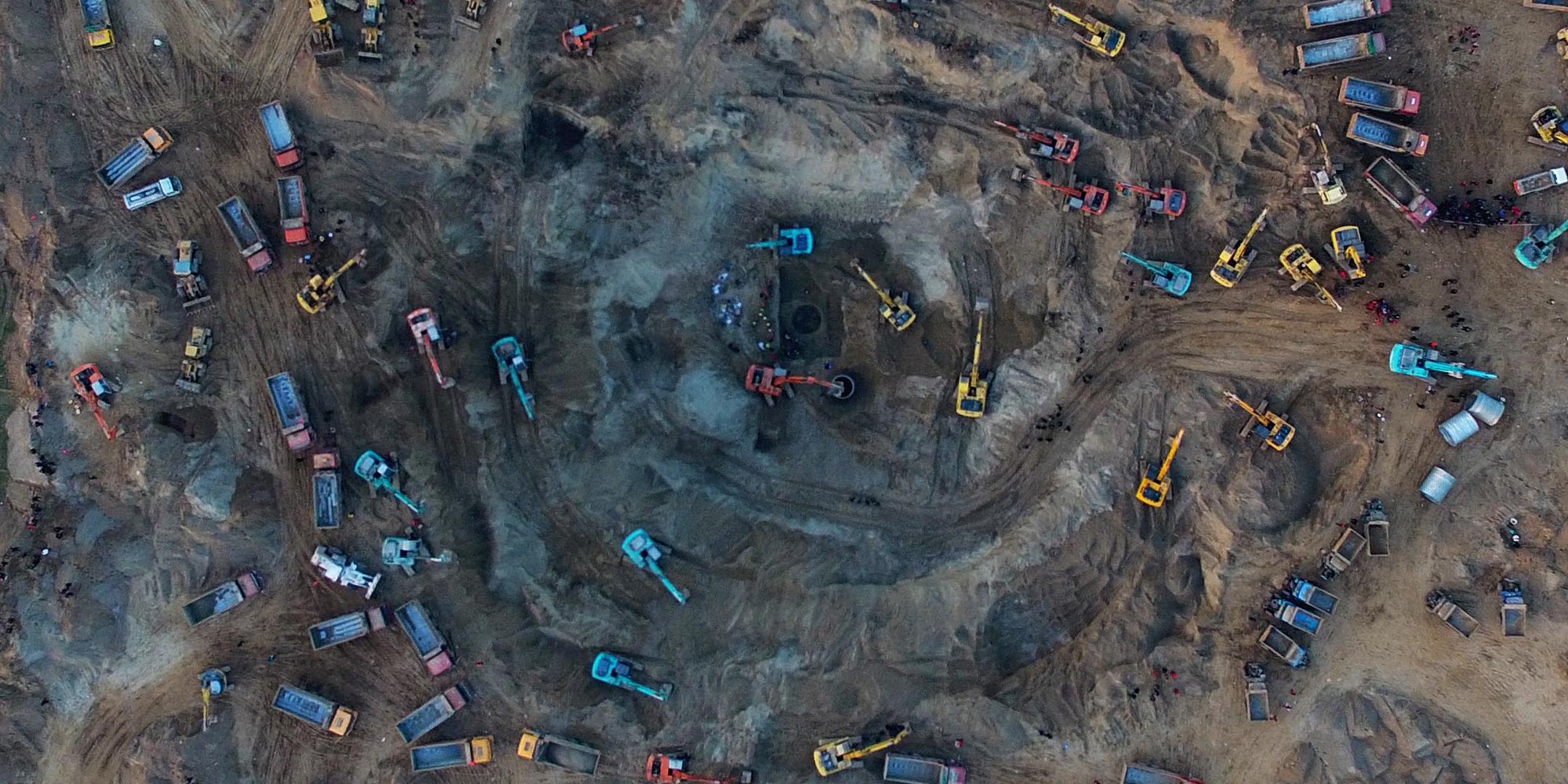 NEWS
Digging Deep for Boy Trapped in Well
Three-day rescue operation to reach 5-year-old involves 60 excavators and 100 dump trucks.
On Sunday, a young boy named Zhao Zicong fell down an abandoned well while out harvesting vegetables with his father, according to a report by Sixth Tone's sister publication The Paper.
Emergency services in Li County, located southeast of Baoding City in northern China's Hebei province, have not been able to rescue the 5-year old. At just 30 centimeters in diameter, the well's shaft is too narrow for a grown person to climb down, so a large excavation crew has been assembled to dig into the surrounding earth.
According to the official Weibo microblog account of China National Radio, rescue workers are digging at a rate of 1 meter per hour and should reach the boy's location by approximately 5 p.m.
The Blue Sky Rescue Team, which also aided earthquake victims in Nepal in May of last year, is heading the rescue operation. Zhang Yongxiang, the team's leader, said that since they dropped an electronic monitor down the shaft, no signs of life have been detected in the well.
The deputy mayor of Li County, Wu Sujie, said that as of midnight on Wednesday, 500 people and 140 cars were working on the site — a tract of sandy earth north of Zhongmengchang Village where Chinese yams are typically grown.
According to a live stream on The Paper, the structure of the well is fragile and could collapse, so the rescue team is moving slowly. Two days into the operation, excavators have dug just 13 meters down the 40-meter metal shaft, and workers have added a protective cylinder to help secure the well at its lower level, The Beijing News reported.
Deputy Mayor Wu personally vowed that the well would not collapse and compound the tragedy.
It is unclear how long attempts to rescue Zicong will continue. Yesterday, the boy's father bowed and kneeled down to thank those who had come to aid in the rescue, and this image has been widely shared online.
Social media sites have been flooded with reactions, with netizens expressing sympathy for the parents and outrage over the lack of precaution in the first place. "If the well was so deep, why wasn't it covered?" wrote one user on microblog platform Weibo.
Many wells in Hebei don't actually contain any water, as groundwater levels have fallen in recent years. The rescue team leader Zhang told the Beijing Times that village wells are normally abandoned for three possible reasons: lack of water, structural damage, or disuse of nearby fields.
Zicong's grandfather, surnamed Li, told The Paper the well was built 10 years ago and had been abandoned for about half that time. "After the well dried up, it was never filled in or covered, and no warning sign was posted around it," he said. "The mouth of the well was open and exposed. None of the wells in our village have warning notices."
Demand for groundwater has grown steadily along with China's population. In Hebei, which lacks rich water resources such as rivers and lakes, groundwater is needed to support agriculture. According to the local government, 70 percent of the groundwater in the province is used to irrigate farmland.
While wells that tapped into Hebei's groundwater used to be as few as 3 meters deep, population growth and the overuse that followed depleted the precious resource, making it necessary to dig more and dig deeper, with modern wells now ranging from 70 to 500 meters.
Additional reporting by Li You. With contributions from Denise Hruby.
(Header image: An aerial view of the rescue scene shows dozens of excavators and heavy vehicles around the well in Li County, Hebei province, Nov. 8, 2016. Wang Xiao/Xinhua)