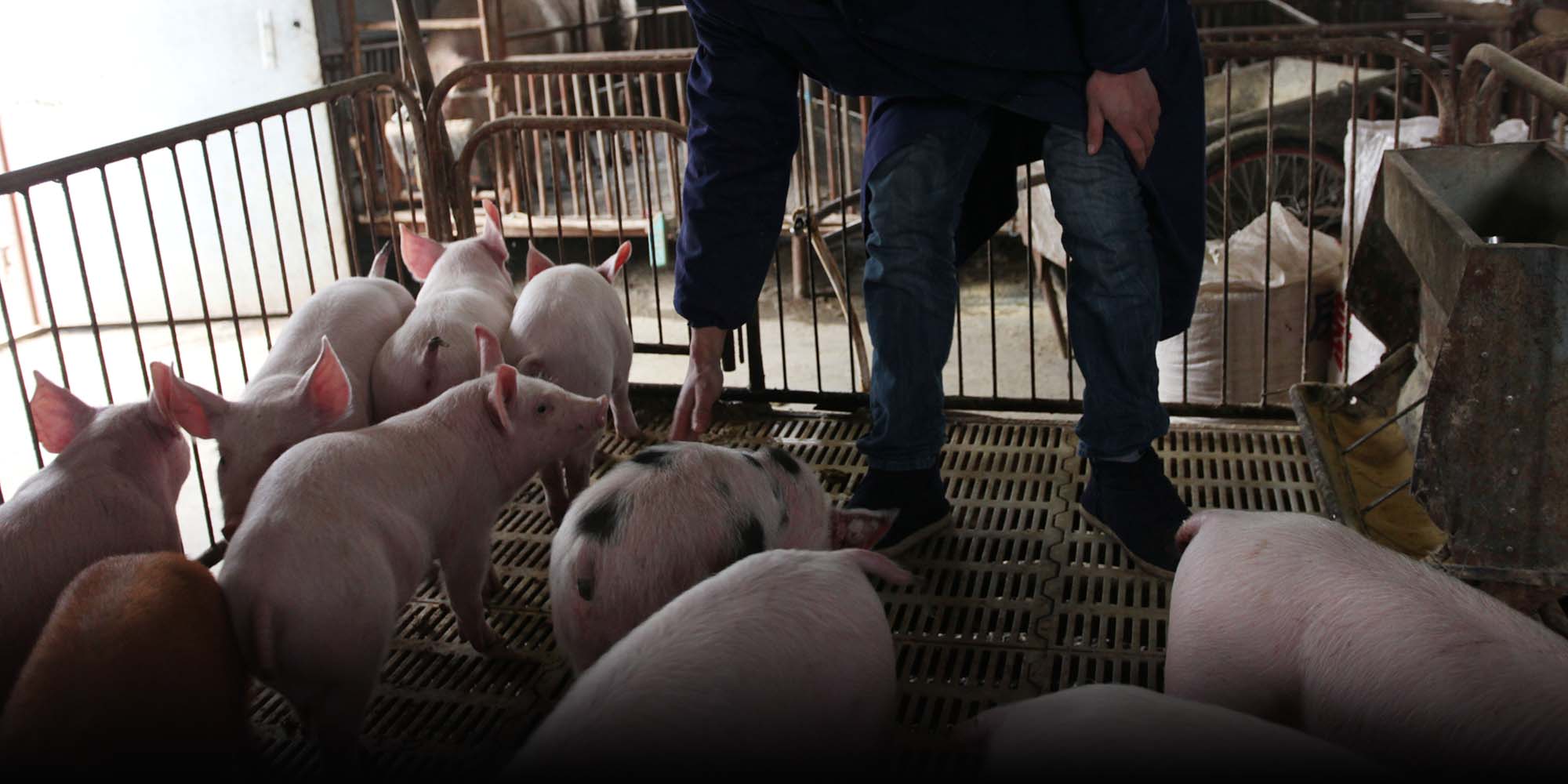 NEWS
How a 24-Year-Old Blogger Became China's Pig Whisperer
Pan Hao has never worked on a farm, but that hasn't stopped him from becoming one of the country's foremost husbandry experts.
Do you know that sunshine is an aphrodisiac for sows, and that dried earthworm powder can increase a pig's appetite? Pan Hao knows.
As the man behind the keyboard for Zhuguan Baba, or "Swineherd Baba," a blog dedicated to pig-raising, Pan has become a leading online pig expert with over 40,000 followers and more than 100,000 views per article.
By offering farmers and industry experts updates on everything from pork prices to increasing a pig's fertility, Pan has tripled his income and tapped into a market with great potential: the hundreds of millions of rural farmers who need access to reliable information about their work. Yet, Pan has never raised a pig, despite growing up in a rural community himself — in Weihui, a city of some 460,000 people in central China's Henan province.
Pan always aspired to become a young urban professional, attending university in eastern China's Jiangxi province, where he majored in teaching Chinese as a foreign language. After graduating in 2014, he went to Zhengzhou, Henan's capital, only to find that there were few jobs that suited his qualification. After stints as a copywriter at an advertising agency and as a salesperson, Pan ended up working at a veterinary medicine company in July of last year. That was when he began learning about animal husbandry.
Just one week after arriving in Zhengzhou, Pan created an account on Toutiao, a customizable news-gathering app and website. Pan had heard that it was possible to make money through producing content online, so he chose pig-raising as his specialty because of its relatively large target audience. Toutiao was the perfect outlet for Pan because it pushes content towards readers with specific interests.
"I found there was no one doing WeMedia on pig-raising," Pan told Sixth Tone in a telephone interview. WeMedia is a term that refers to content produced by individuals who operate outside of the traditional media framework on new digital platforms such as WeChat, a popular Chinese messaging app that boasts 800 million monthly users. It has become a booming industry in China thanks to the ever-increasing popularity of smartphones. Pan bought his first mobile phone just two years ago.
According to a report by New Rank, a company that monitors WeChat trends, last year there were more than 10 million accounts that produced content for an audience of subscribers on WeChat. Other platforms including Twitter-like Sina Weibo and YouTube-like Youku Tudou had 2.3 and 22 million content producers, respectively.
In the main, WeMedia content creators rely on companies that pay to advertise on their pages; they also endorse advertisers' products, collect royalties, and profit from speaking engagements and other public appearances. In addition, popular WeMedia celebrities receive monetary gifts from dedicated fans. Some content producers have become millionaires, seemingly overnight, while others have attracted serious interest from high-level investors. In 2015, for example, more than 30 "content enterprises" received investment of over 10 million yuan ($1.5 million).
Companies, including Toutiao, Weibo and Youku, also give content producers a cut of advertising revenue proportional to the number of hits. At first, Pan earned less than 2,000 yuan a month; then, in his fifth month, his income doubled. Pan still doesn't know why this happened. But after that, Toutiao extended an offer to participate in its "1,000 people, 10,000 yuan" plan, a scheme that provides select creators with at least 10,000 yuan a month to sustain their streams of content. Additionally, if their cut generated from ads exceeds 10,000 yuan, the content producers receive even more money.
Pan's day job affords him with ample time to learn from experts in the field, while his language skills also give him an advantage, he said. "Compared with the real experts, my knowledge [of pig-raising] is not worth mentioning at all," Pan said. "However, editors are in short supply in this industry — many professionals can't write articles that can be understood by the average reader."
Pan's readership has continued to grow, and he quit his full-time job in September. To supplement his freelance career, he set up accounts on two other WeMedia platforms this year, including a public account on WeChat. In addition to writing for these platforms, he has been invited to speak about his experience writing on pig-raising topics at several conventions. As his popularity has increased, Pan has become the poster boy for agricultural content production.
According to Wu Da, senior director of operations at Toutiao, there are 1,780 people producing content related to agriculture on the website, with 30 of them dedicated to writing about pig raising. The site picked Pan to participate in its ad revenue-sharing campaign because of his status as a key opinion leader, according to website data. "The popularity of Zhuguan Baba on Toutiao reflects the rural population's strong demand for information," Wu said. "Provided they find themselves a platform, entrepreneurs like [Pan] who produce agriculture-related content find new territory and traffic just waiting to be tapped."
Despite China having an agricultural labor force of more than 200 million, current content producers have largely overlooked the demand from their farming readership, said Wu. About 700 million pigs are ready for slaughter in China each year, but only 10 percent are raised on industrial farms that can produce 10,000 pigs a year, according to a report from National Business Daily, a financial newspaper based in Chengdu, capital of southwestern China's Sichuan province.
Meanwhile, the majority of pig-raisers operate small businesses, and these farmers comprise the majority of Pan's fans on Toutiao. Small-time farmers often lack the necessary knowledge and technical means in the field, so they turn to online content for advice. Some of the most popular online topic areas deal with health concerns, such as what to do if a sow's breasts become inflamed, or if a pig develops diarrhea.
Another concern is the fluctuation of pork prices. Pig farmers are especially concerned about the impact of cheap imported pork on the domestic industry, and many of Pan's followers are young migrant workers who want to know if there's a financial future in returning home to raise pigs.
Pan is not the first content producer to find success in a previously overlooked field. Zhou Kun, originally a reporter on gardening, started making videos to teach families about flower planting and botanical care in May through his WeMedia account on Toutiao. The videos quickly went viral, with one tutorial on dissecting monkey cups — a type of carnivorous plant — garnering 7.65 million views. Zhou was inspired to break into the WeMedia scene when he realized how easy it was to make videos with only a cellphone and a selfie stick, and how few gardening videos existed on Toutiao, according to a report by party newspaper People's Daily.
So far, Pan hasn't told his parents that he quit his day job. Though his parents might disagree with his professional choices, Pan doesn't believe that working for an established company necessarily provides more job security. "Small companies may last only three or five years," he said. "My first company went under. Unless you work for a state-owned or foreign company, there is no real guarantee." Pan added that his former boss at the veterinary medicine company recently approached him about collaborating to promote drugs the company sells.
Yet despite his success, Pan feels uncertain about his future and the long-term potential of WeMedia agriculture and husbandry content. "People working in the fields do not rely on their smartphones," he said. He is also worried that he will one day exhaust all of the topics in his area of expertise.
But for now, he still enjoys the freedom of being a freelance content producer and is keeping an open mind about his future in the industry. "I am not a very ambitious person," he said. "If I find I can't do this, I will change to some other subject."
(Header image: A man interacts with pigs in Ankang, Shaanxi province, Jan. 20, 2016. Wei Yongxian/VCG)