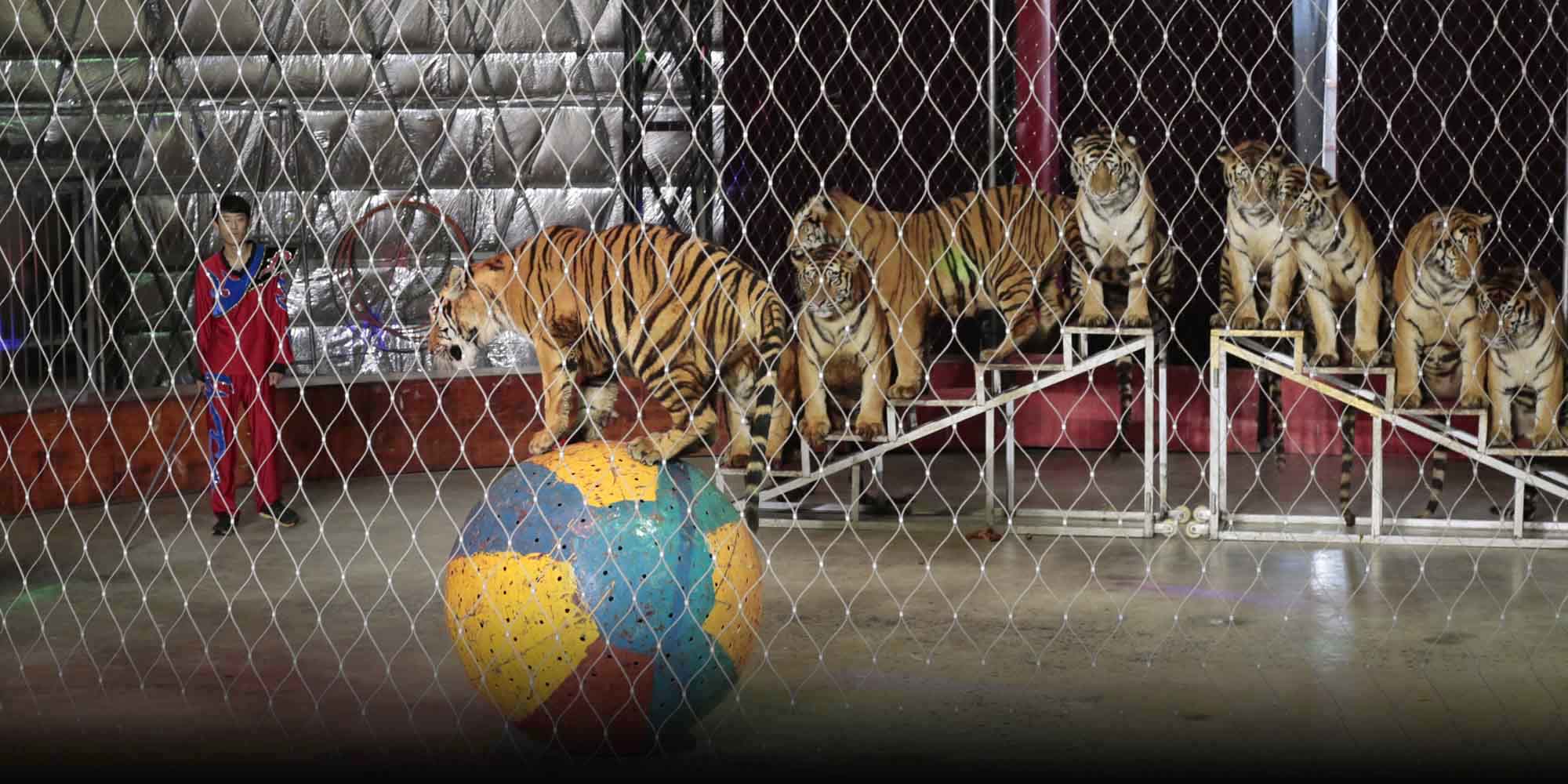 FEATURES
Behind Closed Curtains, Circuses Profit From Animal Abuse
Despite harsh criticism from rights groups and even official ministries, local government continues to support training of circus animals.
As soon as "Gangnam Style" began to play, Xiong'er started to dance. Jumping from one foot to the other, he imitated the iconic horse-riding dance moves of South Korean pop singer Psy. His trainer was giving him instructions with hand gestures.
Xiong'er is a 5-year-old black bear who performs in a circus in a rural area of Suzhou, a city in eastern China's Anhui province. He is one of hundreds of animals that have been trained to perform in circuses. Here, in Yongqiao District, the home base of their owners, the animals are held in cages; most of the year, however, they are on the road, being transported across the country to perform in small traveling circuses.
Animal rights organizations have harshly criticized the often-abusive training methods and the animals' dire living conditions. Yongqiao, however, is set on defending its reputation as "hometown of the Chinese circus" — a title conferred by the Chinese Acrobatic Association — and will continue to push for the right to train wild animals like Xiong'er.
Baihu Park is the pride of Yongqiao. Opened earlier this year, it hosts Suzhou's first permanent circus. Its full Chinese name translates to "Phoenix Dam 100 Tiger Park." A wide range of wildlife is on display here, including lions, tigers, black bears, monkeys, and a red panda. There's also a circus venue which hosts two animal performances per day. Bears ride bicycles, jump rope, and practice Hula-Hooping, while tigers leap through hoops of their own.
"Baihu Park has filled the void of circus performances in the hometown of the Chinese circus," Li Ping, head of art and culture at the Yongqiao Bureau of Culture, told Sixth Tone.
In a 2015 report, the government of Yongqiao District said that it was already home to some 200 circuses, citing the 67,000-square-meter park as a major achievement in the development of the industry. The government also plans to expand the park and include a performance venue for marine animals and a wild animal training center.
Animal rights groups like People for the Ethical Treatment of Animals (PETA), however, are protesting. This year PETA Asia released a series of reports, as well as videos, documenting the miserable conditions under which circus animals in China live, and the disturbing physical abuse employed to get wild tigers and bears to follow orders.
But Xiong'er's trainer, Wei Shijun, disagreed. "You can't say they're cruel," he said, referring to the training methods. While training Xiong'er to dance like Psy, Wei never used violence, he said. Instead, he relied on a training method he calls "food seduction."
"It's like a toddler who has to learn how to walk, and you hold his hand to teach him," Wei said. "Little bears don't know how to walk at first. Every day, you take some food and tie it to a string to teach it how to walk. It's hard to say that's cruel."
PETA's videos were widely shared online, prompting the local forestry administration to rescue 22 black bears in early September. According to The Paper, Sixth Tone's sister publication, authorities are investigating whether the bear owners have the permits required to keep the animals.
Xing Rufei, head of the Yongqiao forestry police, who are in charge of the case, said the black bears are healthy and will likely be returned to the circuses once it can be confirmed that they have their paperwork in order.
"There are certain kinds of wildlife cases that violate criminal law, including the illegal sale, killing, and transportation of animals," Xing said. "The abuse of black bears is hard for me to comment on because the criminal law has no clause pertaining to this issue."
The raid has caused locals to tread carefully. Dozens of metal cages litter the otherwise empty streets of Haogou Village, the home of most of Yongqiao's circuses.
A family with two small children allowed Sixth Tone to see the bear and two tigers they were holding in cages barely large enough for the animals to stand, but our reporters were soon shuffled outside again and told that the animals belonged to someone else. Afterward, residents closed their doors to us, and most declined to be interviewed.
During the 1980s, circus acts featuring animals started to become popular, and acrobatic performers from Suzhou began training animals to do stunts, ostensibly to make the shows more popular and profitable.
Following the trend at the time, Wei, Xiong'er's trainer, started his career at the age of 17. He thought of animal circuses as a viable way to make a living. "Born into poverty, I had no clothes to wear and only black noodles to eat," he said. "Having a job in the circus, having warm clothes to wear and food to eat, was all that I wanted at the time."
After traveling across the country for 30 years, Wei, now 46, has chosen to settle down and work at Baihu Park's permanent circus. "I have strong feelings about this career, and about the animals as well," he said. Despite being added to China's "Intangible Cultural Heritage" list in 2008, Yongqiao's animal performances have come under criticism, even from government departments.
In 2010 the State Forestry Administration called for a halt to performances in which animals were abused or mistreated, and that same year, the Ministry of Housing and Urban-Rural Development urged zoos to put a stop to animal performances that violate animal welfare. The ministry also issued a nonbinding recommendation in 2013 that all animal performances be discontinued.
Hu Chunmei, head of the Beijing-based animal welfare project Freedom for Animal Actors, welcomed the steps taken by both government offices, saying she knows of a number of zoos which have stopped giving animal performances as a result.
Hu added that traveling circuses, however, are harder to regulate, and she criticized a July amendment to the national Wildlife Protection Law stipulating that animal owners must get approval before their animals are allowed to perform. "It makes circus owners think that what they're doing it legal and acceptable," she said.
But in the absence of a law banning animal performances outright, the amendment and pre-existing permit regulations on the transportation and raising of wild animals have at least made it possible for animal welfare activists to ask authorities to check for these permits, and this has become a common way to fight against the industry.
This week, Freedom for Animal Actors asked the Ministry of Culture to look into whether the China International Circus Festival, scheduled to be held later this month in Zhuhai, in southern Guangdong province, had all the necessary permits.
But the policing route isn't always successful. In June, when the group learned that four tigers performing at a circus in Suzhou had been transported to the city of Anshan, in northeastern China's Liaoning province, to perform, they called the forestry administration and found out that the circus only had permits for two. Once law enforcement showed up, however, the four tigers, as well as several other animals, had already disappeared.
The Yongqiao government's dreams are getting bigger. Official documents show that the district is planning a project called "China Animal Circus Culture World," although no details have been made publicly available yet. Separately, Suzhou's website indicates that a wild animal zoo is already under construction, with plans to include a tent for animal performances.
Elsewhere in China, a growing appetite for zoos and circuses is fueling demand for trained animals. For example, though Zhangjiajie, a city in central China's Hunan province, is already a popular tourist destination, it began construction on the "world's largest circus city" in September of this year.
Not far from the circus tent at Baihu Park, a group of small black bears are taking a nap, while one scratches a wall and another paces restlessly back and forth. One of the bears is staring into the sky. All of them wear heavy chains around their necks.
Li of Yongqiao's culture bureau, however, says that animal performances are a part of the district's identity, and that opening more permanent circus venues is simply a way of preserving the district's heritage. "There is still demand for circus performances here," she said.
(Header image: A tiger balances on a ball as trainers stand by at the Baihu Park circus tent in Suzhou, Anhui province, Oct. 21, 2016. Li You/Sixth Tone)