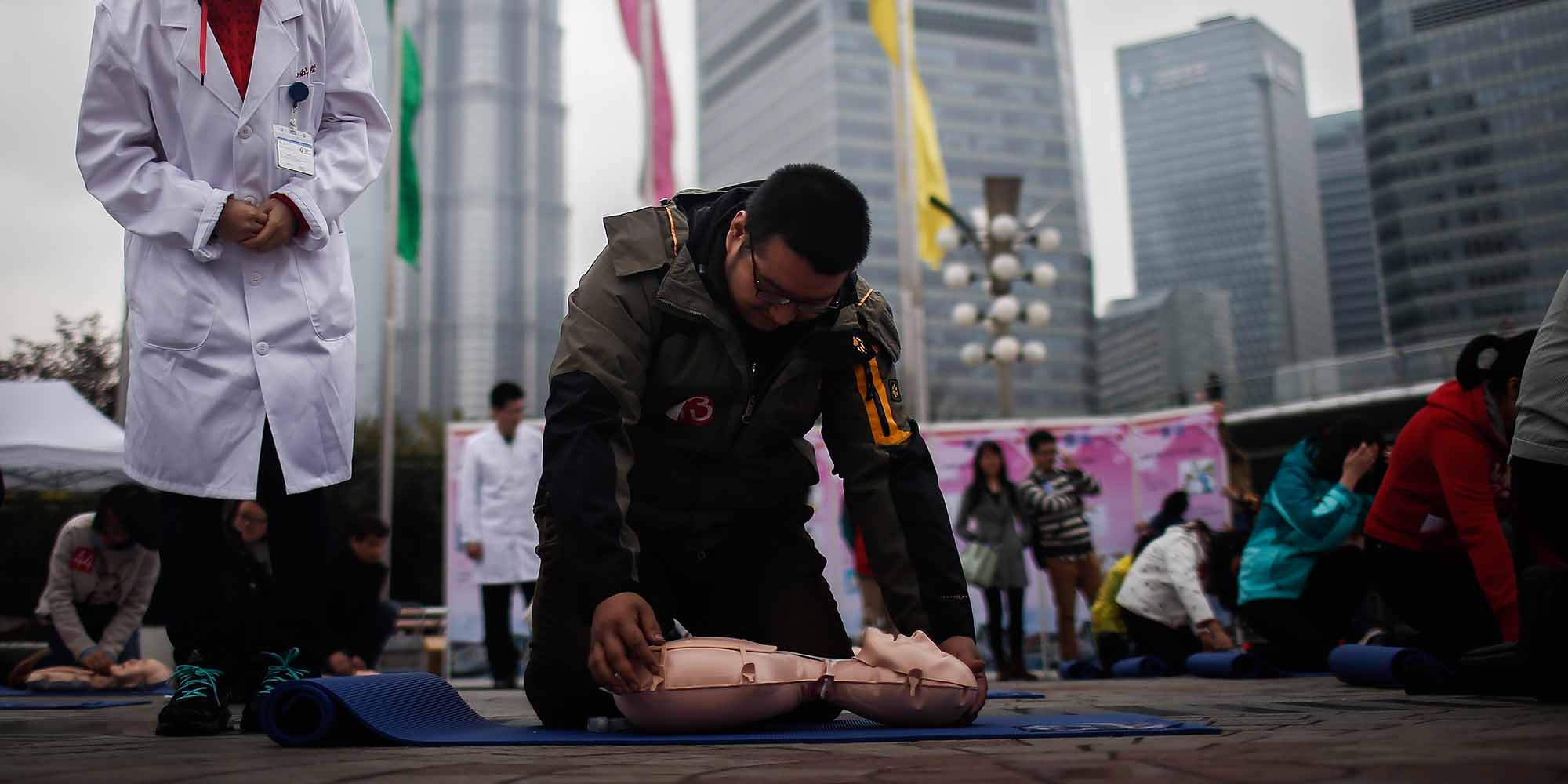 NEWS
Shanghai's Would-Be Samaritans Welcome Legal Protection
Residents welcome new law that seeks to prevent do-gooders falling foul of scams.
Legend has it that it was a lawyer's questions that prompted Jesus to launch into the parable of the good Samaritan. Fitting, then, that Shanghai on Monday enacted regulations to offer legal protection to citizens who go out of their way to help those in need of emergency care.
Buried among the 66 clauses of the "Shanghai Municipal Regulations for First-Aid," which was approved in July by the Shanghai Municipal People's Congress Standing Committee, is the guarantee that those who carry out "on-the-spot emergency care will enjoy legal protection." Even those who inadvertently cause harm to the injured party "will not bear any legal responsibility," the regulations state. The new regulations appear to apply to all individuals, in contrast to an earlier draft that stated only those with medical training would benefit from legal protection.
Across China, reluctance to lend a hand to those in need has been exacerbated by the fraudulent practice of pengci — or "bumping into porcelain" — whereby an apparent victim feigns injury in order to claim compensation from an unwitting passerby. Cases where genuinely injured individuals have been left to fend for themselves frequently break the news; many will remember the case of Yue Yue, a 2-year-old girl who died after being struck by two vehicles, both of which drove away. Security footage showed 18 people walking past her body.
Following the example of cities like Hangzhou and Shenzhen, Shanghai's new laws are an attempt to counter that reluctance. As well as calling on people to call the emergency services upon discovering someone in need of care, the new regulations encourage "residents with first-aid expertise to provide on-the-spot emergency care to the injured party," and state that those who do provide first aid will receive financial remuneration.
Sixth Tone took to the streets of Shanghai to find out whether the new regulations would have any bearing on its residents' willingness to help those in need. While most people approached by Sixth Tone had not heard of the new law, the overwhelming reaction was one of support.
Among those who welcomed the new regulations was 70-year-old resident Sun, who declined to provide her given name. Sun's armband indicates she is one of the city's street volunteers, who have no authoritative powers but are charged with maintaining a safe and clean urban environment. Despite her status, Sun said she wouldn't dare help someone in distress without any legal protection. "Aren't there a lot of those pengci cases these days?" she said. "What if we did the right thing and got cheated? There's no way to be a good Samaritan nowadays."
Sun's comments were echoed by 40-year-old Pan, a new arrival in Shanghai who also refused to provide his full name. For Pan, the necessity of the law comes down to the fact that China is still a developing country. "As society develops, if ethics cannot fulfill their purpose completely, then you have to turn to the law," he told Sixth Tone. Nevertheless, Pan said the law would have little impact on him, since he has always been willing to help.
That was also the case for 70-year-old Ge Peirong, a Shanghai native and the elected mediator between the residents of her apartment block and the area's residential committee. "If I can help, then I will," she said. "I'm naturally a very warm and enthusiastic person." Aware that coverage of scams in the media has discouraged people from intervening, however, she approved of the new regulations: "It's great — with this new law no one will have reason to hesitate."
Ma Yanwen, a 14-year-old student, told Sixth Tone her reluctance to intervene came from her parents. "[They] worry we will run into a pengci incident, and so they don't let us get involved," she said. With the new regulations, however, Ma said she wouldn't hesitate to help.
Fifty-two-year-old Ji, who refused to give her full name, said she would without a doubt encourage her own grandchild to help, despite the fact that she herself wouldn't dare intervene due to her lack of medical training. "Of course I would teach her to be a good person," she said. "There's no way I'd tell her to be a bad person."
(Header image: A man performs CPR under a doctor's supervision during a public training class in Shanghai, Nov. 30, 2014. Yang Yi/Sixth Tone)