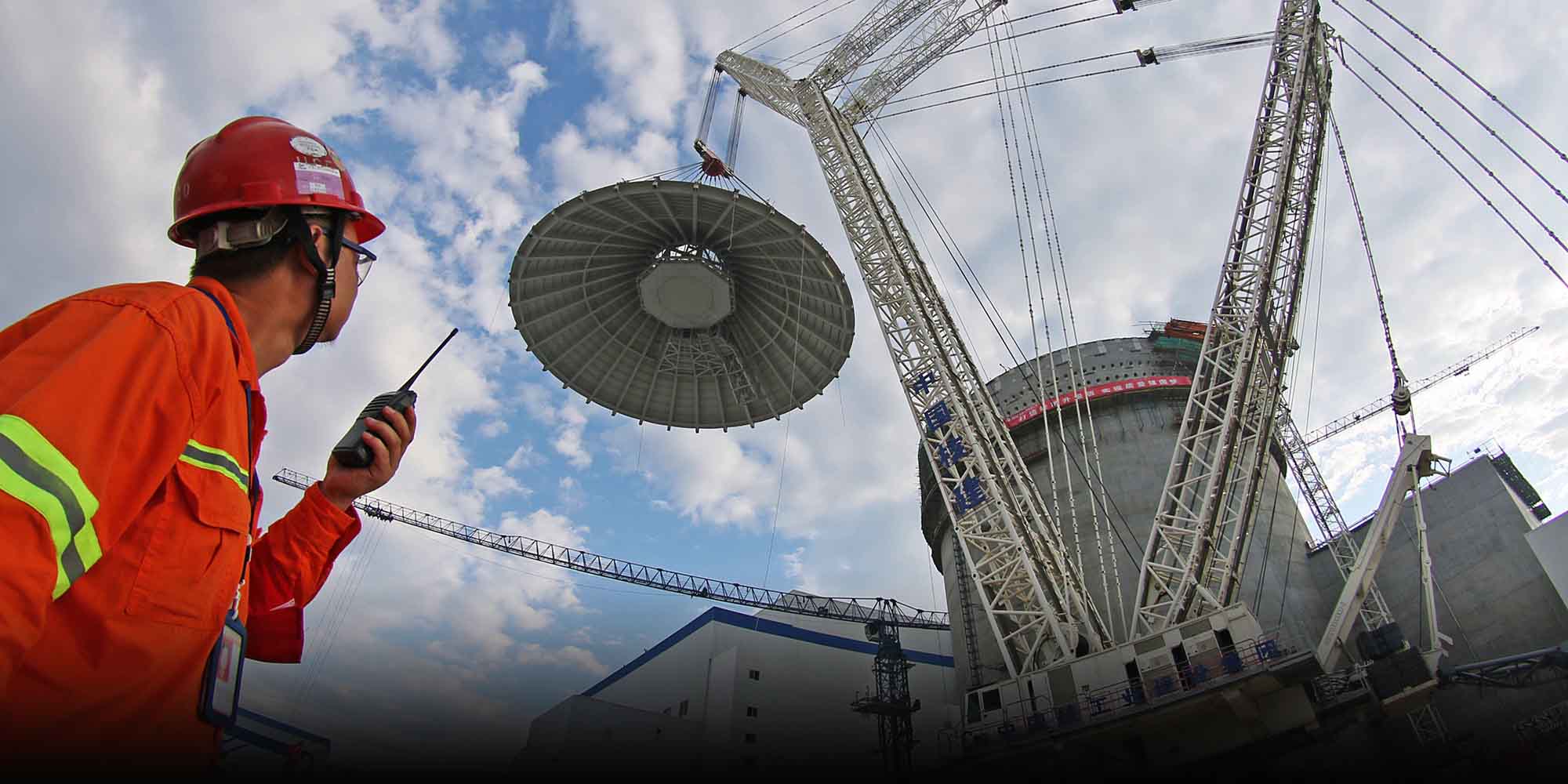 NEWS
China Brings Nuclear Safety to the Table
Officials discuss nuclear safety law as government plans to build hundreds of energy reactors.
The Chinese government, which operates more nuclear power plants than all but a handful of other countries, this week began discussing a draft law on safety standards for its facilities.
The draft, which addresses the safety of facilities, employees, and their environment, as well as emergency planning and response, could become the first comprehensive law to ensure safety at nuclear energy plants.
The draft is under review by the Standing Committee of the National People's Congress and also includes a section that addresses the scrapping of nuclear facilities, stipulating that operators must reduce radiation levels to a "safe standard," state news agency Xinhua reported earlier this week. Current laws and regualtions only regulate very specific sectors of the industry, such as the surveillance of radioactive substance transportation.
With 31 facilities, China is currently the world's fifth-largest operator of nuclear power plants, following the U.S., France, Japan, and Russia.
China's Five-Year Plan (2016-20) proposed the construction of more than 100 new nuclear reactors, and more than $100 billion in investments have been earmarked the new plants. By 2050, the plan said, there could be 400 new reactors.
While having a nuclear safety law was important, Wu Libo, a professor at Fudan University in Shanghai and executive director of the Center for Energy Economics and Strategies Studies, said that enforcement would be key. "Our country has laws; however, their implementation doesn't always work that well. I hope this one can be better enforced," she said.
In particular, the overall management and safety issues at inland plants leave plenty of room for improvement, Wu added.
Since 1900, China has been hit by about 800 earthquakes of magnitude six or higher. Maintaining a steady water supply to ensure that reactors don't overheat is another concern. Between 2003 and 2009, some nuclear power plants in the EU and the U.S had to be shut down during the summer months because they lacked the supply of water needed to operate safely. In 2012, thousands of reservoirs across China issued warnings of "exceptionally low" water levels. Even historically water-rich Yunnan province has struggled with severe droughts in recent years.
While China still plans to become the world's number-one producer of nuclear energy, other countries have instead started investing more heavily in sustainable energy sources, such as solar and wind. In the wake of the 2011 disaster at the Fukushima reactor in Japan, Germany vowed to retire all nuclear reactors by 2022.
Li Shuo, Greenpeace's senior climate and energy policy officer for East Asia, said that it made no sense to continue investing in nuclear energy when we know there are much better solutions. "Better job creation comes with sustainable energy, and it's also better for climate change — so those solutions should definitely be prioritized," Li said, adding that he could not comment directly on the safety of nuclear power plants in China, as such information is not publicly available.
Even without hundreds of new plants, a major nuclear accident is highly likely, wrote He Zuoxiu, a member of the Chinese Academy of Sciences (CAS) and a researcher at the CAS Institute of Theoretical Physics, on environmental website chinadialogue.net.
Looking at the data available for past reactor meltdowns, the number of reactors in China, and current domestic safety levels — which lag far behind Japan's, despite the similar likelihood of natural disaster — the "most probable" period for a nuclear accident in China is between 2020 and 2030, He wrote.
"We are indeed concerned, not just from a safety point of view, but also from a financial point of view," Li of Greenpeace said.
Nuclear energy is part of China's drive to get rid of coal factories, which have for decades been the country's main source of energy, while also contributing mightily to notoriously high air pollution levels. A switch to green energy is also necessary in order to deliver on the promise to cut greenhouse emissions, according to the 2015 Paris Agreement on climate change, which China ratified in September of this year.
But after years of investing heavily in coal-fired power plants, the energy market is now facing a surplus. Last month, the government ordered 28 provinces with energy gluts to halt construction on all new coal-fired plants, and earlier this year, it issued a moratorium on planning further coal-fired power plants nationwide.
Overall, a growth in demand for energy is also slowing. According to a British Petroleum report, energy consumption grew by 1.5 percent last year, marking a 17-year low.
Both slowed demand and excess supply call new forms of energy into question, Li said. "The bottom line is, the country doesn't need to build any new coal-fired or nuclear power plants in the near future."
(Header image: A worker oversees a crane lifting a containment dome to be installed at the Haiyang Nuclear Power Plant, Shandong province, Sept. 12, 2015. Tang Ke/IC)