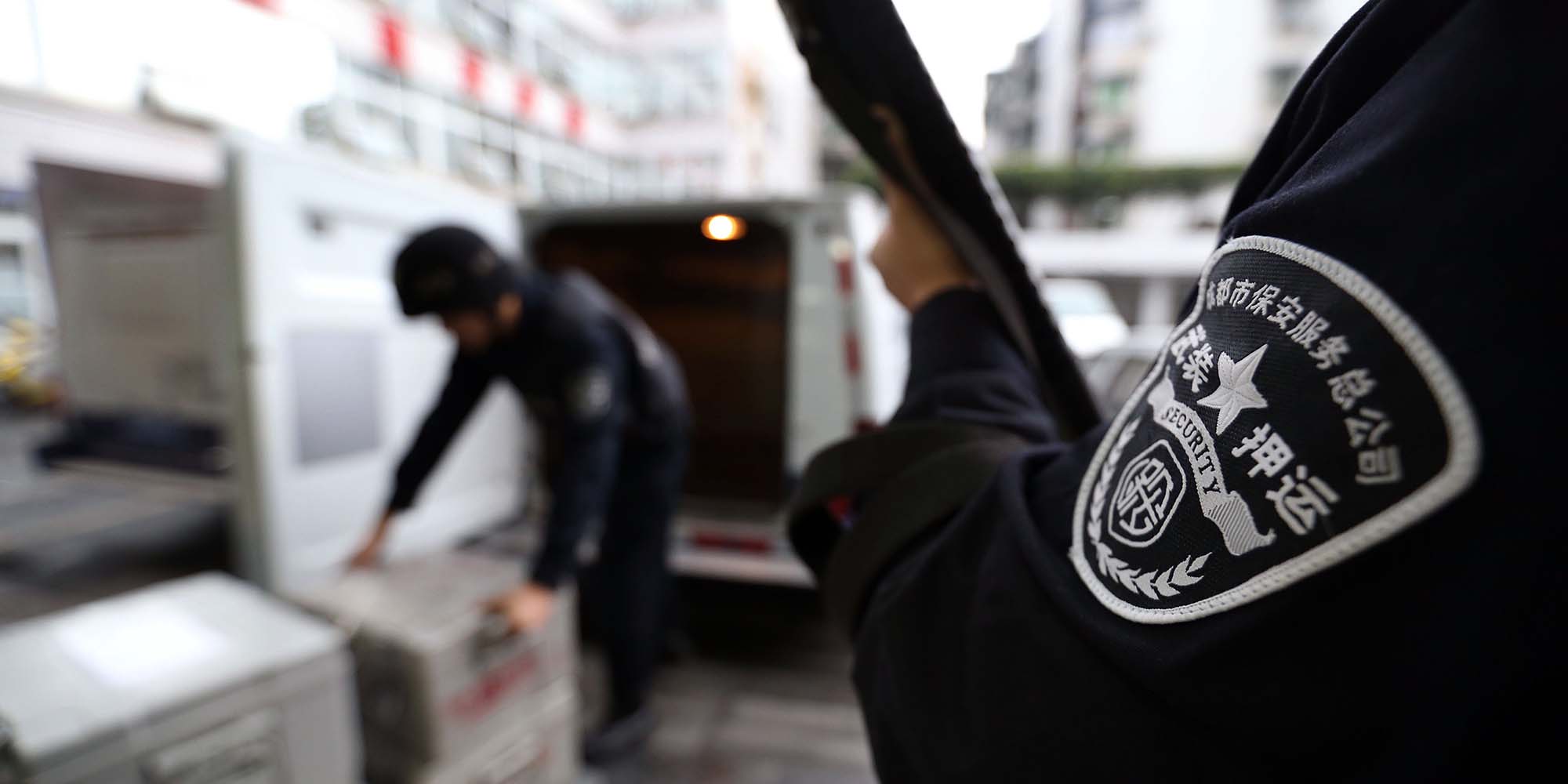 NEWS
Fatal Incident Raises Questions About Armed Guard Training
Rapidly growing Chinese security industry employs more than 4 million people.
The death of a 25-year-old man at the hands of an armored vehicle guard last Friday in southern China has sparked widespread discussion about whether the response was justified, and how security personnel are trained for emergency situations in the first place.
The deadly incident happened in Dongguan, a city in Guangdong province, after a man surnamed Huang repeatedly hit the window of the van with a brick, in response to the van scraping the side of his electric bike as it drove past. A report from Sixth Tone's sister publication The Paper said that Huang was then warned repeatedly before a guard fatally shot him.
Dongguan police said the guard is currently under investigation. Details about the weapon used in the shooting have not been released to the public, but a 2014 report by Southern Metropolis Daily said guards in Guangzhou, a neighboring city, are equipped with guns that fire shot ammunition, or small metal balls. A guard is quoted as saying that the weapons are lethal, especially when fired at close range.
In the wake of the incident, many Chinese social media users posted comments asserting that the guard's response was excessive, or that the van should have simply driven off. But one net user empathized with the guard. "All robbery starts with a seemingly small accident," the user commented under a news report. "The guard had every reason to suspect the guy was trying to lure all the guards out so his accomplices could kill everyone. Doesn't Huang know what the sign on the van that says 'Armed. Keep Away.' means?"
"I would also have shot Huang if I had been there," Liang, a military veteran who currently works as an armored car guard in Zhaoqing, a city in Guangdong, told Sixth Tone. Liang only gave his last name, citing a confidentiality agreement he signed with his employer.
According to regulations issued by the State Council, China's cabinet, in 2002, guards for armored cars and banks should avoid the use of firearms unless objects under their protection are threatened, the guards' lives are in danger, or someone is trying to take their weapons.
According to Liang, armored vehicle guards are told to first issue a warning, and to only use force when there are serious threats to their lives or the assets they are protecting. "So I and my colleagues on-site must use our own judgment to identify real threats," Liang said. "To guarantee absolute safety, I would also have fired," he said about the Dongguan incident. "The loss would have been huge had [Huang's actions] been premeditated."
Liang said that he underwent an intensive, monthlong training after he was hired by the security company. "The training included lessons on gun use and lectures by a law expert that taught us about legal restrictions on firearm use," Liang explained, adding that all trainees obtain a firearms license after successfully completing the program.
Chen Jun works as a recruiting manager at Beijing Zhenyuan Armored Transport Center, a security company that provides armored vans. Chen told Sixth Tone that though the guards they recruit need only a middle school diploma, their hiring requirements are quite strict. "We need every job applicant to submit a certificate from a political background check," said Chen, adding that the certificate is used to prove that the applicant has no criminal record and is "politically reliable." Chen said that the company also rejects applicants with bad tempers.
A military instructor surnamed He who works at Shanghai Security Escort Co., Ltd., told Sixth Tone that the company's recruits receive half a month of training. "We invite veterans, decommissioned armed policemen, and experts from the labor bureau to serve as instructors," said He, who declined to share further details about the curriculum, as it "involves secrets." Out of the 20 trainees per session, two or three are usually disqualified, He said.
China's security industry is growing rapidly. According to government-affiliated Qianzhan Industry Research Institute, nearly 6,000 companies employing a total of more than 4 million people provided security services in 2015, up from nearly 3,000 companies in 2011. The sector was entirely state-owned until 2006, when private companies were allowed to enter the industry. But companies providing guard services for armored cars or banks must be at least majority state-owned.
There are few cases of homicides by armored guards in China. In 2007, Zhu Honglin, an armed guard at a bank in Shenyang, a city in northeast China's Liaoning province, fatally shot a man who had engaged in a conflict with another guard after withdrawing money and reportedly running in a hurry. Zhu was later sentenced to 12 years in prison for intentional homicide.
(Header image: A guard loads strongboxes into an armored car as another stands watch, Chengdu, Sichuan province, Nov. 13, 2015. Wang Hongqiang/VCG)