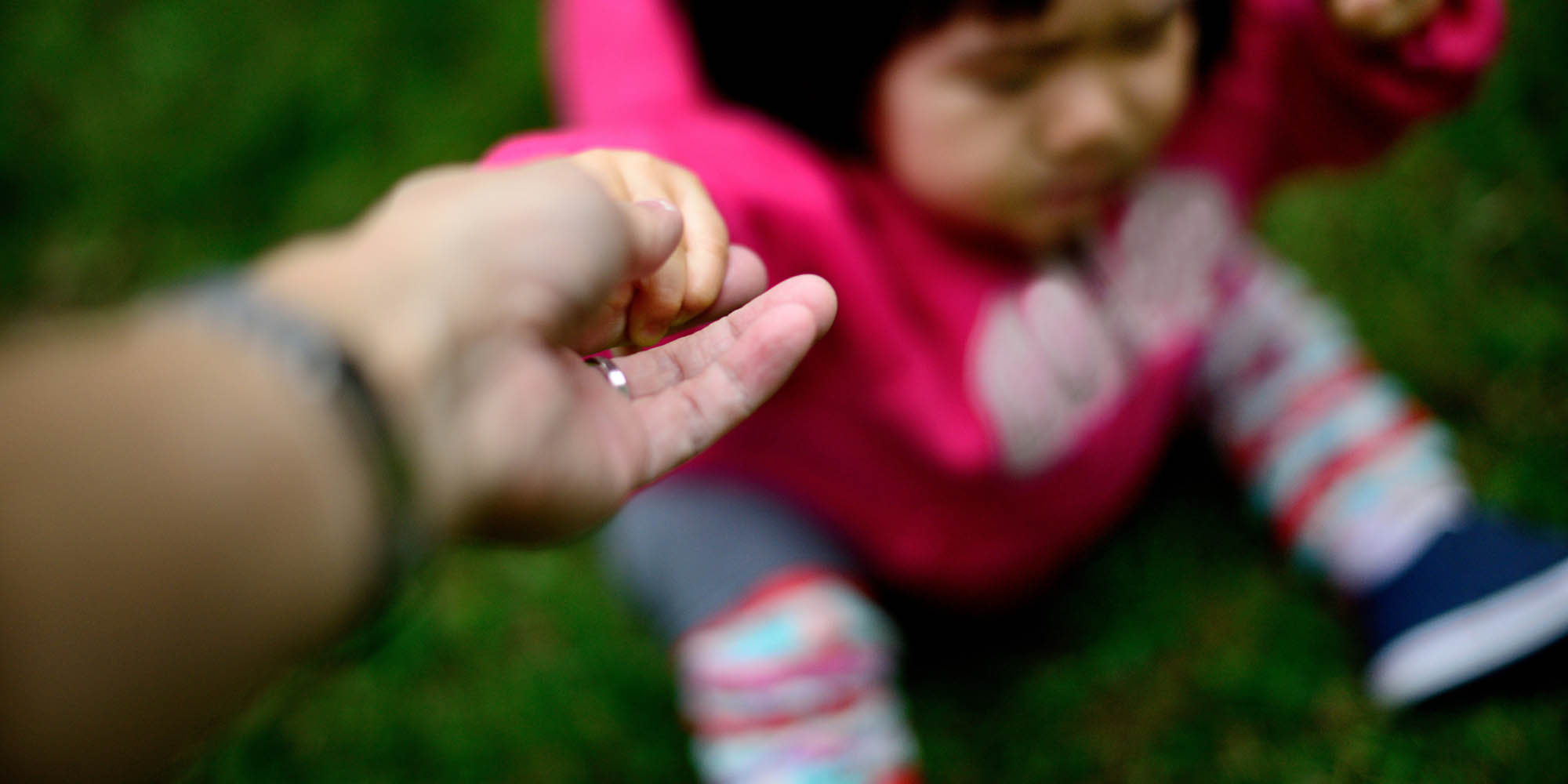 FEATURES
When Parents Kidnap Their Own Children
China's divorce laws incentivize parents to take custody through abduction.
It's been more than two and a half years since Lai Xiaolan last saw her son and daughter. At her home in Shanghai, the height measurement chart on the dining room wall hasn't been updated since early 2014. Abandoned toys gather dust in the small backyard, and the fall chill matches Lai's mood.
The 37-year-old has been fighting to see her children since they were taken by her ex-husband on April 11, 2014, before the couple filed for divorce that same year. "It's a kind of kidnapping," Lai said. But courts in China don't see it that way; in fact, abducting a child can actually give a parent an advantage in later custody disputes.
Earlier this year, the first hearing of Lai's divorce lawsuit awarded her custody of their 5-year-old daughter, and her ex-husband custody of their 7-year-old son. But family courts have little power to enforce their decisions, so Lai hasn't been able to see either child, and her husband tells her she never will. In March, she appealed for full custody of both children, but no hearing date has been set.
"My children aren't items that can be separated, and I don't want to disrupt their relationship with each other," she told Sixth Tone. She said she can accept the court granting her ex-husband legal custody, but she won't rest until she's able to see her children and keep them together.
The divorce rate is rising in China: In 2014, it was 2.7 per 1,000 people, more than double what it was 10 years prior and higher than in most European countries. Custody is a key dispute in many divorce cases, and Chinese courts will typically award custody to one parent, while the other will only be allowed to visit. For families with more than one child, splitting up the children is common, and joint custody is rare.
Because courts are more likely to decide that a child should remain in the existing living arrangement, one shortcut to winning custody is to abduct and conceal the child from the other parent before the divorce. "In practice, the person who takes the child has the advantage," said Yang Xiaolin, a marriage law specialist who serves on the civil affairs committee of the All China Lawyers Association. "That motivates the phenomenon of parental child abduction."
Lai and her husband began having marital problems shortly after their daughter was born in 2011, and he would often be away for months at a time — but she never expected him to take off with the children. That afternoon in April 2014, Lai's mother went to pick up the kids from kindergarten as usual, but the staff told her that their father had already taken them at lunchtime. When she called him, he said he'd taken them for the weekend. By the time Lai finished work, his phone was switched off. She texted and called repeatedly but received no reply. That first week, she spent many sleepless nights wondering where her little ones were.
"I didn't know which corner of the world they were in," Lai recalls. "I worried about who was taking care of them, who gave them baths, what they ate, whether they were cold or hot, how they felt being away from me."
Lai's search for her children took her across the country. She tried her luck in Baoji, a city in northwestern China's Shaanxi province, where her parents-in-law lived, as well as in Xian, the provincial capital 1,400 kilometers from Shanghai, where her husband's cellphone GPS indicated he was staying. After six trips spent scouring every kindergarten in the vicinity, she still had no leads. She begged the local police to investigate, but they said it wasn't a crime for a father to take his kids. Lai turned to private detectives, but they also failed to find the children.
Public attitudes toward divorced women are often unsympathetic. When Lai shared her story online, along with photos of her with her children, readers posted comments attacking her appearance and speculating about why her husband would want to leave her and keep the children from her. Few offered her compassion or criticized her husband. "Everyone judged me," Lai remembers. "Even my parents, at the beginning, thought I should try to save the marriage in order to get the children back. They thought I must be a loser if I couldn't keep my family together."
Finding little support around her, in August 2016 Lai joined Purple Ribbon, a grassroots advocacy group that helps mothers around China in similar situations fight for their custody rights. Patriarchal tradition is as much a problem for the mothers as is the complex legal process following parental child abduction. Most of the children who have been taken by their fathers are boys, because sons are able to continue the family line, while daughters are expected to "marry out." One mother in the Purple Ribbon group, 37-year-old Zhang Xun, received no support from her own family when her husband took their son. "Even my parents thought our son should belong to his father's family because that's his surname," Zhang told Sixth Tone. "In a marriage, men and women are on unequal footing."
Contemporary marriage law in China treats men and women equally in terms of consenting to marriage, initiating divorce, or negotiating settlements and custody. But gender roles within the family can put women at a disadvantage. Because mothers are more likely to earn less and have their careers interrupted or sidelined by child care responsibilities, fathers can typically provide more for children materially — one factor that courts do consider when deciding custody.
Women and men aren't equal in the family or in society, Zhang said, "but when a divorce case happens, women and men are put into so-called equal positions. Women's rights aren't adequately protected. It is actually unequal."
In some cases, parents use children as a bargaining chip in divorce settlements even when they don't want custody. Chen Yanjin, a 30-year-old mother from Fujian province in eastern China, was pressured by her ex-husband to sign away all of their joint property in exchange for custody of their sons, after he had abducted them. "Our traditional customs in Fujian are so wrong. Women don't have the rights that men do," Chen said. "When I asked people for help, they responded that domestic shame shouldn't be made public, and I should just bear it."
Many of the mothers in the Purple Ribbon group have experienced violence in their relationships, yet their ex-husbands won custody anyway. Though a landmark domestic violence law came into effect in March this year, and courts award custody based on who can provide a healthy environment for the child, lawyer Yang Xiaolin told Sixth Tone that domestic violence often isn't given due consideration in custody decisions.
Qi Lianfeng is the lawyer who represented Kim Lee, an American woman who became an advocate for Chinese domestic violence survivors after she was beaten by her then-husband, well-known education entrepreneur Li Yang, and decided to share her story online. Her 2013 divorce attracted widespread public attention and ended with her obtaining full custody of their three daughters. Now Qi is working on a similar case for one of the Purple Ribbon mothers: Sherrie Dai, a Chinese-Canadian woman who didn't win custody of her son in the first hearing, despite her ex-husband's history of violence.
"The difference from Kim's case is that Li Yang didn't take the children away from their mother, but Sherrie's ex-husband took their son," lawyer Qi said. "In practice, the court has to consider possible difficulties in follow-up law enforcement." Courts are reluctant to make judgments they can't enforce.
A legal ruling isn't the end of the battle, as courts often do little to implement their decisions. Since 2013, China has maintained a national blacklist of people who haven't complied with civil court judgments, barring them from taking out loans or buying big-ticket items, but implementation is inconsistent and often ineffective. At the second hearing of her divorce case in June, Zhang Xun signed an agreement that awarded her overnight weekend visits with her son, but a month later, she still hadn't been able to see him. In July, she appealed for an enforcement order but hasn't yet received a response from the court. Other mothers find themselves in the same boat, even if they have won full custody.
Lai and the other mothers in the Purple Ribbon group want to see the law protect their rights and acknowledge child abduction by a parent as a form of family violence. "Parental child abduction before or after divorce should be prevented and punished," she said.
In January, Lai's daughter will turn 6. It could be her third birthday without her mother. One of the children's pet dogs died last year, and Lai's 70-year-old mother cries almost every morning because she dreams of her grandchildren and worries she might never see them again in real life. Lai herself can't even imagine what her children look like now. "They must have grown and changed a lot in almost three years," she said.
(Header image: Moment Open/VCG)