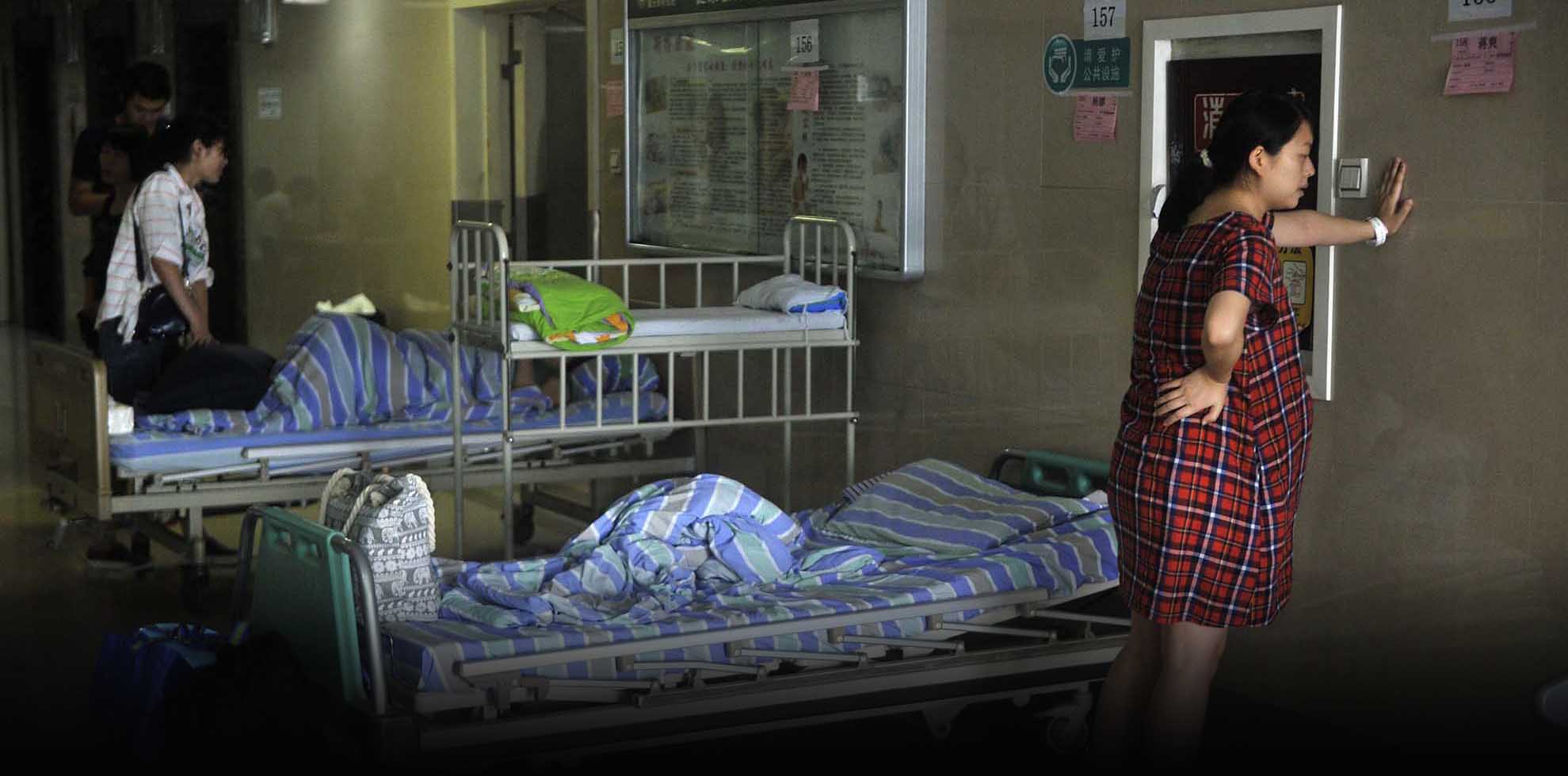 NEWS
One Year Later: Two-Child Policy Fills Maternity Wards
Many Chinese women 35 and older are choosing to have a second child.
More than a year after the Communist Party of China announced that all couples were to be allowed to have two children, hospitals around the country are having to cope with the policy's effects.
Maternity wards have seen their resources stretched, as many women are having second children — a development exacerbated by the fact that many of them are relatively older and thus require more care.
"At least 40 percent of the pregnant women in our hospital now are expecting their second child," said Guo Yihong, a doctor specializing in reproductive health at First Affiliated Hospital of Zhengzhou University, in central China's Henan province. She told Sixth Tone that based on her observations, most of the women having a second child are older than 35 — an age group defined by many Chinese hospitals as an advanced maternal age that carries a greater risk of adverse pregnancy outcomes.
"Henan is a populous province, and the passion to have more children remains high these days," Guo said.
Statistics from the National Health and Family Planning Commission show that in the first half of this year, more than 40 percent of newborns in the country were second children. The number of newborns in the first six months was up 6.9 percent from the previous year.
Guo said that the number of older pregnant women at her hospital had significantly increased since the start of this year, which has in turn imposed higher demands on medical staff. "Women aged 35 and above face more difficulties in having second children," she said. "It's troublesome for some to get pregnant in the first place, and then throughout the pregnancy and delivery, these women require more attention from the medical team because they are more prone to various complications."
At Yuebei People's Hospital in Shaoguan, a city in southern China's Guangdong province, the number of pregnant women seen in August was about a third higher than the year before, an obstetrician surnamed Song told Sixth Tone.
Of the 100 or so patients he sees per month, Song estimated that more than half are having second children. "Many of them are above the age of 35, which means a greater risk of Down syndrome, diabetes, postpartum hemorrhage, and other problems."
In September, a national health official said that the mortality rate for pregnant women had risen 30 percent in the first half of 2016 compared to the year prior. However, many later questioned the relevance of the statistic, with one reason being that the 2016 numbers were comparable to 2014, suggesting 2015's statistic was an anomaly.
But while many places have experienced a significant two-child policy effect, the impact has been far less pronounced in Shanghai.
At the International Peace Maternity and Child Health Hospital in Shanghai, around 27 percent of all pregnant women so far this year were expecting second children, while the rate for last year was 25 percent. "The increase has been quite small," said Zhou Jiong, director of the hospital's administration office.
That people living in China's largest cities aren't jumping at the chance to have another child is to be expected, said Peng Xizhe, dean of the School of Social Development and Public Policy at Fudan University. He told Sixth Tone that in cities like Shanghai, where the cost of living is high, families more carefully consider the money, energy, and time they have to invest into raising a second child.
Peng also forecasts that the current baby boom will be short-lived, since those parents who were most pining for an additional child will soon have that wish fulfilled. "Nationwide, we've seen a rapid increase in babies who are second children in their families," he said. "But this growth will soon slow down."
Additional reporting from Lin Qiqing.
(Header image: A pregnant woman waits outside the delivery room at a hospital in Chongqing, Aug. 29, 2016. Chen Chao/VCG)