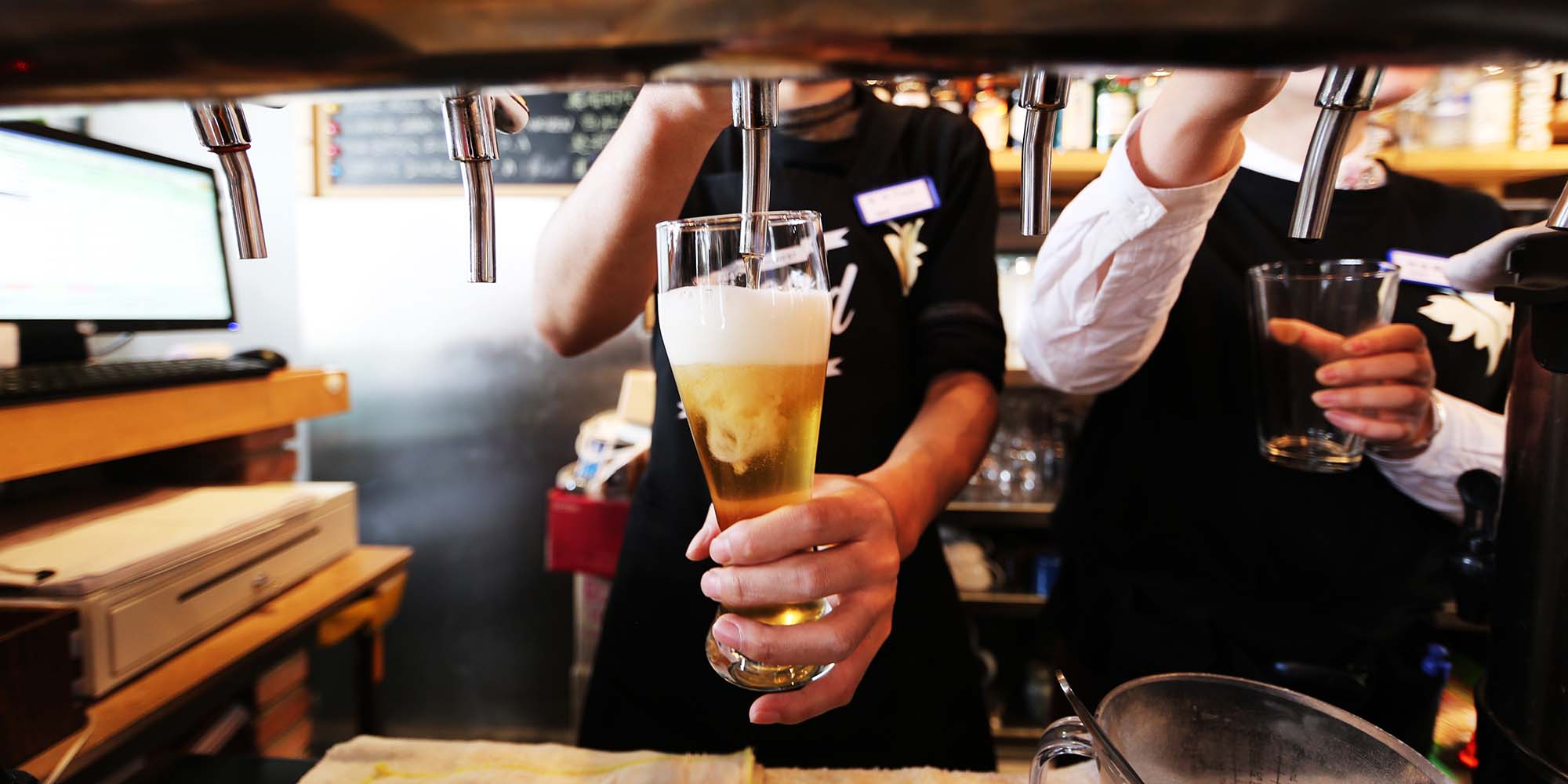 FEATURES
Chinese Craft Brewers Hop to a Different Tune
After years of imitation, domestic microbrewers are hoping to carve out their own distinctive niche.
Wang Rui, or "Geezer" as he's known to his foreign friends, stood outside his craft brewery watching the flames consume years of hard work. It had all been going so well: Just three days earlier, he had received his brewer's license, which had taken him about two years to obtain.
In April of last year, Wang's phone rang while he was out celebrating with friends. It was the night watchman of the industrial park, bearing bad news: His microbrewery was on fire. Wang immediately rushed to the scene.
"I thought it was all over," Wang told Sixth Tone. "I was broke after investing all my money into this project. But as everything sank in the next day, I felt I had to rebuild. After all the problems, I was so close to success that I couldn't let this stop me."
Wang, 37 and a native of Chongqing in southwestern China, at first seems an unlikely champion of craft beer — in fact, the bespectacled telecommunications graduate looks more like a tech guy than a brewer.
But beer is Wang's real passion, and his Chengdu Harvest Brewing Company is considered one of the pioneers of the craft brewing revolution in China. The brewery is located in Wenjiang, a suburb of Chengdu, Sichuan province in a place where industrial parks — many thick with the pungent smell of mass-produced soup stock for hot pot restaurants — are dotted among fields of vegetables. Under Chinese zoning laws, a brewery must be located in one of these industrial parks, unless it is physically on the premises of a bar.
Wang's epiphany came in 2005, when he was DJing in Chengdu's clubs and first tried Paulaner, a famous German wheat beer from one of the six Oktoberfest breweries. "It was my first time to try imported beer, and it gave me a surprise," he explained. "Before, I just drank Chinese lager, and that beer is not very good. This new beer was cloudy, while everything I had had before was clear. The taste was fruity with a good head, but it was also very expensive, so I couldn't drink much."
Overall beer sales in China have been declining in recent years. In 2015, for example, they declined by about 5 percent, to nearly 48 million liters, compared with the previous year. An industry executive attributed the recent fall in consumption to China's economic slowdown, as well as to seasonal factors, including a cooler-than-usual summer. China's anti-corruption campaign and general austerity measures have also taken some of the fizz out of the market for alcoholic beverages, according to another media report.
Zhu Danpeng, an independent food and beverage consultant, cited shifting consumption patterns among young people as another factor. He told The Beijing News that because consumers born after the 1980s or 1990s tend to seek out more fashionable products, the packaging and marketing strategies of traditional beer brands now have less appeal to these groups. There is also a growing concern that drinking alcohol is not good for one's health, he said.
In 2008, Wang opened Panda Club, a venue for electronic music in Chengdu's Wuhou District. He was selling imported beers like Chimay and Rogue, but he thought these were too expensive for his customers. So Wang asked some of the large Chinese breweries if they could make similar beers he could sell cheaper, only to find that the local brewers didn't know how.
The only alternative was to try brewing the beers himself, but without any experience, Wang didn't know where to start. Then a friend introduced him to an American who gave him a one-off lesson in home brewing. What followed was a lot of Googling and experimenting to produce new beers, but with mixed results.
By 2010, Wang had mastered brewing and set out producing his own commercial beers using a 200-liter system — but with only two bars buying them, he was losing money. At the end of the first year, his father told him to cut his losses and sell his equipment, but Wang persisted. In the second year he gained more customers, and by mid-2012 he could no longer produce enough beer to meet demand, and so he soon set his sights on a bigger factory with a 2,000-liter system.
The first problems came when Wang's brewery was fined and temporarily shut down over licensing. To operate as a brewery in China, a company must be able to produce over 12,000 bottles an hour — more than the monthly output of many craft breweries. Wang realized that one way around this was to get a keg license, and he soon began producing draft beer in metal barrels instead. Such a workaround had never been done before, and it was the beginning of a long march through bureaucratic red tape, with Wang being directed from one department to another, only to end up back in the department where he first started. Finally, after two years, Wang got the permit.
Three days after the keg license was issued, however, the fire that started in an adjacent plastics factory sent fumes into Wang's brewery, destroying all of his brewing equipment. With damage amounting to 1 million yuan ($147,500), no insurance, a mortgaged house, and a young family to support, all seemed lost to Wang.
But the craft brewing community in China is a close-knit bunch, and the support Wang received was substantial. Wang had previously helped many people, including Gao Yan of Master Gao Brewing Company, whom he helped to get a keg license. Gao is seen by many as the godfather of craft brewing in China, having learned much about the art of beer making in the U.S. After the tragedy, Gao took it upon himself to return the favor to Wang. At the same time, Gao sensed that helping Wang rebuild could help further the craft beer message in China.
Gao created a special beer called "Phoenix" to raise funds for the rebuilding of Wang's brewery. "We [craft brewers] always work together as a group," Gao said. "We are a small community, and we have to help each other out. What happened to Wang was not fair. He had taken out a loan and mortgaged his house. He had finally got everything done he had wanted to do, and then overnight he had nothing left. I thought this would be a good opportunity to test people's love for craft beer and see how many would step up and help."
Phoenix was sold as a limited edition at 100 yuan per bottle, with all profits going to the rebuilding project. Regarding the beer's name, Gao explained, "It's a rebirth, so I wanted something to do with fire, something red, something specific to Chengdu, and because it was going to sell at a high price, it needed to have a high proportion of alcohol to act as a preservative." The result was a full-bodied red ale, with a certain spiciness from the red chilies prevalent in Sichuan cuisine.
It took Wang about four months to rebuild his operation, and this time he installed firewalls to prevent against a repeat incident. In addition to support from fellow Chinese brewers, foreigners in the brewing community chipped in as well. Wang's American hop supplier, for example, gave him a free year's supply to help him get back on his feet, and his French malt supplier gave him around 1 ton on the house.
For many years, producing craft beer in China was the domain of foreigners such as Michael J. Jordan, brewmaster at Shanghai's Boxing Cat Brewery. "The big change began in 2015, with people switching to Chinese craft beer," said Zhou Jingsheng of popular industry website imbeer.com. Zhou added that there are now around 100 Chinese craft breweries, up from just 30 a few years ago.
On a recent Thursday evening in Shanghai's former French Concession, a barista who goes by the nickname Ya Ya was sipping Chinese-brand craft beers with her friends. Ya Ya, 26, said she's a big beer fan and has been since her late teens. She said she doesn't like "regular" Chinese beers. "I don't like Tsingtao — it's like water mixed with I-don't-know-what," she said. "This [craft] beer comes in lots of flavors, like chocolate and caramel," she said, gesturing to her glass.
Tsingtao Brewery Co., Ltd. did not respond to requests from comment from Sixth Tone.
Currently, Chengdu Harvest's beers are quite American in style, but Wang would like to carve out a distinctive "Chinese style" of craft beer in the future. In Japan, craft breweries have managed to create a taste which is more suited to local palates and local cuisine, whereas Chinese craft beers simply copy American and European models. "In China we only grow four kinds of hops, because the big brewers like Tsingtao only need a few varieties, and they want them to be cheap," Wang said. "We need to invest in researching new hops if we are ever going to make special Chinese beers."
But research costs money — more than most small-scale craft brewers have. However, the community hopes to establish a "Craft Brewers Association of China" by 2017 to allow for a more collaborative approach to growing the industry.
"While the beer industry as a whole is declining, craft beer sales are going up, and this is thanks to the local young people, who are the main consumers of craft beer," said Nicky Zheng, general manager of the Daga Brewpubs in Shanghai. "With more competition from craft breweries, a glass of beer is getting cheaper, and customers are becoming more discerning when it comes to taste."
With contributions from Zhang Liping.
(Header image: A bartender at Arrow Factory Brewing fills a glass of beer from a tap connected to the bar's own brewing tanks, Beijing, June 2, 2015. Ye Liang/VCG)