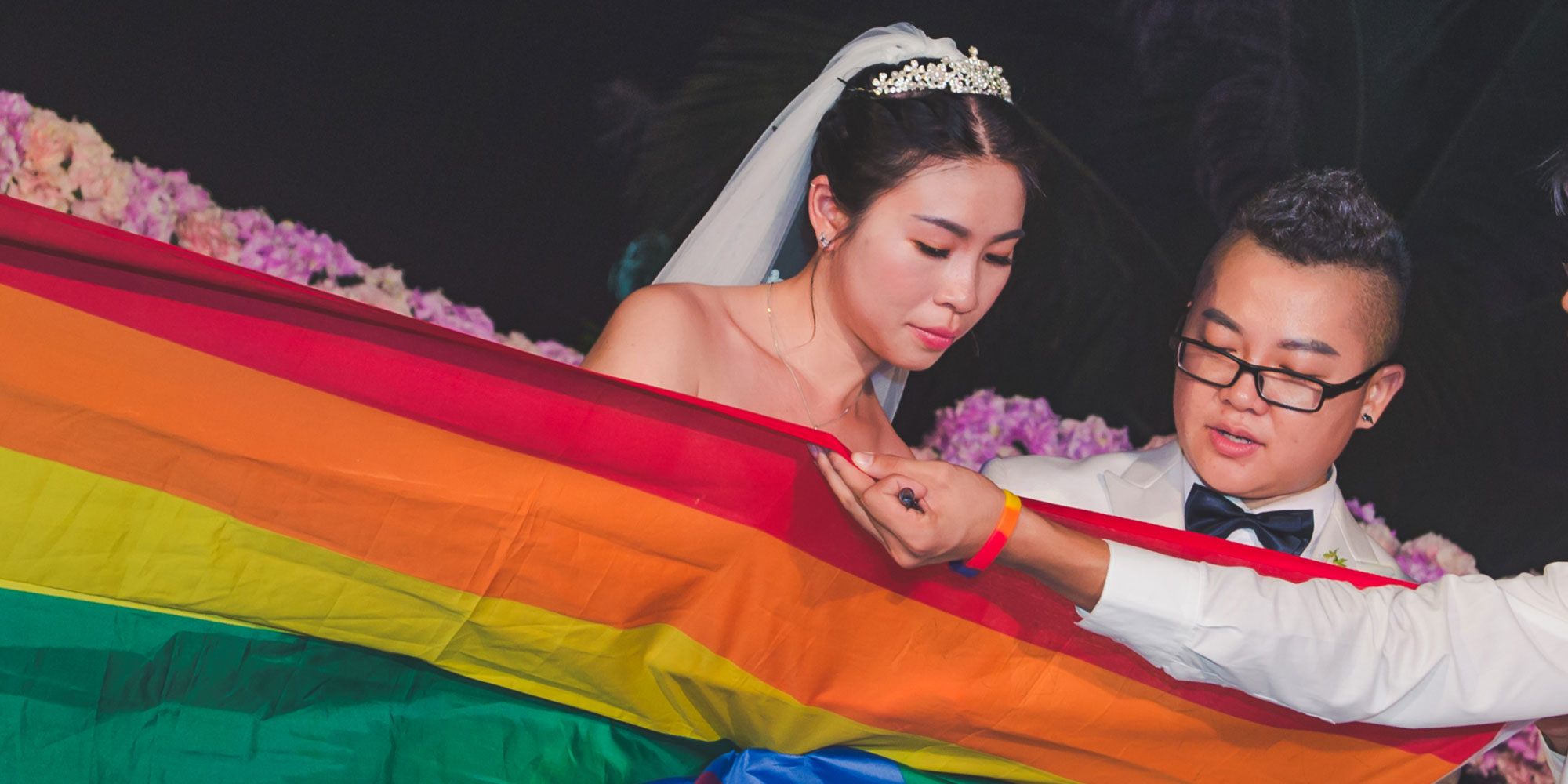 FEATURES
Dating While Trans in China
Transgender Chinese talk love, recognition, and going beyond Jin Xing.
Su Jingquan unhooks her bra under her T-shirt as she sits in a McDonald's in Foshan, a major city in Guangdong province. Even in mid-October, China's south is sweaty, the air thick with humidity.
"Wearing a bra is really uncomfortable, especially when it's hot," says the 30-year-old Su. "But I still want to be a woman so badly."
Su is transgender — someone whose gender differs from the category they were assigned at birth. It's a broad term that covers a range of experiences, including not only male-to-female or female-to-male, but also people whose gender identity sits outside the male-female binary.
New York-based NGO Asia Catalyst estimates that there are more than 4 million transgender individuals in China. Yet many Chinese people only know one: celebrated dancer and talk show host Jin Xing. Jin is heterosexual — married to a man, with three adopted children — so many assume that this identity applies to all transgender people.
"Because Jin Xing is so famous in China, many people think all trans women will be exactly like her," Su says.
Like Jin, Su wants to bring her body in line with how she sees herself. Not all transgender people seek to modify their bodies through hormones or surgery, but Su is pleased that seven months of estrogen and anti-androgen tablets have made her skin smooth and her breasts grow to an A cup. She hopes to have genital surgery overseas next March, and she already has her partner's support. But contrary to conventional expectations, Su's partner is a woman.
Being a lesbian transgender woman has made it harder for Su to find understanding and recognition outside of her relationship, as even those who understand her gender identity expect her to date men. When Su came out to her parents, she explained that her gender is female, while being attracted to women is her sexual orientation. "Of course they didn't understand," Su says. "In their eyes, I'm just a normal man dating a woman."
Arguments with her parents didn't ease up until Su confessed that distress over her gender identity had pushed her to self-harm and suicide attempts. Poor mental health is common among transgender people in China, who are often socially isolated, economically marginalized, and unable to find respectful counseling. According to a 2014 study, about 45 percent of transgender women in China suffer from depression.
Another lesbian trans woman, 24-year-old h.c — her chosen name — established the Trans Center with three partners in May in order to give transgender people in Guangzhou, Guangdong's capital city, a place to gather and educate the public about their community.
Community has been essential to h.c's own process of self-recognition. Until she became involved in feminist and LGBT groups while studying at Guangzhou University, h.c wasn't sure if she was gay or straight. Though she always knew she was a girl, it took her until she was 20 years old to realize she could be a transgender lesbian.
According to h.c, the transgender movement is now in a golden age in the West, but in China it only kicked off earlier this year when the country heard its first case on transgender discrimination. A transgender man, identified as "Mr. C," sued his former employer, saying that he'd been fired because the management were uncomfortable with how his appearance might impact the company's image. Though he lost, national media coverage of the case drew attention to transgender issues where there had previously been little public awareness, particularly of transgender men.
The case was a catalyst for 31-year-old Aries Liu, who didn't realize he was a trans man until he came across Mr. C's story. In September, he married his girlfriend, Yao Mei, also 31, as part of a campaign to hold 100 LGBT weddings across China.
Yao and Liu met in 2010 while working at the same company in Foshan. When Liu first expressed his love three years ago, Yao thought it was a joke. "I just saw him as one of my best female friends," she recalls. As a heterosexual woman, she says, "I couldn't see a future with Liu."
Yet she started to change her tune in 2014 when Liu asked her to be his girlfriend for the second time. "I noticed that his behaviors and manner were just like other men," Yao tells Sixth Tone. She decided to follow her heart.
Dating and living with a transgender man means Yao, too, experiences judgement, misunderstanding, and discrimination. The couple had to leave their previous company because their boss objected to their relationship. "It wasn't easy for me to make that decision because I thought of that job as a lifelong career," Yao says. But she says she is now determined to stand up for her relationship. "Once I decided to be with him, I stopped caring about other people's remarks," Yao says. The couple hope to have a child in the coming years, using a sperm donor.
Liu is one of many transgender men who initially came out as lesbians, because there is so little representation of or education about transgender people in China. Bai, a 25-year-old trans man who declined to provide his given name to protect his privacy, says he met his girlfriend, Alex, through a lesbian dating app in March.
The couple both live in Jinan, the capital of Shandong province in eastern China. Alex is a 27-year-old American who moved to Jinan in early 2014 with her then-boyfriend, a non-transgender man. Though she had known since age 13 that she liked girls, she had never dated women back home in Miami, Florida, because she was afraid of coming out to her conservative parents. But after she broke up with her ex, she stayed in Jinan, came out, and started to date women.
When Bai and Alex finally met in person in March after chatting online since November 2015, Bai introduced himself as a lesbian "tomboy."
After a few weeks, Bai confided in Alex that he'd always felt his body was wrong. "When I was a little kid, I wanted to be a boy when I grew up," he told her. "I waited for my body to change into a boy's, but it never did." Bai's words brought Alex to tears, and at that moment she was sure that Bai was a trans man rather than a lesbian woman. But it also pushed her into an identity crisis of her own: "Am I gay? Am I bi? What does it mean?" she asked herself.
The couple went online and talked to a lot of people in China's transgender community, and Alex quickly accepted Bai as her boyfriend. "He's not any different — we just changed the term from 'girlfriend' to 'boyfriend,'" says Alex. "I just like the person he is. I don't care if he identifies as a boy or girl."
In June, Bai came out to his mother, who has been pressuring him to marry a man. His mother couldn't understand, and his aunt pushed him to talk to a psychologist. To his great relief, the psychologist said there was nothing wrong with him, and that if he identified as a man, he could live as a man.
Bai feels that Alex and the psychologist have helped him immensely during his process of self-recognition. Before, he assumed that only people who wanted to undergo surgery and take hormones were transgender, so he thought he must be a tomboy lesbian because he wasn't interested in hormones. "I knew about the word 'transgender,' but I wasn't sure that was me," Bai says.
Bai does want to have top surgery — a medical procedure to remove his breasts and reconstruct a male chest — but he is putting it off because he's worried about ruining his relationship with his parents, though he has Alex's full support.
For Liang Likai, the support she received from her family exceeded her expectations. The 23-year-old lesbian trans woman is originally from Zhuhai, a coastal city in Guangdong province, but she moved to Guangzhou in 2013 to attend university. Last month she decided to come out to her mother, who lives in Hong Kong with her 10-year-old brother. "Mom, I think I'm like Jin Xing," Liang said.
To Liang's surprise, her mother, a retired dancer who's the same age as Jin, said she used to perform with the star. "She told me she knew what Jin had gone through," Liang says. Her mother accepted her and told her she had always wanted to have a daughter.
Born with delicate features, Liang was often regarded as a girl throughout her childhood and adolescence. She remembers that she didn't develop a strong sense of gender identity until she was 21. "At that age, I started to look masculine to a point that crossed the threshold of what I could bear," Liang says. "I then realized I had to do something and be myself," she adds.
Liang is now in an open relationship with a lesbian woman who also lives in Guangzhou. Since so many trans people experience psychological stress, she says she's against the idea of dating another trans woman like herself. "I tend to avoid other trans people so I won't be affected by their hardships in addition to my own," Liang says.
But dating non-transgender women has been a source of tension as well as pleasure for JC, a gender-fluid person who says they aspire to be neutral — handsome, but with a feminine temperament.
"When I take off my girlfriend's clothes, I'm really jealous of her body," JC tells Sixth Tone. "I wish I could have her beautiful breasts, her slender waist, her long legs and smooth skin."
From the age of 3, JC recalls feeling different from other boys and being more comfortable playing with girls. "I often asked myself why I couldn't wear dresses and skirts, since I was just as pretty as those girls," JC says. JC vividly remembers finding and trying on stockings, feeling that each pair was a great treasure. But being raised in a traditional military family in Guangzhou, JC tried hard to be like other boys, playing videogames, practicing taekwondo, and dating girls.
JC was thrilled to have a girlfriend for the first time during college, and the couple even had sex as a man and a woman. "I thought I was corrected," JC tells Sixth Tone. But it didn't last, and subsequent girlfriends all left because of JC's gender identity.
JC's gender expression shifts between masculine and feminine, but to co-workers and most friends, JC is a man. The Cambridge University graduate is careful not to divulge their gender identity, for fear that it would affect their successful career. They only wear women's clothing when alone, or in an anonymous city far from home.
"If I don't show my other gender, no one can tell," JC says. But ex-girlfriends have said that they want a man to marry and have kids with, not someone who will attract dirty looks and gossip.
JC is currently living with their girlfriend in Guangzhou. To outsiders, the two seem just like any other heterosexual couple — but they don't have sex because the hormones JC injects to boost breast development dull the libido. "I enjoy being in a relationship with a woman even if there isn't any sex," JC says.
JC likes flirting and making out, taking care of their girlfriend and making her feel secure, and surprising her with sweet little gestures. Their girlfriend knows about their gender identity. "She thinks it's fine, but sometimes she jokes that she might need to have sex with her ex-boyfriend to get some satisfaction," JC says.
"She says she doesn't care," JC says, before pausing. "But I feel like she will leave me one day."
This article has been updated to clarify that Aries Liu initially came out as a lesbian but has always seen himself as a man.
(Header image: Yao Mei (left) and Aries Liu sign their names on a rainbow flag during their wedding in Sanya, Hainan province, Sept. 14, 2016. Courtesy of Aries Liu)