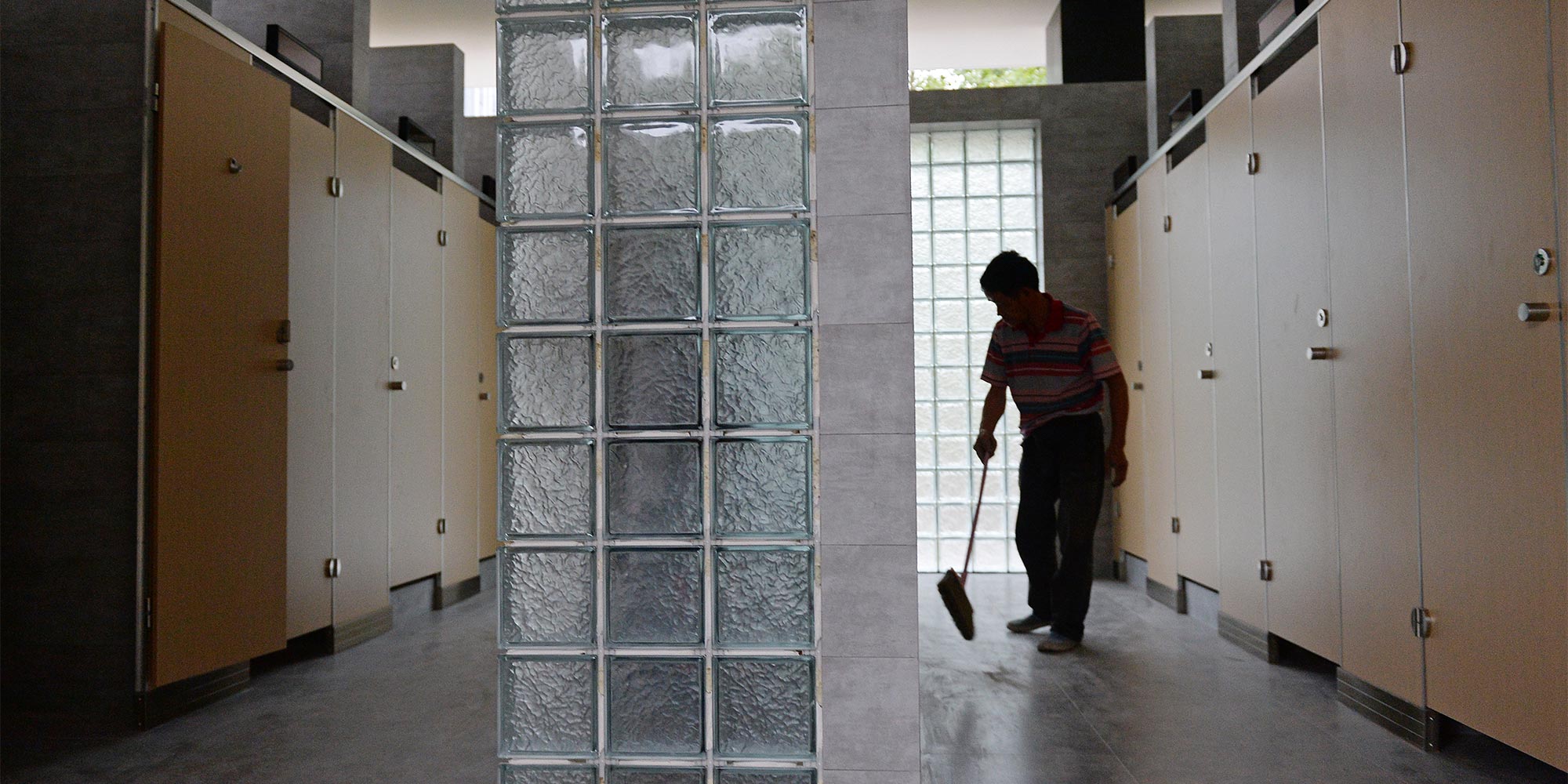 NEWS
Unisex Toilets Suggest Officials Listening After All
Shanghai government says it will roll out new bathroom in Pudong New Area, but is unsure whether public will approve.
Better late than never — that's the view of Shanghai's sanitation administration when it comes to adding more public toilets to address diverse needs.
In less than a month, the Shanghai municipal government will open its first unisex public toilet, with six stalls for sitting and four for squatting, as well as urinals for men, party newspaper Jiefang Daily reported on Wednesday.
The new bathroom, located in Pudong New Area, will be staffed during operating hours to ensure safety, and the opening will coincide with World Toilet Day on Nov. 19 — a day that in recent years has seen protests from feminist groups over a shortage of facilities available to women.
An unnamed official told the Shanghai-based newspaper that the city would be opening just one facility for now, as they are uncertain of how the public will react. When contacted by phone, the sanitation administration asked Sixth Tone to submit questions via email. They had not responded by time of publication.
While toilets may seem an unlikely political issue, feminists and LGBT activists have called attention to how design can determine who has access to public space. In 2012, for example, a group of female undergraduates in Guangzhou launched an "occupy men's toilets" movement after being frustrated by long lines and a paucity of stalls.
Two years later, on World Toilet Day in 2014, a group of 23 activists — male and female — petitioned the government to require three women's toilets for every two men's toilets. Prominent feminist activist Li Maizi, who participated in the 2012 demonstration and initiated the 2014 petition, told Sixth Tone that the "occupy" campaign, which eventually spread to 10 cities across China, was about more than toilets — it was about gender equality in public space.
Li and the other petitioners reasoned that because women spend an average of 89 seconds on each trip to the bathroom, compared with 39 seconds for men, an even ratio was insufficient. Moreover, they said, women who are pregnant or menstruating tend to need even more time.
Taiwan and Hong Kong, meanwhile, have addressed these needs by adopting regulations for so-called potty parity that stipulate gendered toilet ratios of 3:1 and 3:2, respectively.
"I think unisex toilets are trying to eliminate the difference between women and men, so they are also important to our campaign," Li said. "Moreover, transgender people may not feel comfortable in either men's or women's toilets, so unisex facilities are especially important for them."
A skewed toilet ratio is not without precedent on the mainland: During the 2008 Beijing Olympics, local authorities observed a 4:1 ratio of female-to-male toilets at the Temple of Heaven, a popular tourist site. And at the 2010 World Expo in Shanghai, there were five women's toilets for every two men's toilets.
Provincial and municipal governments, though willing to make practical concessions for special events and tourism, have proved less willing to adopt similar policies for women in their everyday lives.
After the 2012 "occupy" demonstrations in Guangzhou, however, a member of the local political consultative committee announced that the city had launched a plan to increase the number of women's toilets to 3:2, equal to the ratio observed in Hong Kong.
While more women's toilets are roundly encouraged by activists, unisex-designated toilets may be a welcome development to those who have campaigned specifically for "gender-friendly" public toilets.
After gender-fluid internet celebrity Xi Ming, known to most as Chao Xiaomi, was called a psycho and a pervert by mall security for using a female toilet in late 2015, she took up the cause for promoting awareness of gender diversity, working with Beijing Gender on their gender-friendly toilet project, which now counts more than 50 participating businesses.
Chao told Sixth Tone that while she supports the design of individual, lockable stalls and believes the new bathrooms will help to address the shortage of women's toilets, unisex toilets won't necessarily help the public accept or understand gender diversity.
"The toilets might help [transgender people] because they're unisex, but the logic behind them isn't about being gender-friendly or gender-diverse," she said. "If they were changed from unisex to gender-diverse, this would show people that other genders exist besides male and female. This concept is very important."
Additional reporting by Qian Jinghua and Dong Heng.
(Header image: A janitor sweeps the floor of a unisex bathroom near a residential community in Shanghai, Oct. 25, 2016. Lai Xinlin/Sixth Tone)