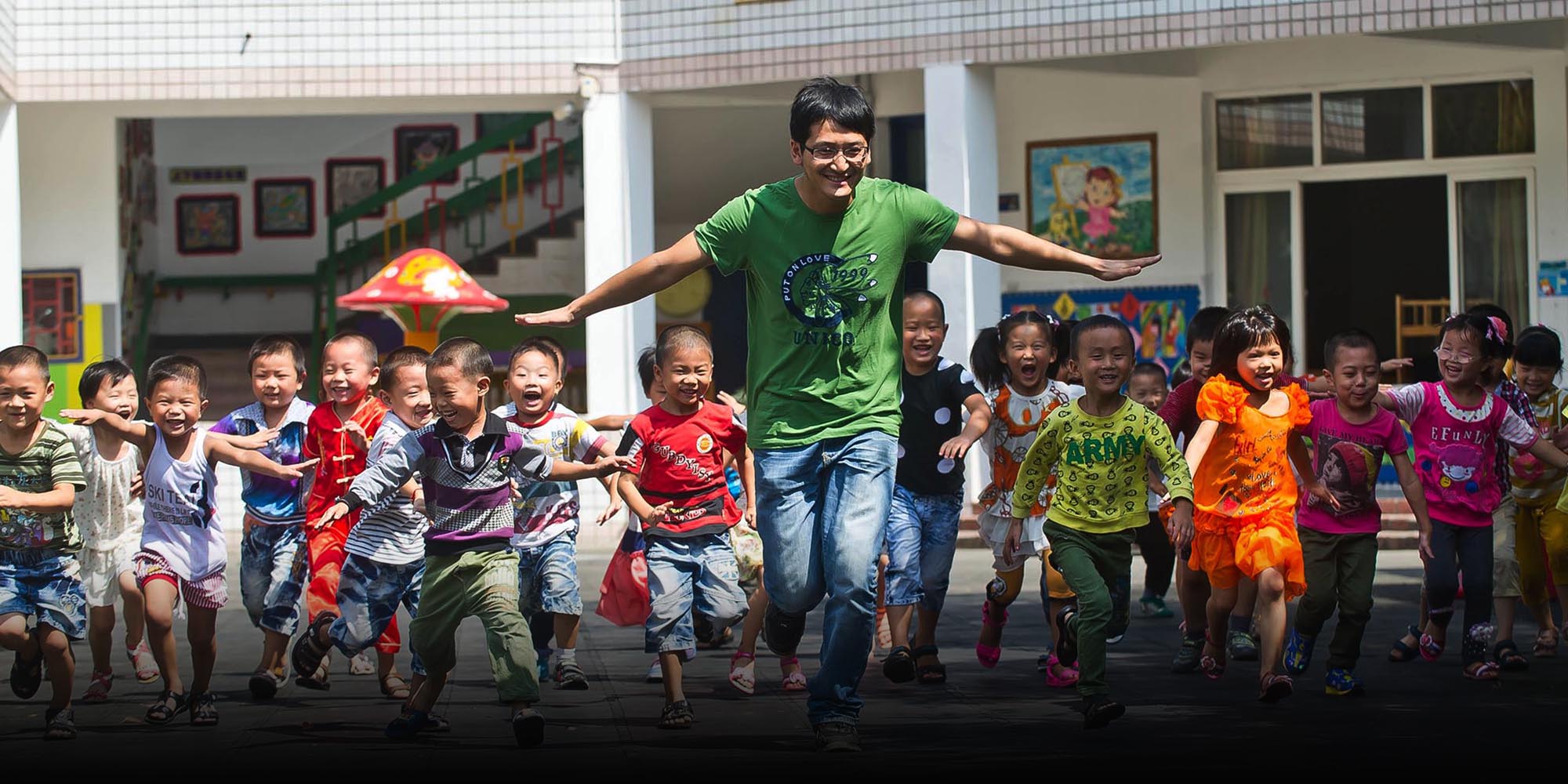 FEATURES
Educators Decry Preferential Treatment of Male Trainee Teachers
Opinion divided on measures aimed at attracting more men to the classroom.
When it was time for Yang Kun to choose a career, he took a pragmatic approach and decided to become a kindergarten teacher. But it wasn't passion to educate a new generation that drove him so much as the benefits: For young men like 21-year-old Yang, eastern Jiangsu province's teaching universities, or so-called normal universities, waive tuition and accommodation fees in an effort to encourage more men to enroll.
On top of the free university degree, male students in Jiangsu are almost guaranteed a position. "It's not easy for graduates to get jobs these days," Yang tells Sixth Tone. "This program not only waives our tuition, but also ensures we have jobs after graduation."
Other provinces have similar policies. Since 2015, universities in southeastern Fujian province have offered 500 places each year to male students wanting to study preschool or primary education — an initiative that the local government believes is necessary for establishing a gender balance among teaching staff.
The programs have drawn criticism not only from female students — who pay 5,460 yuan ($815) per year for the same course and have called the policy "gender discrimination" — but also from experts, who doubt that the policies will actually correct the gender imbalance.
"The fundamental problem here is the low pay in these teaching jobs," says Zhang Li, a principal at a primary school in Shanghai's Pudong New Area. Though teaching is a highly respected profession in China, salaries are relatively low. Last year, the average monthly income of a Shanghai resident was around 6,000 yuan, while the city's primary school teachers were reportedly earning 5,198 yuan a month.
And as men are still widely seen as the main breadwinners of the household, they are indisputably a minority in the teaching profession, especially when it comes to younger students. A survey led by East China Normal University in 2014 showed that 65.3 percent of the students at the country's 27 normal universities were female. Among those who majored in primary school education, 81 percent were female, according to a 2007 survey.
The ratio is even more stark at the kindergarten level: Statistics from Shanghai authorities say that only 200 of 53,352 kindergarten teachers in 2014 were male. Nursing is the only university major with a higher proportion of women, and, similarly, male nurses also receive extra incentives.
But attracting male teachers is important, says Zhang, whose school has 28 men among its 155 teachers — more than most in the district. "Male teachers tend to be more humorous and passionate," she says, while female teachers are more patient, detail-oriented, and sensitive to children's emotional development.
Zhang doesn't view targeted efforts to encourage more men to become teachers as a form of gender discrimination, and neither does kindergarten teacher Zhao Rui, who was the only man on staff when he joined Nanjing No. 1 Kindergarten, in the capital of eastern China's Jiangsu province, in 2001 as a physical education teacher. Today, he's head of the kindergarten and believes that having both male and female teachers benefits children in their formative years. "In any society, there are men and women, and our kindergarten is supposed to be a microcosm," Zhao tells Sixth Tone.
In 2010, Jiangsu became the first province to offer preferential treatment for male teachers, with free programs for men studying preschool education. Since then, Fujian, Hunan, Guangxi, and Sichuan provinces have established similar programs, according to Feminist Voices, a Beijing-based nongovernmental organization.
But that won't be enough, Zhao says. Zhao himself enjoyed what could be described as a "special" career: He says he received a higher salary and was more frequently promoted than female peers, and that the local education authorities paid closer attention to "developing his career" because he was the only male teacher on staff.
Zhao believes that this kind of preferential treatment holds the solution to achieving gender balance, because the 4,000 yuan that female kindergarten teachers in Nanjing earn each month just isn't enough to attract men to the profession.
"For a man who is relied upon as the main breadwinner for his family, this income would make it impossible for him to afford an apartment in Nanjing," Zhao says. Yet, others maintain that the policies constitute discrimination, especially given that women in male-dominated professions don't receive the same support.
"I'm lucky if my boss doesn't discriminate against me because I'm a woman," says 34-year-old Ji Yuanhua, who studied computer science at university and now works at a state-owned bank's data center. Of the 100 staff at the data center, eight are women, and yet Ji says she has never seen any affirmative action policies for women in her industry.
Male students also benefit from workplace incentives in a range of disciplines outside of female-dominated fields like teaching and nursing. A New York Times report in 2012 found that women in China had to score higher than men to get into many university degree programs because unofficial, unpublished quotas capped the number of spots available to women, indicating that a gender imbalance is only considered a problem when women are the majority.
The preferential treatment of young men has also led to criticism from feminists like Lu Pin, director of Feminist Voices. "There is no legal ground for creating policies which are biased against women," Lu tells Sixth Tone.
While the provincial education department told party-affiliated China Youth Daily that the policy was implemented because Fujian suffers from a marked shortage of male teachers — resulting in an absence of "masculinity education" for boys — Lu says that this term is not a component of any educational objective or set of guidelines, and that there is no evidence that boys taught by female teachers become less masculine.
The policy, she says, constitutes discrimination in both education and employment, adding that reserving 500 places exclusively for male students appears to be at odds with China's otherwise egalitarian approach to education. "We have always claimed that China's gaokao system is a fair mechanism by which to select talent," she says. "But what these authorities have done seems to break that promise."
Out of the 500 places for men, only 452 were filled this year.
Gender balance among teachers may resolve itself without preferential policies if income equality between men and women becomes the norm across all levels of society. A recent motion by the teachers' association to raise salaries for the country's civil servants is a good start, Zhang says.
Yang feels slightly conflicted about the program. "The girls in our class were sometimes jealous when they saw us boys getting an extra 200 yuan in government subsidies every month," he says, adding that many of the female students were from lower-income families. But without the program, Yang says he would not have majored in education or become a teacher in the first place.
Now three months into his first job as a kindergarten teacher, Yang says that communicating with parents is sometimes challenging, but that overall he enjoys teaching a group of "lovely" children. It's fun, he says, and adds that the 5,500 yuan he makes before tax is already more than the amount earned by most college graduates — male or female — in his city.
Additional reporting by Cai Yiwen. With contributions from Li You.
(Header image: A male teacher leads a physical education class at a kindergarten in Tongxiang, Zhejiang province, Sept. 7, 2012. Xu Yi/Xinhua)