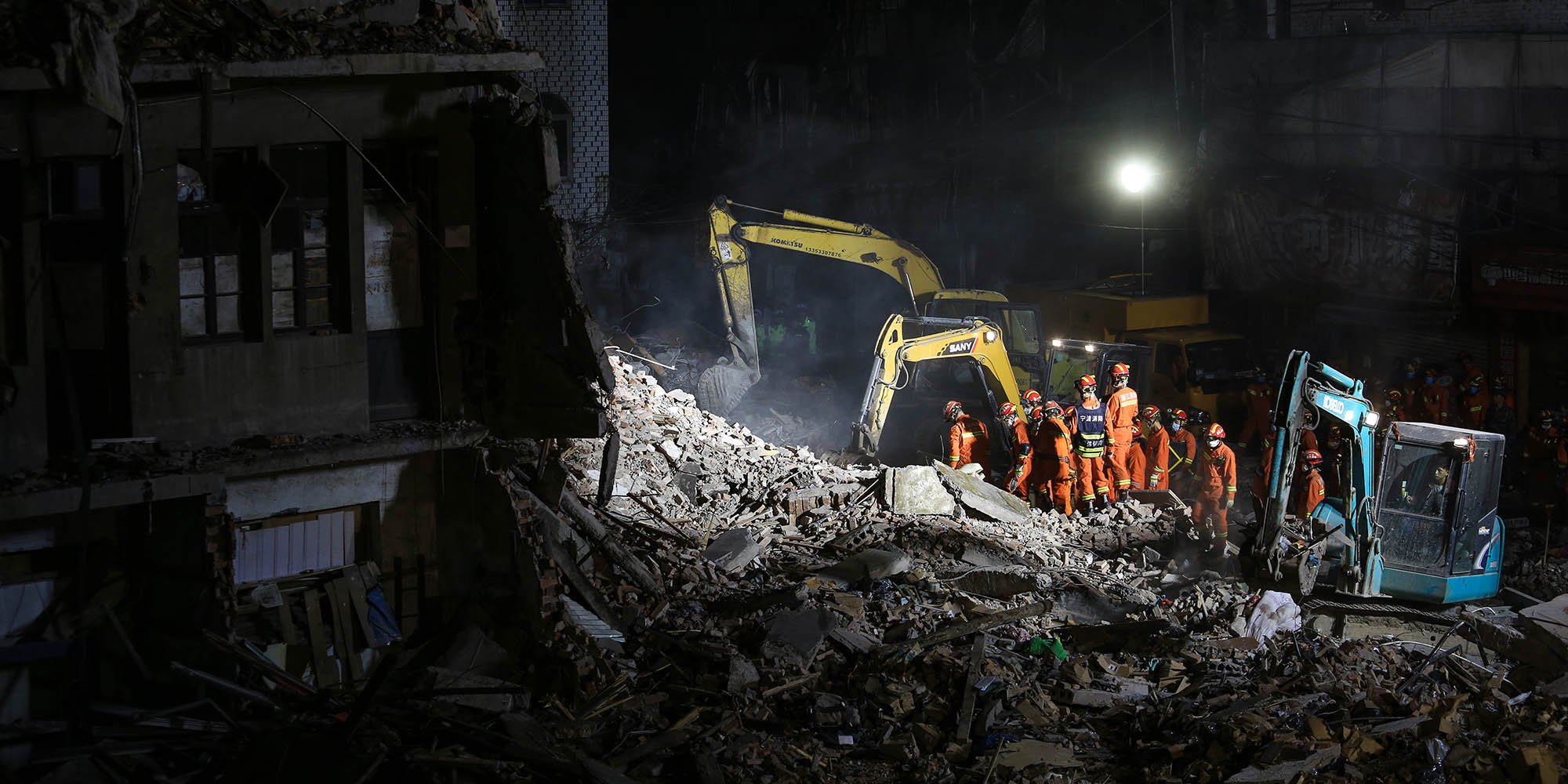 NEWS
Netizens Detained for Rumors About Collapsed Buildings
Two people taken into custody for posts online that question official death toll in Wenzhou landslide.
Chinese police have detained two people for spreading false information about the buildings that collapsed in Wenzhou, Sixth Tone's sister publication The Paper reported Thursday.
Both had posted messages online saying that after the Monday incident there were far more people trapped under the rubble than the official figure of between 20 and 30. After a day of work, rescue crews had recovered 28 people from the rubble, 22 of whom had died.
The detainees lived in Wenzhou, in eastern China's Zhejiang province. One of the detainees was a 21-year-old migrant worker surnamed Wei from neighboring Jiangxi province. He had written on a Baidu Tieba forum dedicated to Wenzhou that he had visited the scene of the disaster and that "the death toll is far higher than 20."
The other, a 29-year-old Wenzhou native surnamed Xu had written on microblog platform Weibo that she lived close to the buildings. "It is a complete lie. At least more than 100 people were buried, but the news said only more than 20," she wrote. Her posts have since been removed.
Wenzhou police detained Wei for 7 days and Xu for 5 days, according to the report.
The Chinese government in 2013 introduced rules allowing authorities to detain people who had posted false information online if the offending content is shared 500 times or viewed 5,000 times.
Two of the country's highest legal bodies, the Supreme People's Court and the Supreme People's Procuratorate, issued guidelines in September allowing courts to accept social media messages as evidence.
"Citizens have freedom of speech, but freedom doesn't mean no restrictions," Han Xiao, a lawyer at Beijing Kangda Law Firm, told Sixth Tone. The false stories of the two detainees misled the public, he said, so "it's reasonable for them to be punished by law."
This article has been updated to include Han Xiao's comments.
(Header image: Rescue workers search for victims in the ruins of the collapsed buildings in Wenzhou, Zhejiang province, Oct. 10, 2016. Gu Cheng/VCG)