A woman who was attacked by a Siberian tiger when she got out of her car inside a wildlife park is asking for compensation for her injuries and for the death of her mother, who left the car to save her in the July incident.
Beijing Times interviewed the woman, known only by her surname, Zhao, in an article published Thursday. In it Zhao tells her side of the story, explaining that she left the car because of car sickness, not because of a row with her husband, as was reported in media.
Zhao, 32, also said she and her family are asking the Beijing Badaling Wildlife World for more than 2.7 million yuan ($400,000) in compensation. The park and Zhao's family have already agreed on around 1.2 million yuan in compensation for the death of Zhao's mother.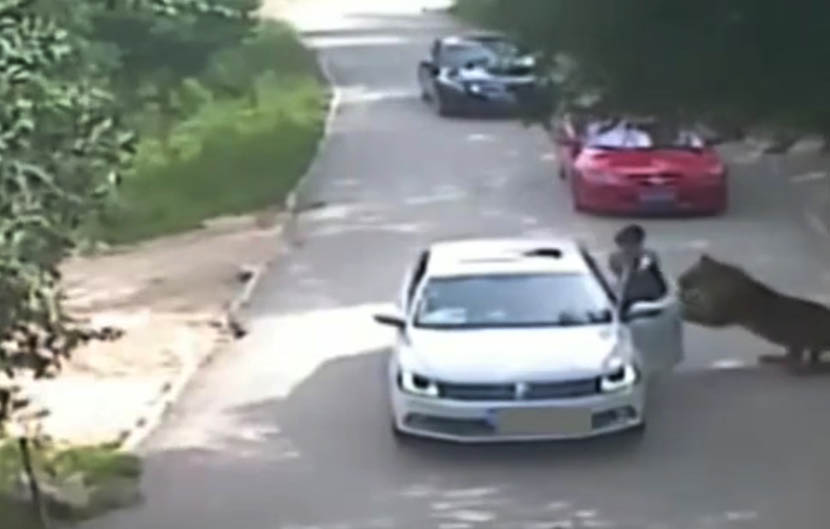 A screenshot from a Badaling Wildlife World security video shows the woman being attacked by a Siberian tiger.
The park has offered to pay 745,000 yuan for Zhao's wounds: The tiger attack left her with injuries to her waist, spine, and teeth, and a 20-centimeter scar on her face. But Zhao's family is asking for more than double the proposed amount.
Though park visitors are not allowed to leave their vehicles when driving through areas with wild animals, Zhao argued the Siberian tiger enclosure was "complicated" and lacked proper signs. When she exited the vehicle, she thought she was in a rest area where there were no animals.
Zhao also had complaints about the park's personnel, saying the person who sold tickets did not properly explain the park's safety rules. She signed a document stating that visitors could not leave their cars but said she thought this was just for attendance purposes. "It was not a formal contract," she was quoted as saying. "The agreement wasn't done in duplicate."
When the incident occurred, a park employee in a patrol car nearby did not exit the vehicle and was not equipped to stun or shoot the tiger. Instead, he tried to scare off the animal with engine noise and blasts from the horn. A staff member of the park's publicity department surnamed Cao told Beijing Times that according surveillance video footage, the patrolman did exactly what he was supposed to do.
Cao said a government investigation had concluded the park was not responsible. He added the park was only compensating the victim's family out of a sense of morality.
To improve safety, the park in August introduced new rules requiring visitors driving their own vehicles to lock their doors and keep at least 20 meters away from animals. The Siberian tiger enclosure remains closed to visitors.
(Header image: Security at the entrance of Badaling Wildlife World in Beijing, Oct. 3, 2016. Visitors are allowed to tour the park while driving their own vehicles. Hei Ke/VCG)