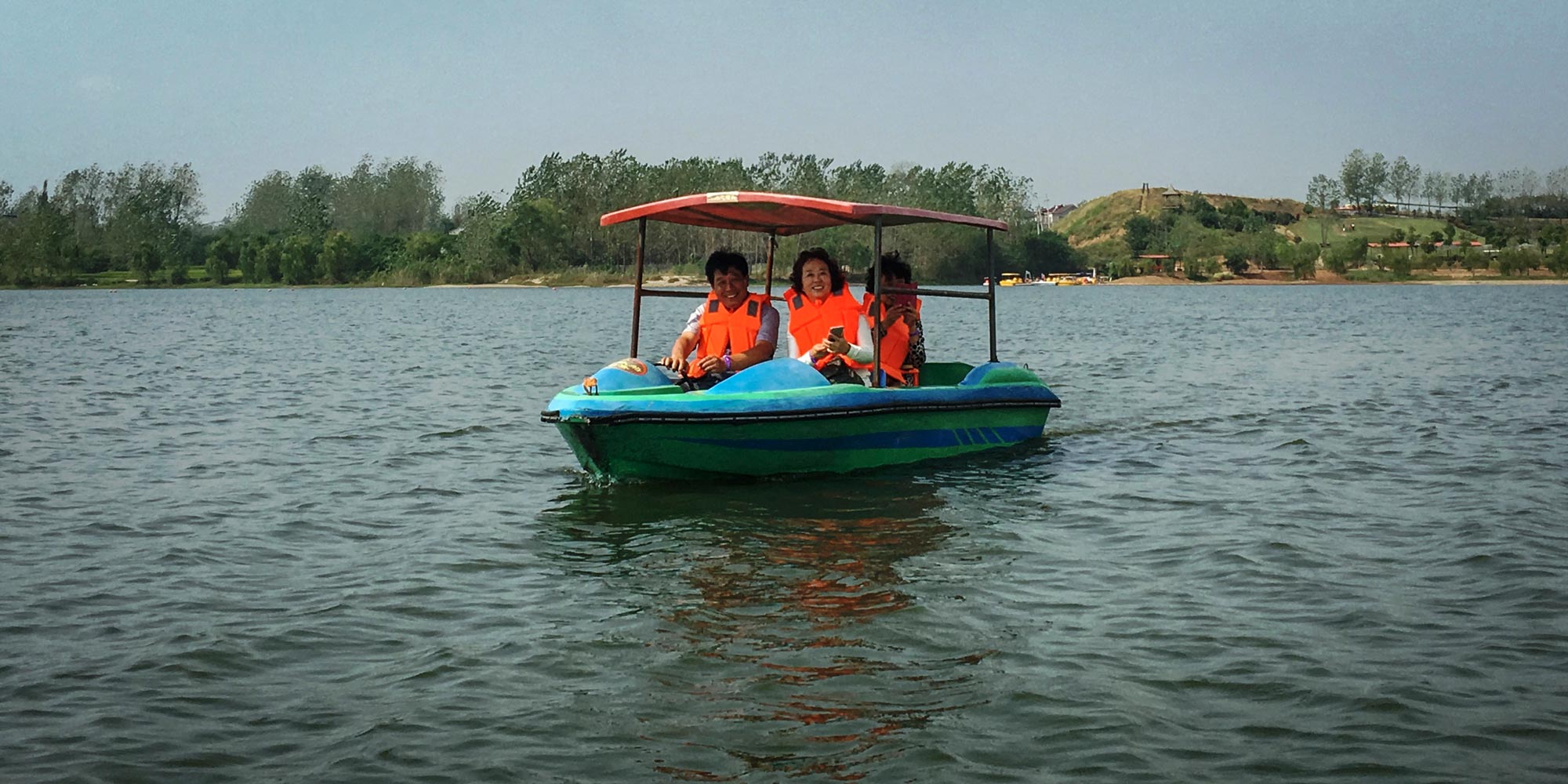 FEATURES
The New Old: China's Grey Nomads Want More From Retirement
For affluent seniors, retirement resorts provide good food, clean air, and a dash of luxury.
While many retirees in China are busy taking care of their grandchildren instead of pursuing life's pleasures, a group of old friends from Qingdao, in China's eastern Shandong province, are enjoying hot springs and organic meals in the city of Yangzhou, nearly 600 kilometers from their hometown.
The group are part of a new, wealthier generation of seniors in China who are choosing to grow old in style. Traditionally, elders lived with their extended families, and these days many rural elders are left behind to raise grandchildren while their adult offspring labor in distant cities as migrant workers. But increasing affluence in some circles and changing family structures in China have given birth to a new phenomenon: "destination retirement."
This new retirement model, in which seniors move around to different locations each season, is a growing trend among those who have the money and time. Domestic tourism in China often takes the form of hurried and regimented group sightseeing tours, but destination retirement offers seniors longer sojourns — usually 10 days to a month — to get to know new places, keep active and healthy, and broaden their horizons.
The industry has only really taken off in the last couple of years, particularly in regions with attractive climates and cultures, such as warm, diverse Yunnan province in China's southwest or the tropical island of Hainan in the south. The eastern province of Jiangsu is catching up, and in May 2015 a government-supported organization, China Sojourn, was established to design and develop destination retirement routes.
China Sojourn's chief, Qin Kaizhong, tells Sixth Tone that these days, seniors want more from retirement. "Elders who are in good health aren't satisfied with retiring at home," Qin says. "They are looking for new lifestyles and adventures in different cities, based on their schedules and preferences."
Yangzhou, a city in Jiangsu that's home to 4.6 million residents, has become one of the hottest destinations for seniors, especially those from northern regions who are drawn to the city's delicate cuisine, exquisite gardens, and slow pace of life.
The group from Shandong comprise four couples who have known one another since the late 1970s, when they began working together at a state-owned company in Qingdao. Now retired and aged between 58 and 62, they decided to visit the Tianle Lake Resort in the west of Yangzhou on Sept. 15 after seeing friends share pictures of the getaway destination on social media.
Yang Lin, 58, is the youngest among the eight former colleagues. She drove six hours to Yangzhou with her disabled husband and their 11-year-old dog, eager to experience the city's laid-back lifestyle.
People in Yangzhou know how to enjoy life to its fullest, starting the day drinking tea at a teahouse, and ending it by relaxing in a public bathhouse. The locals sum up their customs with a pithy saying: "In the morning, skin envelops water; in the evening, water envelops skin." At the resort, the group sinks into natural hot springs even more luxurious than the public baths.
"People of our age have experienced the most turbulent times in China," Yang tells Sixth Tone before getting ready for the hot spring. "Now we just want to enjoy the rest of our lives."
Tianle Lake Resort opened in February 2015 with services targeted at seniors. The scenic 200-hectare resort offers guests and residents water town scenery, lake views, organic farms, and entertainment, and it will soon open its own on-site hospital.
Chen Yujin, the resort's marketing director, tells Sixth Tone that most of their customers are "young retirees" aged 60 to 70, who are in good shape and have relatively high pensions. At present, China's official retirement age is 60 for men; for women, it's 55 for civil servants and state employees but 50 for others, though these baselines are likely to be raised.
Chen says most senior guests choose the resort for its organic catering and natural hot springs. "The elderly pay much more attention to their health than young people do," says Chen, "and they are willing to invest in it."
It took Chen and her team five years to set up the resort and its farm, largely because they needed three years to rid the soil of contaminants so their produce could be certified organic. "We lost 2 million yuan ($300,000) per year while we were preparing for the organic farm," Chen says.
Due to the financial risks, few other operators have entered the destination retirement industry on such a large scale, but Chen is glad they made the investment. Now the resort runs a restaurant on the lake that specializes in hot pot using organic produce grown on the property. Food safety is a big issue in China, and Chen believes that by offering high-quality, healthy food, they'll draw seniors through word-of-mouth without having to invest much in advertising.
Xie Wenying, 63, decided to try the resort just a few days after hearing about it from a friend in early September. "I had no idea what destination retirement was, but I've been looking for such a place in China for a long time," she says from her rental apartment at the resort.
Xie is a retired dance teacher who opened her own fitness club a decade ago. Living in heavily polluted Changsha, the capital of central Hunan province, Xie says that even clean air seems like a luxury. "It's even more difficult to find a place in China where organic food is farmed and certified," she adds.
Guests like Yang and Xie pay 200 yuan per night for their stays at the resort, which includes accommodation and three meals, but not extras like the hot springs or horseback riding. Apartments can also be bought outright. According to marketing director Chen, the resort hasn't yet made a profit from its retirement services. "But we've seen how huge the market is, and we hope to seize it as early as possible," Chen says.
China is aging rapidly: The latest statistics say that there were 243 million people over age 60 in 2014 — nearly 18 percent of the country's total population — and forecasts show that there will be 487 million by 2050, when the value of the senior market is estimated to reach 354 trillion yuan.
Since Tianle Lake Resort opened last year, it has hosted more than 400 seniors, with a sharp rise in guests after the resort was featured on national television in March. But while seniors from all over the nation come to experience destination retirement, many locals in Yangzhou are hesitant to embrace the trend, or simply don't have the means.
The state-owned company that Yang and her former colleagues from Qingdao used to work for is making high profits, so each member of the group enjoys a pension of more than 6,000 yuan a month — double what most of their peers at home receive — and this makes 2,000 yuan for a 10-day resort stay affordable. They've already started planning where they'll go next month. But according to the Yangzhou Human Resources and Social Security Bureau, the average monthly pension for retirees in the city was 2,152 yuan in 2015.
For 56-year-old Yangzhou resident Zhou Li, her monthly pension of 1,700 yuan isn't even enough to cover her family's daily expenses. The former factory worker retired at 50 but later trained as a foot masseuse to boost the household income. "Destination retirement is something that can only happen in my dreams," says Zhou, who can now make an extra 1,000 yuan each month from foot massage services.
Her life presents a sharp contrast to seniors' luxurious experiences at Tianle Lake Resort. The resort will have 6,000 beds and a hospital by the end of 2018 and Chen says the next step is to offer services for seniors who need medical care, while also making them feel at home. "We want to change people's views of nursing homes as places of desolation and loneliness," she says.
China's family planning policies have triggered a shift in seniors' expectations. Unlike previous generations, those who came of age in the era of the one-child policy aren't averse to the idea of nursing homes. "It's too much work for one couple to take care of four elders in the family," Xie says.
As a fan of leisurely travel and organic food, Xie has visited over 20 countries on her own, and she's delighted to find a place in China that fulfills her desires.
"I'll think about purchasing a small apartment in the resort so I can come stay here every summer and avoid the heat in Changsha," says Xie.
(Header image: Xie Wenying and two retirees from Qingdao take a boat trip on Tianle Lake in Yangzhou, Jiangsu province, Sept. 23, 2016. Fan Yiying/Sixth Tone)