Dressed in delicate clothes, carrying a fancy purse, and utterly picky about every purchase for her son's use, 37-year-old Zheng Zejun refuses to settle for anything but the best.
A senior manager at one of the largest pharmaceutical companies in the world, the Shanghainese mother-of-one gives her son Legos rather than less inspiring toys, travels abroad to purchase his clothing, has a strong affection for German brands, and enrolled her son at a private kindergarten to improve his English. Dedicated to providing the best possible lifestyle for him, regardless of price, Zheng sees the safety of products as a priority. But despite intentions, there is a hole in her armor.
While Chinese parents are armed and ready to protect their children from all kinds of harm, from toxic school grounds and running tracks to tainted baby formula, there's one group of products that acts as a chink in their safety protocols: stationery.
With the beginning of the new school semester in September, Zheng placed several orders on Taobao, the biggest e-commerce platform in China, to buy her son essential school supplies like pencils, erasers, and notebooks. At the time, she was unaware of any potential danger. Yet in 2015, authorities in eastern China's Jiangsu province found that 97 percent of pens and half of the bottles of correction fluid tested contained an excess of the toxic compound benzene. Excessive exposure to benzene can cause cancer and anemia, or red blood cell deficiency.
"If parents knew that their children were being exposed to these risks, they would find it completely unacceptable," Wei Wenfeng, the father of a 10-year-old daughter, told Sixth Tone. Wei and his wife, who live in Hangzhou, the thriving capital of eastern Zhejiang province, used to spend their days assessing the health risks of everyday products containing chemicals. But this year Wei quit his job of 19 years and started a new company, Daddy Lab, dedicated to ensuring the safety of products for children.
"Like the old saying goes, I'm thinking of children all over the world as if they were my own," the 40-year-old father said. "For many people my age, we already have money and success, so we should do something more meaningful with our time." Wei has poured 1 million yuan ($150,000) into his company, which today employs 17 people across information technology, e-commerce, marketing, human resources, and finance. He's currently developing the sales arm, which would allow consumers to buy the products his team has tested and endorsed.
In August 2015, Wei discovered that many stationery items students handle every day contain toxic chemicals, and he shared the incriminating inspection reports online. With these revelations, Wei soon became a leader of public opinion among parents, gaining more than 120,000 followers on messaging app WeChat. The following May, Wei quit his well-paying job and established a quality inspection organization.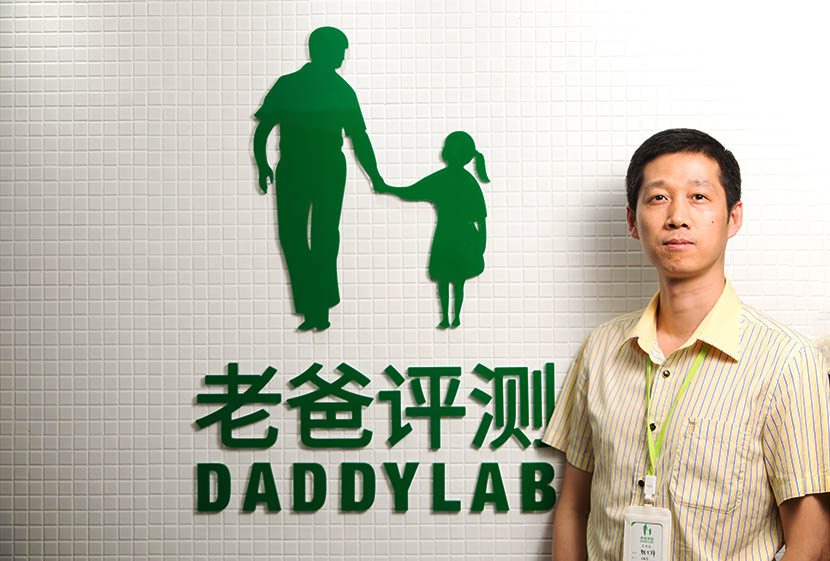 Wei Wenfang poses for a photo in front of the Daddy Lab logo at his office in Hangzhou, Zhejiang province. Courtesy of Daddy Lab
Running experiments on consumer products is a hugely expensive enterprise, and not one that most parents would consider undertaking themselves. It costs Wei nearly 10,000 yuan just to inspect plastic wrapping used to protect schoolbooks, and even then the results are difficult for an untrained person to decipher. However, Wei has spent a large part of his life evaluating risk. After graduating with a degree in physics from Zhejiang University, he joined the Zhejiang Entry-Exit Inspection and Quarantine Bureau as part of their chemical product registration and authorization team. In 2009, Wei moved into the business world and started a consultancy of 150 employees who helped chemical companies produce products that met international standards.
Yet Wei's primary focus in life is his daughter, now a third-grader at a local primary school. No matter how busy he is during the day, Wei's evenings are always occupied by his little girl.
Two years ago, during the first week of the fall semester, she told him to buy some plastic wrapping paper — it's common in China for teachers to ask students to cover their textbooks to help keep them in good condition. But as soon as Wei felt the paper, he became suspicious. "The adhesive had a strong odor," Wei said. His years of experience in quality control immediately set off an internal alarm.
Wei decided to test his suspicions. He bought all the plastic wrapping paper he could find in Hangzhou and drove 650 kilometers to the National Supervision and Testing Center of Fine Chemicals in Taizhou for analysis. One week later, the results showed that large amounts of phthalate and polycyclic aromatic hydrocarbons (PAHs) were detected among the seven kinds of wrapping paper. Both chemicals have raised health concerns, with a recent study suggesting that long-term exposure to PAHs could lead to decreased immune function, kidney and liver damage, and breathing problems, while phthalates, which act as binding agents in materials and can improve the elasticity of plastics, have been linked to behavioral problems and asthma.
Contrary to regulations in the European Union, the use of PAHs is not restricted in China. The Ministry of Environmental Protection, for its part, recommends that stationery items not contain this chemical compound, though compliance is not compulsory.
Wei's research led the principal at his daughter's school to mandate that all students to stop using the wrapping paper. Yet despite this small victory, Wei did not feel the relief he had anticipated. Instead, for the first time he felt powerless upon realizing the futility of protecting his little daughter — and millions of other children — from the toxic products that pervaded their everyday lives. He started using every method he could think of — writing letters to the government, calling manufacturers, leaving messages on official social media accounts — to report the problems he found, but he hardly ever received a response.
Wei realized he would have to take a more drastic approach. "For the government to solve a problem, all we could do was wait for their inspection," he said. But his little girl was growing up fast, and there was no time for her to wait. "We needed an alternative — I needed to speak out as a father to influence the public." So Wei created Daddy Lab, with an official WeChat account that publishes product inspection test results and fields requests from parents about substances that might be harmful to their children.
"Ordinary parents don't have an awareness of which chemicals are unsafe, and so they can't be expected to know about the hidden dangers in their daily lives," Wang Zejun, a 28-year-old technical expert at Daddy Lab, told Sixth Tone. Last month Wang, the first employee to join Daddy Lab, began testing formaldehyde levels in a popular brand of kitchen sponge.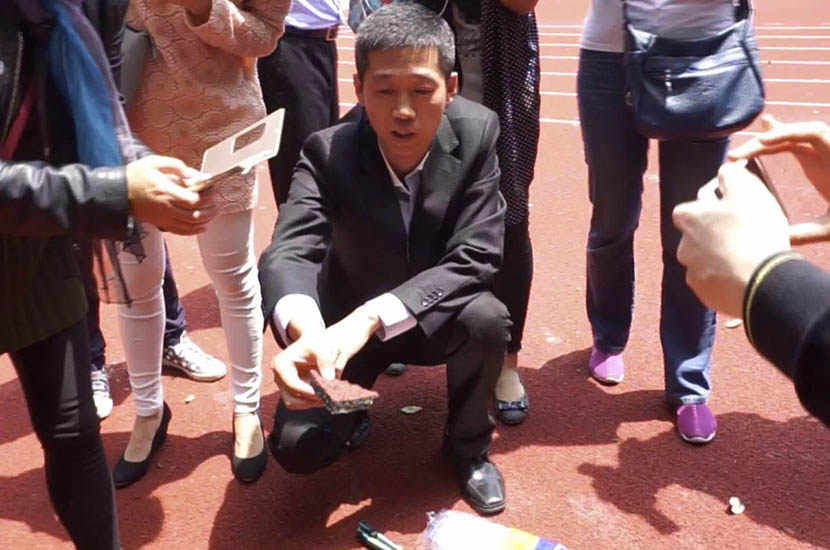 Wei Wenfang tests handles a sample of running track at a primary school in Kunshan, Jiangsu province, April 2016. Courtesy of Daddy Lab
Since his company's launch, Wei has been inundated with requests from every corner of China, and he has tried his best to solve consumer problems. More than 3,500 people have joined the conversation, and Wei's office shelves are full of commonly used stationery items, including pens, rulers, rubber stamps, and wrapping paper, while the floor is occupied with boxes of rice, kitchen appliances, and even plum candies.
According to Wei, Daddy Lab's mission is to find the hidden dangers in objects that might otherwise seem innocuous. "Many people would find it hard to believe that reading lamps could harm children," he said. "But if there's a problem with the bulb, it could cause myopia, which is a less apparent risk." Once it has been determined that an item poses a health risk, the team at Daddy Lab begins searching for an alternative that conforms to international safety standards.
As a father, Wei believes that nothing is more important than his child's safety, and Michaela Julian feels the same way. "The coloring on toys needs to be safe enough for children to put them in their mouths," Julian, founder of the organic wooden toy company Eole & Harry, told Sixth Tone. She added that European products are subjected to careful scrutiny before they are allowed into the market.
According to a 2015 report by Beijing S&P Information Consult Company, the Chinese stationery industry is valued at $21 billion, and accounts for 8.6 percent of the global stationery market. Yet the relatively high value of the market does not always mean equivalent levels of safety. Two years ago, during an inspection of True Color, one of China's leading stationery brands, government officials found that the levels of phthalates in a particular eraser and gel pen were 21.3 percent and 16.5 percent, respectively — a proportion far exceeding the limit of less than 0.1 percent in the U.S.
Wei believes that these "oversights" occur because of the sheer size of China's manufacturing industry. "The Chinese inspection system has to consider the average level of the industry worldwide," he said. "They can't set standards that are beyond the capabilities of the manufacturers."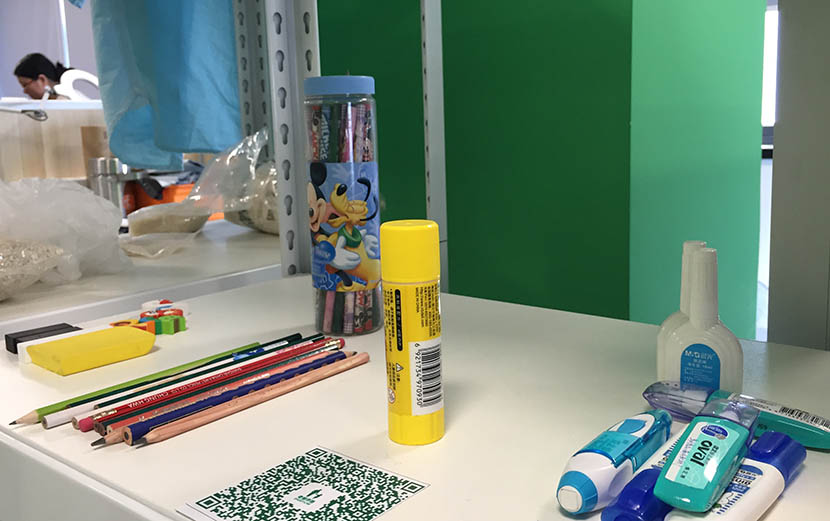 Stationery items to be tested for safety at Daddy Lab in Hangzhou, Zhejiang province, Sept. 23, 2016. Courtesy of Daddy Lab
A spokesman from the Standardization Administration of China's stationery committee, who requested anonymity to protect his professional reputation, told Sixth Tone that a new national standard has been drafted for phthalates and PAHs, and is predicted to go into effect next year. "The irregular management of manufacturers is one contributing factor to substandard products," said the spokesman, adding that while manufacturers often send perfect samples to the inspection center for their qualification reports, the products that reach consumers aren't always of the same quality.
Li Yang, a technician at Daddy Lab, told Sixth Tone that manufacturers have ways of getting around the fact that their products have high levels of toxicity. In order to obtain a result that meets Chinese regulatory standards, companies will send their products to testing laboratories multiple times, until they get a positive report. "As long as they can afford the cost of testing, there's no obstacle to obtaining a certificate of quality, no matter the overall standard of the products they produce," Li explained.
Third-party labs have strict regulations forbidding employees from revealing personal or sensitive information about their clients. "Even if you know there's some big problem, you still have to keep it highly confidential," a recent graduate who now works in a product testing lab told Sixth Tone. "It's a dilemma between professional ethics and human nature," said the woman, whose company forbids staff from speaking to media.
Earlier this year, Wei ran a crowdfunding for Daddy Lab that raised 2 million yuan from 112 parents in just one hour, and nearly 2,000 people contributed more than 60,000 yuan over the last year to help fund his inspection work. It's comforting to Wei to realize that he is not alone in hoping to improve safety standards for children's products.
Most parents who donate money are from China's growing middle class. They live in first-tier cities like Shanghai, Beijing, Guangzhou, and Shenzhen. They are well-educated and well-paid, and they have every hope that their children will still grow up in a bright and healthy future.
(Header image: UIG/VCG)