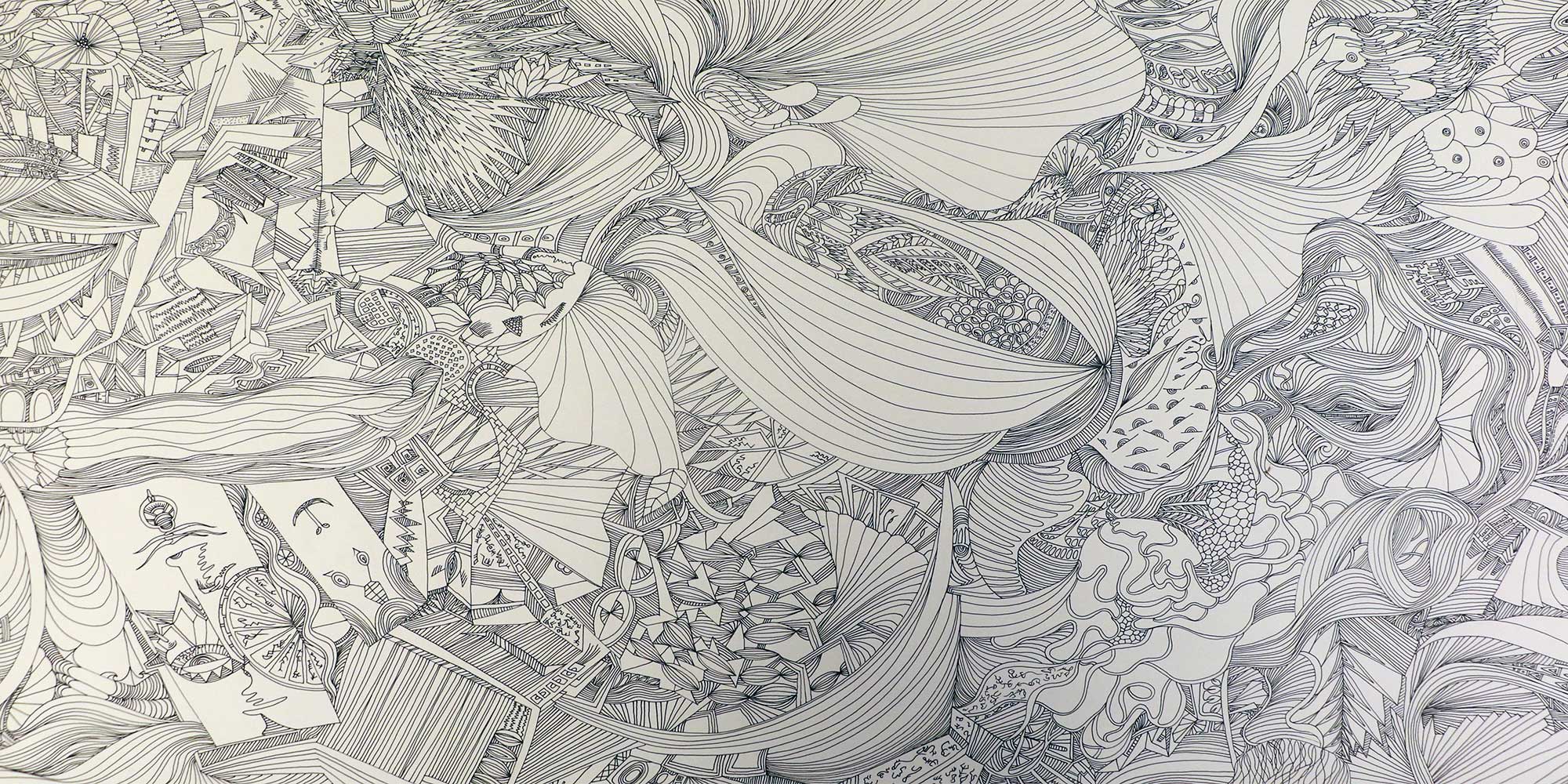 FEATURES
The Rags-to-Riches Artist Who Doesn't Want Riches
From humble beginnings in rural China, ballpoint pen artist Ji Hongyan found fame while working in a university canteen.
Ji Hongyan was relaxing at home in Beijing when her phone rang on a March evening in 2015. She answered the unknown number cautiously. On the line was a man who said he could help Ji realize her dreams.
The caller was the director of "Chinese Dream Show," a popular program on which comedian Zhou Libo tries to help a guest realize their life's dream. It sounded like a good opportunity, so Ji — who is better known by her pen name, Wang Hua — agreed to go on the show.
On the show, host Zhou asked Ji about her life's ambition. It was an opportunity young artists across China would love to have had, as they struggle to make a living in a small but growing art market.
"My dream is to draw a piece that I'm satisfied with," Ji told Zhou, in typically modest fashion. When later in the show Zhou offered to pay her 200,000 yuan (almost $30,000) for the intricate, 30-meter ballpoint pen drawing she had brought on the show, she refused, telling him she didn't like mixing business with her true passion.
In many ways, the 36-year-old artist's unwillingness to prioritize money has defined her life. It's a trait she attributes to her unsuccessful father.
Ji grew up in poverty, in a hillside village in eastern China's Fujian province. Her father was too naive about money, she says, and he struggled to make a living. He would often beat Ji's mother out of frustration, and when Ji was just 4 years old, her mother left the family home to lead a rebuilding project of a Buddhist temple. Ji's mother felt safer with distance between her and Ji's father, only returning home to visit twice a year.
The family's poverty also meant that other children in the village would never play with Ji and her older sister. "I spent most of my time fishing for loach and playing in the hills," she says. "I had a lot of contact with nature."
But it would be many years before Ji's infatuation with the natural world manifested itself in her artwork. In sixth grade, faced with poor grades and the ever-present financial burdens of her family, Ji decided to drop out of school in search of work. Her father, who by then was picking through trash in search of recyclables to sell, agreed that the family needed the money.
In 1995 Ji moved to Fuzhou, the provincial capital, where she was given a rude awakening to the world of employment. She was fired from her first job as a nanny after she let the child in her care go off with someone else, and a second job as a waitress came to the same end when she dropped plates in front of her boss.
But Ji had better luck with her third attempt, when she was taken under the wing of a supportive restaurant manager who would compliment her on her beauty and brilliant smile.
Ji is visibly moved as she tells the story. "She was a very important person in my life," Ji says of her kindhearted boss. "When I was small, my dad would hit me a lot, and my parents never said I was beautiful. She was the first person to ever call me beautiful, and the first person to ever encourage me."
In 2007, after 10 years in that job, Ji embarked on a year of traveling between various cities in southern China, catching buses without knowing where they were going just for the sake of exploring, and taking odd jobs along the way when her supply of cash ran dry.
"I wanted to get out and see places," Ji says. "I wanted to get out and have a look at other cities." She never stayed in hotels because the only ones she could afford were too dirty. Instead, she opted to spend many of her nights inside McDonald's, which had just started 24-hour service in China. She rarely showered.
A year went by, and Ji, weary of her life on the road, eventually chose to return to Fuzhou, where she began to hone an interest in drawing. She found inspiration in photography books, incorporating elements from her own imagination into her recreations of the images on the pages. An appreciation for the freedom of the pen has stayed with her to the present day. "There are no limitations when you're drawing," she says, "but in photography you're limited by the camera."
As Ji's creative hunger grew, she became more aware that Fuzhou was not a place where her art was likely to flourish. Appreciation for her work was limited to muted approval from guests at a cousin's wedding, where she had chosen proudly to display her work.
In March 2010, Ji set out for the Shanghai Expo, a coming-together of cultural exhibitions from countries around the world. But she was undone by her enthusiasm when she ended up being thrown out of the exhibition space by a stall manager who had become annoyed by her attempts to encourage visitors to purchase a silk scarf that she felt was particularly beautiful.
Ji was down but not out, making her way back into the main stadium in search of more art. She was drawn to a sculptor's stand, and again ended up assuming the role of a saleswoman. "I spent a lot of time there and was even showing the works to other visitors as if I worked there," she says. The manager of that stall was more receptive to her enthusiasm, and a lengthy discussion of Ji's opinions on art led to an invitation to visit the studio where the statues were produced.
This proved to be a lucky break for Ji. Her art impressed the people working at the studio, and eventually she was given a job showing visitors around the company's gallery in M50, a contemporary art complex housed in a dilapidated industrial zone in central Shanghai. She had finally got her foot in the art door, but the work was financially unrewarding. To save money Ji was eating porridge three times a day, and still she rarely showered since she was living in the gallery itself.
Around M50, she would often hear co-workers waxing lyrical about how good Beijing was for art. In particular they spoke of 798 District, a trendy art hub in an old factory complex in the capital's northeastern suburbs.
Against the advice of her boss, who said that competition among artists was too fierce in Beijing, Ji decided to hit the road again, and in September 2012 she stepped onto a high-speed train — her first — bound for the capital.
When Ji arrived at 798, her excitement soon gave way to disappointment. She wasn't inspired by the art she saw. But much like the other turns in her life, a chance conversation gave her a reason to stay. She was offered a place to stay by another artist, who also offered to show her around the Central Academy of Fine Arts (CAFA), widely regarded as the country's most prestigious, most competitive institution for budding artists.
Ji didn't have the education or money to study at CAFA, but she was determined to find a way to stay close to the school's artistic atmosphere regardless. She soon secured a job working in the academy's canteen from 5 a.m. to 2 p.m., five days a week. The work provided her with just 1,000 yuan in monthly wages, along with room and board.
At CAFA, "room" meant an underground dorm shared by over a dozen other women. Ji could not bear the cramped conditions, so she opted to pay 200 yuan per month to move into her own room, just opposite a toilet. She would wake frequently in the night, either to the sound of toilet water flooding into her room, or to the unmistakable smell of feces. In what had by then become a recurring theme in her life, Ji eschewed showers to save money.
With no space to draw in her room, she would often draw in the canteen after she finished work. On one such occasion in early October 2012, two students happened to walk past as she was working on a rolled-up drawing — a 30-meter epic of intricate, flowing lines created with a ballpoint pen. It was unlike anything they had ever seen before. Like all her other epic scrolls, the work would take Ji six months to complete.
Ji told them she had dropped out of elementary school and had no formal training in art, which only furthered the students' astonishment at the massive scale of the piece. One of the students, Zhong Shuyu, was so taken by the work that he uploaded a photo of Ji and her art to Chinese microblogging platform Weibo. By the next day it had been shared over 3,000 times, marking the beginning of Ji's semi-stardom within the CAFA community.
She was soon invited by another student to meet Yuan Yunsheng, a 70-something professor of fine arts. The student thought Yuan might appreciate Ji's work. The meeting made a big impression on Ji. "As soon as I saw him, I felt he had the aura of an artist," Ji says.
Yuan advised Ji to keep drawing, even offering her a job in his office at the university, but she refused, choosing instead to keep working in the canteen to stay grounded. At the university she would sometimes join open classes on arts and culture, but she didn't dare to enroll in real classes. "I didn't want to be a nuisance to the other students," Ji says. This reticence was a remnant from her childhood years: "I've always been a closed-off person. Ever since I was a little girl at school, I've been closed-off."
But Ji has found other channels to exhibit her art. After two years working in the school's canteen, she was introduced through a friend to the manager of a nearby independent bookshop, One Way Space. Upon seeing her work, the manager immediately offered Ji a residency at the store. Ji was hesitant, both unwilling to accept money from a small bookshop and reluctant to leave CAFA, the place where her identity as an artist had truly begun to take shape.
Eventually she accepted the offer, and in April 2015 became One Way Space's very own artist-in-residence, arriving at around 10 a.m. each day and drawing until closing time. The work pays more than double what she was making at CAFA, but with rent at a nearby apartment costing her 1,000 yuan per month, Ji has little left to spend.
But this hasn't dampened Ji's commitment to her work, and there are signs that there is real appetite for her fresh approach to artistry. In August 2014, her fourth completed scroll was purchased by the Beijing-based Times Art Museum for 150,000 yuan, money that she used to repay her debts. At a solo exhibition held at One Way Space in June this year, pieces of her art sold for a combined 50,000 yuan. Ji, forever humble, donated all the money to the bookshop in gratitude for providing her with the opportunity to develop and showcase her talents.
While those around her struggle to understand the fact that she isn't interested in money, Ji says they're missing the point: She has been through so much that her life is already much better than she had ever hoped. "My ideal is to be able to draw every day," she says. "I've already realized my dream."
Additional reporting by Yin Yijun.
(Header image: Part of a scroll drawn by Ji Hongyan, Beijing, Sept. 22, 2016. Yin Yijun/Sixth Tone)