The eighth installment in the wildly popular Harry Potter series — "Harry Potter and the Cursed Child," a play — will officially be released in Chinese on Oct. 29. But on Taobao, China's largest online marketplace, several versions are already available, Sixth Tone's sister publication The Paper reported on Thursday.
A search on Taobao returned many of the pirated books, advertised as "exclusive first issue in China," "original Chinese edition," "absolutely genuine," and "limited quantity available." The books are reportedly translations of very poor quality. Their cover photos resemble that of the English version, released July 31.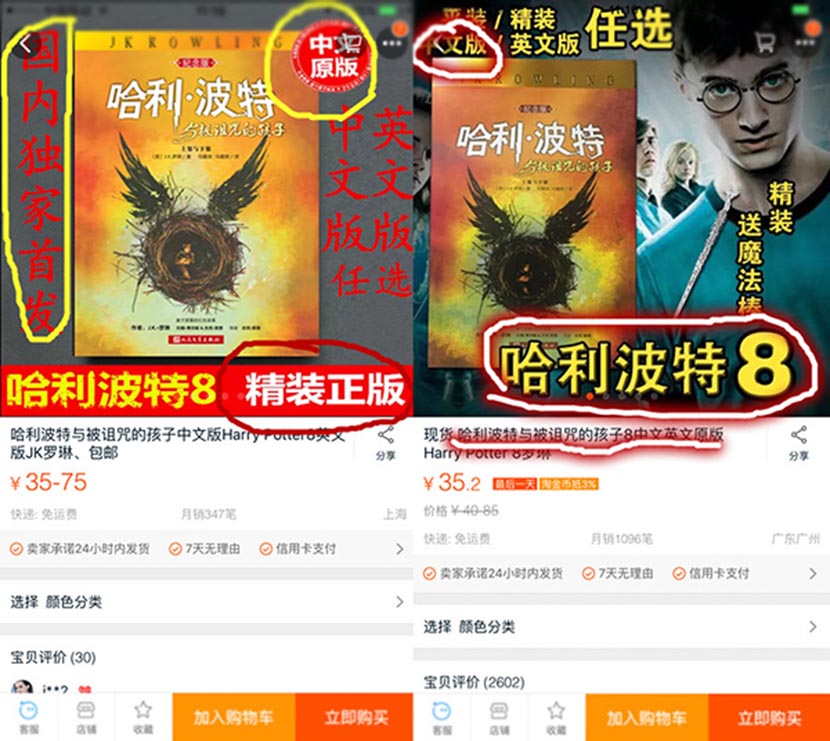 Screenshots show pirated editions of 'Harry Potter and the Cursed Child' for sale on Taobao.
The People's Literature Publishing House, China's authorized publisher of the Harry Potter books, served Taobao a written notice on Friday, demanding it stop selling illegal publications and provide information and contact details of all shops infringing on its copyright.
Song Qiang, director of the People's Literature Publishing House, told Sixth Tone on Thursday that the 54 sellers they reported to Taobao's legal department had been taken off the website, and that the publishers were still in the process of searching for more. "We think Taobao should have taken more proactive steps to deal with this matter, rather than managing it after being informed," said Song.
The Paper reported that around 100 shops on Taobao were selling pirated Chinese versions of the Harry Potter 8 books, ranging in price from 28 yuan ($4) to 78 yuan. Some shops have reportedly sold over 1,000 copies.
Li Tingxuan, a spokesman for Taobao, told Sixth Tone that links to suspected pirated books were deleted promptly after receiving word from the publishing house.
Li added that Taobao prevents its shop owners from selling pirated books through its screening and inspection system, which involves a team of employees who buy, test, and verify products from the website.
Shu Hai, a lawyer at Zhong Lun Law Firm in Shanghai, told Sixth Tone that e-commerce platforms don't have an obligation to review the products they offer. However, Shu added that Taobao must comply with regulations and remove any illegal items brought to their attention in order to avoid liability.
Additional reporting by Wang Lianzhang.
(Header image: A woman reads a copy of 'Harry Potter and the Cursed Child' on the day of its release at a bookstore in Hong Kong, July 31, 2016. VCG)