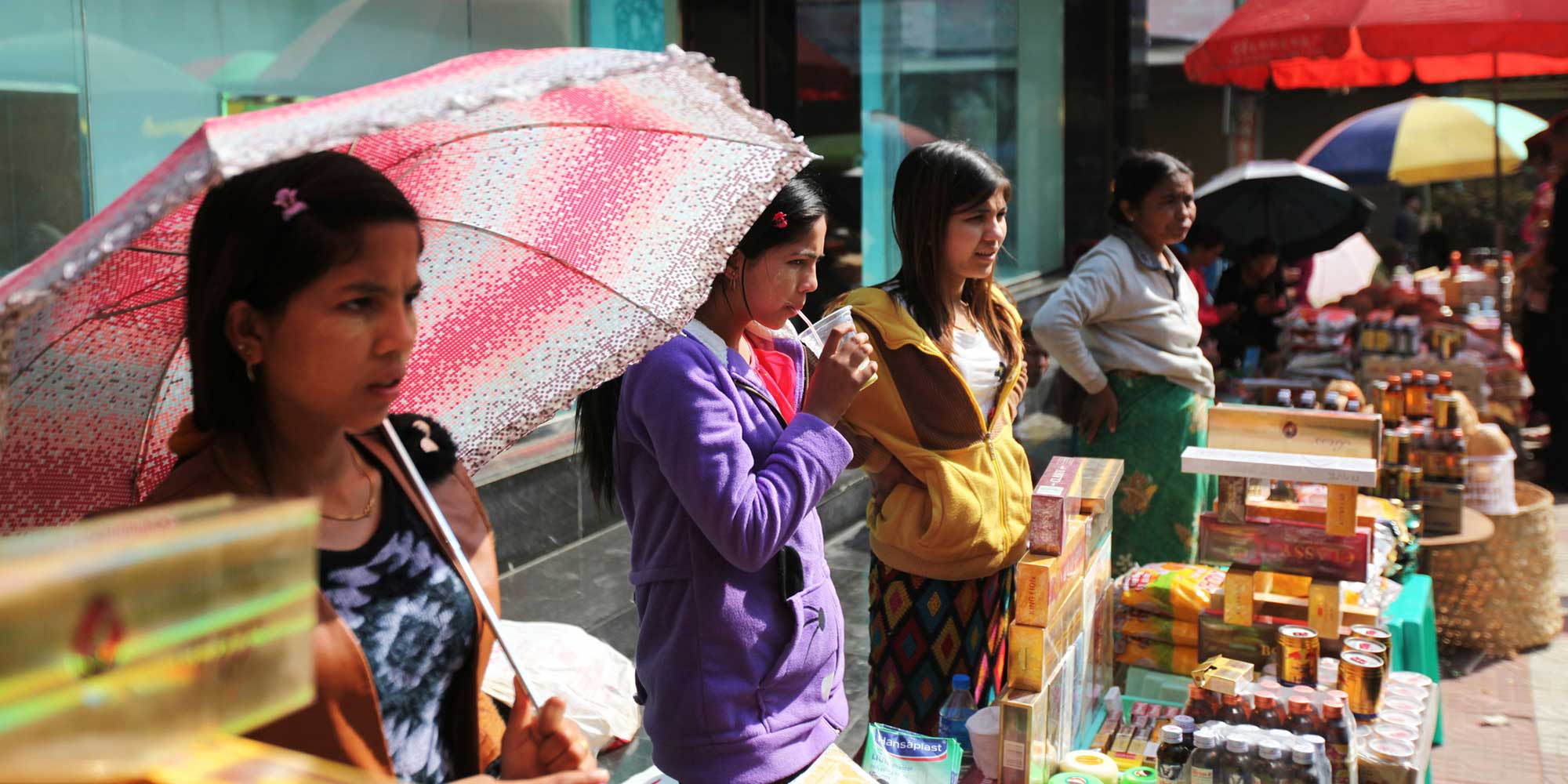 VOICES & OPINION
Borderlands: An Insight Into Yunnan's Burmese Community
Relaxed border controls with Myanmar are turning the Chinese city of Ruili into a boomtown.
This is the second commentary in a three-part series on China's borders and the people who inhabit them. Find the first commentary here.
As a national port and free trade zone, Jiegao Port in Ruili City is China's largest land port for cross-border trade with Myanmar. Its import and export trade accounts for more than 60 percent of all trade between Yunnan province and Myanmar.
I visited Jiegao Port a couple of years ago and remember seeing a group of around 100 Burmese coming in on scooters. Later, as they drove out of town, each driver had precariously strapped on another scooter, made in China, to sell in Myanmar!
Ruili City is a hub for wooden furniture manufacturers, jade artisans, and other labor-intensive industries. Faced with a depleted number of factory workers across parts of the country, an increasing number of companies have relocated to Ruili in recent years. Here, the demand for labor has drawn crowds of young Burmese people over the border in search of jobs.
Industrial development and the forces of globalization have made China an attractive place for immigrants in recent years, but official policy on managing transnational immigration remains a balancing act. All levels of government have experimented with different ways of handling the issue. For instance, the city of Guangzhou has implemented specific management policies for African immigrants, while Yiwu, in Zhejiang province, has targeted policies for Middle Eastern businesspeople.
The Ruili municipal government has taken a different tack, bringing together a number of departments in charge of public security, hygiene, civil administration, and education under the umbrella of the "Ruili City Service Management Center for Foreign Workers." Those with Burmese national ID cards and entry permits can apply for their temporary residence and work permits at the center. Their documentation is translated into Chinese, while the inspection and quarantine department conducts health checks. The public security department, meanwhile, fills out their information and processes the residence cards. Lastly, Yunnan Minzu University provides vocational training.
On a warm day in July 2016, I enjoyed a cup of tea with Yang, the owner of a Ruili jade processing shop. Originally from Qujing in Yunnan province, he started his business 10 years ago, when he and he wife cut and polished every piece by hand. As the business grew, they took on a few Burmese staff.
Although Burmese workers have a reputation for being transient, those hired by Yang have stayed at his shop for over seven years, building up their handicraft skills under his tutelage. Nowadays, the more highly skilled workers command a monthly salary of up to 2,000 yuan ($300). "The salary for Burmese workers in jade processing shops is pretty good," Yang said, "given that Burmese civil servants over the border only get 300,000 kyat ($240) per month."
Yang also visits the management center to apply for his Burmese employees' residence permits and work visas, he said, as having legal status gives his workers peace of mind.
Five years ago, in the course of my field research in Ruili's Nansang Village, I met a family of Palaung people, one of the many ethnic minorities who live in this corner of Yunnan. The mother, Malun, was a Burmese woman whose family eked out a living making charcoal in Myanmar. Fortunately for Malun, this draining existence improved considerably after they moved to China. When I first met her, her son had just turned 2 years old. Malun's Chinese was rudimentary, but she expressed through an interpreter that she felt confident about her future in China.
When I went back this summer, I found that they had expanded their home. Malun's husband had been selected as the provincial cultural curator for the Palaung's traditional water-drum dancing, and now spends most of his time organizing dance classes for young people and traveling often to perform. This leaves Malun to shoulder the responsibilities on the family farm, and she has begun selling rice-flour noodles and other breakfast items in the village as a way to increase their income. She rises at 5 a.m. every day and sells breakfast until 9:30, after which she heads out into the fields.
When I met her, Malun was in her yard with a group of women washing, stripping, and preparing the bamboo shoots they had collected from the mountains earlier that morning. The bamboo shoots would then be sold to restaurants in Ruili. Malun, who now speaks Chinese, said that her husband worked hard to preserve the Palaung culture, so she supported him wherever his performances took him. The other women spoke highly of Malun, her diligence, and her capabilities. I smiled to myself to know that Malun had adapted well to life in China.
As you walk around Ruili, it's easy to spot young Burmese men and women dressed in traditional longyi — a type of long skirt tied at the waist — with their faces painted with golden thanaka to block out the sun. Once night falls, the jade markets in Ruili start to liven up. Hundreds of Chinese and Burmese converge on the night market with their jewelry from the various jade workshops, mingling together and setting up their stalls. In the pale light of the evening, the vendors spread out their assorted wares, and business continues long into the night. It is the best example of how in Ruili, as in other towns along the border between Yunnan and Myanmar, Chinese and Burmese come together in the pursuit of common prosperity.
(Header image: Burmese girls stand behind grocery stands in Ruili, Yunnan province, Feb. 20, 2015. Wang Chen/IC)