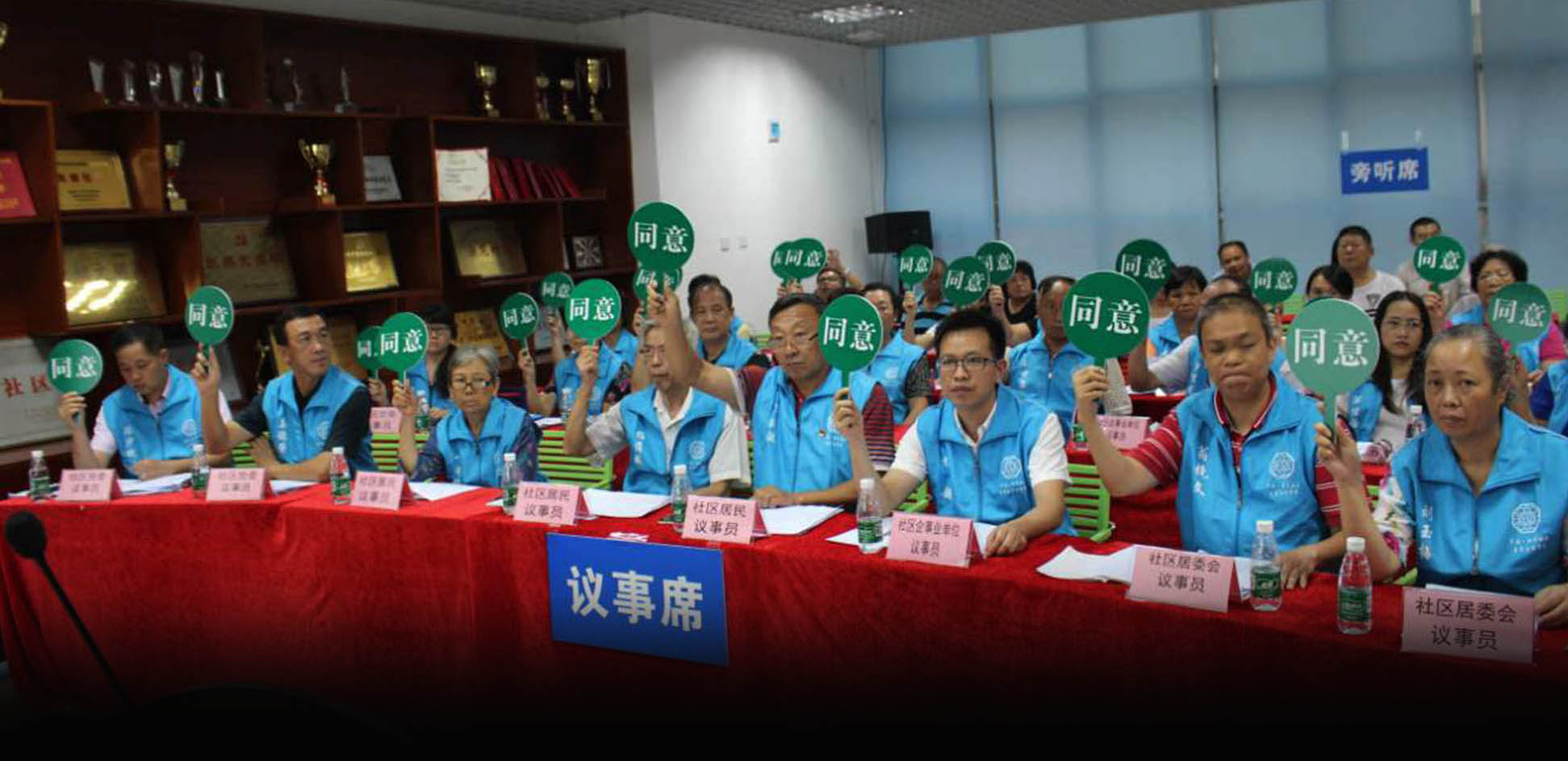 FEATURES
19th-Century US Manual Basis for Chinese Grassroots Democracy
Community congresses in Shenzhen take a page out of 'Robert's Rules' to hold effective meetings.
When 60-year-old retiree Tan Shengbo was elected to his neighborhood's local People's Congress in 2014, he expected run-of-the-mill bureaucratic drudgery: pushing papers and rubber-stamping government orders. Instead, he found himself part of a flowering experiment in grassroots democracy.
He was chosen as a representative for Peace Community, a housing block in Shenzhen no more than a stone's throw away from Hong Kong, in southern China's Guangdong province. But before the newly convened assembly could call their first meeting, they'd first have to get acquainted with "Robert's Rules of Order," a manual on parliamentary procedure.
The implementation of these meeting rules has made the congresses in Shenzhen's Luohu District more efficient and democratic. In fact, they've been so effective that Jiang Derong, chief of the community's workstation, says he feels a new pressure to carry out the congress's wishes. Previously, he told Sixth Tone, the workstation would just dictate decisions.
"Robert's Rules of Order" were authored in the 19th century by Henry Martyn Robert, an American army engineer who, having previously dealt with the military's sluggish decision-making process, was inspired to create a set of rules for guiding stalled church meetings. In 1876 he published a brochure called the "Pocket Manual of Rules of Order for Deliberative Assemblies."
These guidelines have since been used the world over to conduct meetings where everyone has equal rights to speak, bring motions, and vote. The person to bring them to China was Yuan Tianpeng.
Soon after Yuan first stepped into the University of Alaska as a freshman in 1999, he decided to join the student union. He was handed a copy of "Robert's Rules" after being elected a student senator, and after he witnessed them in practice at meetings, he was sold. "It was totally new to me, and I thought it was a good way to solve problems in a group setting," Yuan, who continues to advocate for instituting the framework in China, told Sixth Tone.
On his return to China in 2003, Yuan started working at a Chinese company, a shift he said left him disappointed. "My partners in the company always masked their intentions by digressing to unrelated topics. They favored backroom deals to maximize their interests," Yuan said. "Why couldn't they show respect for the rules and let them guide us through arguments and to compromise?"
Yuan figured that if Chinese elites couldn't even realize the value of rules, how could the rest of the country? He decided to teach "Robert's Rules" across China and spent the next year translating the text into Chinese.
He's since led training classes at hundreds of institutions, including the Ministry of Commerce. Despite the success, he wasn't entirely sure these one-off training sessions were actually as effective as he hoped, and he went on the lookout for longer-running projects. That's when he met Lu Yi.
Lu is the director of the civil affairs bureau of Luohu District in Shenzhen, where Peace Community is located. Part of his job is to oversee the district's roughly 115 community congresses. Every three years, residents over the age of 18 can vote for representatives. But Lu felt their monthly meetings were chaotic.
According to Lu, just getting congress members to sit down and speak calmly was a struggle. He said they were more adept at bickering than at expressing their views diplomatically. "At first, we thought they just lacked decorum and communication skills," he said. Lu invited public speaking experts to give trainings, but to no avail. "We realized we needed a mechanism that could fundamentally reshape their thinking," he said.
"At first, to me democracy just meant hand-raising, and the majority winning the day," Lu said. "But there's more to learn and change before implementing democratic governance." In 2013 he invited Yuan to teach Luohu District's congresses how to hold meetings under "Robert's Rules."
For congress member Tan, it took a while for the training to sink in. "At first we didn't know what to say, as we were all used to traditional community meetings," Tan told Sixth Tone. In the past, he and other residents were just called up by the government as "resident representatives" to be yes-men for an already-completed plan for their community. "It was just a formality," Tan said.
"Then Yuan Tianpeng came and taught us terms like 'proposal' and 'second the motion.' We were interested. We never imagined a meeting could be run this way," Tan said, adding that the most valuable things he learned from Yuan's classes were the importance of compromise and respecting the rules.
Soon everyone was eager to speak up, but that presented a new problem: hurt feelings. Chinese social norms discourage open disagreement, Tan explained, "but being a community congress member means you must be tolerant of disagreement and not take things too personally."
In Yuan's class, members of congress with conflicting views are given equal opportunity to say their piece. To Tan, these frank exchanges should lead to discovering middle ground. "With compromise," he said, "both sides win."
In accordance with "Robert's Rules," the meetings in Luohu District now require that a neutral arbiter with no voting privileges oversee debates. Everyone has a set amount of speaking time, frustrating some when they get cut short after two minutes.
Jiang, the chief of Luohu's community workstation, is also a little frustrated. Though in theory community congresses present proposals to the stations for implementation, he said that in practice the community workstation actually makes decisions.
But now that the community congress is taking their task more seriously, Jiang has been taking orders from them instead. The reversal has him squeezed on both ends. "I feel I'm under pressure from both the community and upper-level government," he said.
"For example, if the congress decides to build a small community garden, I must lobby for funds from the upper government," Jiang said. He worries that the congress will give him a bad score during his annual performance review if he fails to deliver, a situation that could force his resignation.
Even if Jiang gets the government funds, he could be chastised from above if the process takes too long. "This year, the upper government sent me a notice criticizing me for not making efficient use of the congress's environmental funding and punished me with demerits," he said.
Still, Jiang thinks things are improving. "In the past, we believed we made decisions in the residents' best interests, but they didn't always appreciate it," he said, adding that if a project didn't live up to expectations, residents would accuse the government of mismanagement and ignoring people's interests. But if the people can govern their own decisions and the government plays its role, he said, conflict decreases.
Lu of the civil affairs bureau sees other challenges. "The first is whether we can continue this experiment," he said, explaining that the project's existence is entirely dependent on the officials' will.
Wang Jing, Yuan Tianpeng's chief assistant, agrees. She said they used to conduct similar long-term training for communities in Qinghuai District of Nanjing, the capital of Jiangsu province in eastern China. "We could make it work largely because of the support from a local chief, but when he was transferred, the new chief thought we were teaching people to challenge the government's authority and kicked us out," Wang told Sixth Tone.
Lu is attempting a subtler approach, trying to balance government oversight and interests with grassroots democracy. Lu believes the government can benefit from allowing people to decide some matters for themselves. "Most civil grievances can be resolved if you let people participate in decision-making," he said.
The other problem rests in China's political culture. Lu told Sixth Tone that it's impossible to expect residents to immediately immerse themselves in public affairs. To Lu's surprise, 90 percent of residents in his district agreed in a past survey that the government should manage everything. "Some people are just used to the government playing babysitter, and that needs to change," Lu said.
When the project to implement "Robert's Rules" first started, Lu said, people could barely hold a discussion. Three years later, though, he's more optimistic. "We've already planted the seed in their minds," he said. "Sooner or later people here will come to understand both democracy and the order that holds it together."
(Header image: Congressional representatives of Peace Community vote on a proposal for a charity project, Shenzhen, Sept. 2, 2016. Courtesy of Peace Community)