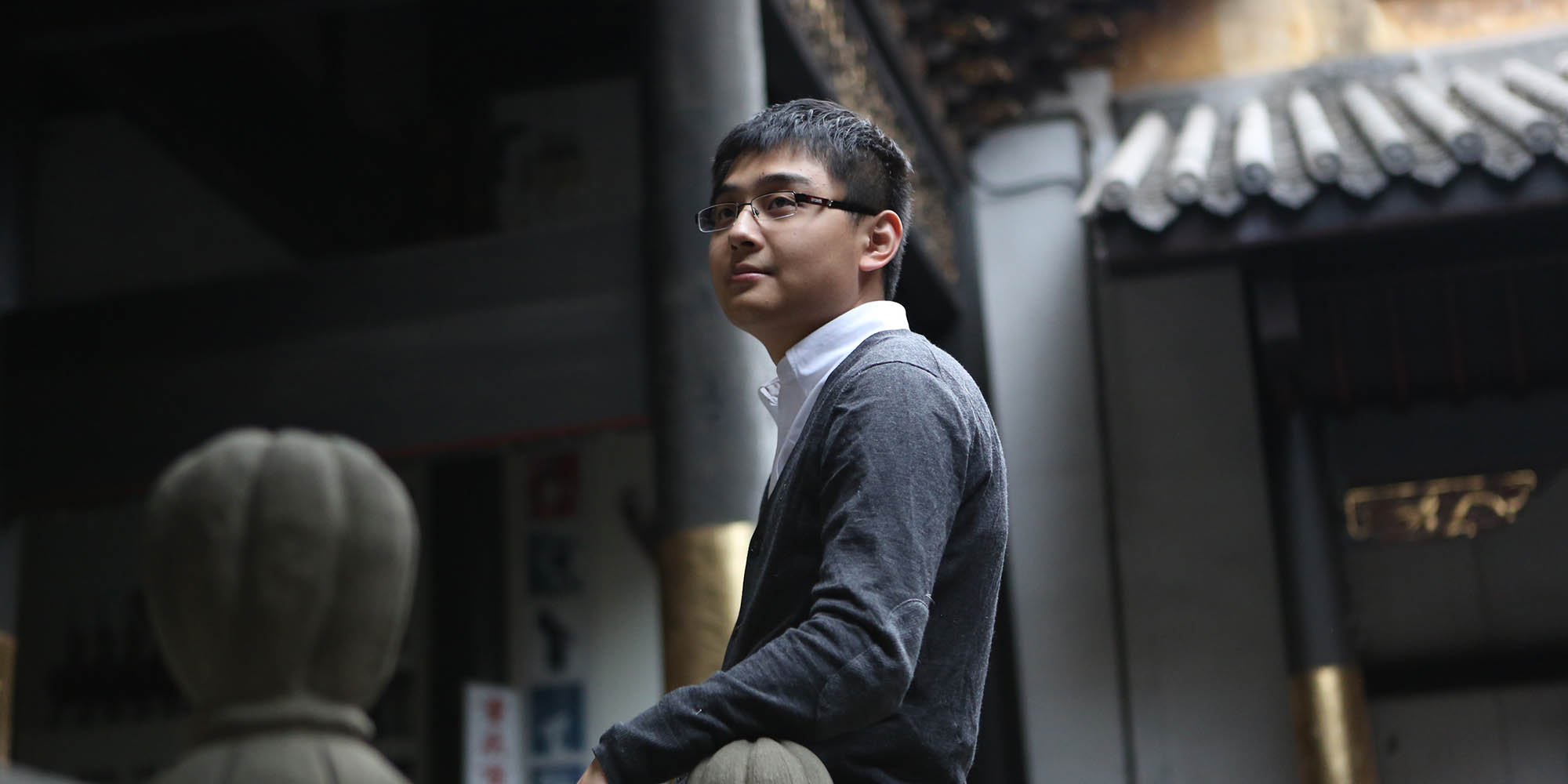 FEATURES
News Buzz to Biz VI: When Kong Fu Meets Reality
Leap from state news agency to WeMedia proves lucrative for martial arts fan Wang Xiaolei.
This is the fifth interview in a series of articles about China's WeMedia content creators. You can find interviews one, two, three, and four here.
Wang Xiaolei never expected a random decision to kill time would make him one of most successful content generators in China. It was in 2013 that Wang, who had been a reporter at state-owned Xinhua News Agency since 2007, was in Beijing for a training course. With nothing to do after class, he decided to write something.
That was the beginning of Wang's WeChat public account, "Liushen Leilei Reads Jin Yong," which has a total of 600,000 subscribers and averages 200,000 hits per article. Jin Yong is a popular Chinese writer. His kung fu novels are about ancient swordsmen who use otherworldly martial arts skills to fight for justice.
Under the pen name "Liushen Leilei," Wang began analyzing these novels, and, in the process, brought the ancient art of kung fu into the modern era. He said mixing kung fu with the real world wasn't deliberate. Instead, he's just a kung fu junkie who happens to be very opinionated about the world around him.
Born in Jiangxi province in eastern China in 1984, Wang joined Xinhua's Chongqing bureau after getting his master's degree in 2007 from the Communication University of China in Beijing. While at Xinhua, he covered breaking news, current affairs, politics, and law.
Wang recalls that as a teenager, he would use a flashlight to secretly read Jin's kung fu stories after his parents had put him to bed. At first, he was attracted by the battles and the martial arts. Only later did he come to be impressed by the humanitarian elements in the stories. "All the things you encounter in society on a daily basis are here in these novels," he said, adding that his secret is not to intentionally try to please readers. "You need to allow your work to develop its own personality," he said. "Then you can let it absorb your readers."
Not long after opening the public WeChat account, Wang considered shutting it down. His workload as a reporter was heavy, and he could barely find time to post updates. But as his readership grew, Wang abandoned the idea of jumping ship. In October last year, he resigned from his job as a journalist to run the WeChat account full-time. Now he even has three part-time staff. Last year he published a collection of articles from his WeChat account, and later this year he'll release a new book on poetry from the Tang dynasty — another of his special interests.
Wang now earns more than 1 million yuan ($150,000) a year from advertisers, royalties, and speaking engagements. But for him, life hasn't changed much. Before, he used to write under difficult circumstances, including once in a pigsty while reporting about a landslide. He said the only difference is that now he doesn't care about the price of the books and instant noodles he buys when he goes shopping.
Wang doesn't want to be a pandering, market-oriented writer, and he doesn't have immediate plans to commercialize his very successful WeChat account. Out of dozens of prospective advertisers, he might select just one. He posts new articles once every three or four days, whenever he feels like writing.
Sixth Tone: What's the biggest difference between working in traditional media and running your own WeMedia account?
Wang Xiaolei: Now, there is no one to review my articles before they are published. I get to post whatever I like, but I also have to take full responsibility for any consequences of my posts.
Sixth Tone: Have you ever felt unsettled since leaving Xinhua? Do you ever miss the stability and protection inherent in working for a large, state-run company?
Wang: Some of the advantages you think you have aren't really there — that you have a platform that empowers you, for instance. In kung fu novels, a character can't keep himself safe just because he belongs to a big gang or faction. He has to be capable himself as well.
Sixth Tone: Did you run into any difficulties while opening your account?
Wang: I followed all the regulations and disclosed the account to my employer. I was allowed to open it on the condition that I didn't use my professional identity or any work-related material, such as interview transcripts.
Sixth Tone: How does your experience as a reporter influence your approach to WeMedia?
Wang: It opens my eyes. It makes me notice people and things I might otherwise not. It makes me listen to and observe their stories. Other careers don't really provide this kind of opportunity. And it forces me to think. Xinhua forced me to think. Even when I'm at home, I think about, say, whether the GDP growth rate is 7 or 7.5 percent. This line of thinking is good for you.
Sixth Tone: On a television show, you once said that people who write should be prepared to be forgotten. That sounds rather pessimistic, doesn't it?
Wang: Now I see things differently. At that time, I thought the internet would create wave after wave of writers who would be pushed by constantly evolving media platforms. We weren't the best writers; we just proved that some writers could achieve success across diverse platforms. Two or three decades ago, they were the people who wrote on BBSs (bulletin board systems). But their names are barely remembered now.
Much of this has to do with content entrepreneurship. The scene seems very alive, but a lot of content is not worth preserving. I used to think people should make the best possible use of their time to create something valuable. But now I've known people who used to write; I know that they have been forgotten not because the medium has changed, but because their thoughts are out-of-date.
Sixth Tone: Do you think content entrepreneurship is sustainable?
Wang: It has to be. I don't know which platforms will support content in the future, but content will always be needed. We will always need to read and share. Writing will always require skills — not everyone is born with a pen in their hand.
Sixth Tone: Do you have any advice for people who might want to pursue careers in content entrepreneurship?
Wang: First, some advice for journalists: We Media needs charming, gregarious personalities. Don't appear too serious to your readers. Your goal, your mission, is important, but you can't force it on people. Second, for investors and the platforms themselves: I hope you will pay less attention to people like me and more attention to investigative and in-depth reporting. Organizations that pursue investigative reporting are the ones that are short of money.
Additional reporting by Dong Heng.
(Header image: Wang Xiaolei poses for a picture in Chongqing, 2015. Courtesy of Wang Xiaolei)