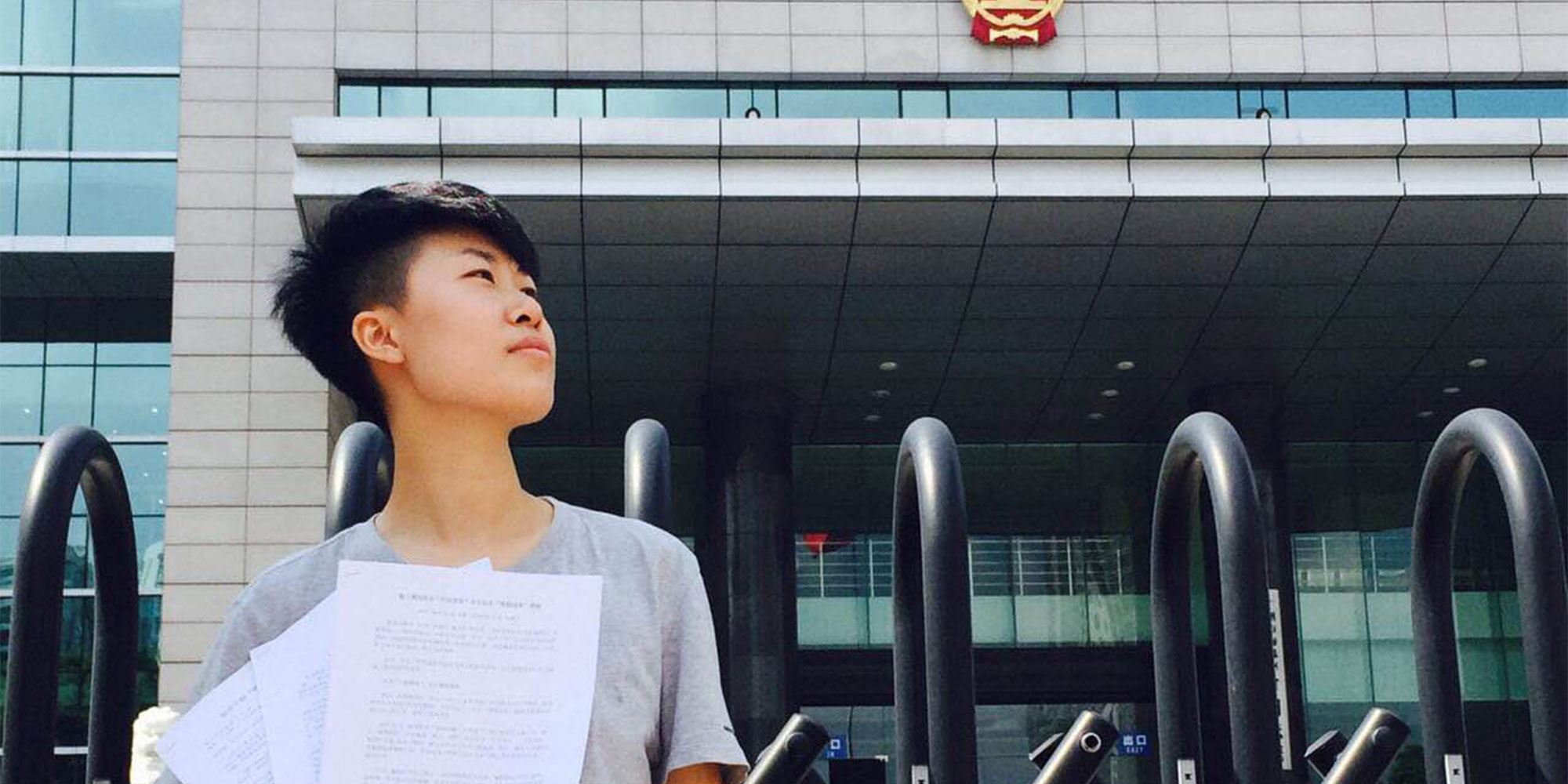 NEWS
Restaurant To Serve Feminist Chef Apology, Court Orders
No increase in compensation after second hearing of gender discrimination case.
On Tuesday, a seafood restaurant chain that refused to hire a trainee female cook was found guilty of gender discrimination, fined 2,000 yuan ($300), and required by the court to issue a written apology.
It marked the end of a high-profile gender discrimination case that pitted Gao Xiao, now 27 years old, against Guangdong Huishijia Economic Development Company, which owns several restaurants. Gao Xiao had applied for a job at one of the restaurants in Guangzhou, capital of Guangdong province in China's south, only to be told the job had been filled and then see the job re-advertised as "male applicants only." She filed her case in August of last year.
"I even didn't get a chance for an interview," Gao, who is using a pseudonym to protect her career, told Sixth Tone. "I was disappointed and angry. In court, we provided a lot of evidence, but the company still denied its discrimination toward women."
Litigation is increasingly being used as a form of advocacy in China, where laws against public demonstrations limit other kinds of protest. Feminists and LGBT activists in particular have built up strong and savvy networks with public interest lawyers and sympathetic media professionals to mobilize around lawsuits that push an anti-discrimination agenda.
In 2016 alone, activists-turned-plaintiffs have launched lawsuits on transgender employment discrimination, same-sex marriage, homophobia in textbooks, "gay conversion" therapy, and HIV-positive discrimination. Often, the lawsuits fail, or, as in Gao's case, see paltry payouts that offer no real deterrent for companies to continue discriminatory practices. Yet each case draws attention to issues that otherwise might receive scant media coverage.
Gao demanded 40,800 yuan in compensation from her would-be employer. In April, the court found in her favor, but ordered the company to pay just 2,000 yuan in compensation. She appealed, and yesterday Guangzhou's Intermediate People's Court upheld the initial compensation level, but also ordered the company issue a public apology in a local newspaper.
In 2008, China's legislature strengthened laws relating to the protection of women's interests at work. According to the case's pro bono lawyer Huang Yizhi, it is the first time since then that a company has been ordered to release an official apology.
Huang told Sixth Tone that gender exclusion is common during the initial stage of recruitment. According to research performed by the Women's Studies Institute of China in 2014, nearly 90 percent of female graduates who responded to their survey said they had faced gender discrimination during recruitment.
"My tutor at catering college warned me that sexism was rife in the catering industry," said Gao. "But all the online recruitment notice said was that they wanted capable, hardworking, and careful candidates."
When she went to the restaurant, Gao said, the restaurant manager claimed they needed a male cook.
Having long wanted to pursue her ambition to become a chef, Gao said she brought a legal case because she wanted to make a point about sexism in her chosen field. "I hope more people will fight for themselves, when they realize this ubiquitous phenomenon is completely unreasonable," Gao said.
The Guangdong Huishijia Economic Development Company, established in 1992, is a corporation with hundreds of employees across Beijing, Shanghai, and Guanghzou. When reached by telephone, an employee of the company told Sixth Tone she wasn't familiar with the case.
During the court sessions, the company denied discrimination, and submitted pictures of male cooks doing physically demanding tasks as evidence that women were not qualified for a position in their professional kitchen.
"It made me realize the high levels of blind gender discrimination in the food industry," said Gao. "In restaurant kitchens, all they expect women to do is prepare the ingredients."
The updated 2008 labor law relating to the protection of women states that applicants have the right to file a lawsuit when they are discriminated against. However, very few cases of gender discrimination are brought, said Qiu Hengyu, a Guangzhou-based lawyer that specializes in labor law.
Qiu told Sixth Tone that in many circumstances, it's difficult for female employees to prove discrimination. In addition, there is little financial incentive to take a company to court.
While Gao's case could be regarded as step forward for gender rights advocacy, Qiu is not convinced the ruling will act as a deterrent against future discrimination. "The amount of 2,000 yuan is inadequate to play a warning role," he said.
Gao is now suing the Guangzhou human resource and social security bureau for its failure to tackle discrimination in the work place. The case was heard on June 8, but the verdict hasn't yet been announced.
With contributions from Qian Jinghua.
(Header image: Gao Xiao poses with indictment documents after filing her gender discrimination case at the Haizhu District People's Court in Guangzhou, Guangdong province, Aug. 18, 2015. Courtesy of Gao Xiao)