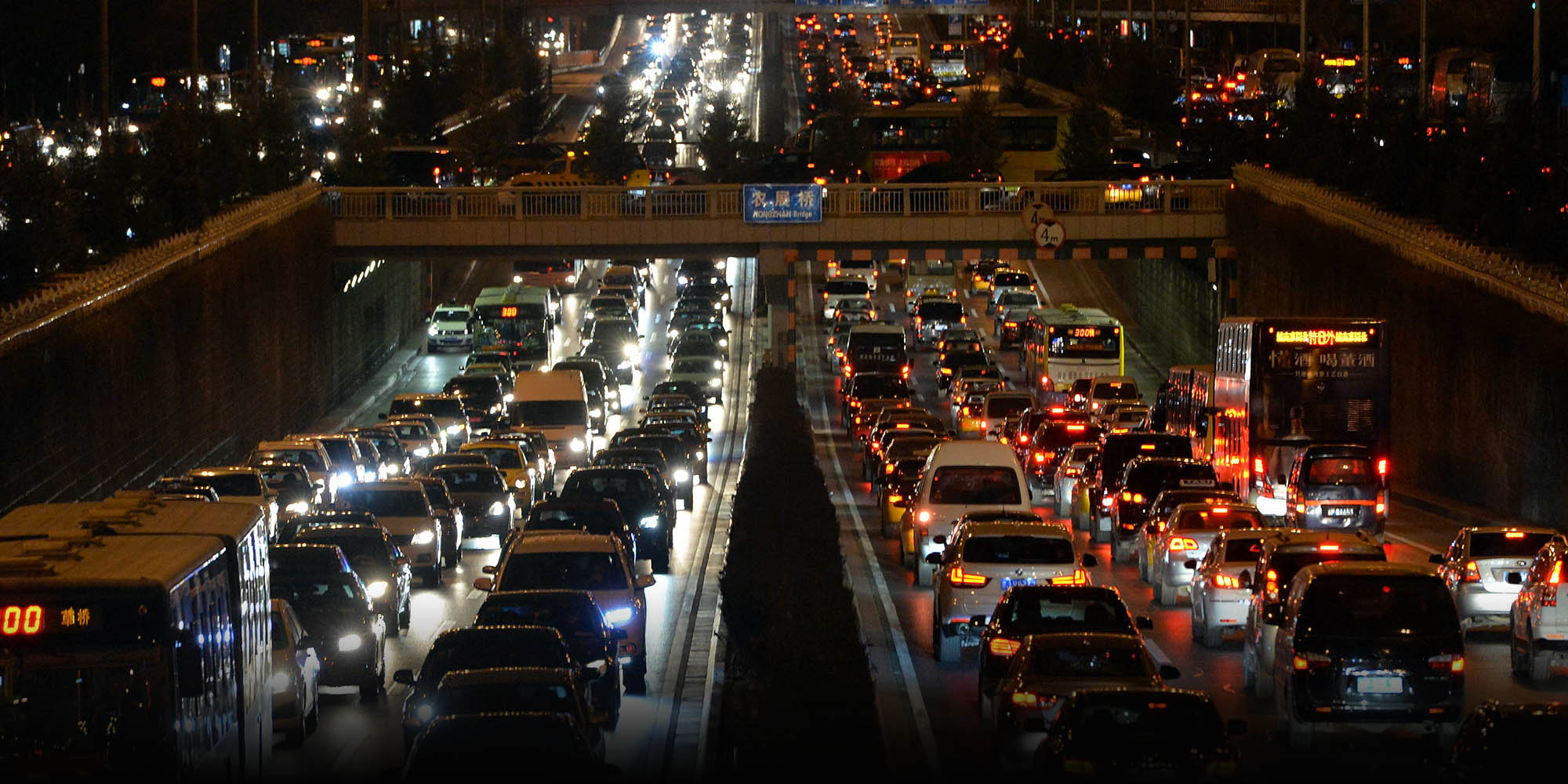 NEWS
Researchers Say AI Will Free Beijing of Traffic Jams
China's scientists confident artificial intelligence key to solving megacity gridlock.
Despite Beijing's six ring roads designed to keep traffic moving and a license plate lottery that limits the number of cars on the road, China's capital city of over 20 million is regularly gridlocked.
Highway tolls, further restrictions on car usage, and public transport subsidies are some of the ideas that have recently been put forward to solve Beijing's chronic traffic crisis, but scientists believe artificial intelligence will truly solve the problem.
On Saturday at New York University's Shanghai campus, top scientists speaking at a lecture organized by Future Forum, China's newly launched science awards body, said self-driving cars will ease traffic congestion in less than a decade.
Fei-Yue Wang, director of the State Key Laboratory for Management and Control of Complex Systems, said: "I believe there will be no traffic jams in Beijing in five years' time. The implementation of AI is going to completely change our lives in every way, from transportation to health care."
Traffic jams are a mathematical problem AI researchers are itching to solve. Smart, self-driving cars are designed to drive in a smooth way, avoiding the sudden slowdowns and collisions that trigger traffic jams.
In April this year, Tsinghua University Professor Li Keqiang — no relation to the Chinese premier — said the Ministry of Industry and Information Technology was drafting a regulatory plan to give autonomous vehicles access to highways within three to five years, and to city centers by 2025.
According to Bill Russo, an automobile consultant at Gao Feng Advisory Company, Wang's five-year predication is not outside the realm of possibility. "Technology is developing much faster than even the most optimistic forecasts of a few years ago," he said. "It's no longer a question of science, but of regulation."
The government needs to allocate space on the roads for self-driving vehicles, which is a much more difficult problem to navigate, Russo said. Autonomous and human-driven cars will need to mingle on the highways. "Unlike other countries, China has the capacity to drive the market from the top down and create the right circumstances for self-driving cars," he added.
Self-driving vehicles are currently banned on public roads in China, and car manufacturers say this restriction is slowing down the development of the industry.
Yu Kai founded the country's first AI research and development center, the Institute of Deep Learning at Baidu, the Beijing-based internet giant. Yu believes that Wang's five-year prediction for China's AI automotive industry is a little optimistic, though he's still confident China is on the cusp of a significant technological breakthrough.
"Self-driving cars could be on the road within a decade," said Yu, who also serves as the CEO of Chinese startup Horizon Robotics. "My focus is creating innovative technology to put in the car, to make the car independently intelligent. We are working with car manufacturers on how give their vehicles the ability to plan and make decisions, using a combination of sensors, processors, and algorithms."
According to Russo, the world's largest internet companies, like Baidu, Google and Alibaba, see the automobile industry as the next frontier for their business development.
"The car is the next digital platform, and these companies are already ushering in the age of connected mobility," he said. "We're going to see the commercialization of this space much faster in China, because Chinese consumers expect cars to be connected devices."
(Header image: A rush-hour traffic jam on the Third Ring Road in Beijing, Feb. 11, 2015. Xu Xiaofan/VCG)