Mooncakes — thick, soft pastries that come with a variety of glutinous fillings — are synonymous with China's upcoming Mid-Autumn Festival. But behind the seemingly innocuous delicacy, an illicit market, trading in the mooncake vouchers companies issue yearly to employees, is at play.
On Monday e-commerce giant Alibaba fired four of its engineers after they had written software to rig an internal company mooncake sale. They had fraudulently managed to bag 124 boxes of the delicacy before they were caught. An unnamed Alibaba public relations employee told The Beijing News that the fired engineers had "crossed a red line of trust."
The desire to make money from mooncakes grips many in the country every autumn. It is customary for companies to gift their employees vouchers redeemable for sets of the cakes, creating something of a mini-economy around the sale and resale of these coupons.
On a sunny mid-September afternoon in busy central Shanghai, deals are being done up and down a long line of people waiting to buy mooncakes at Xing Hua Lou, one of the most popular producers of mooncakes in the city. The line is beset by scalpers who make money ferrying vouchers between mooncake detractors and aficionados.
People with coupons wait in line to buy mooncakes outside Xin Hua Lou on Fuzhou Road, Shanghai, Sept. 13, 2016. Xiao Muyi/Sixth Tone
Outside Xing Hua Lou, police frequently tell the scalpers to leave, but that hasn't stopped people like 63-year-old Yang. He lives behind Xing Hua Lou, and in the run-up to Mid-Autumn Festival each year, he trades coupons for a little extra income. A few years back, he could earn thousands in a few days, but business this year hasn't been good. "I've only earned a few hundred yuan so far this year," he told Sixth Tone.
Yang blamed the slow business on the fact that state-owned companies, against the backdrop of a nationwide crackdown on extravagance and corruption, haven't been issuing mooncake vouchers to their employees. Guizhou's provincial government has also limited the value of mooncake vouchers given by companies to 200 yuan (around $30).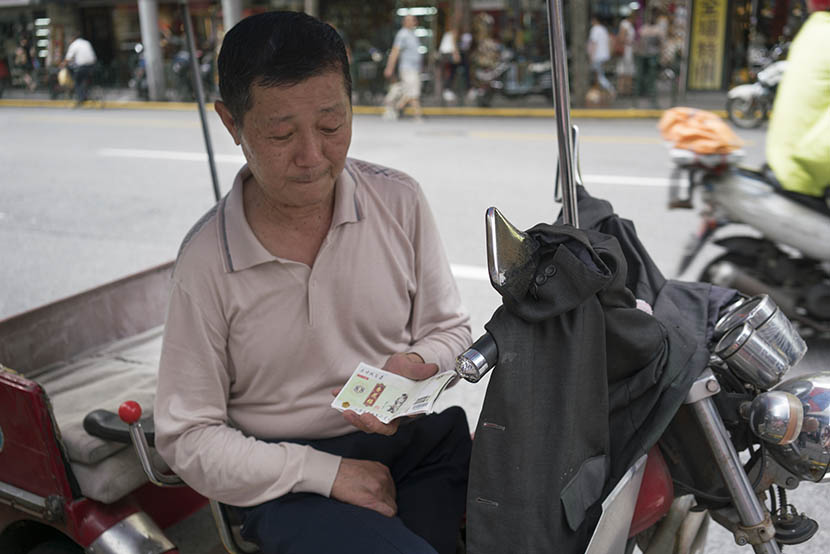 Yang, a scalper, poses near the line of people with mooncake coupons he has collected, Fuzhou Road, Shanghai, Sept. 13, 2016. Yang lives near Xin Hua Lou and sells mooncake coupons every year around Mid-Autumn Festival. Xiao Muyi/Sixth Tone
Not all scalpers are willing to pound the pavement like Yang. On Taobao, China's Alibaba-run e-commerce platform, hundreds of shops offer vouchers for mooncakes at a discount. One of the most popular brands of mooncake voucher is Haagen-Dazs. A voucher for five Haagen-Dazs mooncakes — with a retail value of 268 yuan — is offered by multiple stores on Taobao for at least 100 yuan less. Vouchers for Xing Hua Lou are also easily available through Taobao vendors at a discounted price.
The origin of the coupons is not always clear — mooncakes aren't equally loved by everyone, and so many are willing to forego their employer's gift in lieu of extra cash. Others have much simpler reasons.
Lily Yang decided to sell her voucher, worth 158 yuan, to a scalper after she saw the long line outside Xing Hua Lou. "I took one look at the line and decided not to wait," she told Sixth Tone. "So I sold my voucher for 100 yuan."
(Header image: A scalper seated on a scooter holds mooncake coupons as a police car parks nearby, Fuzhou Road, Shanghai, Sept. 13, 2016. Xiao Muyi/Sixth Tone)