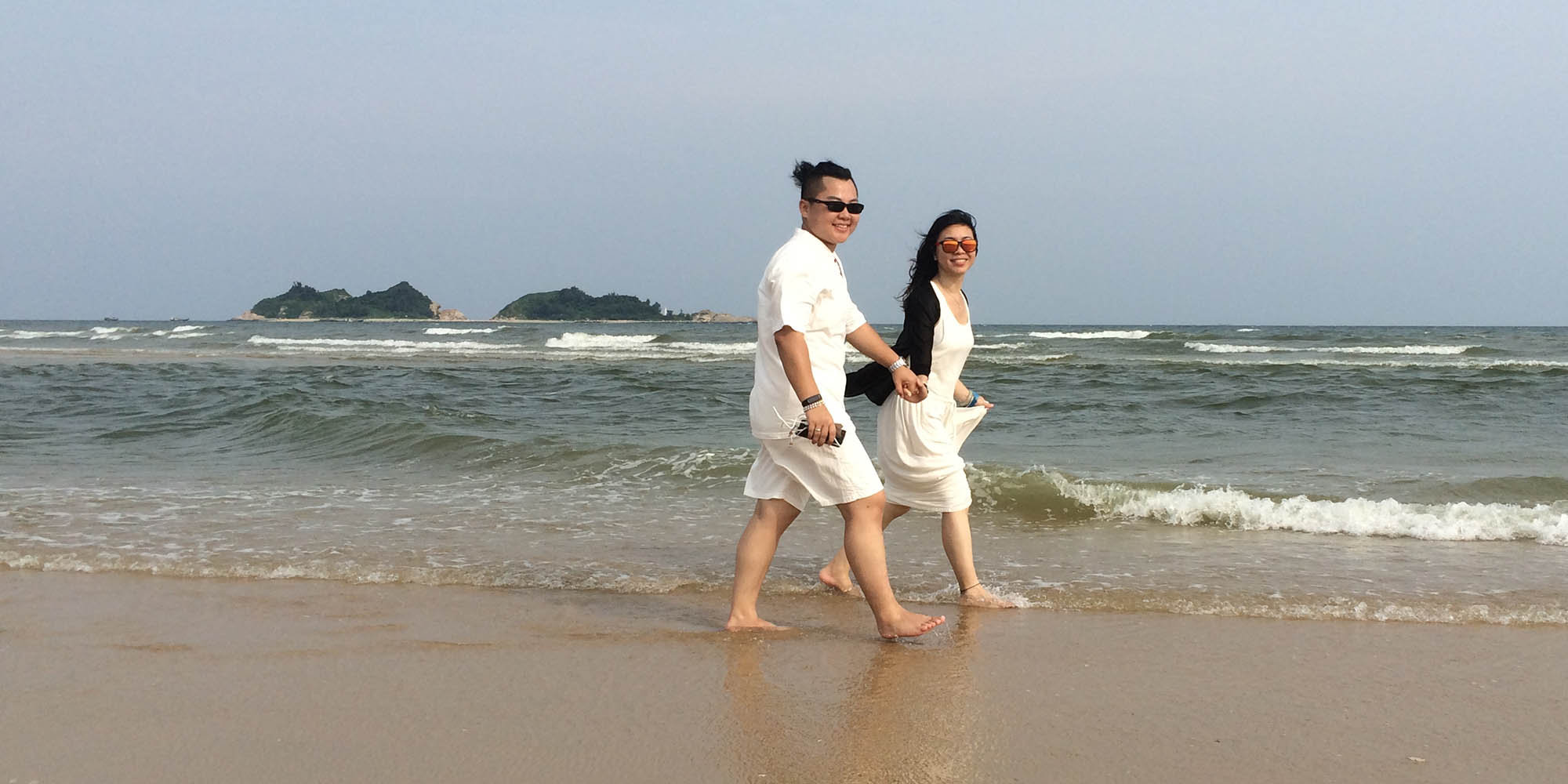 NEWS
Transgender Groom Walks Aisle in Second of 100 LGBT Weddings
Awareness campaign that started after gay marriage lawsuit continues in Hainan.
After Sun Wenlin and Hu Mingliang, two men from China's central Hunan province, unsuccessfully sued the government for denying them a marriage certificate, they organized their own unofficial wedding in May, vowing it would be the first of 100 such LGBT ceremonies nationwide. The second wedding will be held next Wednesday in the island province of Hainan, in the country's far south.
The upcoming wedding will join bride Yao Mei and groom Aries Liu in unofficial matrimony. Liu is a transgender man, and because it is very difficult to change one's registered gender in China, Yao and Liu cannot officially marry since both are women according to their state-issued IDs.
"I hope one day we can have our own legal marriage certificate," Yao told Sixth Tone. The 30-year-old hails from the Guangxi Zhuang Autonomous Region, in southern China.
Yao and Liu met in 2010 while working at the same company in Guangdong province, southern China. When he was 15, Liu started dressing like a man, and came out to his parents as a lesbian. "They said they could understand, but that they didn't support it," he told Sixth Tone. Yao, for her part, has always considered herself to be heterosexual.
The couple got engaged on this year's Valentine's Day. Liu said they never planned to actually hold the wedding this soon. They joined an online giveaway by a wedding planner, and their love story won the highest number of votes, and thus a free wedding in Hainan, widely regarded as China's Hawaii.
After reading the couple's story on the internet, Sun contacted them and asked if they wanted to open their wedding to the public, join his 100 LGBT weddings campaign, and sign their names on the rainbow flag first signed by him and his partner Hu. "Being open about ourselves and our wedding can help educate the public on what 'transgender' really is," Liu said.
Liu, originally from Qingdao, in eastern China's Shandong province, didn't know himself what the term meant until recently. When talking to other transgender people in January, he said, it suddenly occurred to him that he was a trans-man rather than a lesbian woman. Liu prefers to use his English name because his Chinese name sounds too feminine.
There is little understanding of transgender people in China. "Some people even think transgender people have mental problems, or that changing one's sex is unhealthy," Liu said. However, there are some positive signs. According to Liu, acceptance of transgender people is relatively higher among young people and people in more developed areas.
Transgender people have also started to speak up for themselves and fight for their rights. China's first transgender job discrimination lawsuit is currently awaiting a ruling. "Mr. C," a 28-year-old transgender man, sued his employer after being dismissed on the grounds that his appearance might negatively impact the company's image. Earlier labor arbitration had denied Mr. C compensation and an apology from the company.
But perhaps the biggest push yet for awareness of LGBT rights has come from Sun and Hu. Their gay marriage lawsuit, subsequent appeal, and wedding ceremony on May 17 — the International Day against Homophobia — made headlines in China and abroad.
Sun has set up a nongovernmental organization, recently renamed "Freedom to Marry," to further their awareness campaign. After his own wedding, Sun has been looking for other LGBT couples who are willing to participate in his 100 weddings project. "They need to be brave enough to make the wedding public," he told Sixth Tone, adding that the journey has been hard: It took him almost four months to find the second couple.
Liu said that he and Yao had considered registering for marriage in the U.S., where gay marriage is legal. But after witnessing China becoming more and more diversified and open-minded, they decided to wait until the day when they can officially marry at home. "I think gay marriage will be legalized in China within 10 years," Liu said.
(Header image: Yao Mei (right) and Aries Liu walk along the beach in Yangjiang, Guangdong province, August 2016. Courtesy of Aries Liu)