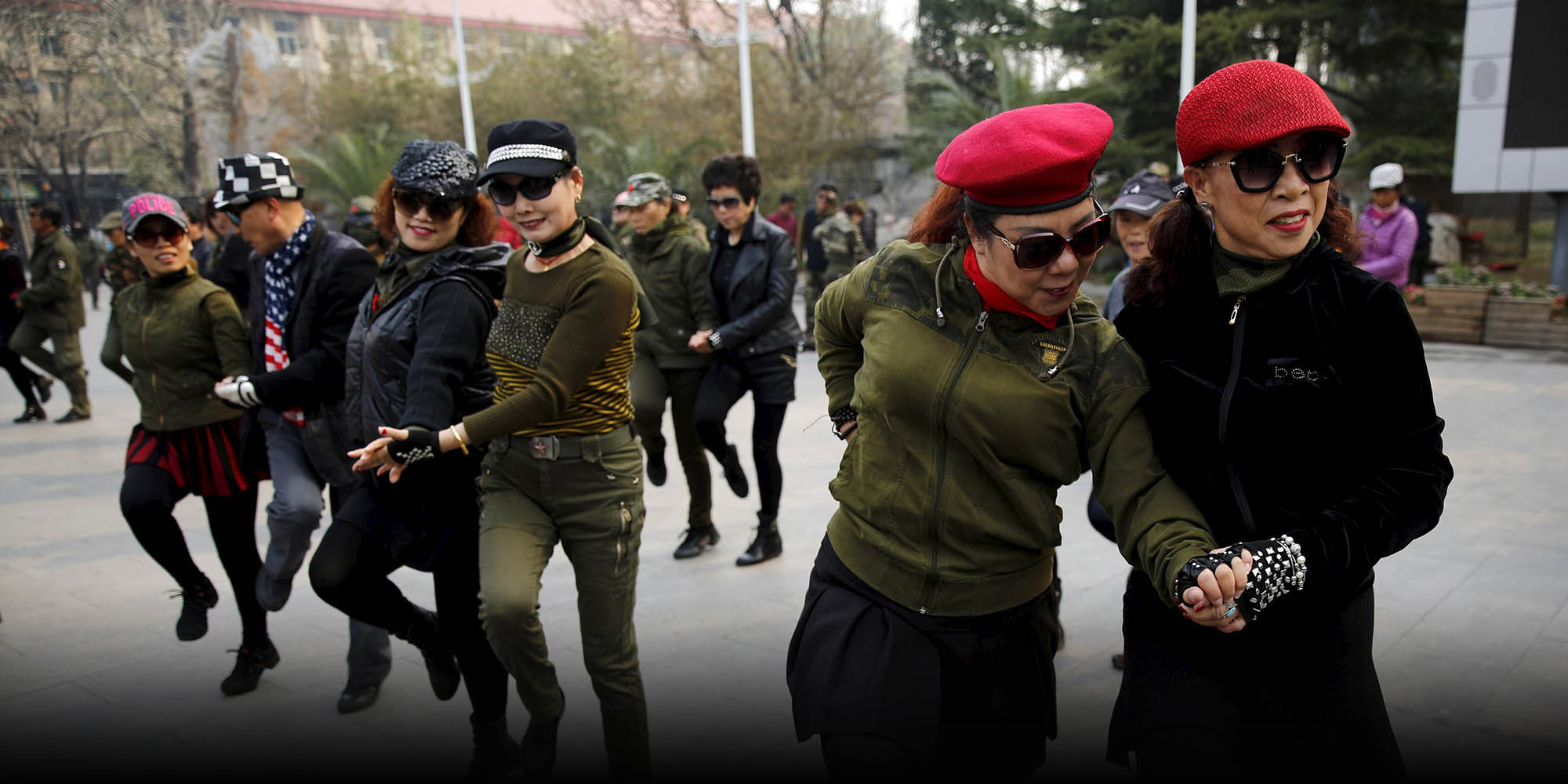 NEWS
Apps Tap Into 'Dancing Granny' Market With New Moves
Tech companies find elderly Chinese users through square dancing.
Chen Baoyong, 75, is a drummer for a squad of dancing da ma, the groups of mostly elderly women who square dance as a hobby. He sits behind an assortment of small percussion instruments and drums along to the music coming from a loudspeaker. "We got the songs and dances from the computer!" Chen yells over the music.
Every day after dusk millions of people take up any bit of open space in China's cities — parks, squares, even sidewalks — to socialize, exercise, and dance. Most Chinese elderly are not very adept at using computers or smartphones and are notoriously stingy, but some tech companies have started to figure out how to turn the masses of "dancing grannies" into profits.
One of the dancing ladies is 54-year-old Sun Xiaoyun. Together with a group of retired women, she dances every evening in the small park next to an unused subway exit in Shanghai. Sun told Sixth Tone that the squad has been working on their dance routines for seven or eight years. In order to continue supplying their repertoire with fresh material, they have turned to technology for help.
"Once you type 'square dance' in search engines, you will find many dancing videos," said Sun. "Our best dancer, who is also our teacher, learns new dances for new songs from the internet and then teaches us." The squad adds about two new songs to their repertoire per month.
The first search result to pop up is Tangdou Square Dance, a website and app that claims to have 2 million videos on the subject. Every day more than 1 million views are registered, and according to a report by online news outlet Jiemian.com, the company has signed dozens of square dancing teachers to produce high-quality videos.
Originally a standard video-sharing website, Tangdou began focusing on the square dancing market in 2012. It has been a success. Ads bring in millions of yuan in income, and last year, the company received $10 million of investment in two rounds of fundraising. Tangdou did not respond to an interview request by Sixth Tone.
Several other apps aimed at square dancers have emerged since 2015, all trying to tap the consumer potential of China's elderly.
Fan Zhaoyin, CEO of Just Love Square Dancing, told Sixth Tone that his app, full of teaching videos, was launched in April 2015 and is already turning a profit. It derives its income from ads, and the company also organizes offline activities that businesses catering to the elderly, like insurers and pharmaceutical companies, are willing to sponsor. In April it raised 13 million yuan ($1.95 million) in investment.
"One important characteristic of square dancing da ma is that they control the finances of their families," wrote Fang Hui, another square dance entrepreneur, in an industry report in 2015. He cited one example of a bank that, after sponsoring a dancing competition, gained 5 million yuan in new deposits.
But one major barrier for these square dance enterprises is how to get their apps more users. Though increasingly, many elderly have smart phones — especially those living in the cities — their usage is limited.
Ann Yang, a Shanghai resident, told Sixth Tone that her parents don't use their smart phones too much because of their bad eyesight. Language is also a barrier: Many elderly never learned how to use the modern writing input methods smartphones rely on. Voice recognition software currently still has trouble understanding anyone not using unaccented standard Chinese, which is the case with many older people. "My parents mainly use those apps that don't require typing to search," said Alice Hu from Jiangsu province.
Fan said it is costly to educate the elderly, and that they will start with the relatively younger group of dancers. At the abandoned subway exit, most dancers follow the group's leader, and never watch videos themselves.
Auntie Zhang, 58, is the leader of one of the dancing squads. She brings an iPad with teaching videos to the spot. As she follows the videos, rows of dancers mimic her every move. She says that some of the videos are from the internet. "They are really useful," she said. "My son downloaded them for me."
(Header image: Women square dance at a plaza in Beijing, April 9, 2015. Kim Kyung-Hoon/Reuters)