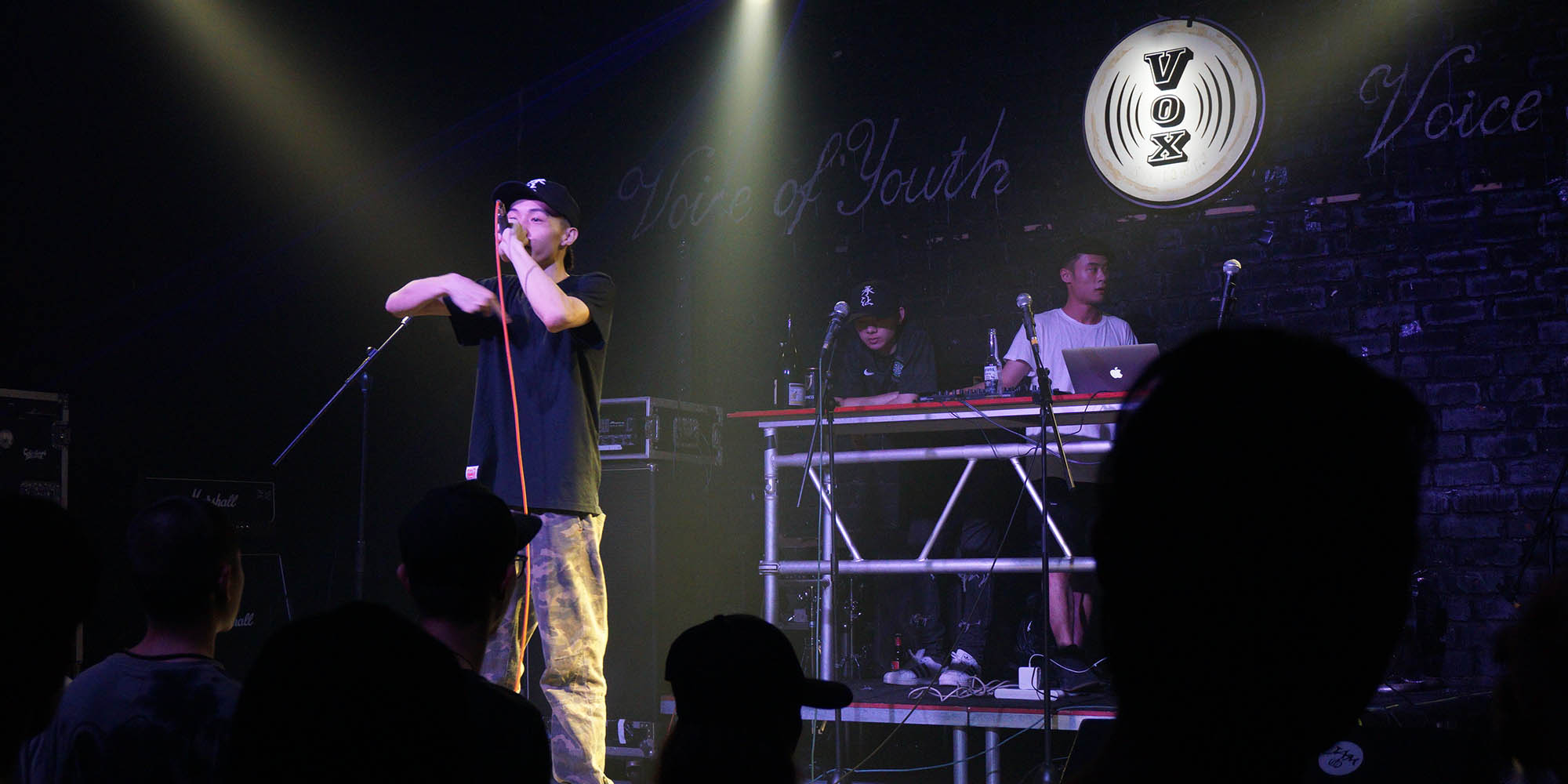 FEATURES
Bringing Hip-Hop to Small-Town China
Hip-hop is making its way to inland China, but profitability for its performers remains a distant prospect.
Wearing a white baseball cap and a gold chain around his neck, 27-year-old Huang Xianzhe stands out against the gray drabness of his hometown of Xiaogan in central China's Hubei province.
The slow pace of economic growth means much of Xiaogan's skyline is still defined by low-rise concrete apartment blocks built in the 1980s. There's a small, half-finished high-rise area in Xiaogan's south, but that doesn't stop the city from feeling parochial. It's not a place where you'd expect to find a rapper like Huang.
In the past two decades, hip-hop has spread from major cities like Beijing, Shanghai, and Guangzhou, and is now beginning to reach cities like Xiaogan, which, with its built-up area's population of just under 1 million people, is considered small by Chinese standards. But although the sound has spread, it hasn't developed fully yet, and it's still a struggle for someone to support themselves as a rapper, even in big cities such as Beijing and Shanghai.
Huang, who raps in Chinese, admits he doesn't fit in in Xiaogan. At night, other residents his age are nowhere to be seen. "In the evenings you won't see any young people on the streets here because they are all in internet cafes," he says. Aside from talking about love and loss, Huang also brags and plays the role of a gangster on some tracks. This might explain why he hasn't played any of his tracks to his conservative parents, whom he describes as "traditionally Chinese."
A sense of alienation permeates the lyrics of Huang's song "I Hate to Be Home Along [sic]" from last year:
One person driving, one person sleeping, one person tipsy
Nobody quite understands how this life makes me weary
Familiar streets with unfamiliar people, repeatedly intertwine
Why has it been burnt to ashes, this truth that's evaded me?
Huang was first exposed to hip-hop almost a decade ago when he was studying popular music at Kunming Professional College of Arts, in the southwestern province of Yunnan. Hip-hop wasn't in the curriculum, but it was a rising genre among Huang's peers, and soon he was hooked. He started writing lyrics immediately, and turned to his home for inspiration. "I felt like I was missing something, as I hadn't spoken the local dialect in a long time," he says. "So I started writing songs in it."
One of those was "Xiaogan Spirit," a track he wrote in just a few days that celebrates Huang's hometown.
I am a Xiaogan lad
I live on Beijing Road's left-hand side
Why do I want to write a song about Xiaogan?
Because living here I feel happy
When he made the track in 2007, Huang's skills in recording and songwriting were crude, but he uploaded the track to an online forum for Xiaogan residents anyway. Within a couple of days, it had more than 10,000 listens, and as net users uploaded it to other platforms, the track quickly spread. Five days later Huang was fielding interviews from local TV stations and newspapers.
Ever since that track, many of Xiaogan's young people know of Huang and his music. "Releasing that track gave me a lot of confidence," he tells Sixth Tone over local snacks in a Xiaogan food hall. But he has yet to make any money from his craft. When he performs at parties in Xiaogan, he says he receives gratitude, but no money. "In Xiaogan you could probably survive off of pop music, but that's not what I want to do," he says.
The small nightlife scene in Xiaogan is defined by profit-hungry clubs where customers sit at tables listening to upbeat music played by a DJ. There are jobs at the clubs for performers who can sing pop hits, but no opportunities for people like Huang to perform their own music.
Archie Hamilton, cofounder of Shanghai-based music company Split Works, which organizes music events for Chinese and international artists, believes that alternative acts here are worse off than their European counterparts. "In China the underground music scene is still so incredibly far removed from the space where people can make money," he says. "There are very few institutions or individuals who are actually working at a grassroots level. People think that if it's not already famous, it's not interesting."
At various points in his life, Huang has opened an electronics store, a clothes shop, and a bar in Xiaogan to try and make a living. He funded the businesses with a mixture of family support, savings, and loans. The bar failed outright, but Huang made enough money on the other two businesses before closing them down to sustain him until now.
It will be a long time before independent artists like Huang see any money from Spotify-like services. Music-streaming sites in China are only just beginning to cooperate with major record labels to make sure both the labels and artists are paid for their work. Spotify offers a nominal fee to independent artists per play, but few provisions are being made for smaller artists by China's streaming services.
In Xiaogan, there are signs of change within the music scene. In 2014, Xiaogan native and local musician Xiao Shuai opened a live music bar called MF House in the city. Business has been slowly improving in the two years since. "When we started, I wouldn't charge at the door because people here weren't used to it," Xiao says. "But people are getting used to it now."
Xiao says Huang hasn't yet headlined the venue himself because he is cautious about performing in front of a hometown crowd. "He wants to put on an especially good show here," Xiao says. "So he needs more time to prepare than he would usually." Every month MF House hosts two to four performances, and Xiao says on average 50 to 60 people attend. "I think the future of music in Xiaogan is bright," he says.

Hamilton is also hopeful that more small cities like Xiaogan will be able to support local music scenes of their own in the future. He's seen successful one-off events take place in cities smaller than Xiaogan and thinks it's only a matter of time before things improve. "There's no reason why, over the next decade or two, all of these small cities can't support their own music scenes," Hamilton says.
Huang has already moved on, and now lives in Hubei's provincial capital Wuhan, an hour's drive from Xiaogan. There, over 100 hip-hop musicians are working to develop the music scene, using a recording studio run by one of the city's earliest rappers as a base. The city of 10 million only has two live music venues, so Huang makes most of his money from irregular corporate gigs, though he also dips into his savings occasionally.
Over the last decade, Huang has had frequent doubts about the likelihood of achieving success in music. Now that he is closer to 30, those doubts are harder to ignore. "Maybe just doing music isn't very realistic," he says. Huang is considering looking for work in a bigger city like Shanghai, in the hope that he can continue to do music in his spare time. It will still be a few more years before people like him can make a living from hip-hop in their hometowns.
"I don't know how to change the situation," Huang says. "I can only do my own thing."
Additional reporting by Feng Jiayun.
(Header image: A rapper performs at Vox, a live music venue in Wuhan, Hubei province, Aug. 5, 2016. Feng Jiayun/Sixth Tone)