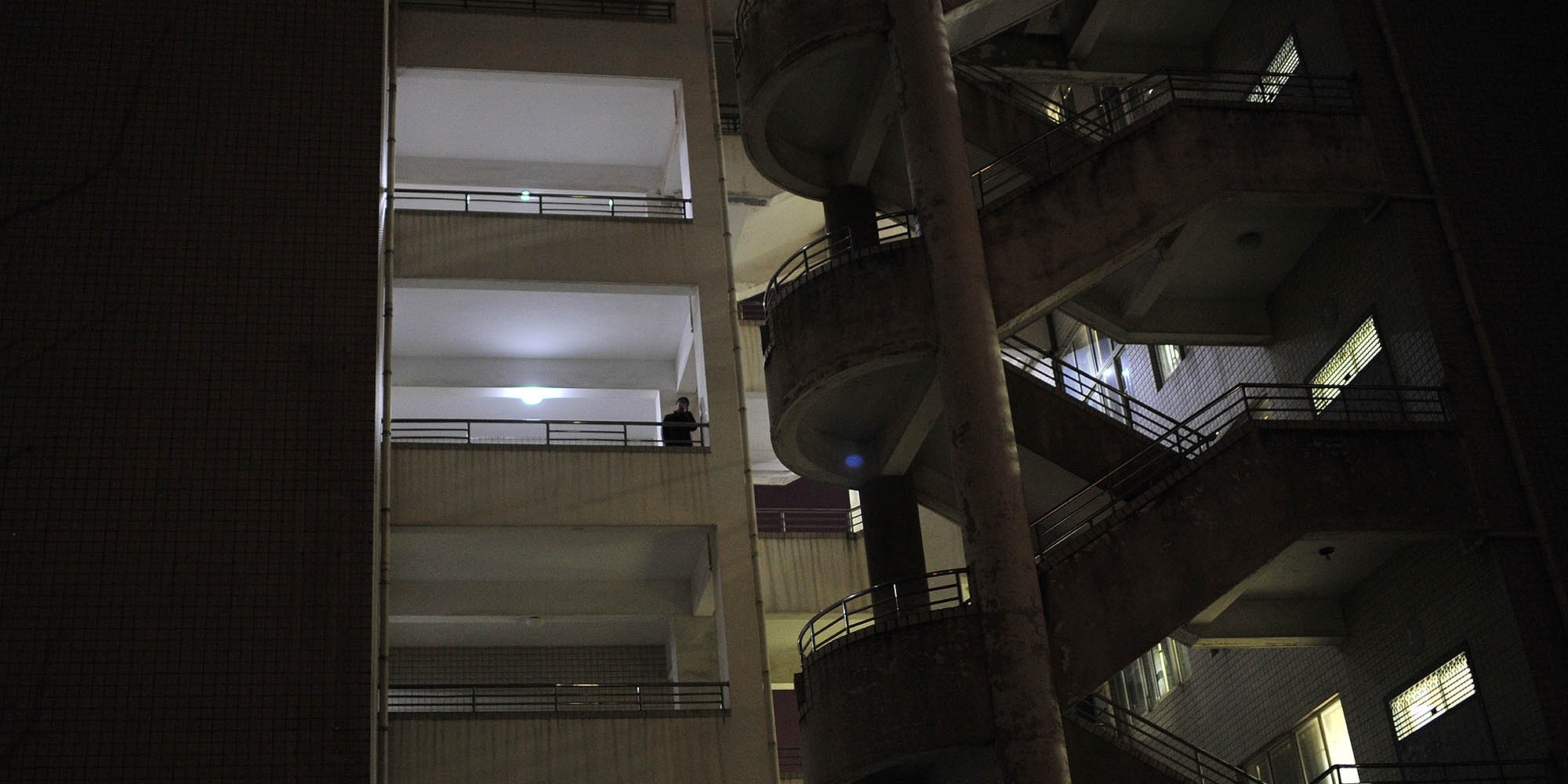 NEWS
Beijing Student Maps Sexual Harassment on Campus
Report highlights latest student-led initiative to safeguard women's rights.
A dimly lit pathway outside the women's dormitories and an area near an unguarded entrance are colored in red on a student-produced map showing where sexual harassment most frequently occurs on the campus of Beijing Normal University.
Sexual harassment has been increasingly in China's public consciousness in recent years, in large part thanks to student-led campaigns on the issue. After seeing his college rocked by two serious cases in April, 23-year-old student Kang Chenwei was inspired to conduct his own investigation.
"Though the media have reported on campus sexual harassment, there hasn't been much attention to specific victims, or the offenders' mental and social motivations," Kang told Sixth Tone. "I was interested in the impact on victims, why it's happening more frequently, and how to prevent it."
Kang began surveying people through his social network in April. The fourth-year student collected 60 cases of sexual harassment on campus from the last decade. On Monday, Kang published a lengthy report on his Weibo microblog profiling the prevalence of sexual harassment on campus and its impact on victims. The 13,000-character report, complete with graphs and a map, has been widely shared by students and reported in Chinese media.
On Wednesday, Beijing Normal University responded with a statement posted on its social media accounts saying that the school does not tolerate sexual harassment and investigates all cases seriously. The university has taken disciplinary action against staff and student offenders, and installed three emergency alarms in high-incidence areas.
According to The Beijing News, there were five reports of sexual harassment at the university in just a single week this August. Earlier this year, a male sophomore student was expelled after secretly taking photos in the women's toilets on campus. He was the first student in a four-year degree program to be expelled for sexual harassment. The university's statement Wednesday said a professor named in Kang's report has also been disciplined.
Chinese university students are increasingly mobilizing their knowledge, skills, and networks to highlight social issues that go beyond the campus gate. Earlier this year, young feminists in Guangzhou raised more than 40,000 yuan for a sexual harassment prevention campaign in the city's metro system. Students have also pushed public debate in other areas, such as homophobia in textbooks and LGBT rights awareness.
Chinese university students have been calling for more attention to sexual harassment on campus for years. In July 2014, following complaints from several young women about one history professor, 76 students and alumni of Xiamen University in Fujian province wrote to the university calling for action on grounds of sexual harassment.
Then in September 2014, young women dressed in red hooded capes demonstrated at top universities in nine cities around China. One of the protesters, a Ph.D. candidate at Zhejiang University, said that the costumes represented the children's story of Little Red Riding Hood fighting against the Big Bad Wolf. The students called for a ban on romantic relationships between teachers and students who were under their direct supervision because such relationships could exploit the academic power dynamic.
The Ministry of Education responded with rules stating that university faculty were forbidden from having "illegitimate relations" with students. But former ministry spokesperson Wang Xuming told Southern Weekend the regulations were too vague compared to other countries that explicitly prohibited teachers from dating students. "What counts as 'illegitimate' relations?" he asked. "Is dating legitimate or illegitimate?"
Though the incidences in Kang's report involve three student offenders and one faculty member, the majority of offenders were confirmed or suspected to be outside the school community. All of the offenders were male, and most of the incidences involved either indecent exposure or acts of voyeurism, including nonconsensual photography or peeping into restrooms. Three were instances of persistent and unwanted verbal sexual advances.
Within China's education system, "Normal" universities are tertiary institutions focused on teacher training, and typically women make up the majority of the student body. The stereotype in the popular imagination is that such institutions are brimming with attractive young women: A recent hit song called "Where Did You Put My House Keys, Zhang Shichao?" by witty amateur choir Rainbow Chamber Singers included the lyrics, "Are the girls from East China Normal University really so cute?"
A postgraduate student surnamed Zhu at East China Normal University told Sixth Tone that she and her female schoolmates had been verbally harassed on campus by a man who was notorious for walking around campus asking girls for their personal information and contact numbers. "Our school is open to the public, and anyone can get access to the campus," she said. At Zhejiang Normal University, where she studied as an undergraduate, another student found a man peeping at her while she was using the women's toilets.
But universities are only one possible site where sexual harassment can occur, and Kang points out in his report that victims can be at greater risk off campus, where there are fewer security and reporting measures. While there are laws against sexual harassment in China, the term is vaguely defined, and the burden of evidence can make cases difficult to pursue.
In any case, the aim of Kang's map is not to show students which campus locations to avoid. In the report, he tells the story of one young woman who spent her entire degree steering away from the university's electronics building after being sexually harassed there. Instead, the report aims to draw attention and action to the issue so that fear of harassment will cease to curtail women's right to public space.
F Feminist, the Guangzhou group that crowdfunded for subway posters against sexual harassment, say campaigns need to target offenders rather than victims. Though their notices also include information on what to do if you encounter or witness sexual harassment, they emphasize that the key to prevention is in the hands of potential perpetrators: "Of course, the most important thing is not to harass anyone in the first place!"
Additional reporting by Fu Danni.
(Header image: Wu Fang/VCG)