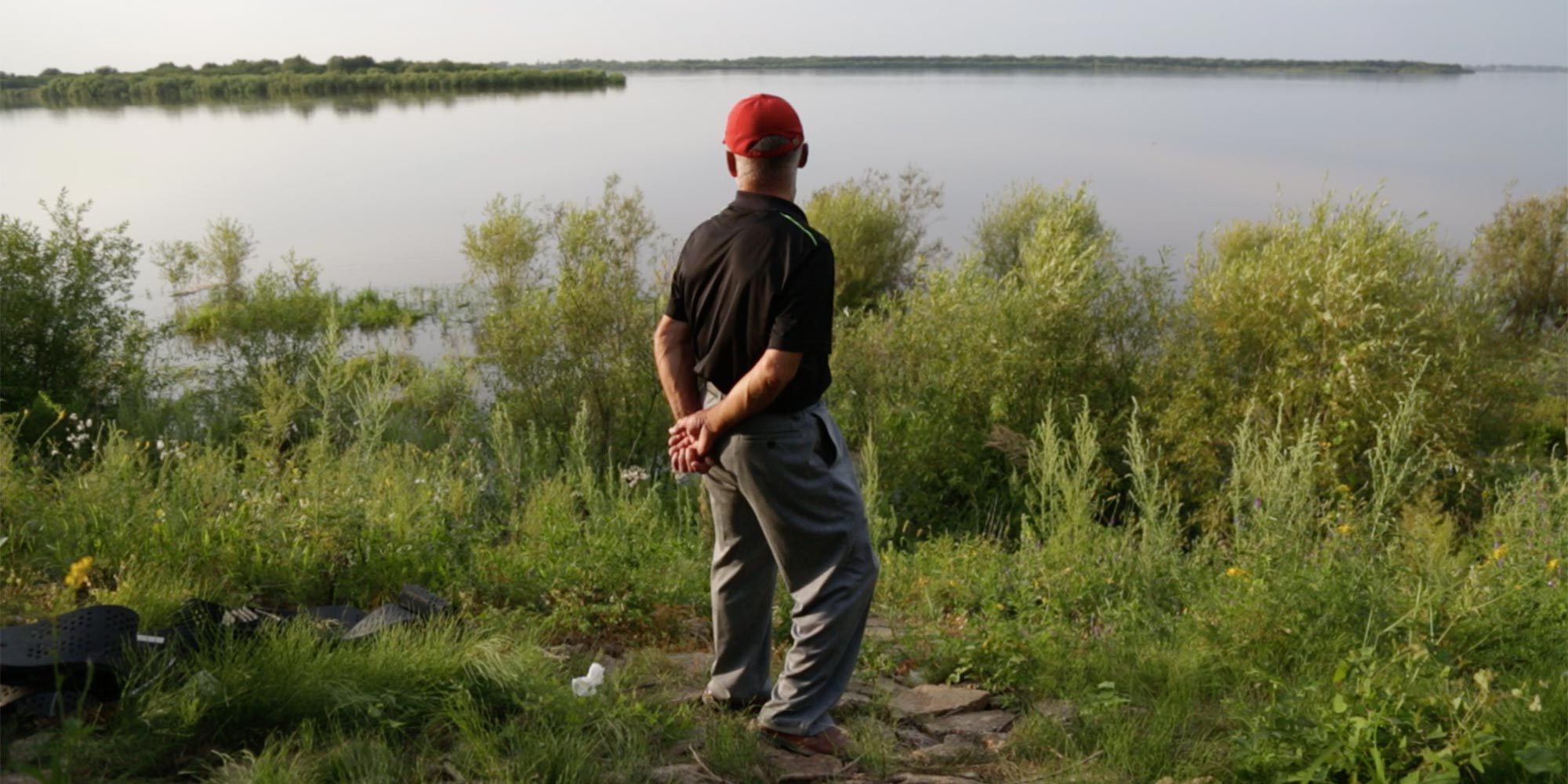 FEATURES
Mixed Blood on the Black Dragon
On the banks of the Heilong-Amur River, the biracial descendants of Russian refugees navigate the slippery edges of what it takes to be Chinese.
This is the first in a three-part series of articles about ethnic identity in China today. You can find articles two and three here.
Lush, east-facing sunflowers line the only road in Bianjiang Village. The century-old town sits amid vast tracts of maize, beans, and birch trees, on the southern side of the river that divides China and Russia. Nearly a third of Bianjiang's residents can trace their ancestry across the border, earning the hamlet a reputation as a "mixed blood" village.
Here, the river is called "Heilong Jiang" — "black dragon river" — and it gives its name to the surrounding northeastern Chinese province of Heilongjiang. On the Russian side, it's called the Amur. For 49-year-old Zhao Lijuan, it's the river her great-grandmother crossed by foot when fleeing political persecution from Stalin during the Great Purge of 1937.
Though the Heilong is one of the world's longest rivers, near Bianjiang it is narrow enough to walk across when it freezes over in winter. Today there are more than 300 villagers who have some Russian ancestry in the remote village, five hours' drive from the city of Heihe.
While China has 56 official ethnic groups, most minorities are concentrated in the far-flung regions near the country's borders, and the Han majority constitutes more than 90 percent of the population. Both within China and on the global stage, when people imagine a Chinese person, they are likely to picture someone who is Han. But though many outsiders may see their curly hair and distinctive features as Russian, the majority of Bianjiang's biracial villagers have their ethnicity officially registered as Han as a result of a traumatic and tumultuous history.
Zhao was born and raised in Bianjiang. "Blossoms graced the apple and pear trees, mist upon the river floated by," she sings. Her words are Mandarin, but the song is "Katyusha," a popular Soviet Union love song from the World War II era that her Russian great-grandmother taught her.
Most of the villagers with Russian ancestry are descended from refugees who fled during the Great Purge and then married locals. Zhao's great-grandmother, for example, settled down with a Shandong farmer who had come to the border village for work, along with many other Shandong men who also paired off with Russian women. The Soviet Union's great famines between 1921 to 1947 drove more refugees — mostly women, children, and the elderly — into the border towns along the Heilong River.
The Russian refugees brought their food and customs, and Zhao has fond memories of homemade cakes and Easter eggs from when she was a teenager. She recalls with delight the score of women her great-grandmother's age dancing in colorful Russian skirts at the center of the village during Easter celebrations. "Often we'd get sweets sent from relatives in Russia," she remembers.
But Zhao's early childhood wasn't so rosy. She was born at the beginning of the Cultural Revolution, as tensions were escalating. There were no gifts from Russia then: Former Communist allies had become bitter enemies, and the border had been sealed off with barbed wire. Villagers with Russian ancestry were persecuted as "Soviet spies," arrested and jailed after closed-door sham trials.
Zhao's father was one of the victims. He was arrested in 1967 and tortured until the end of the Cultural Revolution. After he was freed, the family, including Zhao, chose to have their ethnicity changed to Han on their identification documents. They hoped the dark times were over but feared their Russian ethnicity was a vulnerability that left them exposed to persecution.
The witch hunt was even worse in nearby Hongjiang Village. Zhang Yufu, 62, fumes as he tells his family's story. His father was taken for a Soviet spy simply because his mother was Russian. "He was paraded in front of the crowd with a wooden board that read 'Russian spy' hanging around his neck," Zhang says.
Zhang remembers riding his bicycle to where his father was detained, hoping to catch a glimpse of him. His father was beaten so badly that he struggled to walk, and Red Guards regularly searched their house, though they never found anything incriminating. "Eventually, he couldn't bear the torture any longer," Zhang says. "So he ended his life by throwing himself into a village well."
In the wake of persecution, few people in Hongjiang Village wanted to learn Russian. When the Cultural Revolution ended, the biracial villagers scrambled to apply for Han ethnicity. But they also felt it wasn't enough to change their identity on paper. They wanted to marry Han people so their descendants wouldn't be visibly different. At the time, Zhang was dating a girl who also had Russian ancestry. "My family objected, so we broke it off," he says. He married a young Han woman from Shanghai and eventually moved there, though he still visits the village every year.
While many were desperate to assimilate as completely as possible, one man stood out. Qiu Changli, now 67, instead became something of a celebrity for having only Russian parentage on both sides of his family. He came to Bianjiang with his parents in the 1960s, when he was a young child, and has spent his whole life since in the village. But though almost all the other Russian descendants in the border villages are now Chinese citizens and consider themselves Chinese, Qiu is stateless.
He frets about his predicament, especially as he grows older. "The stateless identity has become a headache," he says. Without citizenship, he doesn't have health insurance. But county official Zhang Mei says it was his own choice. "After the People's Republic of China was formed [in 1949], all stateless villagers had the opportunity to apply for Chinese nationality," Zhang says. "But those who chose to remain stateless could receive some additional living allowances. Qiu is one of them."
In 2013, Qiu was given a Foreigner's Permanent Residence Card, allowing him to enter and leave the country and giving him some social security and housing benefits. Only 7,356 such cards were issued in China from 2004 to 2013, while more than 10 million people gained permanent residency in the U.S. over the same period. The rarity of permanent migration to China is part of why Qiu's appearance is seen as so exotic, though as soon as he opens his mouth with his strong northeastern Chinese accent, it becomes obvious he's a local.
Despite the travails of statelessness, and the suffering his family endured during the Cultural Revolution, Qiu's unique identity has also yielded unexpected opportunities. He was invited to play several roles on television and has enjoyed some degree of fame as a local actor. But for his 30-year-old son Qiu Zhiyong, who is registered as Han on his ID, looking Russian is still an awkward burden that sees him subjected to insults.
"When I tell strangers that I am Han, they laugh at me because I look Russian," the younger Qiu says. He hates that northeastern locals call him er mao zi (literally "secondary foreigner"), a derogatory term for people of mixed Chinese and Russian ancestry, and plans to change his ethnic identification to reflect his Russian ancestry. "Then I wouldn't be embarrassed about my identity," he sighs. Plus, his children would benefit from affirmative action in their university entrance examinations.
The Chinese government has introduced a number of affirmative action policies to support the advancement of minority ethnic groups, who predominantly live in the disadvantaged farther reaches of the country. Students from minority backgrounds can get a boost to their gaokao scores, and many universities have quotas by region and ethnic group.
In 2003, with warming relations between China and Russia, the local authorities designated Bianjiang as a "Russian Folk Culture Village" in an attempt to capitalize on the villagers' heritage as an exotic attraction. The government invested millions in renovating the village with faux Russian architecture, and Zhao now runs a government-built Russian restaurant where she serves up borscht and pickled cucumber.
Zhao takes pride in her heritage, and she has passed her interest down to her daughter, 23-year-old Wu Jing. Wu has just graduated from university with a major in Russian language, and she hopes to do business in Russia one day. "My mother told me lots of stories of her great-grandmother," she explains. "As the fourth generation of Chinese-Russian descendants, I've developed a special affection for Russia."
The chef in Zhao's restaurant is her blue-eyed uncle, 52-year-old Zhao Zhencheng. He can speak Russian fluently, and a few years ago was working as a truck driver in Russia's far eastern city of Blagoveschensk. But when asked about his Russian ancestry, Zhao turned and walked away.
In spite of the county's efforts, the only genuine trace of Russia to be found in Bianjiang, for the most part, is in the villagers' faces and family trees. Few practice Russian customs after their identity was so heavily punished and suppressed during the Cultural Revolution.
In other parts of China that have significant populations of Russian ethnicity, such as Yili in Xinjiang province, traditions have been preserved for generations, unbroken by persecution. Every Sunday, the Orthodox churches in Yili brim with faithful parishioners. Even here in Heilongjiang province, many people who don't have Russian ancestry are enthusiastic about learning Russian and making the most of the cross-border economy.
But for many of those descended from Russian immigrants in the border villages of Bianjiang and Hongjiang, the wounds of the Cultural Revolution haven't fully healed. To them, the country across the water is both near and far.
(Header image: Qiu Changli looks out over the Heilong River, Bianjiang Village, Heilongjiang province, Aug. 2, 2016. Han Meng/Sixth Tone)