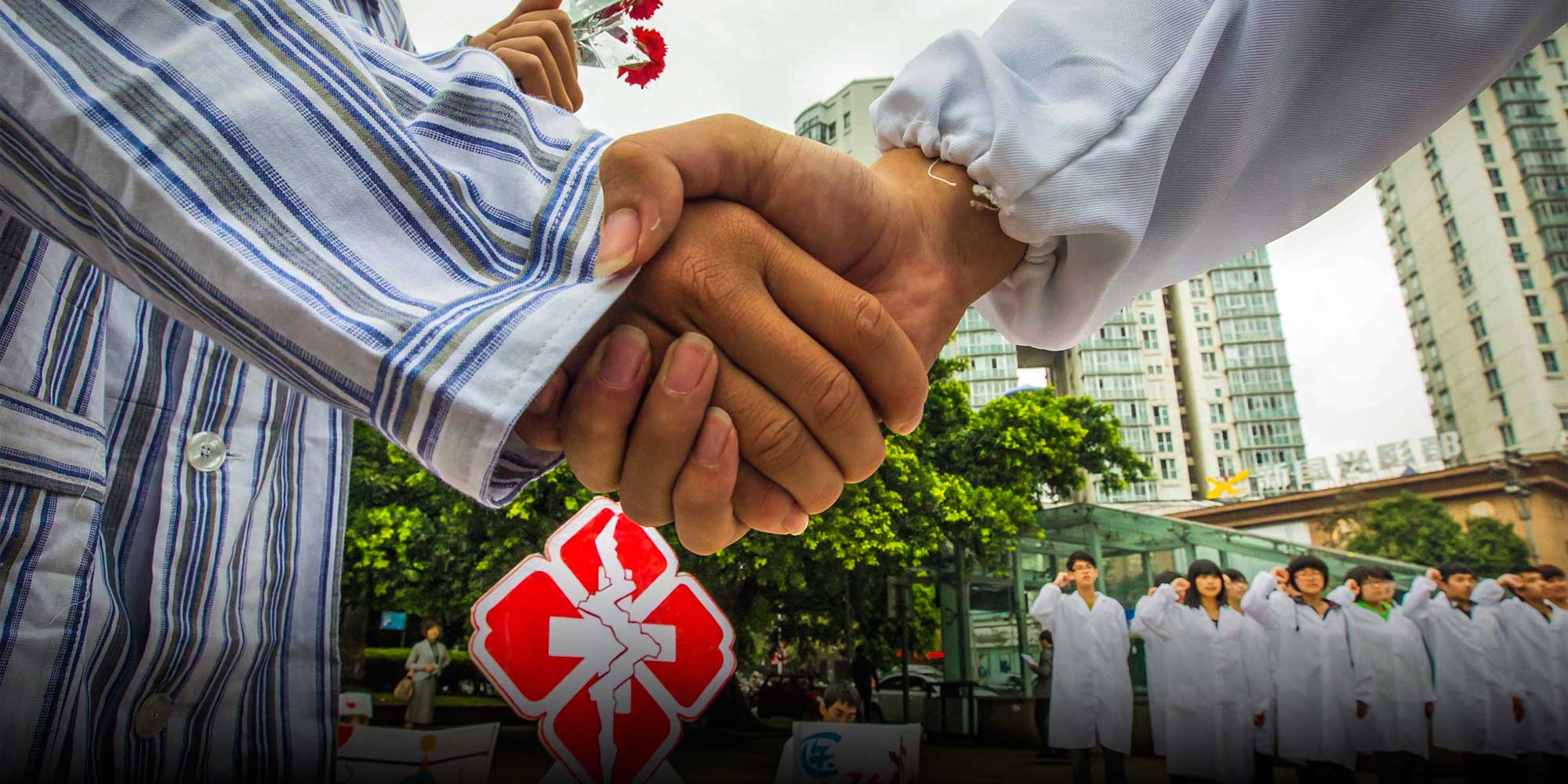 FEATURES
Conflict Mediators Bring Patients, Doctors to the Table
With physical altercations over perceived malpractice on the rise, mediation committees emerge as alternatives to lawsuits.
When a mob of about a hundred people gathered outside one of Guangzhou's top hospitals in May this year, Su Liang stepped outside to confront them. A woman had died during childbirth, and the angry mob, which included friends and family members of the deceased, was blaming the hospital.
As a medical mediator in southern China's Guangdong province, 29-year-old Su was tasked with calming the crowd down and finding a solution that both the deceased's family and the hospital could agree on. After three hours of negotiation, he managed to convince the dead woman's family to take the dispute before a mediation committee, and the crowd dispersed.
Over the past five years, medical mediation has emerged as one of the best options for patients who suspect malpractice at hospitals. Medical mediation committees have been established in more than 30 provinces across China, and although they are often criticized and accused of lacking objectivity, they act as buffers whenever conflicts between patients, their families, and hospital staff get too heated. Trained mediators like Su negotiate with each party separately to avoid direct confrontations and emotionally charged arguments. Afterward, they bring them to the same table to find a compromise.
Before he joined the mediation committee, Su worked as an administrator at the hospital. He has seen vicious conflicts arise from feelings of anger and desperation. "It is difficult to talk some sense into both sides when they confront each other directly," Su said. Patient-doctor conflicts are on the rise in China. Over the past few years, the number of attacks against doctors has increased by more than 15 percent each year, according to the latest report from the Chinese Medical Doctor Association.
At the July mediation meeting with the family of the woman who died in childbirth, Su found himself sitting opposite the young man who had lost his loved one and wanted the hospital to take full blame. He was unwilling to listen, hurling swear words at Su. But Su understood. Such behavior is common, he said. He tried to calm the young man and his family down, explaining what had happened and why the hospital wasn't fully responsible. The committee's evaluation found that the hospital should take at least 60 percent responsibility, as the woman's symptoms could have been detected earlier on. A month later, the family accepted the mediation committee's decision. Compensation is still being negotiated, but Su already expects that the hospital's proposal won't satisfy the family.
Low payouts favor the hospital's insurance provider, and because the committee in this case was funded by an insurance broker and a law firm, lack of objectivity is a point of criticism that Wang Hui, director of the medical mediation committee in Guangdong, is all too familiar with. Although funding is provided by the insurance companies, Wang said that the committee's payments are regulated, and that this allows it to retain neutrality and independence. Wang added that the hospital's insurance providers signed an agreement with the committee stipulating it had full authority to recommend compensation. Local governments have also started to compensate the committee for successfully arbitrated cases. "The government can't direct everything," Wang said. He believes social problems can be solved much more efficiently if the government cooperates with outside organizations like the Guangdong mediation committee.
In most cases, expectations can't be met, explained Liang Xinghui, another mediator on the committee. "Patients usually expect rather high compensation when they first come to us," she said. Liang has seen patients from small cities and towns in Guangdong travel all the way to the provincial capital because they believe that bigger, more modern hospitals can cure diseases that the smaller hospitals near their homes might fail to. But even if the most modern equipment and best doctors are at the patients' disposal, not everyone makes it. That's when the mediators' job is most difficult — when the doctors and hospitals are found not to have been at fault, Liang said. In these cases, clarifying responsibilities becomes secondary. "More importantly, it is about guiding patients and their families to accept the result emotionally," Liang said.
In the first six months of this year, the 180 full-time staff of the medical mediation committees across Guangdong have dealt with more than 1,100 cases. Most stem from the deep distrust many patients feel toward their doctors. One of the chief reasons for this distrust is the knowledge that Chinese hospitals reward doctors for each test they administer and each drug they prescribe, making them work on a quasi-commission basis. Every pill, blood test, or CT scan supplements their meager base salaries. "Both patients and doctors have become victims under this system," Xiao Yixin, an assistant professor of medical sociology at East China University of Science and Technology, told Sixth Tone.
When patients try to defend their rights, they often realize that the government's health department won't step in, and that suing is too costly, Xiao said. "The action of defending their rights turns into violence, which is much more efficient for them," he said. In the past, hospitals have had little interest in taking a proactive approach. The Chinese Medical Doctor Association estimates that in more than 40 percent of conflicts between patients and doctors, the hospital administration chose either not to act at all, or to dial down tensions before disputes could be properly mediated. "Hospitals also have pressure from the local government to maintain social order," Xiao said. "Maintaining stability is often the first thing authorities think of when they face patient-hospital conflicts. But by failing to support their staff, hospitals only worsen the situation and encourage the angry mobs."
In Guangzhou, the medical mediation agency has become the first place many hospitals seek help from when conflicts with patients escalate. Patients, too, are often eager to work with the agency, as the procedure promises speedier results and lower costs than litigation. Some patients and their families, however, feel that mediation wasn't a choice, but rather the only viable option. Liang Anlin claimed that a Guangdong hospital failed to properly treat her mother, and that — although she is a lawyer herself — she chose mediation because it seemed like the lesser of two evils. "Who wants to waste lots of time struggling with a lawsuit when the result is so unpredictable?" she said.
"Lawsuits are torture for patients and their families because they have to relive the trauma again and again," said Lu Xiaowei, a lawyer specializing in medical disputes in Guangzhou. A former client, she said, filed for 600,000 yuan ($90,000) in compensation after she lost her 1-year-old child, but she eventually decided not to take the case to court, instead settling for 90,000 yuan through the mediation committee. "She couldn't help crying when she first came to me," said Lu, who admitted that the compensation offered by the mediation agency was relatively low. "But at the end of the day, she and her family believed that they should not waste their time and energy to go through the pain of litigation because she was still young and capable of bearing another child."
Even when patients believe that mediation is their best option, few end up happy with the outcome. In Liang's case, the misdiagnosis that could have led to her mother's death was deemed to be worth 100,000 yuan in compensation — higher than what most parties are offered, according to an insider on the committee. But Liang believes that the results depend largely on how much the hospital is willing to pay, as opposed to the actual damages incurred. "Whether this number is reasonable or not, there's nothing more we can do," she said.
(Header image: Two students from Wenzhou Medical University perform as a patient and doctor shaking hands in an appeal for better patient-doctor relationships, Wenzhou, Zhejiang province, Nov. 3, 2013. Zhao Yong/VCG)