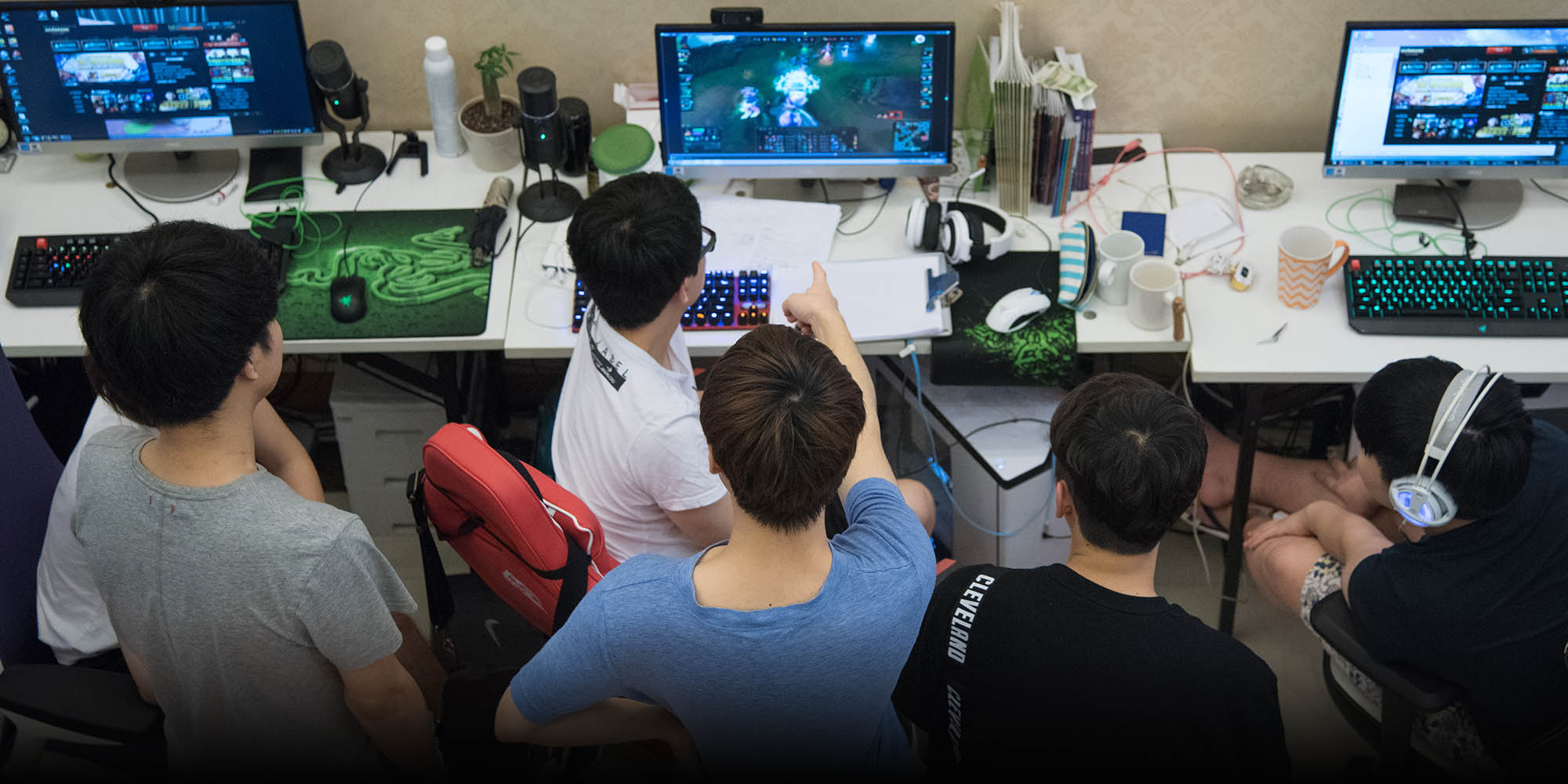 FEATURES
Chasing New Money, E-Sports Veteran Wants Back in Game
Competition becomes fierce as e-sports has grown from dingy internet cafes into multi-million dollar industry.
It was a little over four years ago that professional gamer Li Lingzhi, or "Ayaya" as he is known online, decided to give the camera the middle finger during the broadcast of a gaming competition. It was a big event — a League of Legends (LOL) competition hosted by gaming goliath Tencent Games Arena (TGA) — and Li had grown sick of the lenses trained on his face. He was promptly issued a ban from all other professional gaming competitions until the end of 2012.
Since the incident, Li's temperament has mellowed. Sitting in a small restaurant in his home county of Hengdong in central China's Hunan province, the 28-year-old nurses what must be his tenth cigarette of the meal. "I was too impulsive," he says, exhaling smoke. He regrets his behavior, but the ban on competing professionally wasn't the sole reason he hung up his mouse and keyboard in 2012. Faced with his own crystallizing awareness that life as a professional gamer had never brought him a single cent, he logged onto his microblog account and announced to fans he was officially retiring.
Since Li's retirement, and over a decade since e-sports became the 99th sport to be officially recognized by the State General Administration of Sports in 2003, the industry has undergone an explosive expansion, and Li is keen to get back his piece of the pie. China's overall gaming industry — of which competitive e-sports are a part — took over the United States last year, reaching a staggering market size of $22 billion. At the 2015 LOL World Championship Final in Berlin, almost half of the 28 million online viewers came from China, where there have even been calls for e-sports to become an Olympic event.
In a previous interview with Sixth Tone, Ding Dong, director of e-sports at the State General Administration of Sports, said: "E-sports have become central to the development of the sports industry, and are of huge significance to China's consumer market." Ding sees e-sports in China as the "spoiled kid" of the internet era, something that has shot through puberty at an astonishing rate due to the rising interconnectivity of modern-day China. This spoiled kid's pocket money, he predicts, is set to rise to 30 billion yuan ($4.5 billion) in 2016.
The rosy prospects for China's professional gaming industry today are made all the more striking in light of the gloom that has plagued its devotees in previous years — gloom that Li knows all too well.
It was in his school's computer lab in 1999 that Li first encountered gaming. He and his friends soon fell in love with StarCraft, a galactic strategy game that was popular in China at the time. The small band of brothers were soon taking on, and losing desperately to, other gaming enthusiasts from his hometown who would descend on the school's computer room after class.
"We lacked a systematic understanding of the game and its strategies," Li recalls. But the bug had been planted, and Li was determined to make a living from his new passion. Li's parents, concerned about the number of hours he was spending in internet cafes, got him his first desktop PC during winter vacation in 2004. In the months that followed, Li would spend hours studying the replays of more mature gamers in order to hone his own skills.
Li's dedication paid off, and he went from being a young gamer who — in his own words — "played like a fool" to becoming one of the country's most respected LOL players. His impressive performances in national competitions eventually won the attention of China's very first professional gaming club, Team WE, formerly known as World Elite. Four years after its founding in 2005, the Shanghai-based team recruited Li to be the very first head of its LOL division, leading a squad of gamers to battle on both domestic and international stages.
Much to the chagrin of his parents, Li made the move from Hunan to Shanghai in 2009 to base himself at the team's training headquarters: an apartment kitted out with little more than a few PCs. "I knew nothing about my son's work," his mother Li Xiaoling tells Sixth Tone. "All I knew was that he did not earn any money and was still single." Her financial concerns were on point: Li may have been one of the country's most revered LOL players, but there was nothing in his new contract with Team WE that stipulated income.
Yang Shunhua, LOL team manager of rival club LGD Gaming, believes antipathy for gamers stems from more than just the profession's previous lack of earnings potential, pointing to the less-than-glowing reputation enjoyed by internet cafes. He might see such establishments as the "soil" of the e-sports industry, where "many of today's professional gaming legends come from," but outsiders frequently see them as gloomy dens that cut kids off from society and divert their attention from schoolwork. A horrific fire at a Beijing internet cafe killed 25 people in 2002 and drew particular attention to the safety of China's cyber-dens, providing ammunition to concerned parents about the consequences of their children's internet addictions.
But Yang believes that the "ice age" caused by such bad press has begun to thaw. In 2011 Wang Sicong, son of business magnate Wang Jianlin, made headlines when he established Invictus Gaming (stylized "iG"), a cross-platform e-sports organization that fields competitive teams in LOL, Defense of the Ancients (Dota), and Warcraft. Wang's status as China's rich playboy whom everyone loves to hate, along with the vast sums of money he used to attract famous gamers, pushed the industry into the limelight and paved the way for its current boom.
Wang's money-throwing approach paid off when the iG team took first place at the 2012 International Dota2 competition in Seattle. Since then, Chinese teams have taken first place at the prestigious event twice, with the most recent being a victory earlier this month by the Shanghai Wings, who took home over $9 million in prize money.
One way in which the e-sports boom has manifested itself is through live streaming. The explosively popular medium means different things for different online communities, but for dedicated enthusiasts, it has given rise to a new breed of gamer: the "anchor." Anchors film themselves as they compete, offering informative — and often entertaining — commentaries along the way.
Ye Chenxuan is one of millions who tune into China's largest live-streaming website Douyu to watch such anchors. The 24-year-old, who likes to watch gaming streams over lunch, tells Sixth Tone her ideal anchor is a good player with both good looks and a sense of humor.
Twenty-one-year-old Chen Bo, who was once the world's sixth-ranking LOL player, fulfills the first of those criteria at the very least, and his hordes of female fans would presumably argue that he more than satisfies the second. A competitive gamer with Yang's LGD Gaming team by day, Chen is a contracted live-streamer on Douyu by night, an arrangement that has brought him both money and some degree of fame. Awaiting him at every broadcast are thousands of fans — mostly young women — eager to shower him with virtual gifts that can be converted into real money.
In the past, the only way that gamers could earn money was by playing games for other accounts to increase their clients' rankings. Today, top-level gamers can expect multi-million yuan annual salaries from their contracts with clubs — the top earner in the LGD Gaming team, a Korean player, makes 8 million. Chen might not be there quite yet, but, combined with his competition income and Douyu contract, Chen is still making "several million" each year— so much money that he doesn't want his parents to know. "They wouldn't believe me anyway," he says from his perch on a gaming chair that set him back almost 10,000 yuan.
As for Li, the turn in the industry is luring him back, and he has his eyes set on a coaching role for young talent. But with the industry's rising prospects, more and more people like him want a piece of the action, and investors can afford to be more discerning with their capital. Li's attempts in early 2016 to join a new e-sports team in a coaching role met a brick wall when investors pulled out in favor of a rival team.
But Li is happy to play the waiting game, confident that with his talents he is bound to be headhunted at some point. "The team members liked me," he says of the gamers he coached earlier in the year. "They told me that they have never seen such a dedicated coach."
(Header image: Team LGD discusses strategies as they watch a game replay at the team's training center in surbuban Shanghai, July 11, 2016. Zhou Yinan/Sixth Tone)